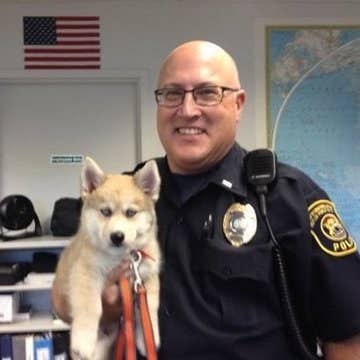 A police officer was stabbed in the neck at Bishop International Airport in Flint, Michigan, on Wednesday and is being investigating as an act of terrorism, authorities said.
The attacker was identified as Amor Ftouhi, a Canadian who is about 50 years old, and who entered the US legally on June 16 near Lake Champlain, New York, FBI Special Agent David Gelios told reporters.
Gelious said Ftouhi entered Flint's airport with two bags, spent time at a restaurant and later, in a restroom, where he left both bags.
"He dropped both bags, came out, and pulled out a knife, yelled 'Allahu Akbar,' and stabbed Lieutenant Neville in the neck," Gelios said.
The injured officer, identified as Lt. Jeff Neville, was taken to the hospital. He was initially described as being in a critical condition, but his condition was upgraded to stable since he underwent surgery, according to Michigan State Police.
Gelios said a federal complaint has been filed against Ftouhi for violence at an international airport, which carries a maximum prison sentence of 20 years. Gelios also said that Ftouhi "made a statement, something like, 'You continue to kill people in Syria and Iraq, we are all going to die."
Authorities also have no information to suggest a "wider plot," Gelious said, but he added that "it's certainly very, very early in the investigation."
The entire incident occurred in a portion of the airport before security checkpoint and screening, he added.

Ftouhi attempted to buy a gun while in the US, but was unsuccessful. He later bought a knife, authorities said.
The FBI, which is the lead investigating agency, added that there is no credible threat to the Flint area.
Attorney General Jeff Sessions later issued a statement confirming that he had been briefed on the matter and praised the swift response and work with Canadian authorities.
"Our prayers are with the officer and his family for a full recovery," he added.

Neville has been a police officer at the Bishop International Airport Authority since 2001, and a lieutenant since 2006, according to his LinkedIn profile.
"Right now we are still awaiting more information about the situation at Bishop Airport this morning," Flint Mayor Karen Weaver said. "My thoughts and prayers are with all of our law enforcement officers who work to service and protect us each and every day. I want the public to know that several agencies are involved and working to ensure the situation is under control. However, at this time we are taking extra precautions just to be safe."
CORRECTION
Amor Ftouhi entered the United States legally on June 16. An earlier version of this post incorrectly stated that he had entered the US illegally.