The family of an 8-year-old biracial boy in Claremont, New Hampshire, said a group of teenagers hurled rocks at him, called him racially charged words, and then pulled a rope around his neck and hung him.
The boy's grandmother, Lorrie Slattery, said the incident occurred on an afternoon in late August when her grandson was playing with teenagers in the neighborhood in a backyard.
"The (teenagers) said, 'Look at this,' supposedly putting the rope around their necks," Slattery told the Valley News. "One boy said to (her grandson), 'Let's do this,' and then pushed him off the picnic table and hung him." The boy survived.

The alleged details of the events are based on Slattery's account, which itself is based on what the boy and his 11-year-old sister, who was present, told their mother, Cassandra Merlin.
The boy's uncle, Lyric Merlin, posted a photo of the boy's injured neck on Facebook on Aug. 28, the day of the alleged incident.
"My nephew was hung from a tree by a 14yr old who claims 'it was an accident," Merlin wrote. "I don't care what kind of excuse this teenager has but you DO NOT play with somebody's life."
BuzzFeed News has reached out to the boy's uncle, grandmother, and mother for comment.

The young boy was driven to a local hospital for treatment by his mother, and was subsequently airlifted to Dartmouth-Hitchcock Medical Center, the Valley news reported.

Slattery, the child's grandmother, said it wasn't the first time the boy, who is biracial, has been the victim of racist language, and claims the word "lynched" was used during the incident. "If it was an accident, that boy or anybody there wouldn't have left him. I believe it was intentional," Slattery told the paper. "I do believe he does not want to believe that he was being hurt purposefully. That is the kind of kid he is," Slattery said.
Mark T. Chase, the Chief of Police for Claremont Police Department, released a statement on Monday after criticism of inaction began to mount on social media. "Claremont Police detectives assigned to this case are taking all steps possible to investigate the incident and have been doing so since the police became involved," the statement read.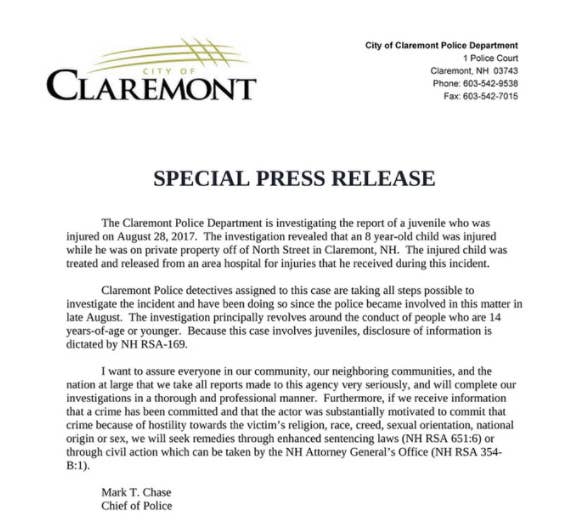 The statement does not go into detail, including the allegations of racist language or of a hanging, but it does mention that an "8 year-old child was injured" and that he was "treated and released" for his injuries. The statement goes on to cite the ages of those involved, all of whom are 14 years old or younger.
Chris Sununu, the governor of New Hampshire, also released a statement on Tuesday, writing that the state's Attorney General's office has "sent a team" to the town of around 30,000 residents to "provide assistance."
"It is my expectation that local and state authorities will investigate appropriately and I've asked for regular updates on how things are proceeding," the governor wrote. "Hatred and bigotry will not be tolerated in New Hampshire."
Also on Tuesday, a rally was held at a local park in Claremont to show support for the boy and his family, where people spoke, sang, held signs and talked to one another.
"We're gathering to recognize that we have... a mountain of work to do to deal with racism in our community and virtually every community in America," said Rebecca MacKenzie, local resident, according to the Boston Globe.
"We are urging the Claremont Police Department to conduct a robust and transparent public investigation that will hold the responsible racist parties accountable for attacking and injuring a child based on his race," Iván Espinoza-Madrigal, the executive director for the Boston-based Lawyers' Committee for Civil Rights and Economic Justice, said at the event.