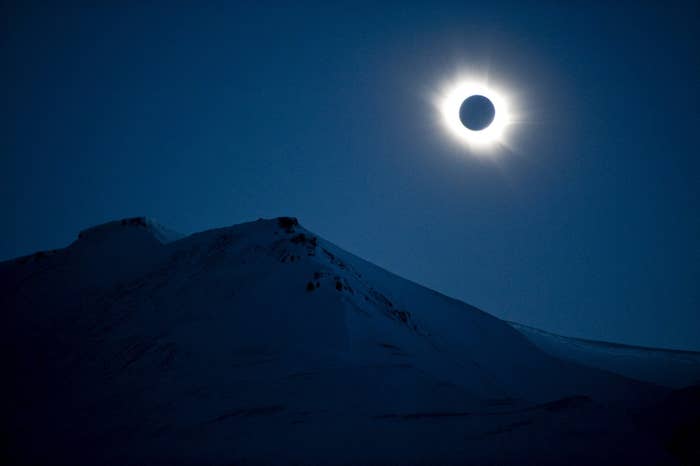 State and local officials whose areas will get the best views of the rare coast-to-coast solar eclipse later this month are issuing emergency advisories and taking crisis precautions as they brace for a massive influx of tourists.
The eclipse's "zone of totality" — where the moon will almost fully block the sun — is a 70-mile-wide strip that will fall across towns and cities in 12 states from Oregon to South Carolina. It's the first coast-to-coast total solar eclipse in 99 years.
An estimated 12 million people will be plunged into darkness for nearly three minutes on Aug. 21 — and as many as 7.4 million more people are expected to travel to areas along the eclipse band. Local officials — some of whom could see the populations of their towns double in just a few days — are now faced with undertaking massive precautionary measures.
In South Carolina, officials have advised residents to stock up on groceries and fill their cars with gas prior to the eclipse. In Nebraska — where it is believed that the eclipse could bring in more people than any other event in the state's history — officials will activate the emergency operations center, using the same protocol they would use in the event of a large-scale disaster. And commissioners in Washington County, Idaho, passed an emergency declaration so that the county can recoup expenses in the event of unforeseen circumstances.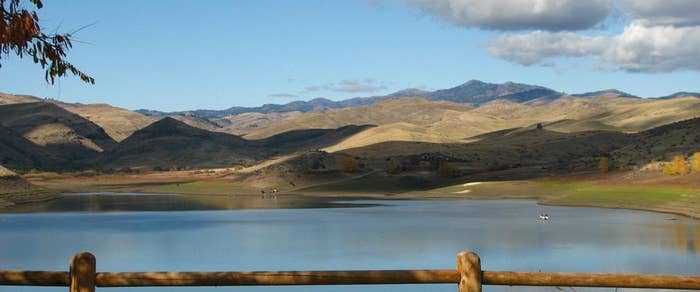 Kirk Chandler, chairman of the Washington County commissioners, told BuzzFeed News he expects 100,000 or more people to come into a 1,500-square-mile county with a population under 10,000.

"It's really hard to prepare for something that you have no idea what's going to happen," said Chandler, who has concerns ranging from adequate bathroom facilities and potential wildfires to cellphone disruption and traffic hampering emergency vehicles.
"We're a small county and we don't have a big tax base," Chandler said of the county's ability to respond in the case of emergencies. "We only have one or two deputies that can be on call for the entire county," Chandler said.
Neighboring Payette County in Idaho, in addition to Baker County in Oregon, have issued similar disaster declarations.
And it's not only the sudden influx of people, but the funneling of massive crowds into rural parts of the country — areas with limited road access and, at best, two-lane roads — that has caused particular concern.
Fires are a major worry. Oregon, a state with a population of just over 4 million, is expecting to receive up to 1 million visitors by some estimates. The state's governor, Kate Brown, has activated the National Guard. Over 150 soldiers and six aircraft will be at the ready, according to Oregon Public Broadcasting.
The city of Condon, Oregon, lies a few miles outside of the zone of totality. With a population of 685, the town's residents are primarily concerned about fires. "The 2017 Solar Eclipse takes place during the height of fire season in Eastern Oregon," the town's website reads. "Please help us prevent wildfires and protect our natural landscapes."
Brad Kieserman, vice president of disaster operations and logistics for the American Red Cross, told BuzzFeed News that the organization is taking the eclipse as seriously as it would any potential large-scale national disaster.
"My main concern is large crowds across a multistate environment all at the same time," Kieserman said, which is unlike other large planned events the Red Cross has previously prepared for; like a papal visit or presidential inauguration.
The risks are many, from people camping and congregating in places that aren't designed for those purposes, to large crowds caught in inclement weather or other natural disasters striking when hundreds of thousands of people descend on isolated areas.
In the West, Kieserman said, wildfires pose the greatest threat. "Out in the Pacific, in Oregon, this is wildfire season. Now the the risk of wildfires this time of year is normal, but this time it is exacerbated by all of the people."
As the eclipse moves east, storms become a concern. "As it gets closer to places like Kentucky to the Carolinas, there's always the risk of storms," Kieserman said. West Virginia, for example, has recently seen a lot of flash flooding. "If that happened during the eclipse, it would make rescue operations a lot harder," Kieserman said, adding that the Red Cross has shelters on standby all along the zone of totality.
Perhaps nowhere in the country has been preparing for the eclipse like Hopkinsville, in southwest Kentucky. The town of 30,000, which has renamed itself "Eclipseville" for the time being, has been preparing for the eclipse for the greater part of a decade.
The town also has its own unique selling point. Hopkinsville is located near what it calls the point of "greatest eclipse," where the moon's shadow is closest to the earth, and the size of the moon will look the biggest in relation to the sun.
"We have encouraged all of our local grocery stores to order additional supplies, water, sunscreen, and chapstick," said Brooke Jung, a resident who is in charge of the weekend eclipse planning. "We have encouraged restaurants to order additional food as well," Jung said, adding that cases of water were also available.
Jung said she expects 100,000 visitors to attend — there will be a weekend of festivities attended by the director of the Vatican Observatory and representatives from NASA — doubling the population of the entire county. But along with the crowds and fanfare also come concerns, particularly about traffic.
"Traffic is a concern throughout the path of totality," Jung said. The town has asked Kentucky's governor for 85 National Guard military police to help with traffic concerns. So far, Eclipseville hasn't heard back.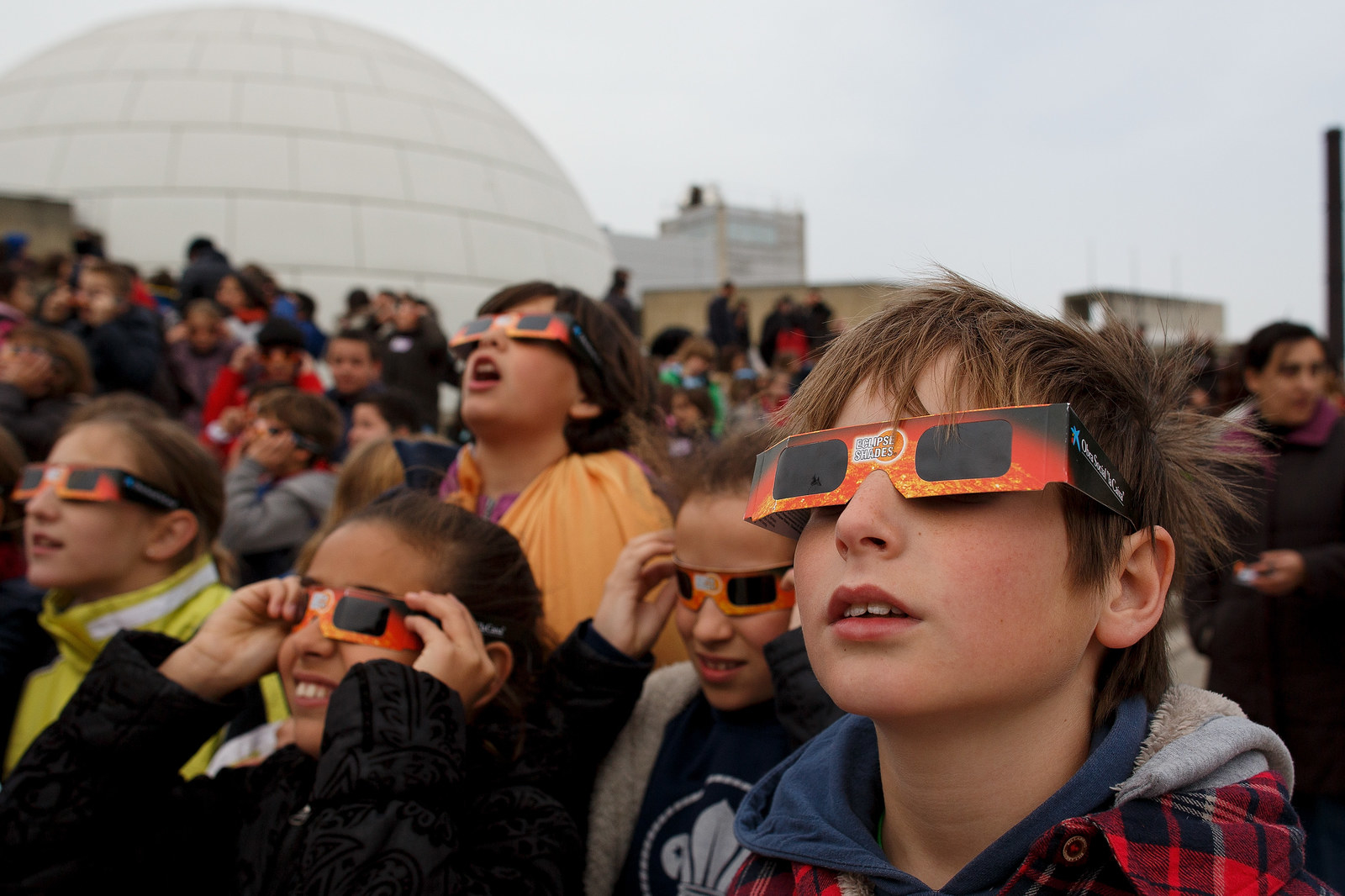 Perhaps the biggest danger, one that is completely avoidable, is about simply viewing the eclipse with just your eyes — you can't, or rather, shouldn't. Viewing the eclipse without glasses can lead to eclipse blindness, or even severe damage to one's retina. NASA, the American Astronomical Society, and the Federal Trade Commission have issued warnings and guidelines to ensure that amateur astronomers use safe eclipse glasses, since "the marketplace is being flooded by counterfeit eclipse glasses that are labeled as if they're ISO-compliant when in fact they are not," according to the American Astronomical Society's website.