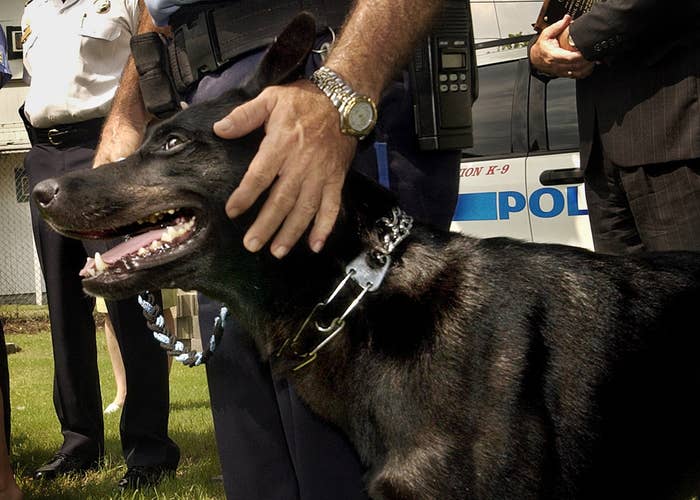 By the time Officer Jason Lewis of the New Orleans Police Department returned to his police SUV, his K-9 — a six-year-old Belgian Malinois named Primo — was battling for his life.
While Lewis got ready for his shift, he had left the dog inside the police vehicle. As the temperature inside the SUV rose on that hot May day in 2009, Primo tore, clawed, and bit into the upholstery on the seats — apparently trying to escape to cooler air. His body temperature spiked far above normal for a dog, to almost 110 degrees.
When Lewis returned to the vehicle he saw Primo "lying in the back coughing." The officer hosed down the dog then rushed him to a local veterinary clinic, where the dog subsequently collapsed, suffered three seizures, and died. Cause of death: "shock due to heat stress."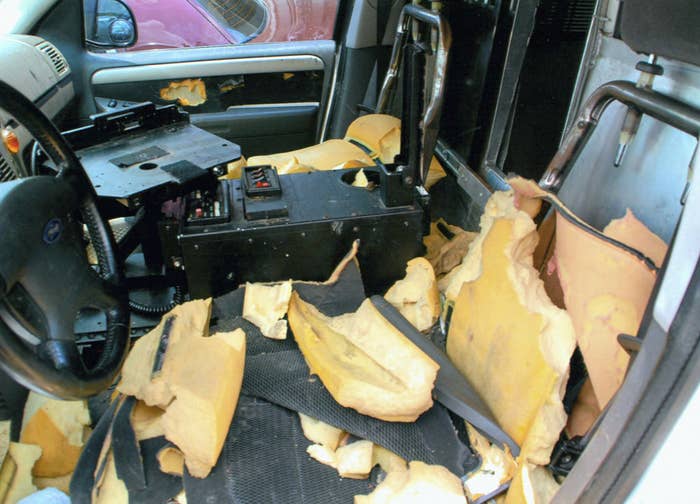 Primo is one of more than two dozen police K-9s that were left in vehicles and have died of heat-related symptoms since 2007. The animal rights group PETA identified 20 deaths; BuzzFeed News confirmed those and found another nine, based on local and national news reports.
Untold numbers of pets die because they are left in cars, but the deaths of police dogs can be particularly heartrending because they, like uniformed officers, put their lives on the line. And these dogs don't need to die. New technology can warn handlers who've left their K-9s in cars.
"It is a painful, horrible death," said Justine Lee, a veterinary specialist in emergency critical care and toxicology for nearly 20 years. "Once a dog's temperature goes above 105 or 106 degrees, their cells start dying, and they can start going into seizures or have mass organ failure."
With the exception of their paws, dogs lack the sweat glands that humans have on their skin. The main way dogs cool themselves is panting. Lee said that since police dogs are usually German shepherds or Belgian Malinois, with thicker coats and darker hair, they are more susceptible to heat stroke than other breeds.
Ike, a Department of Corrections K-9 in Phoenix, died last year after being left in the back of a police vehicle for seven hours after an officer forgot about him. Two police K-9s — Vegas and Hades — perished after they were left in a police vehicle for nearly 30 hours in Bexar County, Texas, in 2012. Again, their officer said he forgot he left them in the kennel portion of the specially equipped police vehicle. (A spokesperson for the Arizona Department of Corrections said that the department installed "a motion-sensing alarm system to help prevent similar accidents from occurring," while a spokesperson for the Bexar County Sheriff's Office said it had initiated "extra measures to help ensure incidents like this don't happen again.")
The vast majority of such K-9 deaths occur in local police forces, but dogs also sweltered to death while in vehicles belonging to airport police, corrections departments, and other types of law enforcement agencies. Forgetting the dog in the car is one problem, but some handlers intentionally put their dog in the vehicle, mistakenly trusting the air-conditioning system to keep running for hours.
In a particularly ghastly case, police K-9 Sasha was found in her handler's SUV after three hot August days in Warwick, Georgia. Lt. T.J. Frye, Sasha's K-9 handler, told investigators the dog must have made it into the vehicle on her own, according to a local Atlanta TV station WSB. Sasha's final moments in the car were eerily similar to Primo's. Both dogs apparently tried to chew through the car to escape.
After Frye found Sasha's bloated and decomposing body in the vehicle, he buried the eight-year-old Dutch shepherd in his backyard. Local residents and city officials expressed shock and grief, demanding that the dog receive a proper burial. An online petition for an investigation into the dog's death received more than 4,000 signatures. Officer Frye resigned from the force a week after the dog's death. The Warwick Police Department referred comment to its lawyer, Tommy Coleman, who said the department has "tried to put in place procedures" to prevent such deaths.
"When you have public ​officers who serve in the capacity of, basically, a trustee of the public, and they cause the death of an animal who had been charged with serving the same community, most people get really charged," said Scott Heiser, director of the Criminal Justice Program at the Animal Legal Defense Fund. "These dogs are a voiceless class, much like kids, and they are at that compete mercy of their handlers​."
Across America, there are at least 20,000 working police dogs, said Rick Ashabranner, president of the North American Police Work Dog Association. "Probably 95% of dogs stay with their handler and their family," said Ashabranner, who worked with a police narcotics dog for 22 years. "It's no different than owning a pet. The bond is so tight that when they die it's like losing a family member."
No one knows how many police dogs die annually in hot cars. No federal agency keeps track. The Connecticut Police Work Dog Association tallies K-9s that died in service from all causes. The organization has tallied more than 2,000 K-9 deaths since 1940 from agencies including the Navy, Border Patrol, and local police. K-9s who died of excessive heat because they were left in vehicles are not listed explicitly, but some of those deaths can be found on the website under the category of "Heat Exhaustion." The 29 deaths confirmed by BuzzFeed News occurred in 14 states from North Carolina to California, and only between April and September.
Even on mild summer days, closed vehicles act like a greenhouse. When it's 85 degrees outside, one study found that in 20 minutes, the temperature inside a car can rise almost to 114°F — almost 30 degrees. After an hour, the inside temperature can hit a scorching 128 degrees.
This is how quickly a car can heat up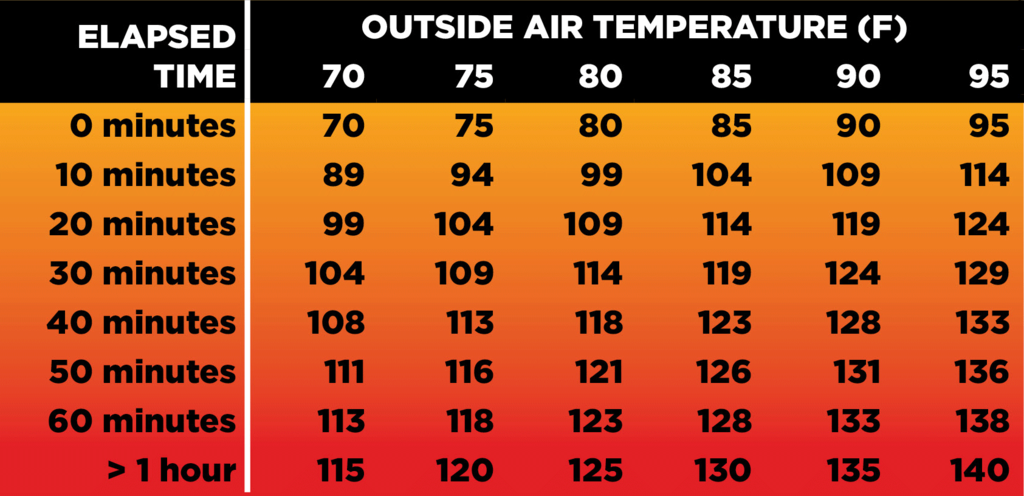 According to historical temperature data, New Orleans hit a high of 88 degrees on May 27, 2009, the day Primo died. In an hour, according to the study, the black-haired dog would have been in temperatures nearing 130 degrees. By comparison, the hottest temperature ever recorded in the United States was 134 degrees in Death Valley, California.
Officer Lewis told investigators that he had left the air conditioner on in the vehicle when he left Primo, according to a story in the Times-Picayune. A subsequent police investigation found no wrongdoing, but the district attorney charged Officer Lewis with aggravated cruelty to animals, a felony. Lewis later pleaded guilty to a misdemeanor animal cruelty charge. He was ordered to pay $11,500 to the police department. After almost three years, a court of appeals found that Lewis was not negligent, and reinstated the officer with full pay and benefits.
"There's a huge controversy that he got off," said Jeff Dorson, the executive director of the Humane Society of Louisiana. "It's hard to know the truth, but the evidence shows that the dog did die of heat exhaustion, according to the necropsy report. And the fact that he [Lewis] plead guilty originally, what does that tell you?"
A spokesman for the NOPD confirmed to BuzzFeed News that Lewis was reinstated to the force but no longer works with a K-9 Unit. The NOPD declined a request to interview Lewis.
A 2012 federal consent decree mandated 15 specific changes to how the NOPD handles its K-9s, including "improvements to handler control of canines, personnel changes, and equipment procedures."
"By working in conjunction with the federal consent decree monitor, NOPD has put new and more stringent policies, training and procedures in place for both the dogs and their handlers," said the department in response to questions by BuzzFeed News.
The deaths of Primo, Hades, Vegas, Sasha, and other dogs were preventable. Many police K-9 units use heat alert systems sometimes known as "Hot Dog" or "Hot-N-Pop" systems. The technology varies, but if the vehicle's interior gets too hot, the alert system automatically rolls down the windows, activates a cooling system or fan, and sets off the vehicle's siren.
According to an investigation by San Antonio's ABC affiliate, KSAT 12, the Bextar County Sheriff's Office bought two Hot Dog systems prior to the death of police K-9s Hades and Vegas, but "sat in boxes, untouched on a training room floor for over a year." It is unclear why the systems, which were bought from a $27,000 grant, were not installed, the article states.
A spokesman for the Bextar County Sheriff's Office emailed BuzzFeed News that Hades and Vegas died "during a previous administration" and that the department has since taken new measures to prevent such deaths. He also wrote that "k9s are considered partners and the loss of them is tremendous for those who interact with them."
Since 2010, the NOPD has installed Hot-N-Pop systems inside every vehicle in the department, according to the NOPD's statement to BuzzFeed News.
"I've had those systems installed; I know how well they work," said Jason Purgason, a former K-9 supervisor with the Reidsville Police Department in North Carolina for 10 years. A Hot Dog system typically costs $500–$1,000 per vehicle. "In the grand scheme of things, those systems are inexpensive," said Purgason, now a training director for Highland Canine Training in North Carolina.
The cost of procuring a police K-9 can vary greatly, but is generally expensive. The Glendale Police Department in Los Angeles County puts the figure around $20,000. The purchase of a dog alone is around $8,000. The additional cost of training of the dog for patrol, detection, and tracking is another $12,000. Total costs including outfitting a vehicle designed to carry a K-9 easily surpass $50,000 — and that figure does not include yearly training maintenance, veterinary care, and food.
PETA plans to send letters to K-9 law enforcement organizations around the country urging them to install Hot Dog systems in all vehicles. "No dog should endure a needless, agonizing death while locked in a hot car, and a heat-alert system would be an easy fix," the statement reads.
The beginnings of the modern police dog can be found with the establishment of the first formal police dog training program in Belgium in 1899. Today, K-9s help track fugitive and missing persons, and they detect narcotics and explosives.
Last September, as summer was drawing to a close in Montville Township, Ohio, two-year-old Beny was left in a patrol vehicle for more than fours hours, the windows rolled up, while Sgt. Brett Harrison filled out paperwork inside the police station, according to a local report. After Beny's death, Sgt. Harrison wrote an apology to the township trustees. "Most of all, I want to say I'm sorry to my partner, friend and loving family member Beny. I wish everyday that I could go back and change that day or that I could put myself in your place. You will always be in my heart and I will miss you every second of every day," Harrison wrote.
Sgt. Harrison was given a two-week unpaid suspension, and 40 hours of his vacation time were taken away. Harrison was found guilty of one count of companion animal cruelty in March. Sgt. Harrison and the Montville Police Department did not respond to requests to comment.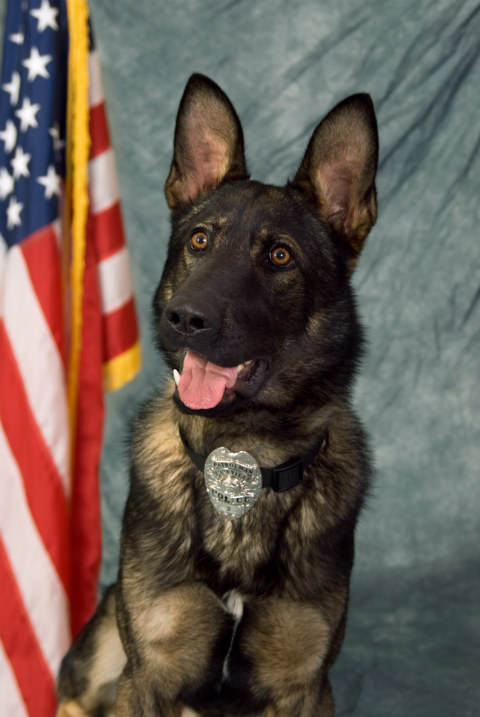 Now, summer is heating up again. Just last week, in Davie, Florida, two additional K-9s died when their handler left the dogs inside the vehicle sometime in the morning of May 27. The two police dogs — a bloodhound named Jimmy and a Belgian Malinois named Hector — were apparently in the car the whole day and were found dead when the officer returned to his vehicle that evening. An investigation into the cause of death is ongoing, but the high in Davie that day was 86 degrees.