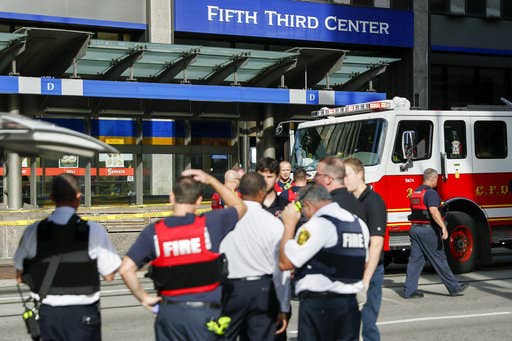 Four people are dead, including the shooter, after the individual opened fire in downtown Cincinnati on Thursday morning, authorities said.

"An individual entered the loading dock of the building and began shooting," Cincinnati Police Chief Eliot Isaac told reporters.
Isaac added that the shooter then entered the lobby of the Fifth Third Bank building, where the shooting continued.

Police officers responded and engaged the shooter. Two other people were injured by gunshots and no police officers were hurt.
On Thursday afternoon, authorities identified the shooter as 29 year-old Omar Perez. Police Chief Isaac said they believe the shooter acted alone and there is no further threat. He did not reveal a motive for the early morning shooting.
"This is now normal and it shouldn't be viewed as normal," Cincinnati Mayor John Cranley said. "You guys [reporters] know more than we do, from witnesses who say that it does appear there was some random shooting involved, that it wasn't between two people."

Ohio Gov. John Kasich tweeted, "There was a senseless act of gun violence on the streets of Cincinnati this morning. I've spoken with the Mayor and informed him the state will provide any necessary resources to the local police." He added, "I commend the law enforcement, fire and EMS personnel who swiftly responded to the scene and share my deepest sympathies with the innocent victims of this violent attack."
Authorities did not give any additional information regarding the motive or the shooter's identity, citing the early stages of the investigation.