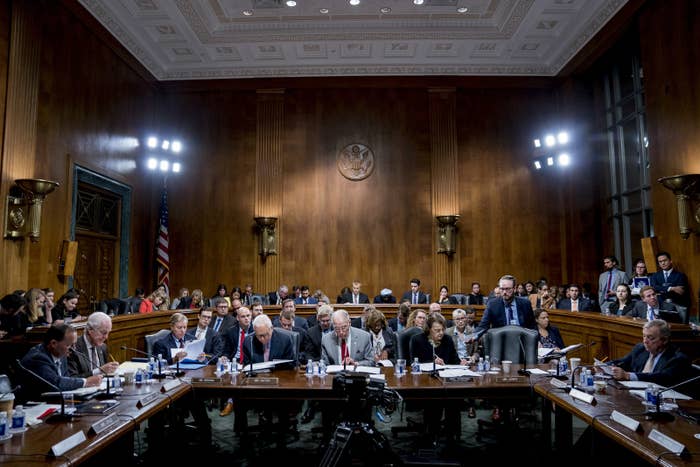 After a week of negotiations with the Senate Judiciary Committee over the terms of her testimony, Christine Blasey Ford has agreed to testify on Thursday, her lawyers confirmed.
Ford, 51, a professor at Palo Alto University, has alleged that she was sexually assaulted decades ago by Supreme Court nominee Brett Kavanaugh. She has received death threats and other forms of harassment after coming forward with her claims.
Kavanaugh has denied the allegations in a statement.
"Despite actual threats to her safety and her life, Dr. Ford believes it is important for Senators to hear directly from her about the sexual assault committed against her," Ford's lawyers, Debra S. Katz, Lisa J. Banks, and Michael R. Bromwich, said in a statement sent to reporters on Sunday.
The open hearing will begin at 10 a.m. ET on Sept. 27. The team said it was concerned that some details had yet to be determined, including the identities of those who will be asking Ford questions.
"Among those issues is who on the Majority side will be asking the questions, whether senators or staff attorneys. We were told no decision has been made on this important issue, even though various senators have been dismissive of her account and should have to shoulder their responsibility to ask her questions," the lawyers said.

The Republican members of the Senate Judiciary Committee, who are all white men, have considered hiring a woman lawyer to question Ford.
A statement released on Sunday by Sen. Chuck Grassley, the Republican chair of the Judiciary Committee, confirmed a call between his staff and Ford's attorneys took place, and said that her testimony will occur on Thursday.
The statement did not address any of the other concerns brought up by Ford's lawyers but stated the committee "cannot hand over its constitutional duties to attorneys for outside witnesses."
"The Committee determines which witnesses to call, how many witnesses to call, in what order to call them, and who will question them. These are non-negotiable," the statement said.

Grassley on Sunday also released the original letter from Ford to Sen. Dianne Feinstein, the ranking Democrat on the Judiciary Committee, in which Ford originally detailed her allegations. In the letter, Ford wrote that Kavanaugh "physically and sexually assaulted me during High School in the early 1980s. He conducted these acts with the assistance of his close friend, Mark G. Judge."
President Donald Trump, who had avoided commenting on the allegations for several days, questioned the validity of Ford's accusations on Friday in a series of tweets.

"I have no doubt that, if the attack on Dr. Ford was as bad as she says, charges would have been immediately filed with local Law Enforcement Authorities by either her or her loving parents. I ask that she bring those filings forward so that we can learn date, time, and place!" Trump wrote.
On Sunday night, dozens of people gathered in Palo Alto to show their support for Ford. They said, in signs and chants, that they believed the professor's story, even if the president did not.
"We have your back," and "Believe Christine," their signs read.