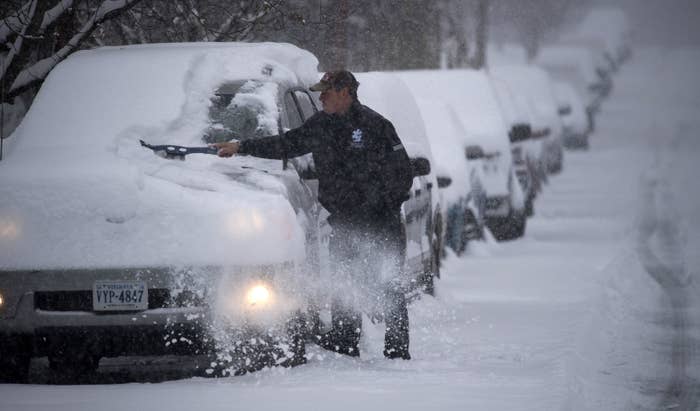 Snow, sleet, and ice wreaked havoc in the southeastern US as canceled flights and power outages continued to mount. The National Weather Service has predicted that up to 12 inches of snow could fall in parts of Virginia and North Carolina on Sunday into Sunday evening.
Virginia Gov. Ralph Northam and North Carolina Gov. Roy Cooper have already declared states of emergency in their respective states because of the winter storm.
"This storm comes at a time of year when North Carolinians are usually hearing carols about snow, not actually seeing it. But this time, the real thing is headed our way and North Carolina is getting prepared," Cooper said in a statement on Friday. "A winter storm's not a Christmas carol snow. It's serious, and you need to take steps now to get your family ready."
The heaviest snowfall is expected in the southern Appalachians according to AccuWeather meteorologist, where snowfall totals of 12–18 inches are expected.

By midday Sunday, more than 300,000 residents of North Carolina and Virginia were without power. Duke Energy has said that it expects 500,000 power outages or more for homes and businesses in the Carolinas alone.
On Saturday, American Airlines proactively canceled more than 1,000 Sunday flights, with many of those originating or arriving in Charlotte, North Carolina.

Charlotte Douglas International Airport stayed open and operational, but the vast majority of flights in and out of the airport were canceled on Sunday, as crews deiced planes and worked to keep the runways clear.

Icy road conditions have become a particular problem, especially in parts of South and North Carolina, where freezing rain blanketed the region.
The North Carolina State Highway Patrol responded to more than 500 crashes and at least 1,100 calls for service since midnight on Sunday, a spokesperson told BuzzFeed News.

"Enjoy the beauty, but respect the danger. This storm is treacherous, especially if you try to drive in it. Travel conditions are extremely hazardous. Don't put your life and the lives of first responders at risk by getting out on roads covered with snow and ice," said Cooper.