There was a nearly 600% increase in possible hate crimes targeting Muslim-Americans from 2014 to 2016, according to a report published by an advocacy group on Tuesday, coinciding with a contentious presidential election rife with anti-Muslim rhetoric from Donald Trump, his aides, and supporters and plans from his incoming administration that targeted Muslim immigrants.
The report, compiled by the Council on American-Islamic Relations (CAIR), also calculated a 65% increase in incidents with an anti-Muslim bias from 2014 to 2016.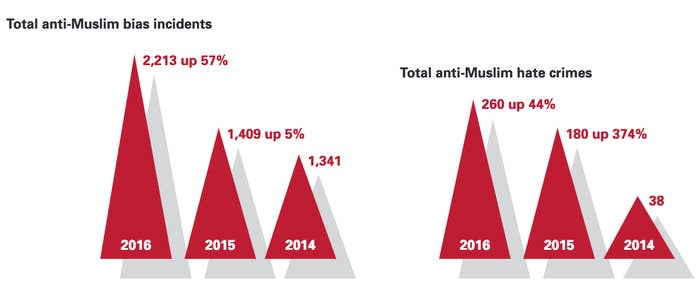 The 40-page report, titled "The Empowerment of Hate," follows a sharp rise in anti-Muslim incidents that began in 2014 that has, in part, been attributed to President Trump, who has previously said he believes that "Islam hates us." After taking office, he attempted to ban immigrants and refugees from seven, then, after a revision, six Muslim-majority countries from entering the US; the order has been blocked by federal judges.
"The report simply punctuates what we already knew: that prejudice in America has seen a resurgence in the last couple of years," said Corey Saylor, director of the Department to Monitor and Combat Islamophobia at CAIR and the primary author of the report.
"While the report's data is troubling, I think people can look to the unity and energy among those who refuse to accept hate as an American civic norm," Saylor said, adding that he believes he will see an increasing number of bias incidents involving federal government agencies in the near future.
Overall anti-Muslim incidents in the report are broken down into five categories. CAIR said that about 90% of the reported incidents across categories were reported directly to the group's nationwide chapters, which assigns at least one person to take complaints. About 10% were from local and national media reports.
The categories include hate crimes — either those designated as such by law enforcement or incidents that CAIR believes could be charged as hate crimes under existing laws — harassment, bias in employment, the denials of religious accommodation, and anti-Muslim bias perpetrated by the FBI.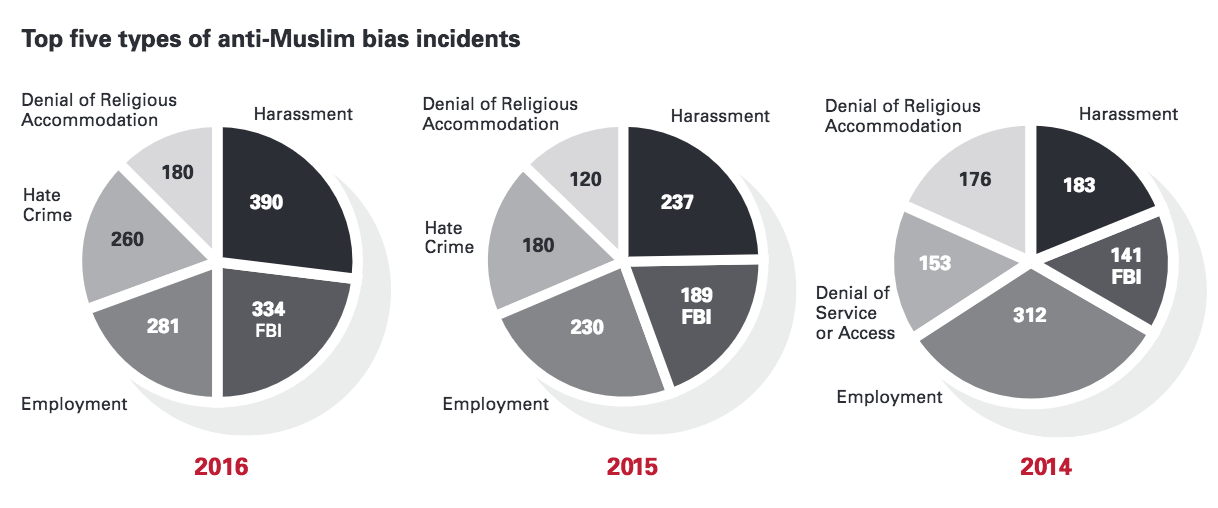 The complaints reported to CAIR went through a process that begins with interviews and a review of materials to "determine whether a case contains an identifiable element of religious, ethnic or national origin bias," according to the report's methodology. CAIR also followed up with witnesses and authorities to verify alleged incidents in local and national news. Each incident also goes through a cross-check with CAIR's database to avoid duplication.

Some of the alleged incidents from 2016 contain a wide range of anti-Muslim bias, ranging from street harassment to unannounced visits by the FBI to the homes of Muslim-Americans. The report includes incidents such as the arrest of three men in Kansas who allegedly conspired to firebomb a mosque and referred to a predominantly Somali immigrant community as "cockroaches."
Other examples include widespread alleged instances of letters mailed to mosques or placed at the homes and vehicles of Muslims that contain threats of violence. One such incident occurred in Sacramento in May 2016, when hundreds of leaflets were placed on parked cars ahead of a neo-Nazi rally that said, "Kidnap, rob, torture for information, and execute all Muslims and Latinos. Leave no survivors." In Florida, the Islamic Center of Fort Pierce, which the Pulse nightclub shooter occasionally attended, was intentionally set on fire, allegedly by a 32-year-old who often posted anti-Muslim material on social media, according to local police.
The report has broken down anti-Muslim bias incidents like these into what it describes as "triggers," or what potentially set off the incident. These five categories include ethnicity/national origin, the wearing of a headscarf or hijab, other Muslim activity (which the report describes as "rallies, community picnics, or a day at the state capitol visiting legislators organized primarily for Muslims"), one's name, and place of worship.

The report found that the most common trigger for anti-Muslim bias was a person's ethnicity or national origin, constituting nearly 35% of incidents. The wearing of the hijab or headscarf — perhaps the most identifiable feature of someone's Muslim faith — was second, accounting for 16% of incidents.
Tuesday's report said that people's homes are the most common locations for alleged anti-Muslim bias incidents. The data suggests — compared to the previous two years — that anti-Muslim incidents have become more targeted to specific people.

FBI data has also recorded an increase in hate crimes against Muslims in the US — a 67% jump in 2015 compared to 2014. (FBI hate crime data is widely considered as incomplete and overly reliant on voluntary submissions by local law enforcement.) The FBI's most recent report recorded the second-highest annual percentage increase of hate crimes against Muslim-Americans recorded since 1992.
The CAIR report also includes incidents where alleged anti-Muslim bias have occurred allegedly at the hands of federal agencies, including the Federal Bureau of Investigation, Customs and Border Protection, Transportation Security Administration, Immigration and Customs Enforcement, and the US Citizenship and Immigrations Services.

In all three years of data, the FBI was by far the primary instigator of alleged incidents recorded in the report. The report makes clear that the "FBI regularly contacts individuals in order to question and interrogate them about their religious views and to surveil the Muslim community to gather general intelligence, rather than to acquire specific information regarding a credible crime or threat."
Outside Your Bubble is a BuzzFeed News effort to bring you a diversity of thought and opinion from around the internet. If you don't see your viewpoint represented, contact the curator at bubble@buzzfeed.com. Click here for more on Outside Your Bubble.