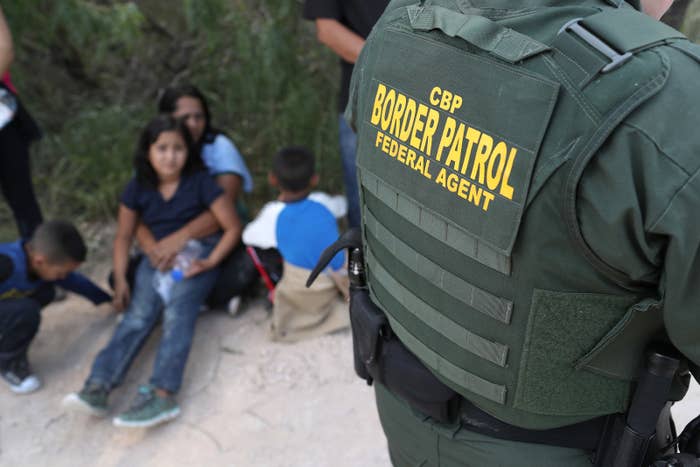 US Customs and Border Protection has taken the "temporary action" of suspending criminal prosecution referrals of parents who have crossed the US border illegally with their children because of President Trump's executive order on family separations, officials said on Monday.
Signed last week after widespread criticism of the administration's new "zero tolerance" immigration enforcement policy, the president's order directed the Department of Homeland Security — which oversees CBP — to keep detained families together instead of separating parents from their children at the southern border.
CBP Commissioner Kevin McAleenan told reporters in Texas on Monday that Border Patrol agents have temporarily stopped referring parents apprehended with children to the Justice Department for prosecution. The suspension of criminal referrals started just hours after the president signed the order, McAleenan said, according to the Wall Street Journal.

McAleenan added that the agency is still pursuing zero tolerance for illegal border crossings and that single adults would still be referred for prosecution.
The Justice Department has said that the "zero tolerance" policy announced by Attorney General Jeff Sessions earlier this year — directing US attorney offices to prosecute all illegal entry cases referred by the Department of Homeland Security — remains in effect. But a suspension of criminal referrals for immigrant parents undercuts the effect of that policy. A DOJ spokesperson declined to comment on Monday.

In the days after Trump signed the order, the administration offered few details about how it would be implemented. The Washington Post first reported last week that CBP would stop referring cases for prosecution involving migrant parents — attributing the information to an unnamed official — but the agency would not officially confirm it, leaving the public and the press in the dark.

On Monday, CBP spokesperson Andrew Meehan told BuzzFeed News in a statement that the agency is "working through implementing the president's executive order in conjunction with the Department of Justice and is taking temporary action until Congress can find a lasting solution to family separation and we encourage them to act."
White House press secretary Sarah Huckabee Sanders also told reporters Monday that Trump's executive order is a "temporary solution" because the government will soon run out of space and options to house families together.

"This will only last a short amount of time because we'll run out of space. We're going to run out of resources in order to keep people together and we're asking Congress to provide those resources and do their job," Sanders said.
Zoe Tillman contributed additional reporting to this story.