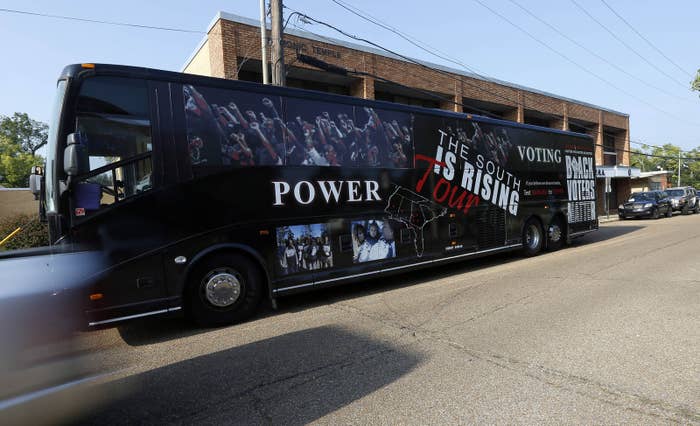 A group of black senior citizens was ordered off a bus that was taking them to vote after the county clerk called the senior center from where they were departing, prompting claims of voter intimidation.
"Voter suppression is real, y'all, and it happened to us today in Louisville, Georgia, in Jefferson County," Black Voters Matter Fund, the nonprofit that organized the bus ride, wrote on Facebook on Monday.

Dozens of elderly black voters in Jefferson County boarded the bus, ready to go cast ballots during early voting, only to be told by the director of the senior center that they had to disembark.
The Atlanta Journal-Constitution reported that a Jefferson County's administrator considered the trip a "political activity," which isn't allowed at county-sponsored events. The bus ride was considered county-sponsored because it originated from a county-run senior center.
According to County Administrator Adam Brett, the event was a "political activity" because a Jefferson County Democratic Party member helped organize the event.

"Jefferson County administration felt uncomfortable with allowing senior center patrons to leave the facility in a bus with an unknown third party," Brett said in a statement to the paper. "No seniors at the Jefferson County senior center were denied their right to vote," he added.
Officials from the senior center and Jefferson County, which has a population of just over 15,000 — 52% of whom are black — did not respond to a request for comment.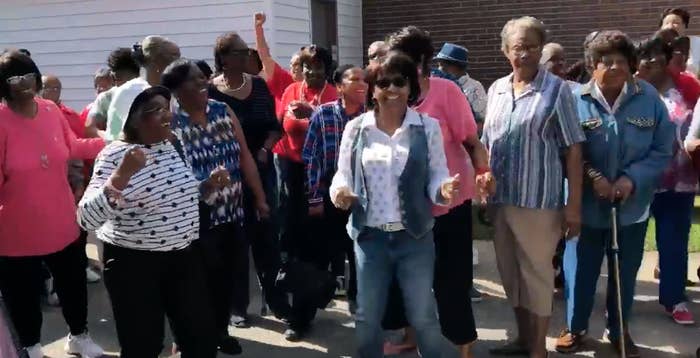 According to LaTosha Brown, cofounder of Black Voters Matter Fund, a phone call placed to county officials complaining about the event led to a phone call to the county-run senior center, which prompted its director to ask the senior citizens to disembark. Organizers for Black Voters Matter Fund, which is nonpartisan, did not immediately return calls from BuzzFeed News.
"There's no law that says black folk can't ride on buses no more," Brown said in a video about the incident posted to the group's Facebook page.
Stacey Abrams, a Democrat running against Republican Brian Kemp for governor in Georgia, has made the issue of voter rights central to her campaign. She called her opponent an "aggressive voter suppressor" and recently accused Kemp's office of keeping 53,000 voters, most of whom are black, from casting their ballots.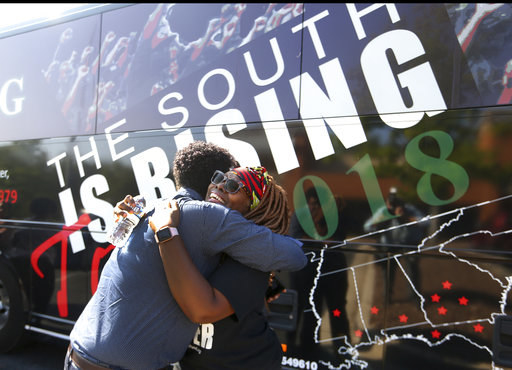 "Somebody called the county commission to complain because they saw all these black folks get on this big black bus. It's the blackest bus in America," said Cliff Albright, Black Voters Matter Fund's other founder, in a video.

The large passenger bus contained graphics with the words "The South Is Rising Tour," and photos of black people with their fists in the air. In the Facebook video, one senior could be heard saying, "We're still going to vote!" after they were told to get off the bus.
"Somebody drove past that, got feverous, got mad, and called the county commissioner's office, which then called the [senior] center," he said in the video about the incident, which was first reported by ThinkProgress.
Before being ordered off the bus, the senior citizens could be seen dancing, chanting "black votes matter," and clapping on the bus.
The Atlanta Journal-Constitution reported that the senior citizens were told they could still go vote in a van provided by the senior center, but the center's administration eventually concluded it was close to lunch time and the group could vote another day.