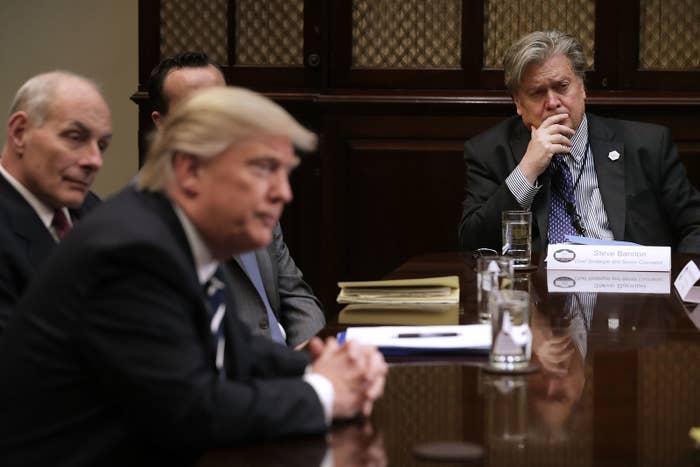 President Donald Trump unexpectedly shook up the staff of the National Security Council, booting his chief strategist, Stephen Bannon, from the influential group.
Administration officials scrambled to spin Bannon's dismissal from the council, saying it was only a temporary posting to begin with and that he was there in part to keep tabs on the now-ousted national security adviser, Ret. Gen. Michael Flynn. Several outlets reported that Bannon never went to a council meeting.
Flynn resigned as a national security adviser after it was revealed that he misled Vice President Mike Pence and other prominent White House officials on his communications with the Russian ambassador to the US before President Trump's inauguration.

Citing a regulatory filing, Bloomberg, which first broke the news, also reported that Homeland Security Adviser Tom Bossert's role has been been downgraded. Dan Coats, the national intelligence director, and Joseph Dunford, the chairman of the Joint Chiefs of Staff, are now "regular attendees" of the council, according to the filing.

"Susan Rice operationalized the NSC during the last administration. I was put on to ensure that it was deoperationalized," Bannon said in a statement to the Wall Street Journal. "[Current National Security Adviser Lt. Gen. H.R. McMaster] has returned the NSC to its proper function."

Bannon's statement came as scores of other reporters quoted a "senior administration official" who had used the phrase "deoperationalize" to explain the NSC shake-up.
But John Roberts of Fox News reported that the increasing amount of media attention Bannon has received — including a TIME magazine cover in February — may have contributed to his removal from the NSC. "The president wasn't particularly happy at the way Bannon had been grabbing the limelight, and that may have also played into all of this," Roberts said on Wednesday.

Bannon's sidelining marks the biggest victory for the current national security adviser, Lt. Gen. H.R. McMaster, in his drive to consolidate power at the council since he assumed the job in late February. The two men have for weeks viewed each other with suspicion and clashed repeatedly over personnel decisions.
In recent days, McMaster overturned a decision by Flynn to hire Robin Fontes as senior director for South and Central Asia, according to four individuals familiar with the decision. In her place, McMaster hired Lisa Curtis, a South Asia expert and Russia hawk whose views about Moscow's influence in Central Asia are likely to conflict with those of Bannon and Trump who seek a rapprochement with Russia.
The appointment of Curtis was the second recent addition of a Russia critic to the NSC following the hire of Brookings scholar Fiona Hill as senior director for Europe and Russia.
But McMaster hasn't always been on the winning side of intra-White House debates.

Last month, Trump overruled a decision by McMaster to reassign a senior White House director for intelligence, Ezra Cohen-Watnick, who was staunchly opposed by the Central Intelligence Agency. Trump's decision, first reported by Politico, came after Bannon and Jared Kushner, Trump's son-in-law, appealed to the president to keep the controversial aide.

Still, an NSC source noted that Bannon will still attend some meetings of the principals committee, a gathering of key Cabinet officials, such as the vice president, defense secretary and secretary of state. His continued involvement in important national security deliberations may suggest that Wednesday's change is largely symbolic in nature.

The NSC is the primary group through which the president makes foreign and domestic national security considerations. The council consists of high-level interagency members of the government, including certain members of the president's Cabinet.
In January, President Trump took the unusual step of demoting two key figures, the director of national intelligence and the chairman of the Joint Chiefs of Staff, in order to place Bannon, his chief strategist and the former editor of right-wing website Breitbart, on the NSC's principals committee.
Bossert is a former national security aide to President George W. Bush who now serves as homeland security adviser. Bloomberg reported that Bossert was essentially McMaster's number two on the council.
Republican Congresswoman Ileana Ros-Letinen called Bannon's outsting "welcome news."

Outside Your Bubble is a BuzzFeed News effort to bring you a diversity of thought and opinion from around the internet. If you don't see your viewpoint represented, contact the curator at bubble@buzzfeed.com. Click here for more on Outside Your Bubble.