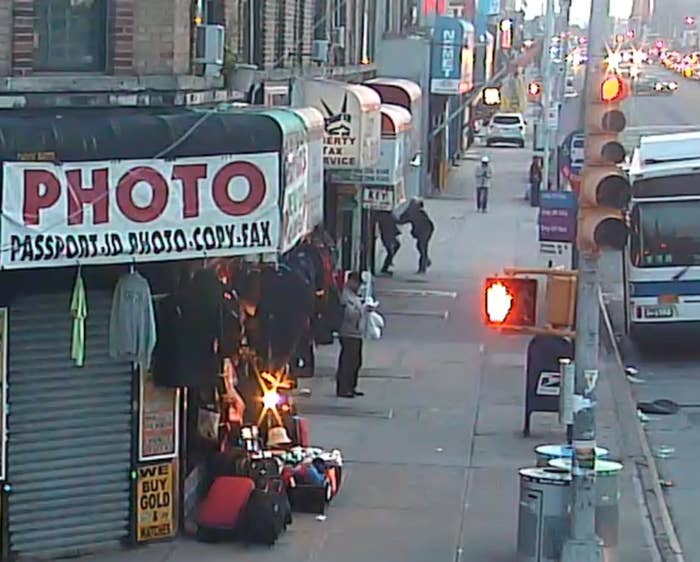 The lawyer for a Bangladeshi-American man released surveillance footage Monday showing his client being punched apparently unprovoked on a New York City street by an assailant who allegedly said "fuck Indians" during the incident.
The lawyer, Ali Najmi, at a news conference also called on the Queens County District Attorney to prosecute the May attack on Gazi Rahman as a hate crime.

"We need to make sure people who commit hate crimes are held accountable," Najmi told BuzzFeed News.

Rahman, his lawyer told BuzzFeed News, was attacked by a "random stranger" who was later identified by authorities as Christopher Porr. Najmi said that witnesses who have filed affidavits heard the assailant say "fuck Indians" during the incident.
"Blood started oozing out profusely and I starting shouting at the man to stop, he started using profanity like "Fuck Indians," one witness, Glen Rozado, said in a notarized statement Najmi sent to BuzzFeed News.
Both Porr and Rahman were charged with one misdemeanor count of assault with intent to cause physical injury and second-degree harassment, a violation. The Queens District Attorney; Porr; and the Legal Aid Society, which is representing Porr, did not immediately return requests for comment.
On Porr's Facebook page, he has shared Donald Trump's comments from 1988 about running for president, and memes and articles that are anti-immigrant, one specially against Muslim immigrants.
Najmi provided BuzzFeed News with NYPD surveillance video that he said shows the attack was unprovoked.
The surveillance video shows the assailant walking up to Rahman, who is talking on his phone. The assailant appears to say something to Rahman, who apparently brushes him off with the wave of his hand and continues talking. Rahman said the assailant asked him for money.

The assailant then pushes Rahman, who falls, stumbles, drops his cell phone and approaches the man. They scuffle, and Rahman attempts to deliver three kicks. The assailant then punches to Rahman's face. Rahman collapses to the ground and stays there for 12 minutes until police and an ambulance take him away.
Other men to come to Rahman's aid — at one point with what appears to be a stick or broom handle. Porr also fought the other men, knocking one of them to the ground with a punch before walking off camera down the block, apparently shouting.

Both Porr and Rahman were arrested after the incident.
Najmi on Sunday tweeted a photo of Rahman with blood on his face and and on the ground.

Najmi said Rahman a suffered broken nose, lacerations, and bruising.
Rahman was present at Monday's press conference and also called for the alleged attack to be classified as a hate crime, along with New York State Sen. Leroy Comrie.