A 22-year-old man was arrested and charged on Sunday over the murder of a 60-year-old Bangladeshi woman who was stabbed and later died of her injuries in the Jamaica Hills part of Queens in New York City on Wednesday night, just blocks from her home.
The NYPD said in a statement that officers had charged Yonatan Galvez-Marin, 22, with second-degree murder, robbery in the first-degree, and criminal possession of a weapon.
Local TV station ABC7 reported that Galvez-Marin confessed to trying to rob Nazma Khanam "and in the process of doing so, he stabbed her and ran away."
After numerous attacks on their community this year, many Bangladeshi members in Queens suspected the attacked was a hate crime and not a robbery attempt.
Police also say that Galvez-Marin lives on the same street where the murder occurred.
Khaman was walking home with her husband — who was trailing behind her — when she was stabbed in the torso.

WABC-TV reported that surveillance video showed Khanam walking with bags. A second video released by police showed a man walking away from the scene carrying what appeared to be a bag. The actual attack was not caught on surveillance camera.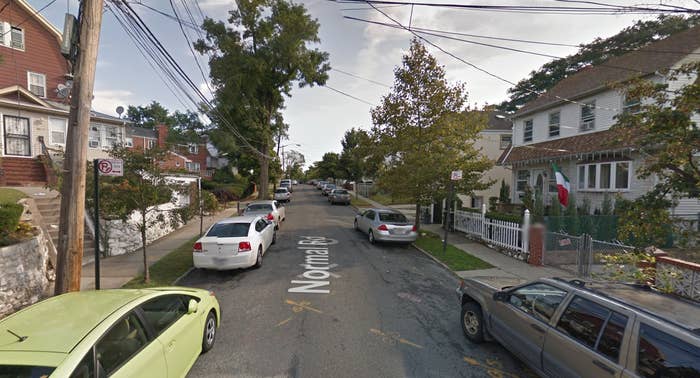 Khanam's husband heard her scream, and ran to her to find her on the ground, reportedly with the knife still lodged in her chest.
A $10,000 reward was being offered leading to the arrest and conviction of the person responsible for Khanam's death. It is unclear what led the NYPD to arrest of Galvez-Marin.

Khanam, an immigrant and a retired school teacher from Bangladesh, is also the aunt of an NYPD transit cop, revealed when the NYPD Muslim Officers Society tweeted condolences to the family.
"They didn't take her phone, pocketbook, bag nothing," Khanam's other nephew, Mohammad Rahman, told the New York Daily News. "We feel this is a hate crime...We want justice," he added.
This year, there have been multiple attacks on Bangladeshi-Americans in the New York City area, putting the community on edge, and solidifying their belief that many of the attacks are motivated by hatred of Muslims.

Earlier in August, an imam and his friend were shot and killed in a daytime attack in Queens shortly after midday prayers at the local mosque.
In May, a Bangladeshi man, also in Queens, was punched during an attack where witnesses say the alleged assailant said "Fuck all Indians." The incident was caught on a public NYPD surveillance camera.
In June, a 59-year old man was viciously beaten while riding his bike after leaving a local mosque, also in Queens, resulting in broken facial bones and cracked ribs.
In January, two masked men beat a Bangladeshi man in the Bronx while allegedly chanting "Isis."
And incidents against Muslim-Americans at large, or those perceived to be Muslim-Americans, are on the rise.
A report from earlier this year by Georgetown's Bridge Initiative, a program dedicated to studying Islamophobia, found that in 2015, there were more "incidences of anti-Muslim violence and vandalism" than any other year since September 11th, 2001, according to FBI hate crime statistics.
In addition, there were nearly four times as many attacks against mosques in 2015 compared with 2014, according to a report published by the Council on American-Islamic Relations in June, with many coming in the wake of the Paris and San Bernardino attacks and amid a sharp rise in anti-Muslim rhetoric from political figures.
"Because of the recent killings of Muslims in Queens, and because of the growing number of anti-Muslim incidents nationwide resulting from the increasing Islamophobia in American society, we urge the NYPD to investigate a possible bias motive for this murder," said Afaf Nasher, the executive director of the New York chapter of the Council on American-Islamic Relations.