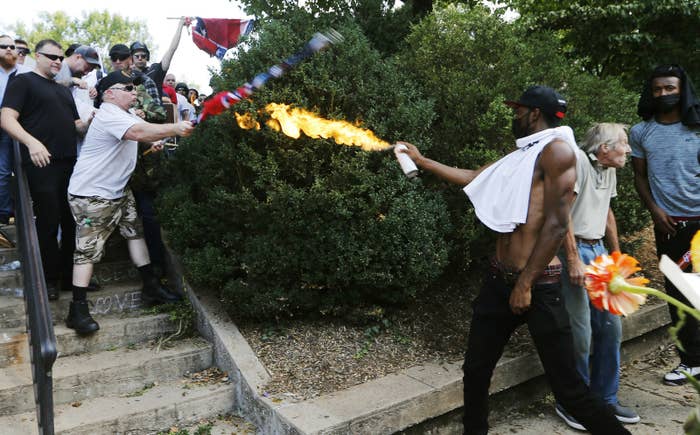 Seven people were arrested on Friday for protesting the guilty verdict given to a counterprotester from last year's Unite the Right rally in Charlottesville, Virginia, who used a flamethrower against white nationalists.
A photo showing Corey Long at the Aug. 12, 2017, rally using a spray can to shoot flames toward white nationalists went viral.
Long, who has maintained that he was acting in self-defense, was found guilty of disorderly conduct and sentenced to 20 days in jail by a judge in Charlottesville on Friday morning.

According to the Charlottesville Police Department, seven people protesting Long's guilty verdict on Friday were arrested in the downtown area of Charlottesville and charged with violating the misdemeanor of "Pedestrians stepping into highway where they cannot be seen."
"The protesters gathered in the middle of the roadway and were given repeated instructions to move out of the roadway or they would be arrested," a police press release stated. "When the protesters failed to comply with the officers' instructions, officers began making arrests."
Don Gathers, a local activist and member of the city's new Police Civilian Review Board, told the Daily Progress: "When was the last time you heard people being thrown into a paddy wagon for jaywalking? Who has an answer for that?"
Before the arrests on Friday night, a group of 20–30 protesters marched through the streets chanting, "Corey Long did nothing wrong."
Just days after the 2017 Charlottesville rally, Long told the Root that the protest was peaceful but shifted when someone pointed a gun at him.
"Then the same person pointed it at my foot and shot the ground," Long said.
The man with the gun was identified as Richard Preston, a Ku Klux Klan imperial wizard, who pleaded no contest to charges of firing a gun within 1,000 feet of a school in May.
Malik Shabazz, Long's legal adviser, defended him on Friday after the verdict.

"He made an ethical decision to stand up against racism and injustice, and sometimes standing up against those decisions you'll be rebuked by the American court system," said Shabazz, according to NBC29.

One person, Heather Heyer, was killed and more than 30 others injured when a car drove into a group of counterprotesters at the rally in which various white supremacist groups converged on Charlottesville to protest the removal of a statue of Confederate Gen. Robert E. Lee.