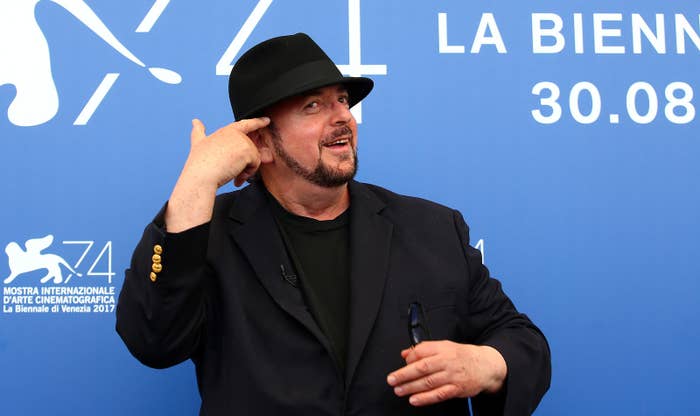 Nearly 40 women have accused writer and director James Toback of sexual harassment.
According to a report by the Los Angeles Times on Sunday, the director and screenwriter — perhaps best known for his 1991 nominated Oscar-nominated screenplay Bugsy starring Warren Beatty and Annette Bening — has been accused of masturbating in front of and dry-humping women, among other acts.
"The way he presented it, it was like, 'This is how things are done,'" actor Adrienne LaValley told the Times about a 2008 encounter with Toback where she said he rubbed his crotch on her leg. When she drew back, he then ejaculated in his pants.
"I felt like a prostitute, an utter disappointment to myself, my parents, my friends. And I deserved not to tell anyone," LaValley said.
In all, 31 of the 38 women in the story spoke on the record and nearly all, interviewed separately, had similar stories about Toback engaging in inappropriate sexual behavior during interviews, auditions, or meetings.
The alleged incidents against Toback come in the wake of more than 50 allegations of sexual assault and harassment by Harvey Weinstein, another Hollywood figure, who is also accused of using his position in the industry to sexually harass women.
Toback, now 72, is said to have approached several women, some as young as high school age, in the streets of Manhattan, where he would introduce himself in attempt to establish his stature in the movie industry. He set up meetings with these women, telling them he would make them famous, the LA Times story recounts:
During these meetings, many of the women said, Toback boasted of sexual conquests with the famous and then asked humiliating personal questions. How often do you masturbate? How much pubic hair do you have? He'd tell them, they said, that he couldn't properly function unless he "jerked off" several times a day. And then he'd dry-hump them or masturbate in front of them, ejaculating into his pants or onto their bodies and then walk away. Meeting over.
"He always wanted me to read for him in a hotel or come back to his apartment, like, 'How serious are you about your craft?'" recalled Starr Rinaldi, who says she was approached by Toback 15 years ago in Central Park. "And the horrible thing is, whichever road you choose, whether you sleep with him or walk away, you're still broken," Rinaldi told the paper. "You have been violated."

Toback has been a Hollywood figure for decades. In 1987, he released what the LA Times called a "semi-autobiographical movie" titled The Pick-up Artist. His most recent film, The Private Life of a Modern Woman, stars Sienna Miller and was shown at the 2017 Venice Film Festival.
"It's a common thread among many women I know… after someone mentions they were sexually abused by a creepy writer-director, the response is, 'Oh, no. You got Toback-ed,'" Karen Sklaire, an actor and playwright, told the LA Times. "The numbers are staggering."
"He told me he'd love nothing more than to masturbate while looking into my eyes," said Louise Post, who is now a member of the indie-rock band Veruca Salt. Post said she met Toback in 1987 while attending Barnard College. "Going to his apartment has been the source of shame for the past 30 years, that I allowed myself to be so gullible," Post said to the LA Times. On Oct. 16, the band tweeted, "Us too: by bosses, boyfriends, male babysitters, taxi drivers, strangers and movie director/pig #jamestoback #metoo."
Toback denied the allegations and told the Los Angeles Times that he hadn't met with these women, and if he had, it "was for five minutes and have no recollection." Toback also told the paper that it was "biologically impossible" to have engaged in the alleged behavior for the last 22 years, and referenced a heart condition, diabetes, and medication.
In a Facebook post on Sunday, screenwriter and director James Gunn alleged that in the 1990s, Toback was "everywhere." Gunn alleges that he has met at least 15 women whom he says Toback "accosted," including three women Gunn has dated, two of his best friends, and a family member on two occasions. "Yes, he came up to her twice with the same stupid line, not realizing she was the same person," Gunn wrote. "This is in addition to many other women I've talked to at parties or dinners about their interactions with Toback."