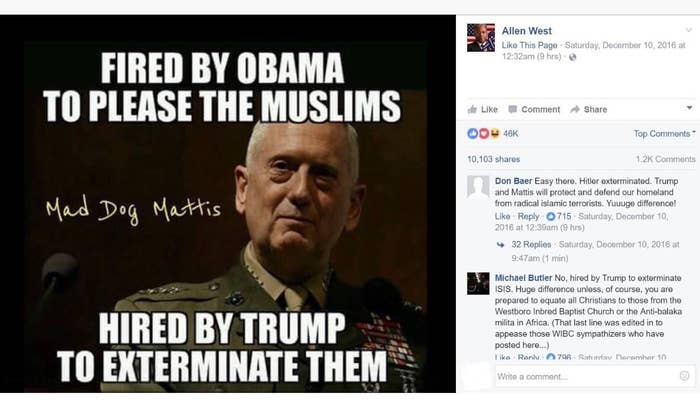 A post on the official Facebook page of Allen West — a former Republican congressman, Army lieutenant colonel, and conservative political pundit — stated that President-elect Donald Trump chose Gen. James "Mad Dog" Mattis to serve as defense secretary in order to "exterminate Muslims."
The meme-style post on West's page, which has over 2.5 million followers, included a picture of Mattis with the words "FIRED BY OBAMA TO PLEASE THE MUSLIMS. HIRED BY TRUMP TO EXTERMINATE THEM."
Mattis, who was announced earlier this month as Trump's nominee to head the Pentagon, retired from the US Central Command in 2013. He was not fired.
The post, which was uploaded Saturday, was shared by at least 10,000 people before being taken down.

West visited Trump Tower in New York City on Dec. 5 and reportedly met with members of Trump's transition team, including Vice President-elect Mike Pence and former US Army General Michael Flynn, Trump's pick for national security adviser.
West told reporters that national security issues were discussed at the meeting.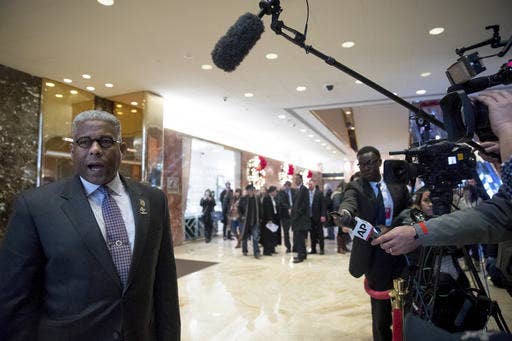 On Saturday afternoon, another post appeared on West's Facebook by Michele Hickford, editor-in-chief of West's website, claiming that the offensive image was not posted by either herself or West. Hickford called the meme "reprehensible."

"Furthermore, it does not reflect Col. West's beliefs, principles, and values," Hickford wrote.
She did not state who posted the meme, or why and how a meme calling for the "extermination" 1.6 billion people was posted.
The meme was condemned by the Council on American–Islamic Relations' Florida chapter, which called for West to be disqualified from further government appointments, describing him as "well-known Islamophobe."
"The former congressman's irresponsible and openly xenophobic Facebook's posting insinuating that Trump nominated Gen. Mattis to exterminate Muslims should be taken serious by President-elect Trump," CAIR-Florida CEO Hassan Shibly said in a statement.
West did not immediately respond to a request for comment.
The former congressman is no stranger to controversy, often releasing provocative statements to the media since his retirement from the Army in 2004.
In 2011, West said Joseph Goebbels, a Nazi propagandist and close adviser of Hitler, would be proud of the Democratic Party.
West also once said that Walmart was "caving to Muslims demands" by having an employee who he said appeared to be Muslim refrain from selling alcohol to customers. The store later told him the employee was underage.
CORRECTION
Allen West was a lieutenant colonel in the US Army. An earlier version of this post said he was a general.