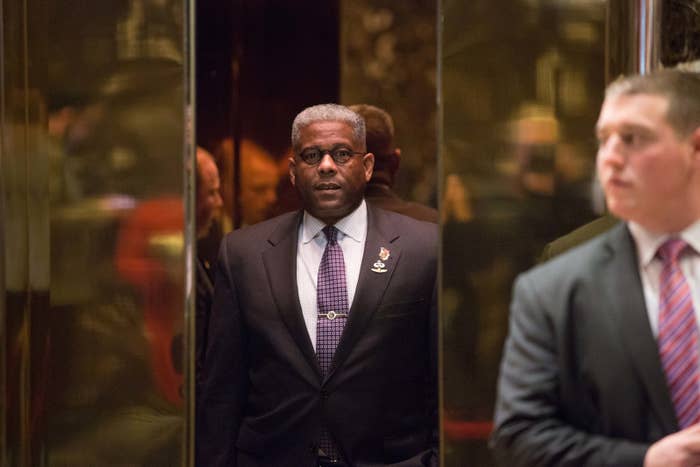 Former U.S. Rep. Allen West, a conservative who posted a meme on Facebook on Saturday about Trump picking a cabinet member who will "exterminate" Muslims, is at Trump Tower on Monday to possibly meet with the president-elect.
The post on West's official Facebook said that Donald Trump wants Gen. James "Mad Dog" Mattis to serve as defense secretary because he will "exterminate Muslims." West's page has more than 2.5 million followers.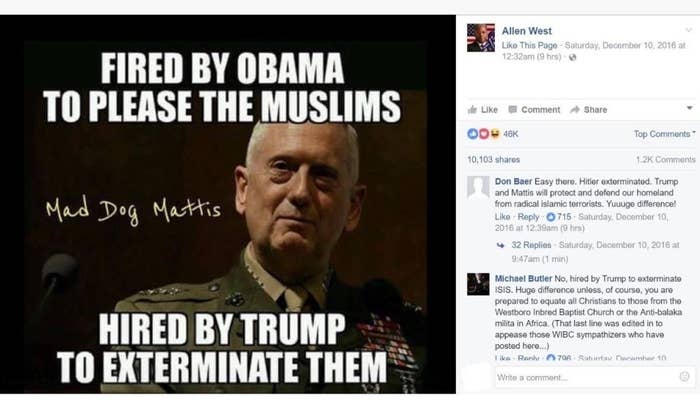 The post was shared about 10,000 times before it was taken down. Another post on West's Facebook on Sunday by Michele Hickford, the editor-in-chief of West's website, said neither she nor West posted the "reprehensible" meme.
West, Mattis, and the Trump transition team did not respond to requests for comment.

West — a former Republican congressman, Army lieutenant colonel, and conservative political pundit — was also at Trump Tower earlier this month and reportedly met with Mike Pence and Gen. Michael Flynn, the pick for national security advisor.

When asked by reporters Monday if he was advising Donald Trump on national security issues, West said, "We'll see when I get up there."