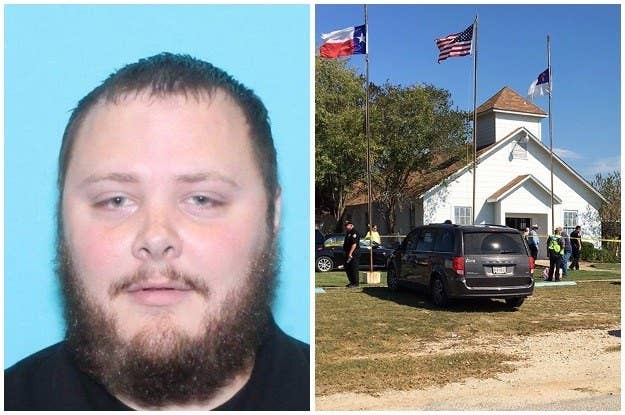 The Air Force on Monday said it failed to alert federal authorities to Texas church shooter Devin Patrick Kelley's 2012 domestic violence conviction, which could have prevented him from purchasing the firearm he used to massacre 26 people on Sunday night.
"Kelley was convicted by a general court martial on two charges of domestic assault against his wife and step-son under Article 128 of the Uniformed Code of Military Justice," the Air Force said in a statement. "Initial information indicates that Kelley's domestic violence offense was not entered into the National Criminal Information Center database by the Holloman Air Force Base Office of Special Investigation."
The National Instant Criminal Background Check System (NICS) database is an FBI-run government agency responsible for "saving lives and protecting people from harm—by not letting guns fall into the wrong hands," according to the agency.
The revelation was a moment of clarity amid conflicting information concerning how, and if, Kelley was legally allowed to purchase firearms. Police said they found a Ruger AR-556 rifle near him and he had a Glock 9 millimeter and a Ruger .22 in his car.
Air Force Secretary Heather Wilson, the Defense Department Inspector General, and other top military officials will "conduct a complete review of the Kelley case and relevant policies and procedures," the statement said. "The Service will also conduct a comprehensive review of Air Force databases to ensure records in other cases have been reported correctly."
Kelley served in the Air Force from 2010 to 2014. He was convicted by Military Judge J. Wesley Moore at a court-martial at Holloman Air Force Base in New Mexico, and was sentenced to a bad-conduct discharge a year of confinement in a military prison, and was reduced to the lowest rank in the Air Force, according to Ann Stefanek, a Air Force spokeswoman.
Retired Col. Don Christensen, who was chief prosecutor of the Air Force when Kelley was court-martialed, told NPR that Kelley was convicted of domestic assault and pleaded to "intentionally inflicting grievous bodily harm" on his wife and child.
Christensen added that the domestic assault conviction, in which Kelley also fractured his baby step-son's skull, should have banned Kelley from purchasing a firearm. Federal law also states, "It shall be unlawful for any person to sell or otherwise dispose of any firearm or ammunition to any person knowing" that the individual "has been convicted in any court of a misdemeanor crime of domestic violence."
But Kelley was able to buy firearms after the 2012 conviction and his failed 2013 appeal.
Fred Milanowski, a special agent with the Bureau of Alcohol, Tobacco, Firearms and Explosives (ATF), said two of the guns were bought in Colorado, and two others in Texas, referring to the weapons found at the scene. One gun was purchased in 2014, 2015, 2016, and 2017, the ATF added.
A national sporting goods outlet that sells firearms and operates in 16 states told BuzzFeed News that the Sutherland Springs church shooter was approved by the NICS to buy two firearms in the last two years. One of those was the Ruger AR-556 rifle purchased in April 2016, a law enforcement official told CNN.
"Based on information we received from law enforcement, we confirmed that the suspect purchased two firearms from two San Antonio locations, one in 2016 and one in 2017," a spokesperson for Academy Sports + Outdoors wrote to BuzzFeed News. "We also confirmed that both sales were approved by the National Instant Criminal Background Check System (NICS). We are cooperating with law enforcement as they investigate further."

Kelley served in logistics readiness at Holloman Air Force base from 2010 until his discharge in 2014. He attended basic training at a base in Lackland, Texas and for technical training at a base in Goodfellow, Texas.

Sturm, Ruger, and Co., the manufacturer of the AR-556, makes several versions of the rifle, with the AR-556 being the most affordable and accessible to consumers. Versions of the rifle were used in past mass shootings, including Sandy Hook, Aurora, and San Bernardino.
The AR-15 is not one type particular type of rifle, but instead one manufactured by many firearms companies that can be extensively modified, altered, and customized by its owners. The AR stands for ArmaLite, a weapons manufacturer. The first AR-15s were sold in the late 1950s for military use. They are semi-automatic, meaning that they fire one round every time the trigger is pulled. They can be altered to be used with larger magazines (the AR-556's standard magazine is 30 rounds) and to fire more rapidly.
"AR-15-platform rifles are among the most popular firearms being sold. They are today's modern sporting rifle," according to the National Shooting Sports Foundation, a firearms trade association. AR-15s are also popular because they are lightweight — the lightest AR-556 is 6.5 pounds.
Wired described the AR-15 as "more than a gun, it's a gadget" and as a "modular gun platform that's infinitely hackable and accessorizable."
While the company does not release sales figures for each weapon it sells, it said in February that 29%, or $171 million, of its $658 million worth of firearms sales in 2016 came from products released in the past two years, including the AR-556.
In 2009, law professor Michael O'Shea estimated that there were least one million "AR-15s and similar rifles in private hands" — a number that has likely increased.
Overall, the gun industry has experienced higher sales in 2016 thanks to the widespread perception that Hillary Clinton would win the presidency and attempt to implement new gun restrictions.
"The industry experienced strong demand that lasted almost the entirety of 2016. The demand was likely bolstered by the political campaigns in advance of the November 2016 election and fell off sharply by mid-November," Ruger Chief Executive Christopher Killoy said in an August earnings call.
In November 2016, in response to a question about how sales of AR-556 or pistols designed for concealed carry would be affected by political concerns around gun control, Killoy said the products that "are most at risk from political fits are the ones that have the greatest volatility, when the volume level of politics increases, their sales skyrocket. And when it tapers off, those sales plummet."
Killoy said in an earnings call that "modern sporting rifles," which include its three AR-15 variants, would be "a solid part of the market going forward," but that business had not been going as well as expected, however, thanks to aggressive discounting by other companies. "It's still pretty bloody out there with the discounting from some of our competitors which started pretty much back in Q1, Q2 last — earlier this year."
The suggested retail price for the AR-556 is $799, and Killoy said in August that the company had been able to push the "average street price" down to $499.
The first AR-15 variant, produced by Ruger, was the SR-556 released in 2009, while the AR-556 wasn't introduced until 2014. The rifle was marketed as an "affordable yet well-equipped M4-style Modern Sporting Rifle."
The National Rifle Association publication, American Rifleman, described it as a lighter, cheaper alternative to the SR-556, which can cost around $2,000.
While the details of how the weapon was used in the Sutherland Spring shooting have not yet been disclosed, versions of the AR-15 have been used in past mass shootings, sometimes with modifications that allowed for more rapid fire. In the San Bernardino shooting in 2015, Syed Rizwan Farook and Tashfeen Malik used two AR-15s variants produced by DPMS and Smith & Wesson. The guns had been altered that allowed for fully automatic shooting and larger capacity magazines respectively, which would have made them illegal under California state law.