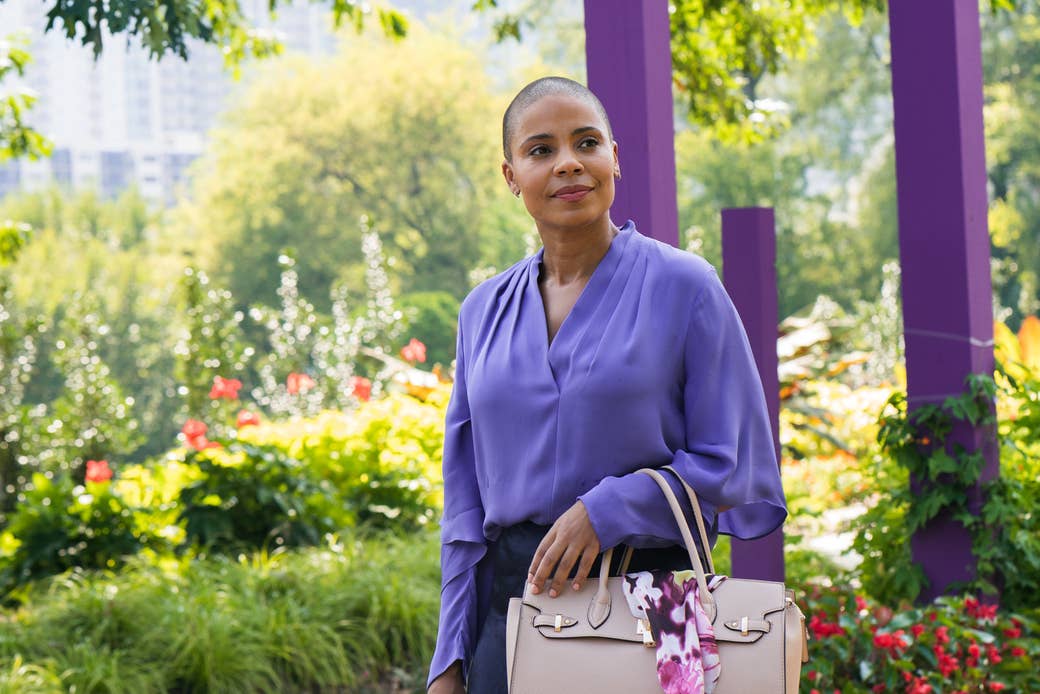 You can't truly call yourself a lover of romantic comedies if you're not familiar with Sanaa Lathan's catalog. The 47-year-old actor has had an eclectic career, but the base of her classics lie within the genre: Love & Basketball, Brown Sugar, the Best Man films, and Something New truly took over the '99 and the 2000s like Cash Money records. And now, the queen is back to reclaim her throne in Netflix's latest offering, Nappily Ever After.
"I'm kind of a sucker for rom-coms and I miss them," Lathan told BuzzFeed News. "When I sign on to do a project, it has to be something I would want to see, something that moves me and challenges me, and this hit all those marks. And it just felt right because I hadn't done anything like it in many years."
Nappily Ever After follows Violet Jones (Lathan), a successful marketing executive, on a journey of self-discovery that includes men but does not center around them. "It is a love story, but it's a story about falling in love with yourself, which I think is the ultimate love story," said Lathan. "I've learned through living life that if you don't love yourself, you can't really healthily love another person."

The movie's focus on Violet's self-love makes it a bit of a contrast from the rom-coms we've seen from Lathan in the past. It starts with her character in a relationship, awaiting a proposal, but it quickly spirals into something different. The narrative arc is outlined by Violet's hairstyles, which serve as physical markers for her internal growth, instead of her relationship status.
In Lathan's past rom-coms, relationship status has been front and center. In Brown Sugar, the big moment is when Sid and Dre finally have sex and admit their romantic feelings for each other. And in Something New, Kenya's growth is shown by her ability to break out of her shell and date a white man. In Nappily Ever After, however, Violet's defining moment includes no one else. The climax is her shaving off all her hair, forcing those around her — and herself — to accept the purest version of herself. The scene is easily the film's standout moment, bolstered by the fact that Lathan actually shaved her own head for it.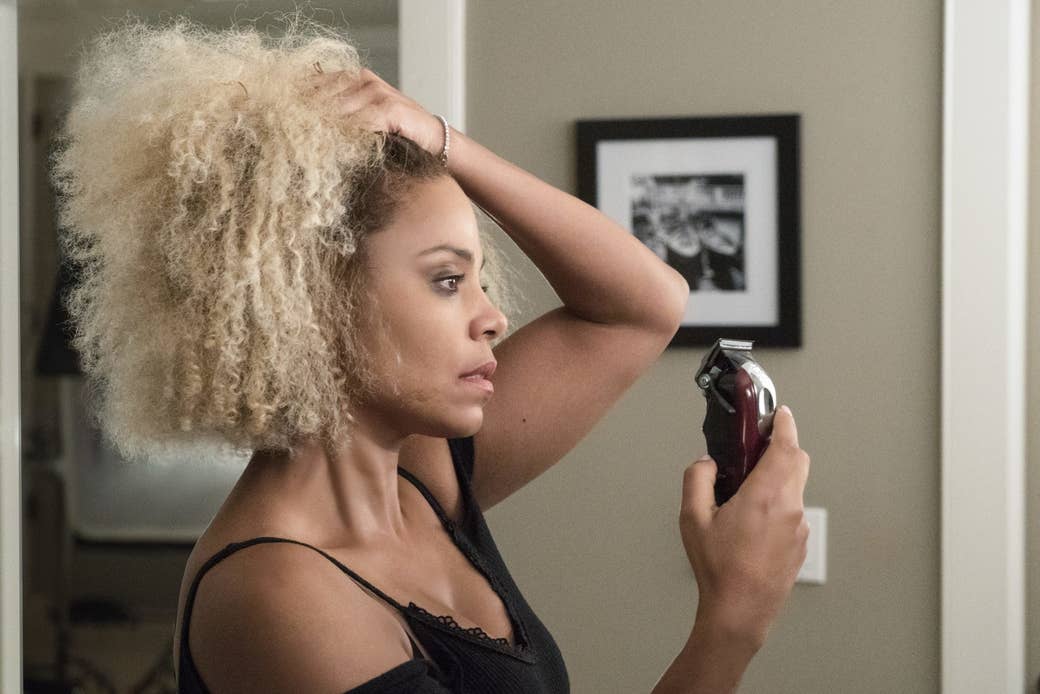 The film's director, Haifaa al-Mansour, had to put her full trust in Lathan during the head-shaving scene because it had to be done in one take, removing al-Mansour's power to call cut or switch up the shot. Instead, she put three cameras on Lathan and let her go. "A lot of actors protect themselves a little bit; they give you something beautiful and amazing but just enough. [Lathan] didn't. She went all the way and it was wonderful to witness," al-Mansour told BuzzFeed News. "It was one of the most amazing scenes I've ever shot in my life."

"It's an important metaphor about reclaiming your beauty and yourself," Lathan said of Violet's (and her own) decision to go bald. "We've been told our whole lives that our hair is a symbol of beauty, and if you don't have the kind of hair that meets European beauty standards, then what? You're not beautiful. What does that do to your self-esteem? What does that do to your self-worth? To how you walk through life?"
While the message is significant, Violet's journey to self-love and accepting her own standard of beauty is a theme that may feel tired to black women who have been fully engaged in the natural hair movement over the past decade. But despite the active discourse that has taken place on that topic digitally, the subject has been surprisingly removed from the black romantic comedy space. In fact, the last notable example in a movie is when Something New's Kenya takes out her weave as a symbol of self-acceptance — and that was in 2006. Other examples from that era, like Diary of a Mad Black Woman, are also less nuanced because they inadvertently send the message that a black woman needs to remove her weave in order to have a healthy relationship. It's important that it be clear it's more about the internal growth these women endure that makes them better partners, and to its credit, Nappily Ever After does try to make this distinction by emphasizing the trauma rooted in Violet's hair experience. The audience will have to decide if it succeeds.
"I love the fact that she doesn't necessarily end up with any of the guys. I don't know that we've seen that in that genre."
Aside from the heavy emphasis on the hair theme, the rom-com's boldest statement may be how it frames Violet's happy ending — which doesn't have her choosing a mate. "I love the fact that she doesn't necessarily end up with any of the guys," said Lathan. "She has a choice and you kind of expect her to end up with one of them, because they're both amazing candidates, and yet she chooses to take that walk by herself, at least for the moment. I don't know that we've seen that in that genre, at least the ones that I've done."
A fairy-tale ending with no prince is a surprising move for a genre that rarely tells women — and black women in particular — that their story can be complete without a man. Imagine if Monica in Love & Basketball told Quincy to kick rocks after he "took that bitch to Burger King" to hurt Monica because she chose to prioritize her basketball career over their relationship one night. The "I'll play you for your heart" ending is moving, but Quincy is the one who should've been fighting to get her back after the way he acted. Would it still be considered a classic by so many if she hadn't? Would Lathan have gotten to reprise her role as Robin in The Best Man Holiday if she hadn't accepted Harper's proposal in the original film? (Keep in mind, that was the day after he planned to cheat on her, but failed because he got beat up by his best friend for sleeping with his fiancé back in college — and writing about it in a book.) It's empowering to finally see a black woman character not go back to a man after he's done her wrong.
If it were up to Nappily Ever After producer Tracey Bing, black women would've gotten this kind of representation earlier. The former Warner Bros. executive first tried to get this movie made over a decade ago with actor Halle Berry tied to the role of Violet. They weren't successful in getting it made then, but five years ago Bing decided to pick the script back up and shop it around. "I think the themes are really the reason that it makes sense to make this movie now," said Bing. "I mean, you look at Black Panther and Insecure, and we're starting to see different images of black women on TV and in movies. I feel like it's just a really empowering time."
Whether you like Nappily Ever After or not, there's always a place for a light rom-com to watch with your girls and some wine. That's a reprieve black audiences may especially appreciate after the year of stellar but stressful black films we've had: 2018 started with suspenseful, action-packed films like Black Panther, Breaking In, and Proud Mary, and this summer brought politically charged movies like BlacKkKlansman and Sorry to Bother You. Soon we'll all be seated to watch the first fictional film based on the Black Lives Matter movement, The Hate U Give, which is sure to be a triggering and emotional ride. While all of the stories mentioned above are relevant and deserve to be told, it's nice to have a light romantic comedy added to the mix. And it's even nicer to have Sanaa Lathan back where she belongs.