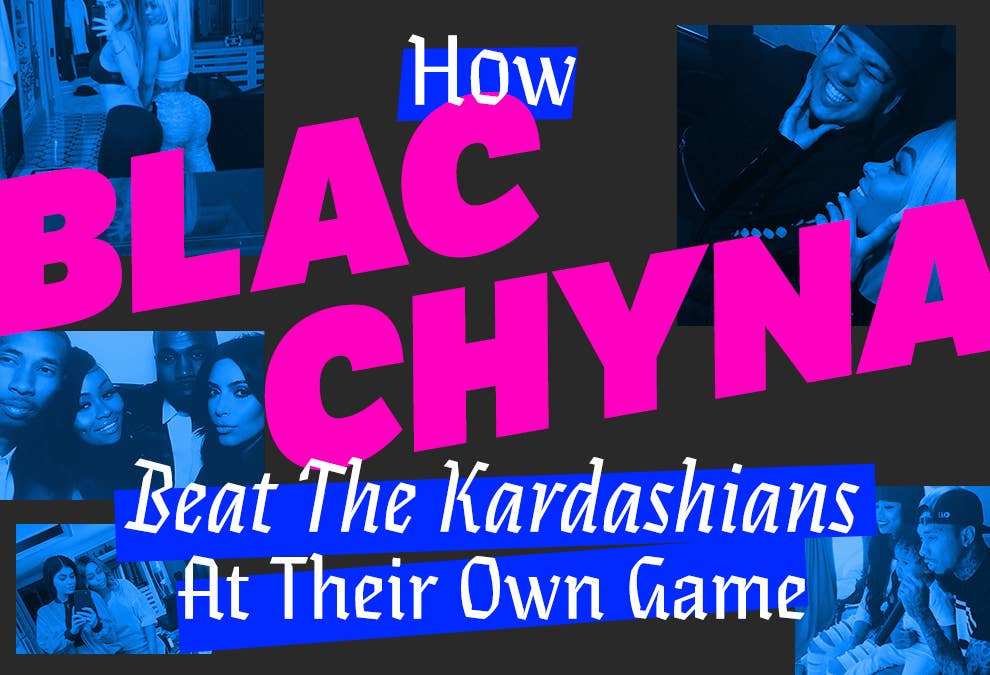 "Question," Khloé Kardashian says to her older sister Kim Kardashian West while the two are alone (excluding the filming crew and millions of Keeping Up With the Kardashians viewers watching at home) in Khloé's giant kitchen.
"Don't we think it's kind of a miracle that Rob — who doesn't even show up to Christmas for the past three years, literally, he wouldn't leave his room — the fact that he has now created a Snapchat, the fact that he now wants to be so public, blows my mind," she says through pursed lips.
Kim walks over to the kitchen table and takes a seat next to her sister. "She gave him confidence, more power to her," she says, while notably dancing around Blac Chyna's name like it's Voldemort.
"Some pussy's getting him to remove his braces and shave his beard and work out," Khloé continues without flinching.
"My thing is do what you want, do what makes you happy, whatever," Kim muses. "But he should have said to us, 'Hey guys, this is how I feel, I can't help who I love, I fell in love with her, but Kylie should know this.' He has no loyalty." Khloé nods before repeating her sister's words for the viewers in the cheap seats: "He has no loyalty."
For many people, arguably Kris Jenner among them, it may seem as if Blac Chyna came out of nowhere: the PR equivalent of Venus rising fully formed from the foaming sea with an engagement ring in one hand and a pregnancy announcement in the other. But look closer and you'll start to notice Chyna everywhere: dancing in rap videos, sitting courtside at NBA games, making appearances on your favorite reality show, in the pews at the biggest celebrity wedding of the decade. While no one and everyone was watching, Chyna was making calculated moves to close in on her own empire with a precision and finesse that not even the Kardashians saw coming. This wasn't a PR breakthrough. It was a coup.

And so the Kardashians, a family often accused of stealing black men, black features, and black culture, got beat at their own game by a black woman. And not just any black woman, but a video vixen who was never supposed to see the inside of the country clubs the Kardashians frequented growing up.
Before becoming the fiancé of the only Kardashian son, Blac Chyna was best known for her past as a stripper. A stark contrast to the Kardashians' high-society lifestyle full of winters skiing in Vail and summers swimming at any given mansion in California, Chyna grew up the daughter of a single, working-class mother in Washington, D.C. Though the Kardashians are now considered poster children for New Money in the social media epoch, they have always had the benefit of upper-middle-class trappings. Robert Kardashian Sr., the late father of Kim, Kourtney, Khloé, and Rob, served as a defense lawyer during O.J. Simpson's landmark 1995 trial. And by the early 2000s, the family was a fixture among Hollywood's rising classes.
By the time Kris Jenner, Robert Kardashian's ex-wife, took the reins of the family's brand following the leak of Kim's sex tape in 2007, their ascent to new-era stardom seemed unstoppable. With the benefit of Kris's marketing savvy, the family bounced back from the scandal with their brand — and bank accounts — intact. Through the melodrama of the E! reality TV show they began filming that same year, the Kardashians have been showing off their wealthy lifestyle for nearly a decade — just as long as Chyna has been striving to make a name for herself. Their timelines run parallel, separated by class, race, and an insider's knowledge of the business.
As the New York Times put it, Kris Jenner has changed the nature of celebrity: She and her family have turned "famous for being famous" into a new industry. No one does this better than the Kardashian/Jenners, the Lannisters of Calabasas. They keep us glued to their Twitter beefs and hooked on their Instagram selfies. Hell, they've even convinced us to pay to watch them on their apps as they do things like get their makeup applied. And that doesn't even include the things they've convinced followers to buy (waist trainers?! A tea laxative?! A cream that allegedly grows your boobs?!) all while earning hundreds of thousands in sponsorship revenue. It's what puts them at the top of every social media metric and on Forbes lists; it's what gets them into the Met Gala and on the covers of Vogue; it's what makes them the rulers of Westeros.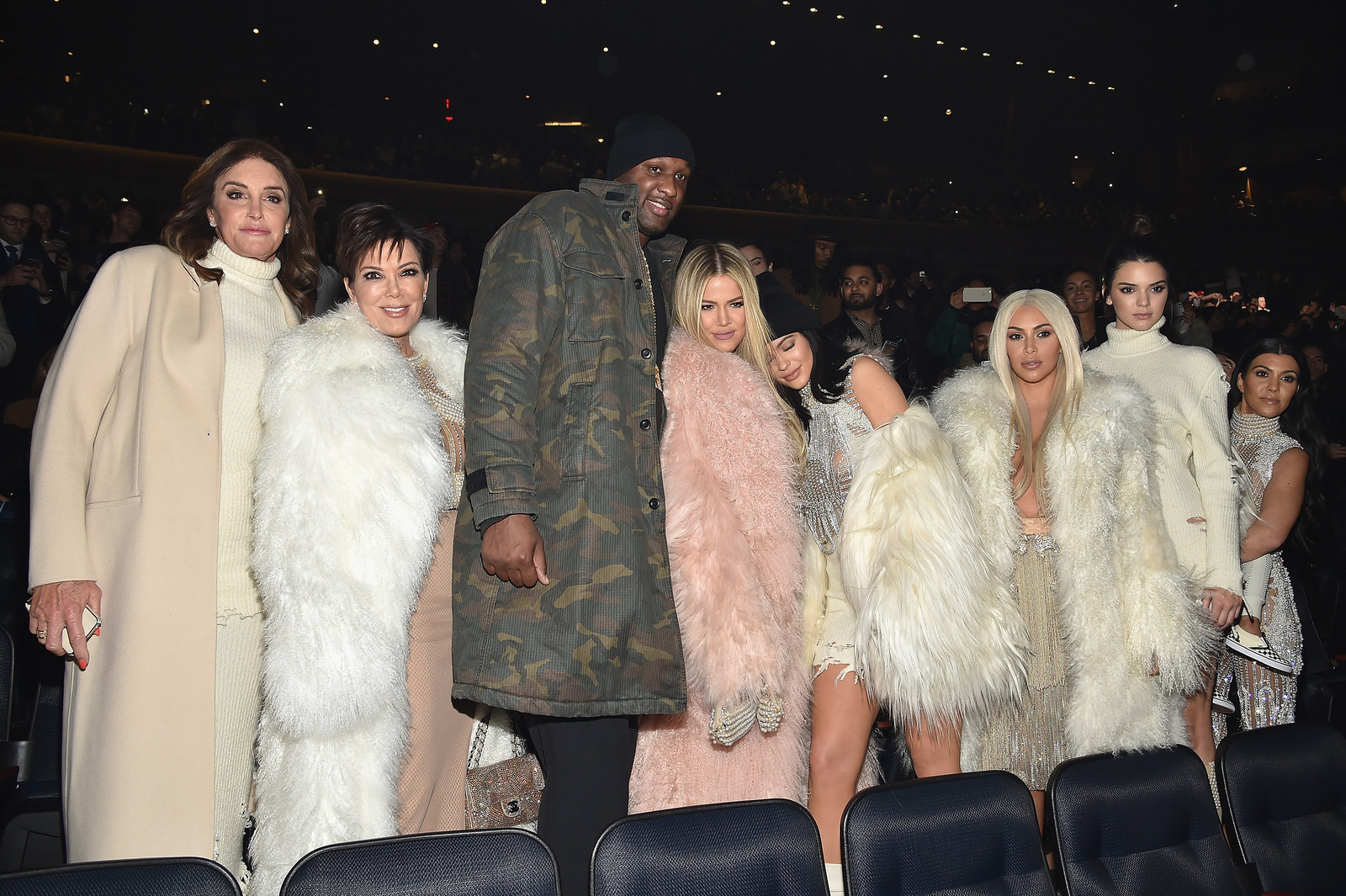 The Kardashians have long acquired their spots at these tables by "borrowing" from black culture. Whether it's Kylie's magically enhanced lips, Khloe's (newly) "enviable" backside, or Kim's "boxer braids," the sisters latch onto elements of the black aesthetic they find trendy, and then mainstream outlets report as if it were the Kardashians who started the trends. It is a phenomenon people of color, especially black people, have seen occur again and again throughout the years: When white people discover black cultural markers, the same look that had been popular within an ethnic culture for decades (or even hundreds of years) is suddenly "a new trend."
Chyna decided to not only get a slice but come for the entire Kardashian pie.
The pattern of "Columbusing" isn't unique to the Kardashians, but the extent to which the family has profited from it is remarkable. This element of cultural appropriation in the Kardashians' style has left many feeling like they created an empire using things that don't belong to them. To quote actor Amandla Stenberg, they "cash cropped" our cornrows. So when Chyna, an actual black woman, decided to not only get a slice but come for the entire Kardashian pie, those watching couldn't help but cheer as she swooped in.
But to really understand Chyna's rise, let's look at where she started.
In the hierarchy of strip clubs, Miami's King of Diamonds is at the top. The club has become a familiar stepping-stone for dancers trying to gain some level of fame. VH1's most popular reality show, Love & Hip Hop Atlanta, has a few former KOD dancers in its cast, including one of the franchise's biggest stars, Joseline Hernandez. The fact that Chyna chose to avoid that particular route speaks to her foresight: She could have easily been on a number of We TV and/or VH1 reality shows if she wanted to, but she had her eyes set on a different prize.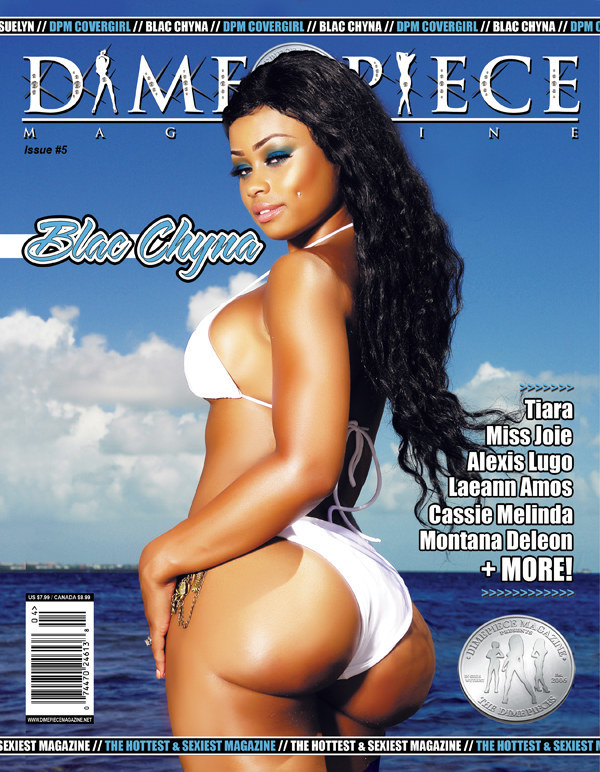 Born Angela Renée White on May 11, 1988, Chyna was raised in Maryland before moving to Miami to attend Johnson & Wales University. But eventually, she left school and started modeling for men's magazines and stripping full-time at clubs like D.C.'s Stadium Club, Detroit's 007, and Miami's King of Diamonds. She performed under the aliases Dora Renée and Cream before ultimately settling on Blac Chyna, a name she's rumored to have stolen from a client. Early videos on YouTube show her participating in low-budget swimsuit competitions and pageants in noisy bars and cramped theaters for Enyce Models in 2007 before finally working her way up to King of Diamonds by 2010. Even then, Chyna stood out; it was obvious to the men around her that she was, as one of them put it, "on her way." Interviews from those who knew her at the time attest to her marketing mindset.
Love & Hip Hop Atlanta cast member Jessica Dime lived with Chyna while they were strippers at KOD, and in a 2011 interview with DJ Smallz, she spoke about how the two used to be "bossed up" (read: professional and focused on making money for an intended goal) in a way that she believed set them apart from strippers today. "Chyna and me used to save every single day. Bands [of money] in our suitcases; we would go on a 10-day grind and save all our money." Stripping was never the end goal; they were thinking ahead, saving to make their entrepreneurial dreams come true. That also meant exclusivity was essential: "If you wanted to see me strip, you had to come to where we were to see it."
This shrewd attention to the duo's branding also explains why Chyna was so upset when WorldStarHipHop put a video on its website of her stripping at a DJ Khaled party at KOD back in 2011. "We [Chyna and her manager] have told them in the past that I don't want anything to do with being a World Star Hip-Hop honey. It's not the look I'm trying to go for," she said in a 2010 interview with the Miami lifestyle website 305Honeys.com after she'd appeared in her first music video. Even back then, Chyna knew she wanted to protect her public image and branch out beyond the so-called "urban" circuit.
By the time Chyna was 22, her skills and signature look (pierced dimples, long blonde wig with the blunt bang, huge derriere) had left an impression on the hip-hop community. In fact, this twisted web of Lip Kits, step-cousin-half-siblings, and deceit may never have come to pass if Drake (yes, Drake) hadn't dropped Blac Chyna into pop culture without her permission when he rapped "Call up King of Diamonds and tell Chyna it'd be worth the flight" on his 2010 debut album Thank Me Later. In addition to the infamous Drake shout-out — which she claimed to be shocked about when her manager emailed her the song — she appeared in her soon-to-be brother-in-law Kanye West's "Monster" video as Nicki Minaj's stunt double in a scene where Nicki ties herself to a chair. But it was a chance meeting with Drake and Nicki's Young Money Entertainment/Cash Money Records labelmate Tyga that would permanently thrust her into the spotlight later that year.
2010 was also a turning point for the Kardashians. Keeping Up With the Kardashians was in the middle of its highest-rated season to date. Kris had just moved from the family's ranch-style home to her current mansion with Caitlyn, Kendall, Kylie, and Rob. Khloé and Lamar Odom, then a member of the NBA Championship–winning Lakers team, were newlyweds. Kourtney had just given birth to the first Kardashian grandchild, Mason Disick. And Kim had just relocated from her two-bedroom condo into a $4.8 million Tuscan-style villa in Beverly Hills, marking a new level of wealth. It was the peak of the roller coaster before their drop from fairy tale to mania: Cue Kim's 72-day marriage to Kris Humphries, the revelation of Lamar's cocaine addiction, Caitlyn and Kris's divorce, Scott's increasingly reckless alcoholism precipitated by his parents' death, Rob's depression and excessive weight gain, Kylie's dramatic physical transformation, and all the other residual effects that came from living such public lives.
During a 2013 interview with Power 105.1's The Breakfast Club, Tyga said it took him two months to get a date after meeting Chyna at KOD during a party for Chris Brown's F.A.M.E. tour near the end of 2011. "When I first met her, she was too busy for me," he told them.
By every stereotype out there, a woman like her was just waiting for a musician or athlete to give her star power.
Listen to the interview and you can hear the surprise from Charlamagne, DJ Envy, and Angela Yee that Chyna didn't jump at the chance to seduce and latch onto a rapper. By every stereotype out there, a woman like her was just waiting for a musician or athlete to give her star power. You don't have to look much further than her future in-laws for proof: Khloé had just married Odom a month after meeting him; Kim had just ended things with NFL player Reggie Bush and was dating NFL player Miles Austin. Yet here was a stripper making a rapper wait two months (about as long as it took for Kim and Kris Humphries' marriage to crumble) for a date.
When Chyna did finally give Tyga the time of day, she and the California native vibed in a way neither of them expected. "The first time I chilled with her we chilled for three weeks straight," he said. The rest was history.
A few months later, in January 2012, Chyna starred as Tyga's girlfriend in the music video for his hit record "Rack City" and then became his girlfriend in real life. In October, Chyna gave birth to their son, King Cairo, and Tyga bought the family a $5.5 million mansion in Calabasas that same day. Two months later, the two were engaged.
By 2013, Tyga and Blac Chyna had all the makings of a budding "new industry" power couple. Tyga was working on another album, while Chyna, with her 1.2 million Instagram followers, was attending JLS Professional Makeup Artist School with the intention of opening her own business (à la Dash). So it came as no surprise when they started shadowing hip-hop king and reality TV queen Kanye West and Kim Kardashian West over the course of the next year in a master class in How to Make it in America 101, played out on Instagram. The couples were seen everywhere from double dates to Yeezus tour stops. Kim and Chyna worked out together and went to lunch, sometimes even while she was filming KUWTK — any opportunity for Chyna and Tyga to learn how to conduct themselves in front of the paparazzi, on television, and/or on social media.

Kimye also gave them opportunities to rub elbows with their extensive network at events like Kris Jenner's infamous Christmas party (last year's guests included Jennifer Lopez, Drake, Toni Braxton, Hailey Baldwin, Tyler the Creator, Kid Cudi, and more). It didn't take long for gossip sites to take notice; many began to report that Kim had taken Chyna under her wing in order to help groom her for a reality show. "Kim Kardashian Is Helping Blac Chyna Transition Into Reality TV," XONecole wrote. "So Who is Blac Chyna Besides the Lady With a Bigger Butt Than Kim Kardashian?" Bustle pondered. "Who Is Blac Chyna and Is She Kim Kardashian's Next Fashion Project?" StyleBlazer wanted to know. And Perez Hilton informed us that "Kim Kardashian Gets Her Brows Did With Stripper Blac Chyna!"

But even then it seemed strange to the media that a person like Kim would genuinely hang out with a woman like Chyna, regardless of the fact that they were both women on a quest to turn their social media stardom into an actual empire. Two women who had also been mercilessly slut-shamed in tabloids and social media, Kim for having been in an infamous sex tape released without her consent and Chyna for having been a stripper. Though their early life experiences may not have run parallel by any means, these experiences could easily have pulled them together. The media's constant dissection of Chyna's presence around Kim — indeed, often suggesting she may be some kind of interloper — hinged largely on assumptions that someone of Chyna's class did not belong around moneyed people like the Kardashians, however new their money might be.
But when Tyga ended his engagement to Chyna in 2014 after three years together and turned right around and threw a birthday party for Kylie Jenner, people began to wonder whether it was all just a coincidence. Especially since she was turning only 17. In an effort to dissuade the gossip, Tyga tweeted, "Don't believe the rumors, been friends with the family forever. We're all just friends." But eventually, one Instagram post led to another, and soon enough they were wearing his-and-hers Halloween costumes, going on dates, spending holidays together, appearing at the same industry parties together — all while denying dating rumors.
Then, in February 2015, Chyna's apparent 6-godfather Drake added his two cents to the situation and nothing was the same. On his mixtape If You're Reading This It's Too Late, he fired off bars that took shots at what we all knew to be true:
"You need to act your age, not your girl's age."
The very next day, Amber Rose, Blac Chyna's BFF, went on The Breakfast Club and added fuel to the fire, saying, "Tyga should be ashamed of himself. For sure. He has a beautiful woman and a baby and left that for a 16-year-old who just turned 17."
Tyga countered Rose on The Breakfast Club five days later, reiterating that he and Kylie were not dating and that he did not leave his family for her. But then he decided to throw caution to the wind three days later (eight days after Drake's mixtape was released, for those keeping track in the pews) and posted a selfie of Kylie on his Instagram with the caption, "Your beauty never goes unnoticed. One of the best/dopest person in my life." And that same day Kanye went on The Breakfast Club and said Kylie and Tyga loved each other: "I think that, uh, I think [Tyga] got in early. I think he was smart."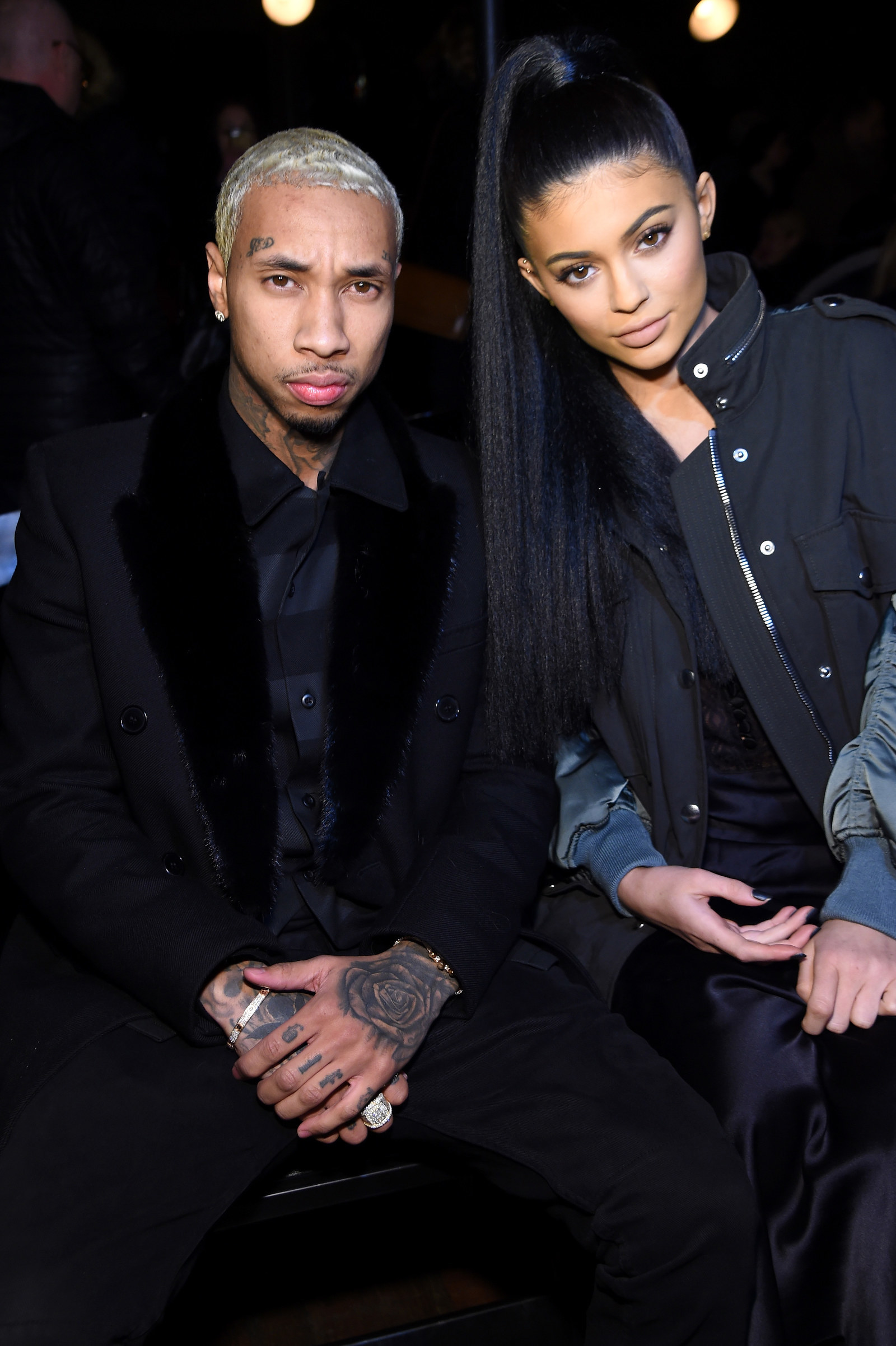 A few weeks later, Tyga followed up with another photo of Kylie on Instagram with the caption "Certain things catch your eye, but only few capture the heart." Once Tyga made his profession of love clear, what happened next can only be described as the Petty Games 2015. In March, Chyna posted a photo on Instagram of the diamond-encrusted Audemars Piguet watch Tyga gave her when they were still together. A few hours later, Kylie posted a photo of herself wearing the same exact watch with the caption "Currently."
Chyna came back in the ring that next month with a knockout punch when she posted screenshots of text messages from Tyga saying things like "I want to be with you," "I want to be a family again," "I want to start this friendship. Relationship." She also posted a selfie sporting huge wax lips for good measure, a daring move considering that Kylie had been both praised (by white media outlets) and mocked (by black social media users) for her debatably appropriative lip enhancements.
Tyga's response? Tattooing Kylie's name on his arm. The "I'm sorry" gifts didn't stop there. There was the G-Wagon Mercedes she posed behind the wheel of shortly before her 18th birthday (although, after TMZ revealed that Tyga had given the car to Chyna but made her return it, "unnamed sources close to the Kardashians" said it wasn't a gift, she was just driving it). And of course, there's the Ferrari 458 convertible he gave her at her actual birthday party (the first KUWTK episode in which she could finally show their relationship without him looking like a pedophile), which he may or may not have leased.
Tyga blamed Chyna for the rumors that he leased the gift and posted on Instagram, "When the hating don't work they start telling lies. #WhereYoFerrariTho?" Amber Rose responded, on Instagram naturally, "She don't need a Ferrari she can Drive mine #BFFGoals." However, Tyga had to have the last word, so he responded (on Instagram), "We drive our own whips peanut head #GoldPhantoms #LastKings."
Throughout all of this, reports of Chyna and Tyga threatening to go to court over custody of their son King surfaced. Headlines such as "Blac Chyna to Fight for Full Custody" and "Tyga — Blac Chyna's a Bad Mom, I Want Custody" became a mainstay on TMZ and other gossip websites. After a heated summer and a shady fall, things seemed to quiet down around the holidays at the end of 2015. Tyga and Kylie had settled into an on-again, off-again cycle befitting any teenage relationship. And Chyna and Amber were doing their thing: partying, walking red carpets, posting gorgeous Instagrams, having each other's backs as they built their respective brands and took care of their babies. (It was the Single Moms Club movie Tyler Perry should've made.) All seemed quiet and well in Calabasas.
Then, on January 25, 2016, Chyna posted the Instagram to end all Instagrams: a selfie with Rob's recognizable tattooed arm around her with the caption (or omen, one might say), "The beginning."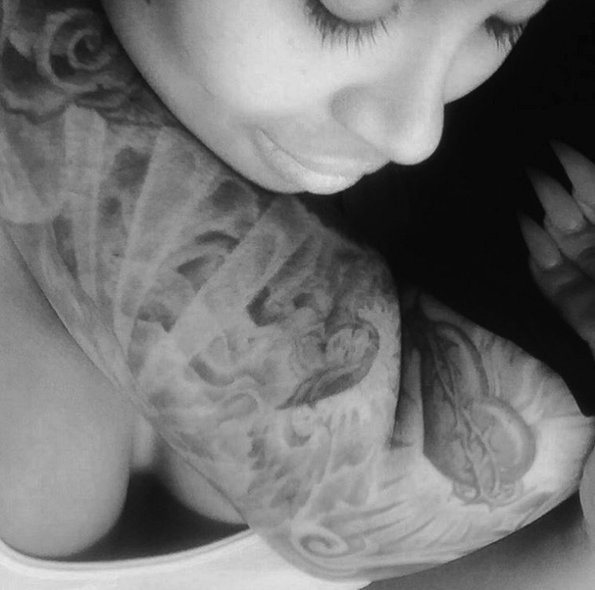 Chyna had somehow managed to nab the only male Kardashian in the family. The brother who had made it clear he was over his family's reality show and the surrounding press by disappearing from both for almost two years. The brother who had fallen into such a deep depression that he had grown to twice his usual size and barely left the house, not even to attend his sister's wedding.
So when Robert Kardashian finally emerged with the mortal enemy of his sister Kylie (and by extension, of all his sisters), the family turned apoplectic. Khloé tweeted later that day, "You don't mess with the family." But the message seemed to fall on deaf ears, because soon Chyna and Rob were working out together, or, as his brother-in-law Kanye so eloquently put it on his latest album, The Life of Pablo: "Blac Chyna fucking Rob helped him with the weight." And Rob moved out of (and/or got kicked out of) Khloé's house and moved in with Chyna. Next came Chyna's infamous trip to London, during which she talked about their love to the press for the first time. Kris took Chyna's brief absence as a chance to confront her son, but whatever she said didn't discourage him from driving 19 hours to bail Chyna out when she was arrested in Austin during a layover from London for disorderly conduct. (She got drunk on the flight and the police found Ecstasy in her purse.)
In February, Rob joined Snapchat and the couple began to document all their adventures and intimate moments together for the world to see. One minute they were kissing and licking each other, and the next Chyna was cleaning the carbs from Rob's kitchen. Come March, Rob had visibly lost weight and looked happier than ever, even going shirtless in public at a cookout for the first time in years. The two also took their petty parade international while on vacation together in Montego Bay to celebrate Rob's 29th birthday with Chyna's son at Legoland. And all the Kardashian family could do was sit back and watch like the rest of us.
If their initial "we're a couple" Instagram post was the "check," then the "checkmate" came three short months later when the couple took to the Kardashians' favorite social media platform to share that they were engaged. Amber celebrated by making a custom MuvaMoji of the two to congratulate "her family." The Kardashian/Jenners and Tyga's reaction to all of this? Well, they "just so happened" to be on a family vacation in Vail away from all the L.A. paparazzi. When they came back, they still said nothing, except for Tyga, who congratulated Chyna, and Kim, who joked by posting a Snapchat selfie using its crying filter a few days later.
Meanwhile, the internet had tons to say in their absence:
In true take-control-of-the-story Kardashian form, Kim (the clear heir to the Kris Jenner throne) had Kylie and Chyna sit down and make peace over everything. The two even posted a snap of the meeting to seal the deal and cause followers to wonder whether the Petty Games ended. Had Chyna just emerged the victor over the great Kardashian empire?

Any doubt about her victory vanished on May 6, 2016, when the world was hit with the mother lode of Instagram announcements — Chyna and Rob were expecting. As in having a baby. As in it doesn't matter if they make it down the aisle, get divorced 72 days later, or what, she's here to stay forever, like Scott. As in, game over. Chyna wins.
It doesn't matter if they make it down the aisle, get divorced 72 days later, or what, she's here to stay forever, like Scott.
At this point the story is so deliciously crazy, you almost had to question whether Kris had been behind this all along. I'd like to imagine their union all started with Rob sliding into Chyna's DMs after any one of his sisters pissed him off, saying, "You want to help me fuck with my family?" Or maybe Chyna and Amber plotted the whole thing over a few glasses of wine and some Instagram stalking.
Either way, the second this flawless showing of petty was made public, a lot of people, especially black women, found themselves rooting for Chyna. By this point in Kardashian history, "stealing" men — specifically black men — from other women had become a pattern for the sisters. Kanye's ex-girlfriend Amber Rose has been vocal about her belief that Kim and Kanye were sleeping together while Rose was still with him. Rapper Trina, another former friend of Kim's, also noted how Khloé began dating her ex, rapper French Montana, and then ended things with him for NBA player James Harden (another one of Trina's exes). By the time Tyga presumably left Chyna for Kylie, he just seemed like another ebony notch on the Kardashian/Jenner belt, and Chyna had become the latest woman scorned from "losing" her man to their allure.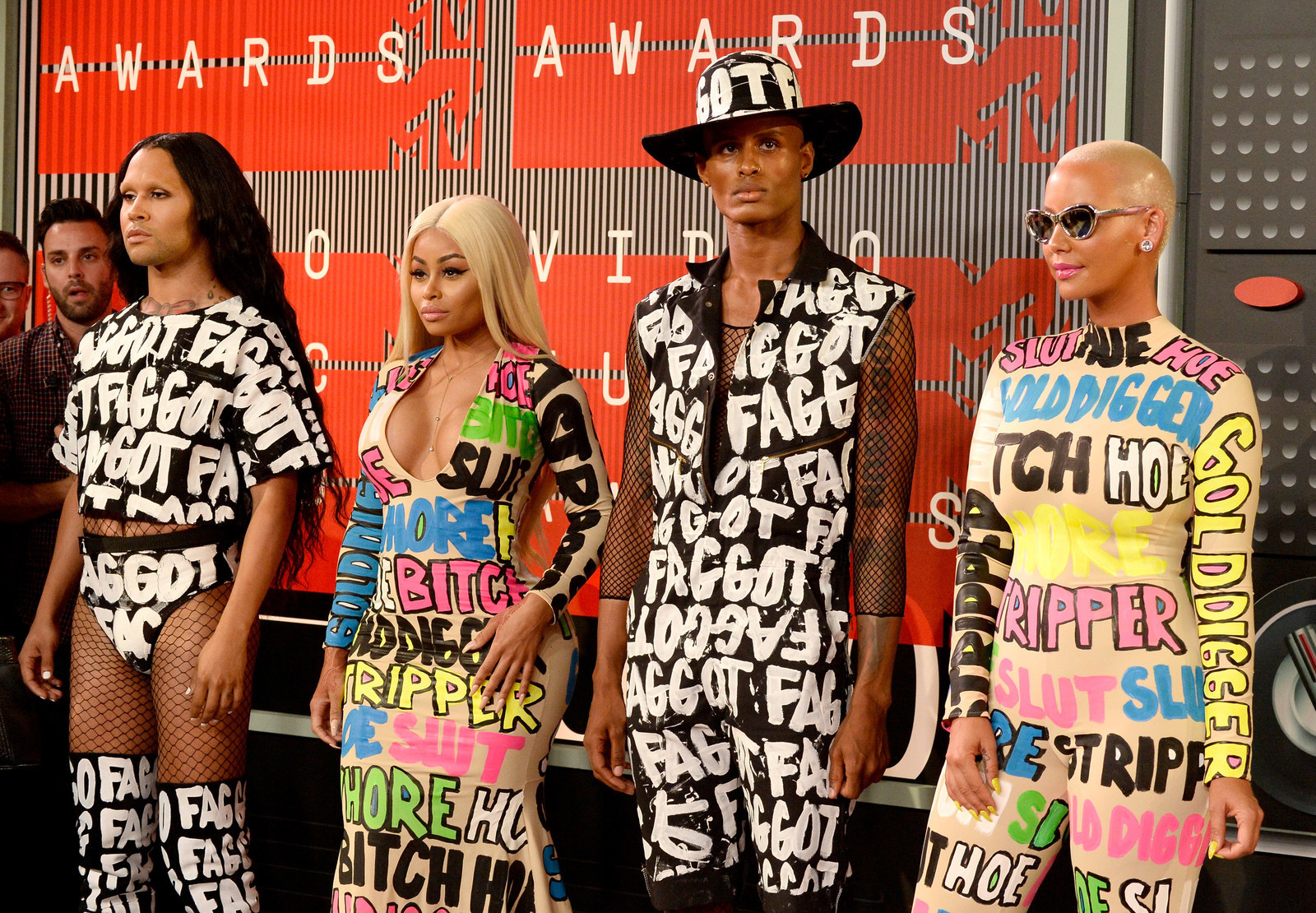 So when black women saw Chyna and Amber — the much-maligned ex of Kanye West and Wiz Khalifa — start a de facto sisterhood of women scorned by a Kardashian and/or Jenner, we couldn't help but cheer as they hustled, slayed, and twerked their way around the country. They represented a new-age carefree black girl who was unapologetic about her love of weaves, twerking, thongs, and sex. These were women who were still thriving despite being shamed by ex-lovers, society, and the Kardashian Klan. And for a while Chyna's victory seemed like it would be her happy ending, until right at the top of the year of our lord 2016 when she became one half of the greatest revenge (or love, depending on who you ask) story of all time.
Not everyone was happy with Chyna's victory. When she announced her pregnancy last week, the backlash was swift, just as it was when Kim announced her whirlwind pregnancy and later engagement to Kanye. The Grammy-winning rapper and producer was accused of "marrying down" by choosing to start a family with a reality star who many believe got famous off of her sex tape. And this could be why Kim seems to be the first of the sisters to embrace Chyna now ­— or maybe it was Kris's excellent read that viewers got to watch her deliver on this season of KUWTK when she told her daughters that none of them should judge her support of Rob after all the crazy things they put her through (married in one month, married for 72 days, alcoholic baby daddy who's in and out of rehab). Either way, it's interesting to watch people discuss the future Mrs. Angela Renée Kardashian as if she's somehow not worthy of a family name that was built using the same tools she used to join them. As if her brand of fame doesn't have more in common with them than Kanye's or Lamar's. It's not like Rob has a Grammy or an NBA championship ring. (Sorry, Rob.) He has a sock line and occasionally appears on reality TV with his family.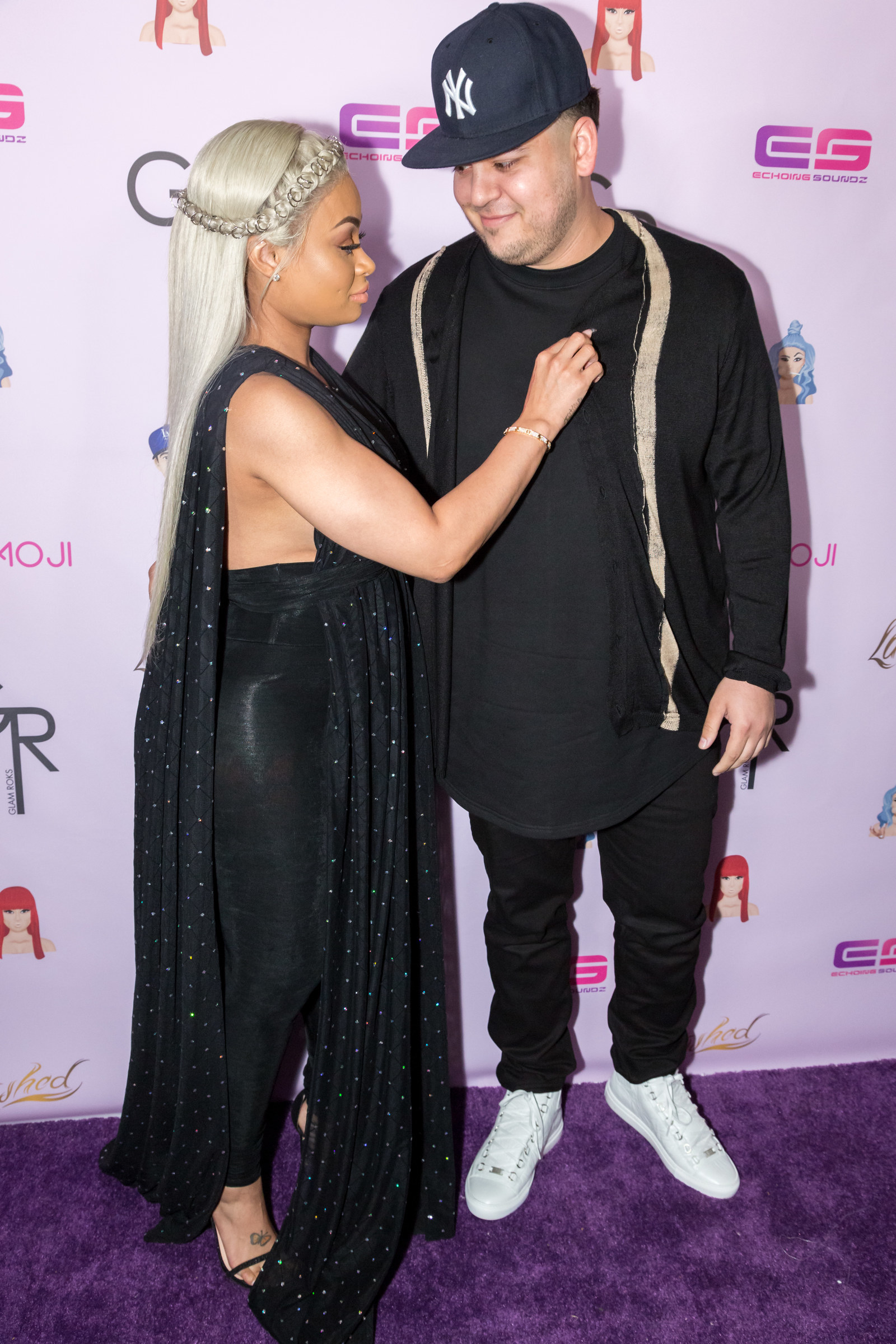 It goes without saying that the Kardashians are a lot more famous and have a lot more money than Chyna, but there's no denying that she is literally following the blueprint Kim showed her when they were friends: social media + club appearances + a business to invest money in (Lashed = Dash) x dating someone more famous than you = your own reality show/fame. Indeed, the only thing that really separates Chyna's come-up from women like Kim is class. Chyna didn't have a family attorney to keep her sexual videos behind a paywall or a mother with countless business connections and savvy like Kris, who could weave Instagram photos into gold. But the fact that Chyna found a way to snag a seat at the (Kardashian) table makes this twisted modern-Cinderella story all the more sweet.

Chyna did what (or perhaps whom) she had to do after the Kardashian family kicked her to the curb. As a result, the victim became the victor. A new kind of champion — and antihero, if you will — for those who aren't set up to win in this society because they don't have access to the same opportunities. And now she's trademarking her Kardashian name and releasing a line of emojis. It wouldn't be unreasonable to expect her to have her own spin-off TV show soon enough. The sky is truly the limit for someone with as much hustle and business acumen as Chyna, especially now that she has the Kardashian machine behind her.
Long live Angela Kardashian. May she forever reign.