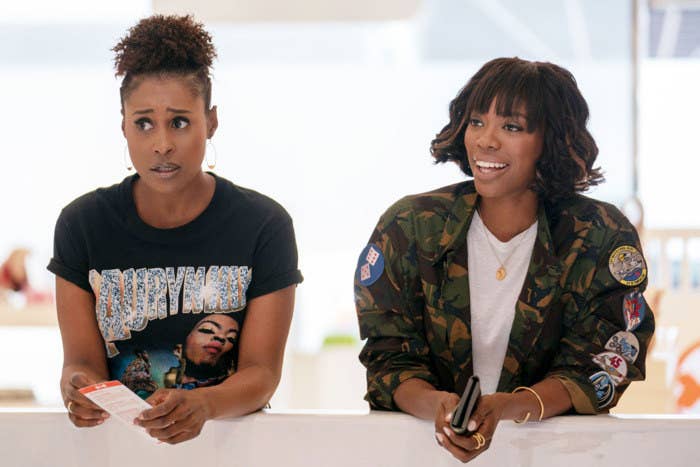 It's clear from this season's poster art — which features Issa (Issa Rae) and Molly (Yvonne Orji) together, looking as unsure about life as most folks in their twenties — that Insecure revolves around the lives, loves, and choices of the two friends. But if that picture isn't worth a thousand words, the absence of Jay R. Ellis — who played Lawrence, Issa's boyfriend and, later, ex-boyfriend — from the show this season ought to remove any doubt as to who and what this show is really about.

The backlash to news that Lawrence's character had been written out of the show confirmed it was a necessary move. A fan, likely a member of the #LawrenceHive, actually spent money on a Facebook ad calling for the character's return upon hearing the news. The ad linked to a petition that had over 11,000 signatures as of Friday. A young man even took it upon himself to protest, shouting "No Lawrence, No Peace," outside of Rae's surprise New York screening Thursday. The audience had arguably become so attached to the dissolution of Issa and Lawrence's relationship in the first two seasons that they forgot Insecure was never supposed to be a show about a couple healing from broken love. Every character is tied to one of the two main protagonists, and once they're out of Issa or Molly's life, it only makes sense that they're also out of sight. This is why we never encountered Jared (Langston Kerman) or Chris (Jidenna) again in Season 2, and why we shouldn't expect to see Lionel (Sterling K. Brown) or Quentin (Lil Rel Howery) this season. The only reason Daniel (Y'lan Noel) keeps popping up is because Issa keeps choosing to revisit their connection. With Lawrence, the writers did their due diligence by giving him and Issa an entire season to untie themselves from each other. At the end of last season, the characters even obtain real closure in possibly the best post-breakup conversation on television, ever. To borrow from Tyrese, what more do you want from them?
Rae echoed this sentiment at HBO's Insecure Fest in LA. "We want to stay as true to life as possible. They had a great conversation at the end of Season 2 and it was just about like, hey, she's moving on [to] Daniel, sometimes we have those conversations," Rae told Vulture. "You never see the exes again. And it's okay! You gotta explore life without Lawrence."
The truth is, like a Mary J. Blige post-breakup anthem, Season 3 of Insecure is just fine without Lawrence. There is no absence of relatable black male narratives or eye candy, nor does the show neglect humor or nuance in how its male characters are portrayed. Issa's love life isn't dead; there are just new messy stories ready to be told. And fans of the show already know that Molly is going to continue to get hers this season per usual. Insecure is a show about black women first — the men in their lives are secondary. Much like how Donald Glover's Atlanta prioritizes men's perspectives, Insecure is a show that emphasizes women's; both offer a rare and refreshing take on black millennial relationships.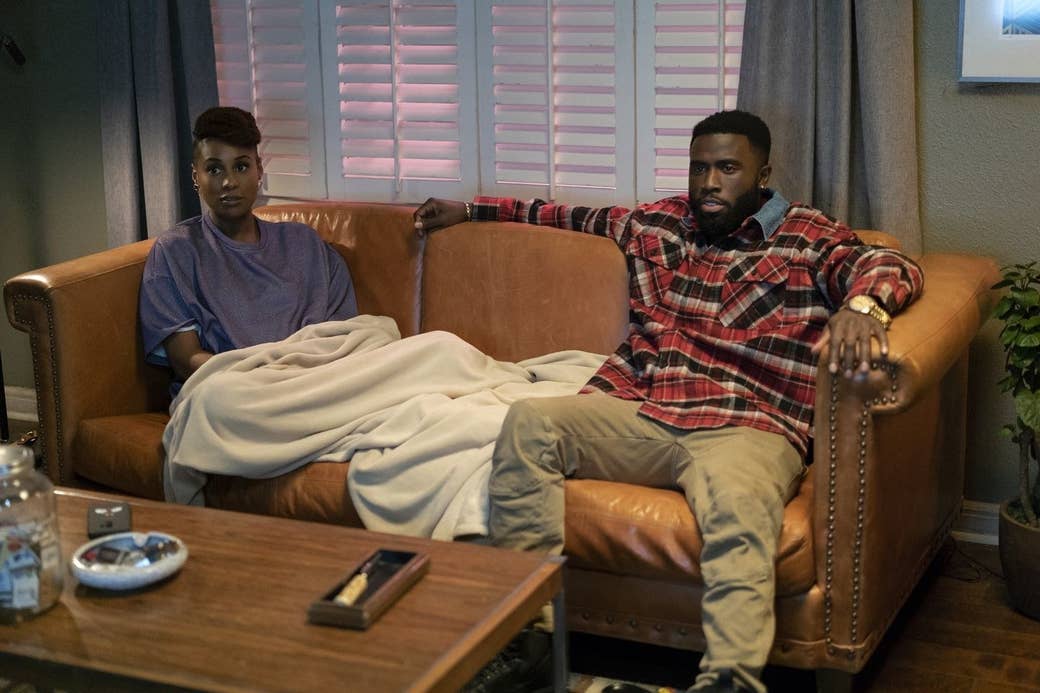 In the final scene of last season's finale, Insecure revealed that Issa would be staying with Daniel while she figures out what's next for her new chapter. So their "it's complicated" relationship, which constantly blurs the line between friendship and romance, becomes one of this season's central themes. Sleeping on the couch of your high school friend turned ex-boyfriend, turned the man you cheated on your last boyfriend with, turned fuck buddy, turned roomie gets about as awkward as you can imagine. Without giving too much away, let's just say this plotline starts and ends with a bang — and neither is the kind you'll predict. However, the entire ordeal peels back the layers of their "situationship," revealing a level of connection some might not expect.
While the scenario is about as messy as it gets, it provides surprising but welcome insight into Daniel's life outside of Issa. We meet his family, and the storyline also delves into his career as a producer, which leads to some great conversations about the hip-hop industry right now, or more broadly, "in this generation." So while he may not be the #LawrenceHive's top choice, Daniel will be serving as an important focal point to the black male perspective this season.
Careerwise, Issa's start is not as fresh. Somehow the We Got Y'all office becomes even harder to bear for everyone involved, leaving Issa to wonder if she should hit the reset button in her professional life as well. In the meantime, she picks up a hilarious new side hustle as a Lyft driver (a lit one, with snacks and good music), where she meets an array of characters, including a certain Southern cutie who pops back up later in one of the season's standout episodes. He's light skinned with hazel eyes, which usually means nothing but trouble, but his Texas drawl and mysteriousness should make for a fun experience. The addition of multiple romantic interests for Issa is particularly fun to watch when she's not committed to a relationship or a "hotation." In fact, she seems more sure of herself than ever this season — which is both confusing and enthralling considering she's sleeping on a couch and has a job she hates. Her life appears to be in disarray, but it's a mess of her choosing, rather than the result of circumstance; she's in control, somewhat.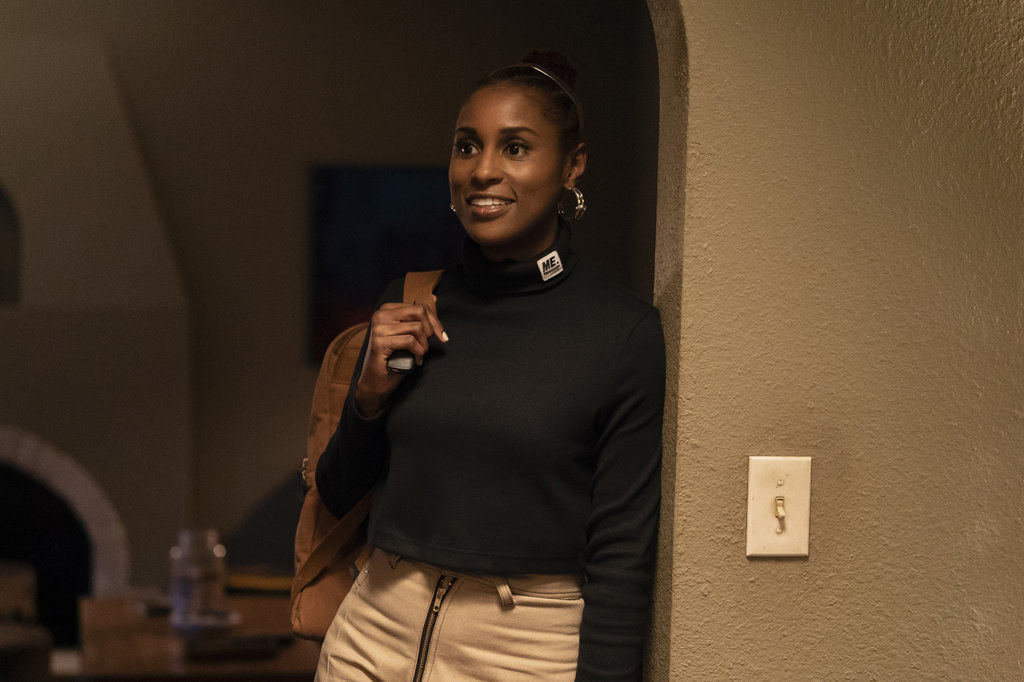 Changes abound in Molly's life too. She's left her old, very white firm for a new black one — the atmosphere is more black Ivy League than HBCU — and she has to navigate the unique dynamics of FUBU establishments. On the dating side of things, light-skinned giant Dro is still in the mix, but Molly claims to be setting some new boundaries there. Whether these boundaries will help her stop looking for love in a hopeless place is yet to be seen, but Lord knows, Molly could use a win in that department. She's batting 0–2 as far as seasons are concerned, some of which is her own doing.
The first half of Season 3 is mostly committed to building the foundation of Issa's and Molly's new normals. As such, we don't get to watch as many of our favorite side characters act up as we'd like. A pregnant Tiffany and outspoken Kelli only get one or two scenes in the first few episodes, but the stage is being built for another girls trip — thankfully so, as Insecure is always at its best when that squad gets together. But the questions surrounding Tiffany's marriage are still unanswered, and personally, I'm dying for a look into Kelli's life. Our favorite male sidekicks are also missing in action for at least the first few episodes: Chad, Derek, Thug Yoda — wherefore art thou Rome-nos?
Thankfully, all the newness is couched in the elements that make Insecure the authentic show we love. The cinematography is still very much a love letter to LA, there are a ton of timely #ForTheCulture references that will make you feel seen, and it continues to boast one of the best soundtracks on TV. In other words, the show still feels as familiar and crazy as brunch with your homies.
TUNE INTO BUZZFEED NEWS' "HELLA OPINIONS," AN INSECURE AFTER-SLAY MONDAY NIGHTS AT 9 P.M. ET ON TWITTER OR FIND IT HERE.