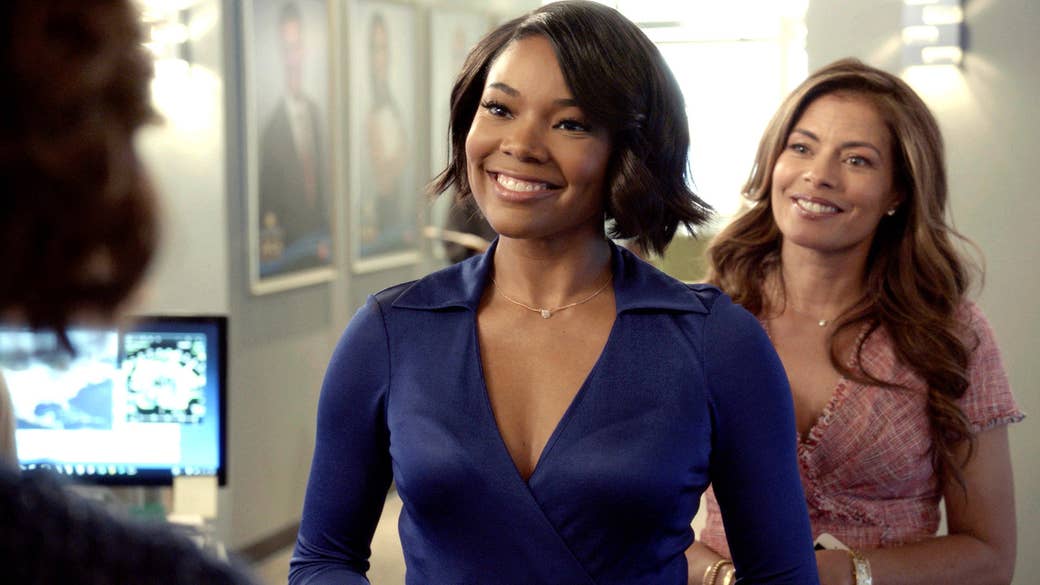 When Being Mary Jane returned for its fourth season in January, fans were instantly transported into a whole new world. Mary Jane Paul (Gabrielle Union) did not have a magic carpet, but she did get a new prince (Chiké Okonkow's Lee Truitt), a new big-city backdrop (Atlanta was traded in for New York), a time leap (one year later), a job shift (from primetime on SNC to daytime on Great Day USA), and a bevy of new characters surrounding her (Ronda, Justin, Orlando, literally everyone).
While setting a show in a new time and place is hardly unheard of in television — see: Desperate Housewives, One Tree Hill, True Blood, and many more — it was an especially bold move for the show's brand-new showrunner, Erica Shelton Kodish, who was hired after creator Mara Brock Akil left Being Mary Jane after three successful seasons.
In Kodish's very first season helming BET's beloved No. 1 scripted drama, she proved she wasn't afraid to shake things up. "I was anxious about how viewers were going to react to change in general — any kind of change. But I felt like it really had to happen," Kodish explained from her office on Being Mary Jane's soundstage, about 20 minutes outside downtown Atlanta. The room was spacious but sterile enough to show that she doesn't spend too much time in there because she's usually on set or in the writers room.
"The alternative is no one giving a shit, so I'm glad there's conversation."
Production was underway on the second half of Season 4, which debuts on July 18, and on this particular hot, sunny Thursday morning in May, Kodish had just stepped away from watching director Kevin Rodney Sullivan shoot a scene at the Patterson family home with Mary Jane's mom, Helen (Margaret Avery), and niece, Niecy (Raven Goodwin). It was clear she had become more comfortable in her role as she sat in a director's chair, calm and assured, answering all of the production questions that came her way.
But her early anxiety, it turned out, wasn't unfounded. A quick glance at the show's hashtag during the Season 4 premiere was sprinkled with tweets like this: "I still don't appreciate them moving Mary Jane to New York. No," tweeted one entertainment writer. Another said, "Not impressed with first episode of Being Mary Jane, Are there new writers?? #stillafanbut." And plenty of other fans were "not feeling" it, or they were "underwhelmed," to say the least.
Union, who also serves as an executive producer on the show, is thankful for the passionate engagement, even when the reviews are mixed. "I like seeing the conversation and love from fans play out online and in real life — seeing people feel very strongly about it. Because the alternative is no one giving a shit, so I'm glad there's conversation," she said, sitting on set in the hair and makeup room where her character gets zhuzhed up before going on air in the fictional Great Day USA newsroom.
Dealing with Black Twitter has been the most striking difference between Kodish's current series and her last one: She previously spent three years writing for The Good Wife. "We get so much feedback from fans in a way that wasn't really happening on The Good Wife. I'm sure there were plenty of things in the media about The Good Wife. For example, when Will died we certainly heard what the reaction was. But just not to the level of episode by episode — the tweeting culture is just so much more robust," Kodish said.
Since it debuted to a massive 4 million viewers in July 2013, Being Mary Jane has had the kind of audience who comments on and analyzes each and every episode on Twitter, Facebook, and/or Instagram. For black women, it's like our own personal Scandal, a world in which we see ourselves not just in its main character, but in most of its characters. The show isn't diverse, it's black — and everyone involved has made no qualms about it being made for black women, by black women. Its star, Union, is one of the most beloved black actors of our time. Its creator, Brock Akil, is one of the most beloved black women behind the scenes in television, the mastermind behind modern classics like Girlfriends and The Game. The matchup was like music to our ears. Solange's "F.U.B.U." to be exact: "This shit is for us."
So for Kodish, inheriting not just the show, but all it stood for to its fans, meant the stakes could not have been higher.
In its first three seasons, Being Mary Jane explored the highs and lows of being a successful black woman through its eponymous character, a broadcast journalist from Atlanta with lots of money, a crazy but loving group of family and friends, and more than a few failed relationships. We've watched her navigate a cutthroat work environment, battle social justice issues in the media, grapple with being the only one in her family with a steady job, and have an affair while simultaneously doing a terrible job of letting go of a toxic on-again, off-again relationship — all while validating fans with relatable storylines and images. So much so that Being Mary Jane became sort of therapeutic for viewers, who shared their praise and frustrations with each and every episode, tweeting at Brock Akil, Union, and anyone who would listen.

Then in August 2015, a few months before the show's third, and best, season began airing, news came that Akil and her husband/production partner, Salim Akil, were leaving Being Mary Jane to enter into a multi-year deal with Warner Bros. Television. Fans panicked, and it seemed everyone, including Brock Akil herself, was unsure about Being Mary Jane's future.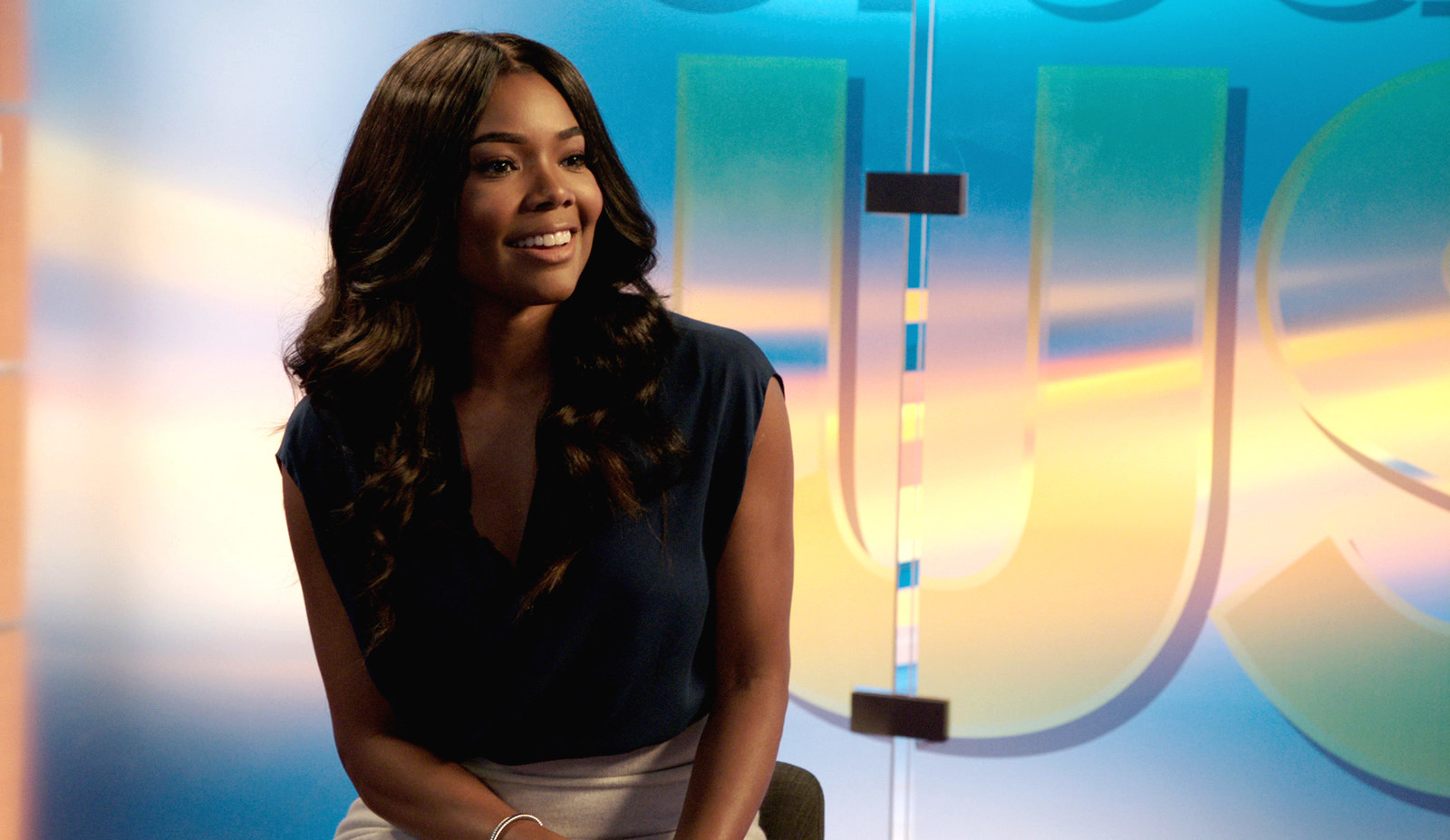 In an April 2016 interview with Essence.com, Brock Akil was asked if she thought the show could go on without her. "My ego answer? No," she replied with a laugh. "But really, I'm naturally curious. It's not to say that BET couldn't make it work, it's just that I know what it takes to be a producer and there's so much that goes into making any show. It really would depend on that person: How do they see and view Mary Jane and black women? If they pick someone that I don't like, I'm gonna go, 'Oh shit. I can't watch.' [Laughs] I hope there's another Mara out there who's like, 'Bring it on. Give me the ball.'"
It took over a year before BET announced they had found someone to take that ball. "I sought out Erica knowing she was one of the black female writers on my all-time favorite show, The Good Wife, and knowing that that show was ending and thinking this could possibly, maybe be a perfect opportunity for her to run her own show, which she's more than deserving of," Union said.
Just two weeks after The Good Wife came to an end on CBS, in May 2016 it was announced that Will Packer signed on to be Being Mary Jane's executive producer and that Kodish would be the new showrunner.
"When I got the job I was like, 'OK, you were talking a big game when you were sitting on the couch, so now what are you gonna do?'"
Though Kodish never had a conversation about the series with Brock Akil, she seems to be the kind of expert showrunner the creator said she had hoped for. (When reached, a representative for Brock Akil said she had no comment about the series and its new showrunner.) While reshooting a scene several times for good measure when BuzzFeed News was on set, Kodish was then confronted with a wardrobe issue: The color of one of the actors' shirts wasn't working for the scene. Just when she made the decision about a costume change, Sullivan came to ask her about cutting a line in the script (she gave him the go-ahead). The longer we were on set, the more clear it became that you can throw all the balls Kodish's way — she's a juggler.
"I deal with every capacity of the show," explained Kodish. "From wardrobe decisions and tone of the scenes, to having meetings to talk to the director, to talking about what's important in capturing the scene, and even with postproduction and the individual cuts of each episode and changing of shots, changing the order of scenes, the music — there are so many decisions, and I think that is one of the most challenging parts of being a showrunner. It's a constant barrage of decisions that need to be made on a macro and micro level."
For Kodish, coming on as Being Mary Jane's showrunner for Season 4 gave her the rare opportunity to steer a series she already was a fan of. You see, she too knows what it's like to simultaneously love and be frustrated with Mary Jane from the comfort of her living room. "I would be on my couch watching like, 'Ugh, I can't believe this, I'd do this this and this [if I were in the writers room],'" she said. "So when I got the job I was like, 'OK, you were talking a big game when you were sitting on the couch, so now what are you gonna do?'"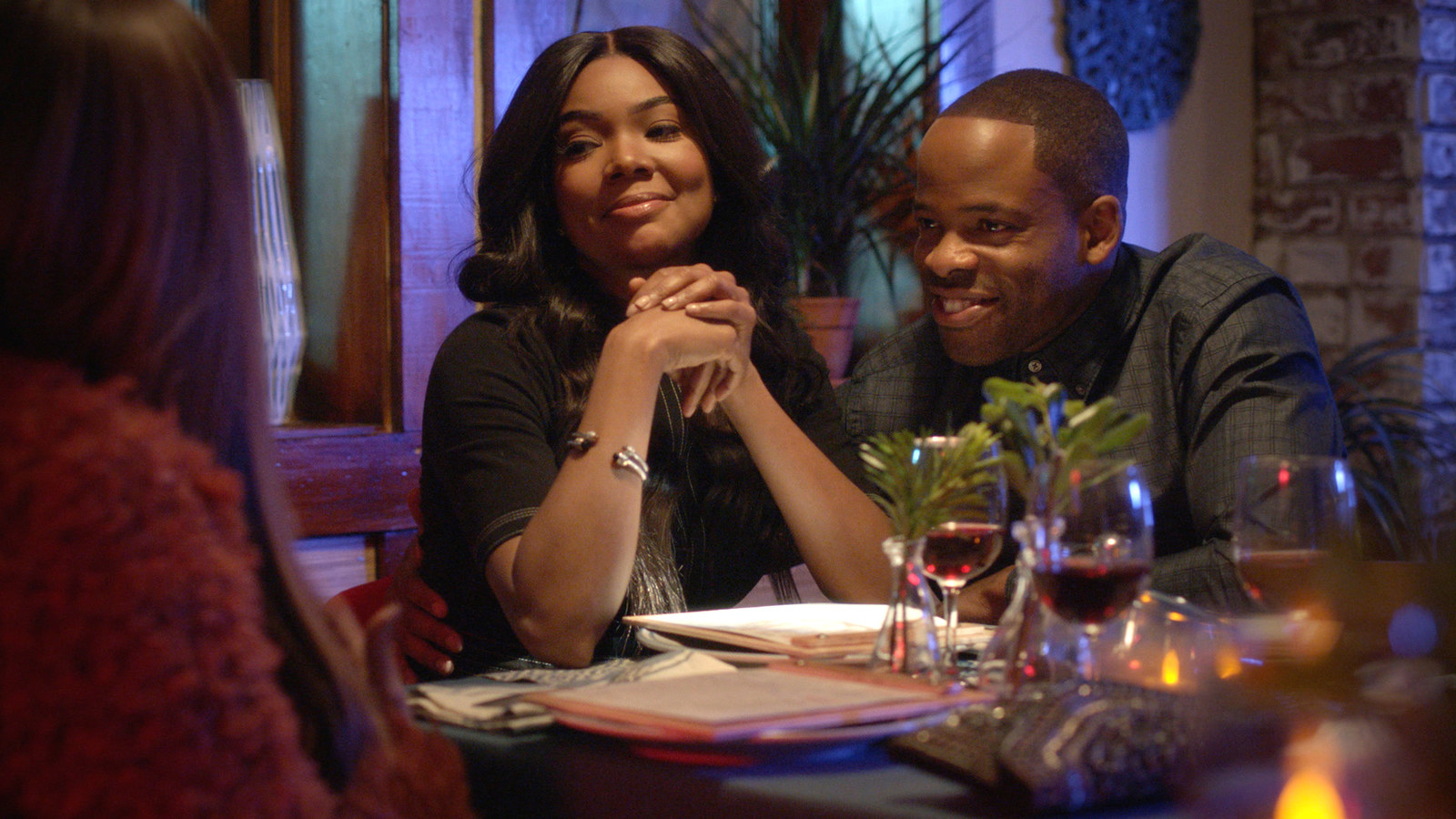 Kodish decided to start by addressing the frustration she felt with Mary Jane's lack of growth in her personal life. She wanted her to exhibit the intelligence she constantly showed in her career in her relationships, too — for her to learn from her mistakes and not make as many questionable decisions when it comes to dating.
Fans of the show know that getting Mary Jane's love life in order is no small task. Over the course of the series, she has dated the crème de la light-skinned crème and taken literal dips with a dark-skinned Greek god — hell, she even got Shazza Zulu (Gary Dourdan) from A Different World. In addition to their abs and chiseled cheekbones, these men were all successful in their own right, handling themselves in the boardroom just as well as they did in the bedroom. The problem? They all had serious emotional issues.
Enter Lee (Chiké Okonkwo), Mary Jane's most emotionally mature boyfriend to date. When asked why the notoriously hard-to-date New York City of all places was where Mary Jane would find a healthy relationship, Kodish said it was all about her willingness to change. "When she made the decision and actual determination to do things differently in her love life, then the men who showed up in her environment were a little different too," the showrunner said.
"They weren't Team Lee immediately, but then they started to warm to him, just as Mary Jane started to warm to him."
Lee was unlike Mary Jane's usual crop of men. He was a bit more average-looking; he came into the picture with an ex-wife, two kids, and a career as a stand-up comic; but he was willing to give Mary Jane the love and commitment she deserved — and viewers didn't know how to feel.
"We really wanted to have put Mary Jane in a place where she meets this man who isn't the vision of who she would meet in her mind," said Kodish. "For her to meet someone who is unexpected, but there's this magnetism about him, something alluring, even though he doesn't fit the vision." In Kodish's eyes, he's there to "challenge her notion of what life should be and how her story should go."
The showrunner was also aware that this would challenge women watching at home to rethink their ideas of the perfect guy. "They weren't Team Lee immediately, but then they started to warm to him, just as Mary Jane started to warm to him. She started to fall for him because he was very different and had that emotional maturity," Kodish said. And as the first half of Season 4 neared its end, "we started to see more responses like, 'Girl, don't mess this up' and that kind of thing," she added.
But (spoiler alert for the midseason finale) Mary Jane did indeed stumble, right into the arms of someone more like the kind of men we were used to seeing her with: Justin Talbot, played by Michael Ealy. Because change doesn't happen overnight, right?
Union's husband, NBA player Dwayne Wade, was for one, very hurt by Mary Jane's betrayal. "He said, 'I still don't know how I feel about what she did to Lee,'" Union recalled. "And I said, 'Because you feel something as a dark-skinned man. You really wanted Lee to win as a chocolate man and you feel like Team Light-Skinned just came in and she just lost her damn mind. You're taking it personally.'"
In Wade's defense, Mary Jane does tend to end up with lighter-skinned black men. And it must be pointed out that her latest bae (or victim, depending on who you ask), Ealy, was on set late in the filming of Season 4. Like most of the cast members, the actor had a good rapport with Kodish, even joking with her about the possibility of him doing a scene shirtless during rehearsal. He and the rest of the Great Day USA production team were filming a meeting in the boardroom that day.
It's unclear where Justin and Mary Jane's personal relationship is heading in the second half of Season 4, but it doesn't seem to be affecting their ability to keep things professional…yet.
"Fans will get to see how Mary Jane's going to handle her evolving relationship with Justin," Kodish teased. "They have to see each other every day in the workplace, so it will be interesting to see how they navigate that."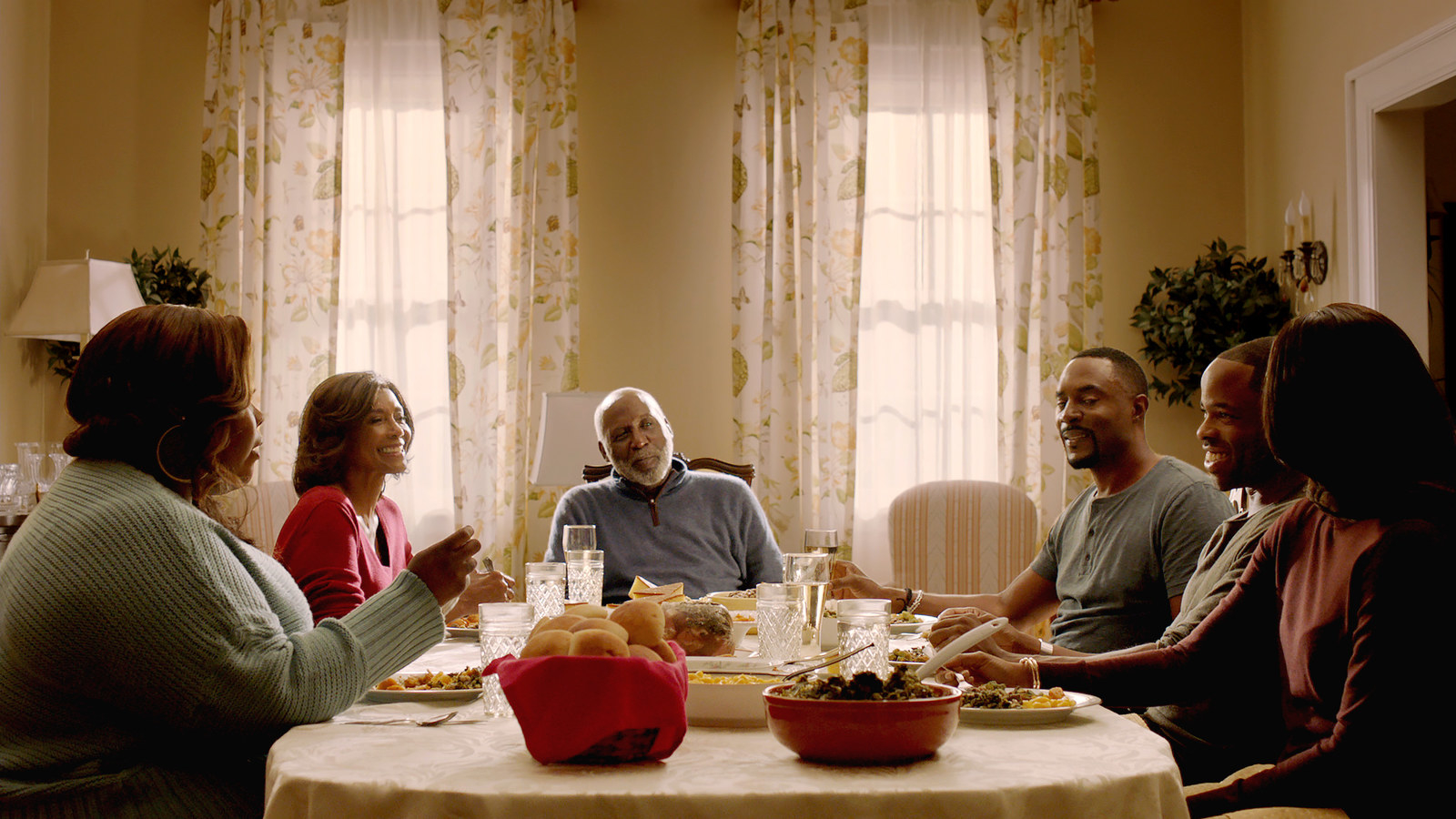 Mary Jane's love life wasn't the only place Kodish was looking to make some changes: Her relationships in the workplace and with her family were also in need of improvement. In order to see that much emotional growth, Kodish felt a time jump was necessary. "I wanted to move the clock forward so we could see the characters really have sort of shifted a little bit," she said. "Also, it gave us a little bit more breathing room to take the characters in a different direction. Whereas we would've spent a number of episodes picking up where we left off ... I felt it would be easier to skip ahead and see where the characters are now."
So instead of starting Season 4 with the cliffhanger from Season 3 — with Mary Jane watching footage of Niecy being tased by police after being pulled over with her children in the car — we were transported to a year after the incident: Niecy was alive, with more money thanks to the lawsuit she filed against the police, but struggling to deal with her new internet stardom. Mary Jane and her best friend/producer Kara (Lisa Vidal) had moved from their Atlanta-based CNN-like news network, SNC, to a daytime television show in New York more akin to Good Morning America. And all the rest of the recurring characters we were used to (outside of Mary Jane's family and Kara) were replaced by new ones, including a new rival, Ronda Sales (Valarie Pettiford); a new boss, Garrett Keswick (Ashton Holmes); and a new producer, the aforementioned Justin.
"I did an event with Michelle Obama and the first thing she said was, 'I'm so glad Mary Jane's evolved!'"
"We initially talked about if she could make the evolution we needed to see from her in Atlanta," Kodish explained. "We initially asked ourselves, 'Could she leave SNC and just go to another network in Atlanta?' But to really see the change, and see that she's willing to take that big leap — because the age of 40 is hovering, coming for her — we felt like we needed a whole new city [and] venue to tell that story."
The adjustments were not Kodish's alone, either. Union admitted she put "a lot of them in motion." "Knowing that the show needed a reboot, I pitched LA and I pitched New York as new settings for her," she said. "I also pitched her joining a The View–type show because I thought it would be really interesting to see Mary Jane basically be like Sunny on The View. But we ended up moving into the morning news, which was so ripe with storylines and a lot of historical context."
Then, leaning forward in the Great Day USA hair and makeup chair, Union spilled the kind of tea usually reserved for a real-life beauty salon setting. "Last week I did an event with Michelle Obama and the first thing she said was, 'I'm so glad Mary Jane's evolved! I was getting so sick of her — she annoyed the hell out of me,'" she said. "This is from the real FLOTUS!"
The former first lady is not alone. Fans have been shouting, "Why are you like this sis?!" at their TVs for the past four years. And the second half of Being Mary Jane Season 4 will dive deeper into why Mary Jane has had such a messy personal life, finally providing some answers by shining more of a spotlight on her family.
From day one, audiences have watched Mary Jane struggle with being the main breadwinner in her family, a dynamic many successful black people deal with, since generational wealth is harder to pass down after centuries of enslavement and segregation. However, with a mother battling a chronic illness, a retired father, a younger brother fresh out of college, an older one trying to get back on his feet while battling a drug addiction, and a niece who keeps having babies without being able to hold down a job, it's been season after season of Mary Jane talking down to her family out of frustration when tensions get high. As a viewer, the lack of respect had gotten a bit disheartening for Kodish.
"People have been like, 'Where is this coming from?' And it's like you realize, 'Oh, this is her mother.'"
"It just felt like she was very judgmental and always wagging her finger at them scene after scene, and it just sort of felt like she was in a rut and there needed to be some shift in the dynamic between the family," explained Kodish. "Niecy's tasing at the end of Season 3 was a great opportunity to shake the family up. And I think it's true of what happens in real families whenever there's some sort of tragic event — it causes many family members to reassess and possibly approach things a little differently."
Two of everyone's favorite family members — Mary Jane's parents, Helen and Paul Patterson Sr. (Richard Roundtree), or Shug and Shaft, as Union and Twitter like to call them in reference to their previous iconic roles — are becoming even more central in the second half of Season 4. "To be honest, I'm most looking forward to the love triangle with Shaft, Shug, and the Hammer," Union said with a laugh. "It explains so much of Mary Jane's real fear about what commitment is supposed to look like, what happiness is supposed to look like, why she's got a bad picker. It's generational — it's taught behavior. People have been like, 'Where is this coming from? Why is she making these irrational-ass decisions?' And it's like you realize, 'Oh, this is her mother. We just thought she was sort of cantankerous.'"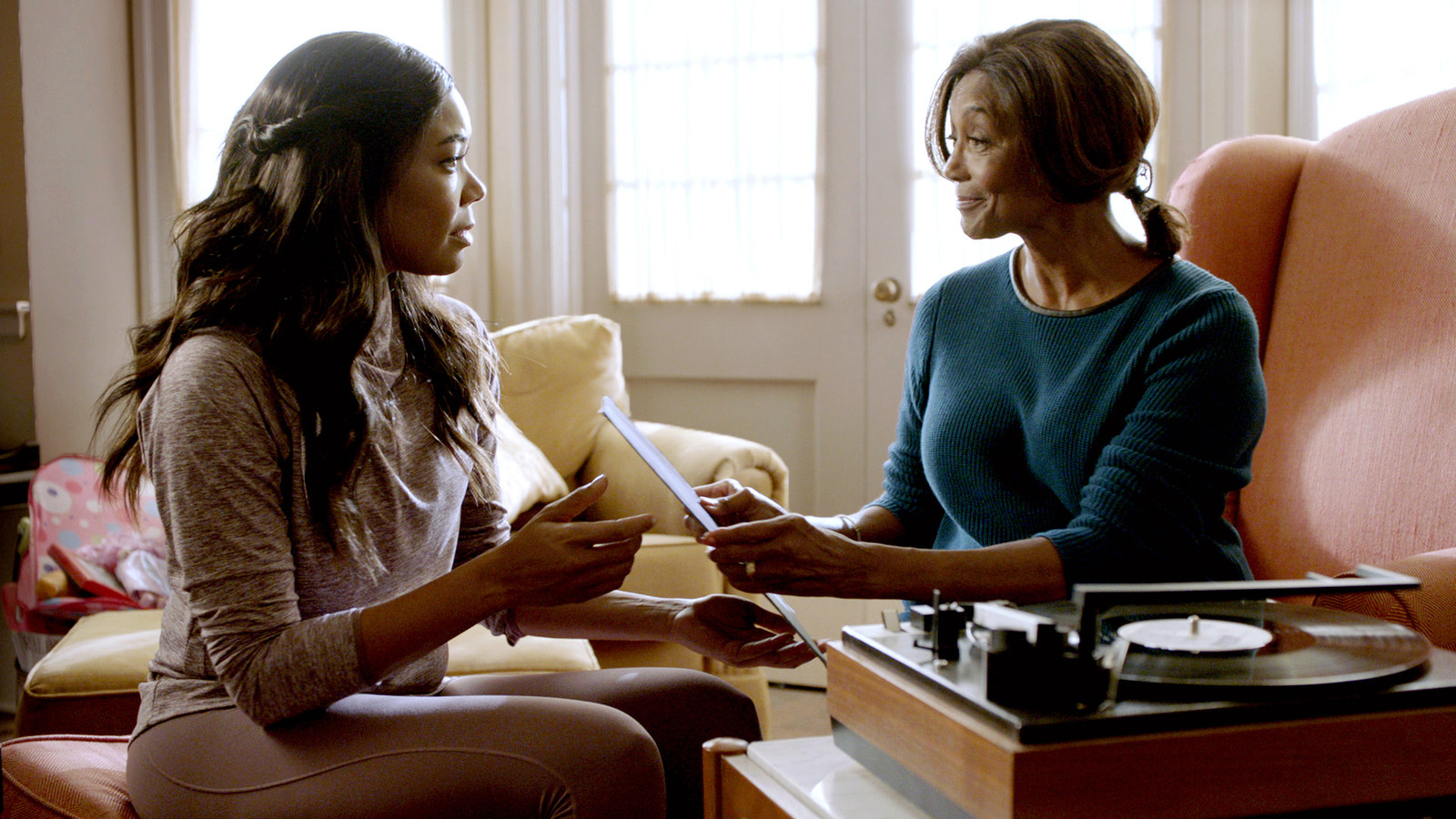 On that May morning on the Being Mary Jane set, Avery and Roundtree were filming a bit of that upcoming love triangle. Without giving too much away, Avery was throwing her signature shade and the door in a woman's face who had brought over some food for "the family."
As they sat behind the camera monitors, Sullivan and Kodish both couldn't help but laugh when Avery took the diss a bit further than the script with some A+ improv.
Fans will certainly be happy to see more of Mary Jane's comical family in Season 4, and Kodish seems happy to give them that…as well as more of Kara's relationship with Orlando (Nicholas Gonzalez). The writers saw how much fans responded to their storyline and decided to extend Gonzalez's role on the show. "We wanted to make sure we were servicing that relationship in a way viewers would find satisfying because the fan response was so positive," said Kodish. "We didn't want to move on too quickly and not give enough attention to that relationship."
But, like a lot of showrunners, Kodish knows better than to give the audience everything they want. "You have to try and keep a healthy distance between the feedback because you can fall into the trap of it becoming fan fiction, and there's a place for fan fiction, but that's not what you're trying to do with the show," Kodish said. "I think you have to keep it in the back of your mind in terms of what the viewers are responding to, but not create a plan just solely on that."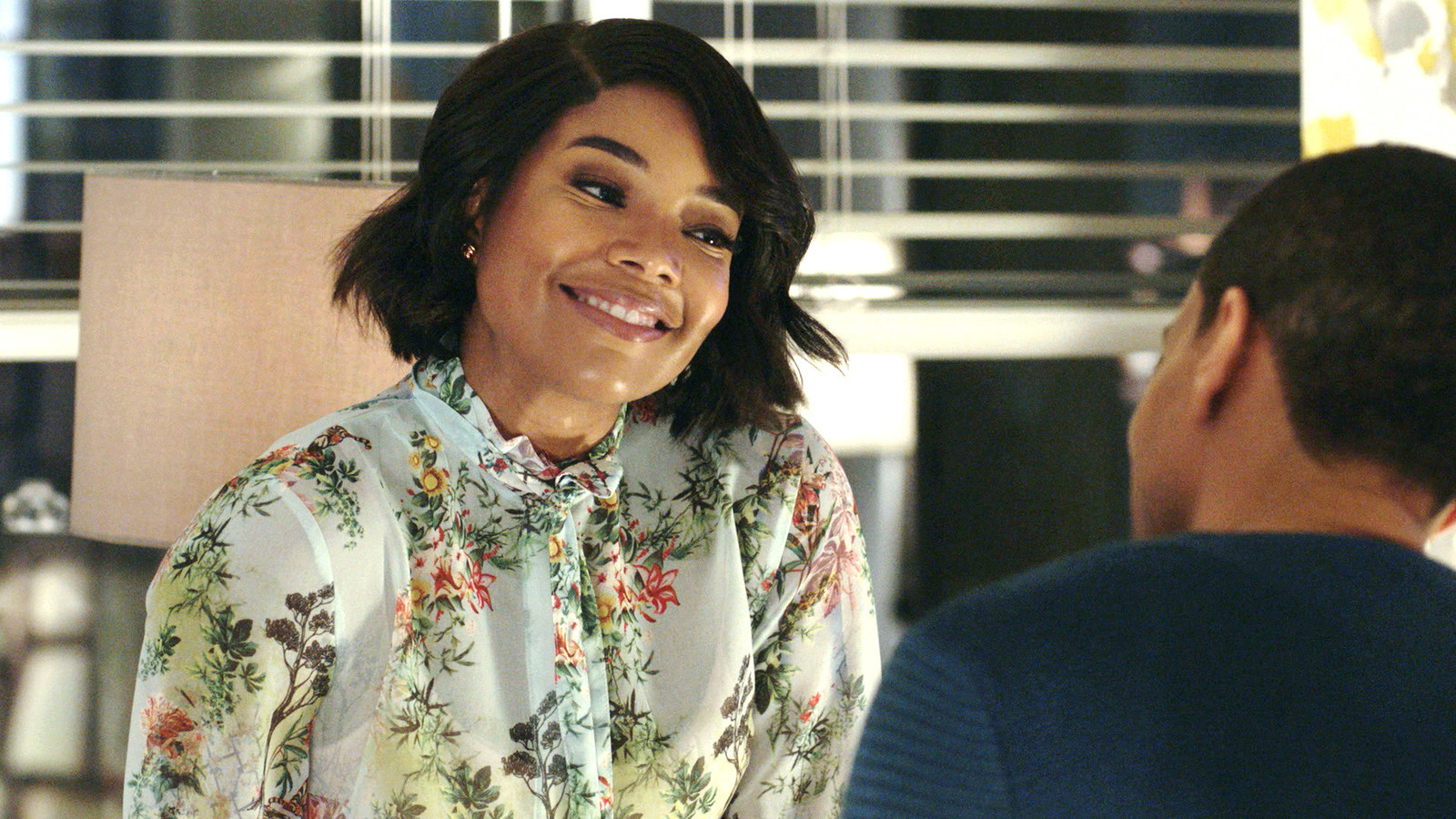 Even though giving fans everything they want isn't the goal, an audience is vital to a show's survival. And while some of the revisions to Being Mary Jane were happily received, ratings dropped drastically during Season 4 (for comparison: the Season 3 finale had 1.7 million viewers, while the Season 4 midseason finale had 890,000 viewers, a nearly 50% decrease). When asked what she had to say to those fans who've left Being Mary Jane behind, Kodish said: "I want them to know that those characters that they love from Season 1, we're really doing some great work with them — Niecy, Patrick [Richard Brooks] — they're doing some important things this season, so hang with us because those characters are not forgotten." She paused for a moment and then added, "Also, I feel like they would all agree that Mary Jane did need to change, so let's give her a little space to do that. Allow that to happen. But at the root, she's still very much who she was in the pilot."

Union echoed Kodish's thoughts about the necessity of change, citing one of her favorite shows, Scandal, as an example of how drastic moves can help drive a series forward. "It's like when Mama Pope arrived and we were all like, 'Holy shit!' But we needed her and we needed Papa Pope, we needed to understand what happened to Huck," she said. "The show's writers needed to rock the boat every so often, and it was weird to get used to at first, but it colored the show so much more and gave it a wider life that I was looking for as an audience member. So hopefully, it can eventually have that same effect for this show for the holdouts."
"Mary Jane did need to change, so let's give her a little space to do that."
At its core, Being Mary Jane will always be a show about a black woman trying and failing and trying again to have it all. Just like the women in the audience who love it so much. Just like the women who are running and starring in the show.
Union, like Mary Jane, has never seemed to lose her stride as she's navigated the twists and turns of her two-decade-long career. She's part of an elite, and unfortunately small, group of black female actors who have managed to remain relevant in Hollywood for that long, while jumping from the big screen to the small. In the five years since Being Mary Jane's debut, Union has filmed multiple major movies (Think Like a Man and its sequel, Top Five, Birth of a Nation, and Almost Christmas, which she also executive produced with Packer), all the while finding time to date and eventually marry Wade, after admittedly working on herself when her first marriage ended. We can only hope a similar fate awaits our beloved Mary Jane.
Kodish, meanwhile, balances making great television, motherhood, and marriage, always managing to give her full attention to whoever is in front of her at the moment — whether it's a cast member, stylist, the on-site medic, the director, a publicist, or even me — before moving on to the next thing on her to-do list. She tackles it all with the utmost confidence, proving there's nothing she can't handle — and that doesn't go unnoticed by the crew and cast, who certainly have respect for their new ringleader, even if fans are still on the fence.
As Union said, "Erica is reasonable, logical, rational, generous, and whip smart. And a lot of those you just don't see in the industry." ●