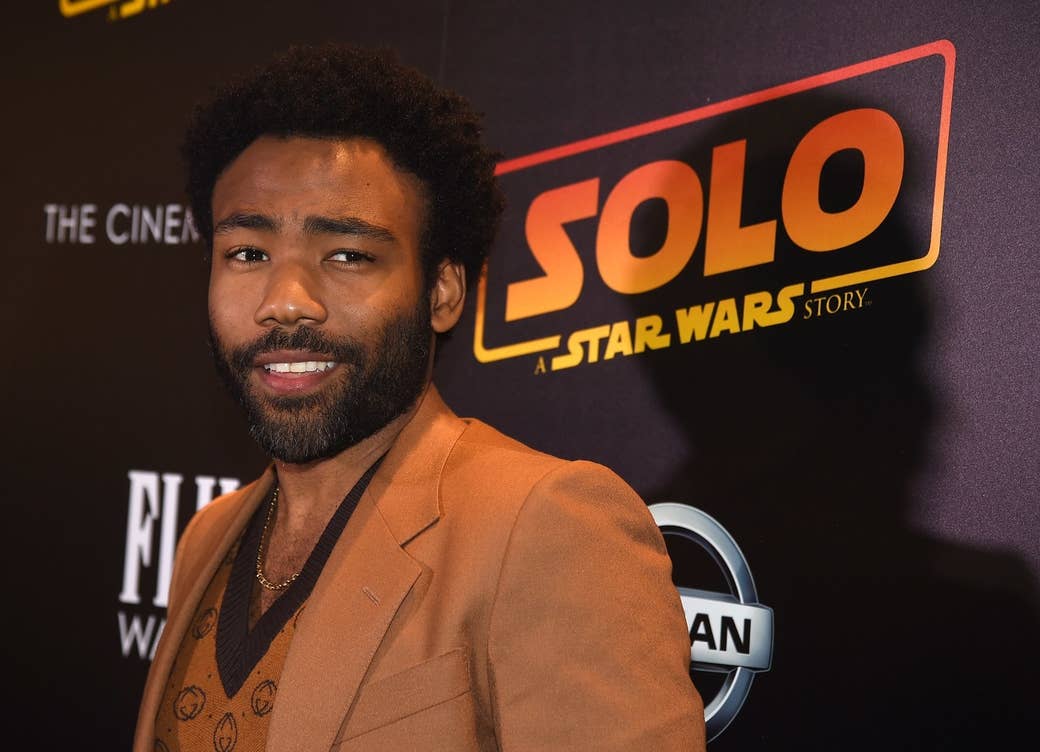 Before Lando Calrissian appears onscreen in Solo: A Star Wars Story, you know he's fine.
In the scene building up to his first appearance, Qi'ra (Emilia Clarke) brings Han Solo (Alden Ehrenreich) to some sort of underground club where Lando runs his card game scam. There, she tells Han how charming and handsome Lando is. Her description is so complimentary that Han abruptly stops her and lets her know he gets it, with the same twinge of jealousy in his voice that your boyfriend might get when you can't stop talking about Michael B. Jordan. The thing is, Lando isn't being played by Jordan or any other of the many other actors with an impeccable thirst-inducing chiseled body. He's being played by Donald Glover, who has attractive facial features, yes, but stands at 5'9" and boasts what some may call a bird chest on his slim frame. Despite this, Glover's Lando manages to be the most appealing man in the room in all his scenes while simultaneously looking nothing like what we've come to expect from the men who traditionally play that type of role.
Glover was never supposed to be a heartthrob. The artist began his multifaceted career as a writer for the NBC sitcom 30 Rock, where he occasionally made appearances onscreen. In his first big break as Troy Barnes on Community, he played a man learning to embrace his inner geek. For five seasons (2009–2014), Glover was one of the only examples of an awkward black boy on broadcast TV.
In the early days of his music, Glover also leaned into his quirky nature. Using the moniker Childish Gambino (originated from a Wu-Tang name generator), he put out mixtapes with song titles like "Freaks and Geeks" and rap lyrics that essentially explored his specific intersection of alternative stoner black boy. Nothing about Gambino as a rapper was conventional: He navigated the traditionally hardcore genre wearing clothes that looked like they came from Abercrombie & Fitch and never really claimed to be a part of any "set" (record label or sublabel) like many do; he didn't even have a hip-hop OG usher him in, per tradition. His music also began to transcend multiple genres as he incorporated singing in his EPs, with impressive vocals that really made him seem like that cute but scrawny boy from band camp that you mysteriously had a crush on because his talent outshone his corniness. His first tour was a one-man show that combined stand-up, music, and videos; in his "Telegraph Ave" music video, he randomly turns into some sci-fi half-man, half-octopus monster after being hit by a car. He would just do strange things. It became his brand.
But then something happened. In the winter of 2015, Glover cemented the end of his black geek era by making the most drastic change a man can make: He grew an immaculate lumberjack beard. It was like Steve Urkel had let him hold his iconic transformation chamber; suddenly he was sexy, suddenly he was Stefan. And while the beard definitely played a big part in initially catching our eye, Glover didn't need it to keep our attention (his facial hair continues to morph into different lengths and shapes and sometimes is just a mustache, like in Solo). The beard appeared to give him a certain confidence, and dare I say swag, that made him carry himself differently from that moment on. Or perhaps the confidence came first, and then the beard. Either way, he appeared at ease on — if not too cool for — every red carpet he walked. He released an album, Awaken, My Love!, that is so sexy it feels like a sonic Afrodesiac. It has toe-curling falsettos, thumping funkadelic beats, romantic melodies, and orgasmatic screams. Many women were, to put it frankly, confused that Glover could make them feel this way. Like, the man in Community who was too afraid to talk to LeVar Burton from Reading Rainbow because he was such a big fan is now able to...turn us on?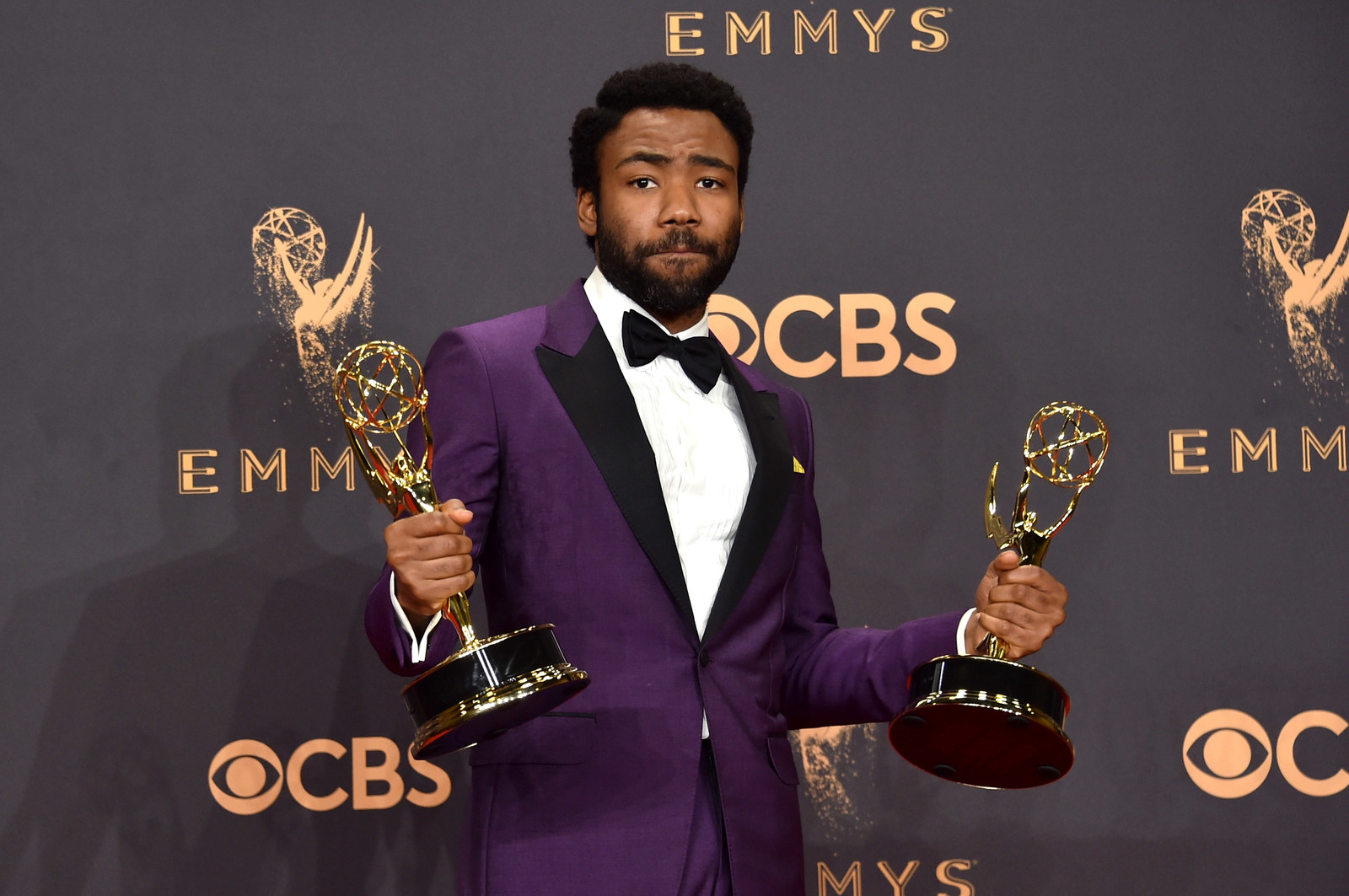 Whatever conviction Glover came across made him hit his stride: first with the Grammy-winning song "Redbone" (the biggest of his career), second with the Grammy-nominated album Awaken, My Love!, and then with Atlanta, the Emmy-winning FX series he created (and also stars in) with his brother, Stephen Glover. In the course of one landmark year, Glover became the object of our affections who consistently fulfilled our desires for good art. It was almost like his appearance in 2015's male-stripper flick Magic Mike XXL was his way of warning us that we wouldn't be questioning their choice to cast him next to Channing Tatum and Joe Manganiello for long.
After having a damn good 2016, Glover's star was shining so bright even Hollywood's top executives had to take notice. The actor nabbed parts in three big franchises: Spider-Man: Homecoming (2017); the aforementioned Solo: A Star Wars Story, which is now in theaters; and Disney's live-action remake of The Lion King (2019). The Spider-Man role was small, and seemed more like Marvel throwing a bone to all the people who wanted him cast as the latest Spidey. And while there was a time when the role of Peter Parker would've been a perfect fit for him, now it would feel like a step backward.
With Lando, however, Glover is cementing his newer persona as a heartthrob in one of the most iconic franchises in pop culture — much like the role did for Billy Dee Williams, who originated it in The Empire Strikes Back and Return of the Jedi, after playing some of the most romantic roles of the '70s in Mahogany and Lady Sings the Blues. Williams was the man (a dreamboat if you will!) and his career in its prime mirrored Glover's in a lot of ways: He dabbled in music and released a jazz LP; he managed to appeal to the mainstream white audience while still being a part of very black projects; and he's also one of the few black actors who got away with never having to put on muscle to become a sex symbol, unlike, say, Jordan, Idris Elba, or Denzel Washington. When it comes to leading black men in huge action franchises that never had to get buff (so basically no one from Black Panther), there's arguably only Williams, Eddie Murphy, Martin Lawrence, and now (with rumors of a Lando spinoff in the air) Glover.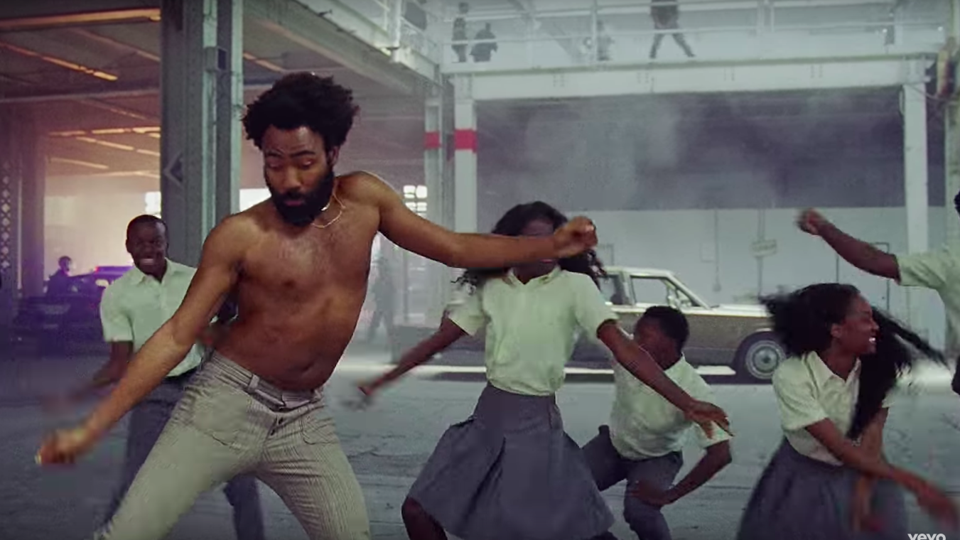 Reaching such heights doesn't come without being scrutinized, and Glover (like more than a few famous black men) has been criticized multiple times for having a white partner, who is also the mother of his two children. That, coupled with his jokes about rape early in his career and an uncomfortable amount of rap lyrics fetishizing Asian women, has made him less attractive to some women. Glover himself expressed his own insecurities about his past in a 2013 Instagram post, including his well-founded fear that people think he hates his race and women; he also mentioned being afraid he'd never grow out of the "'Bro Rape" stand-up. "Mistakes you've made during the year, your life, your eternity, you're always allowed to be better, you're always allowed to grow up if you want," Glover wrote at the end.
Some of these earlier incidents can be blamed on youth and naïveté — and Glover has indeed matured through the years. As all his pursuits and accomplishments demonstrate, he has evolved and come into his own, noticeably comfortable with who he has become, at least in what he shows to us. Moreover, as many have written, having a white partner doesn't mean a black person cannot make black art, nor does it minimize the barriers a black person may have to overcome in their career. Glover, along with major figures like Jordan Peele and Serena Williams, has made history being unapologetically black while having a white partner. And while the conversation about a black person's commitment to their community when they choose a partner who doesn't look like them continues, it isn't one that began or will end with Glover's personal choices; it's an in-group discussion that will likely never produce a final answer that pleases everybody.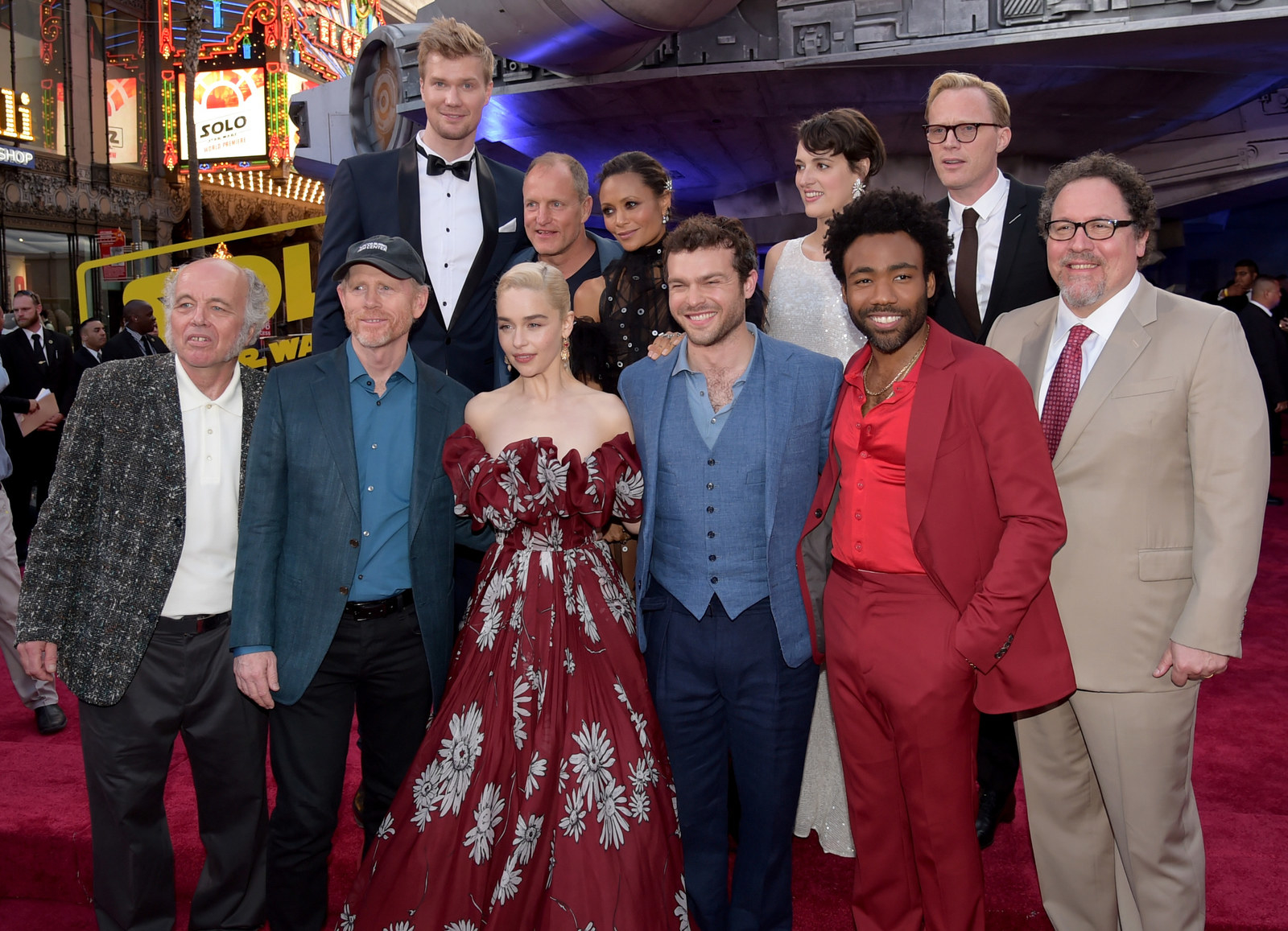 "Grown" might be the best way to describe this current era of Glover's career. He's making grown-ass decisions as the creator of Atlanta, he's making grown-ass music, and now he's playing grown-ass roles like Lando Calrissian, in his biggest movie to date. In Solo, Han is struggling to come of age and become the man he wants to be: a pilot with his own ship and someone he loves by his side on the journeys to come. Lando already has all of that when he meets him – including the ship. He's the grown-ass man Han is trying to be. On top of that, Lando is essentially fearless, and often unfazed (until shit gets truly crazy — but I won't spoil). When Han, Tobias (Woody Harrelson), and Chewbacca (Joonas Suotamo) approach Lando with their crazy mission, he doesn't break a sweat — he just negotiates a hefty cut for himself. To quote Glover as Gambino, "Get your money, black man." And like a true pretty boy, he has a walk-in closet full of custom capes inside his condo-sized spaceship, the Millennium Falcon, making it clear that he's also the most stylish man in the galaxy. Lando is in complete control of his life when the crew finds him; there's almost a rhythm to his movements that indicates he's been through this before despite it being so new to Han. And even after their mission doesn't go as planned, Lando makes sure he (figuratively) lands on his feet with grace.
It's amazing to see Glover fully transform on the big screen into the kind of confident man we've seen him be multiple times as a music artist (especially in "This Is America"), and as Glover the celebrity, but not as much in his acting. His character on Atlanta, Earn, is definitely nowhere near as nerdy and awkward as Community's Troy, but he's not very sure of himself as a man — or with women either. But in Solo, he's basically touted as the most attractive man in the galaxy — in a movie full of white male leads! He even throws the mother of dragons (had to) off her game. As Andre 3000 said in one of his most iconic verses, "Spaceships don't come equipped with rearview mirrors," but if they did, Lando would see Troy Barnes and Earn Marks staring in awe at how far Glover has come.