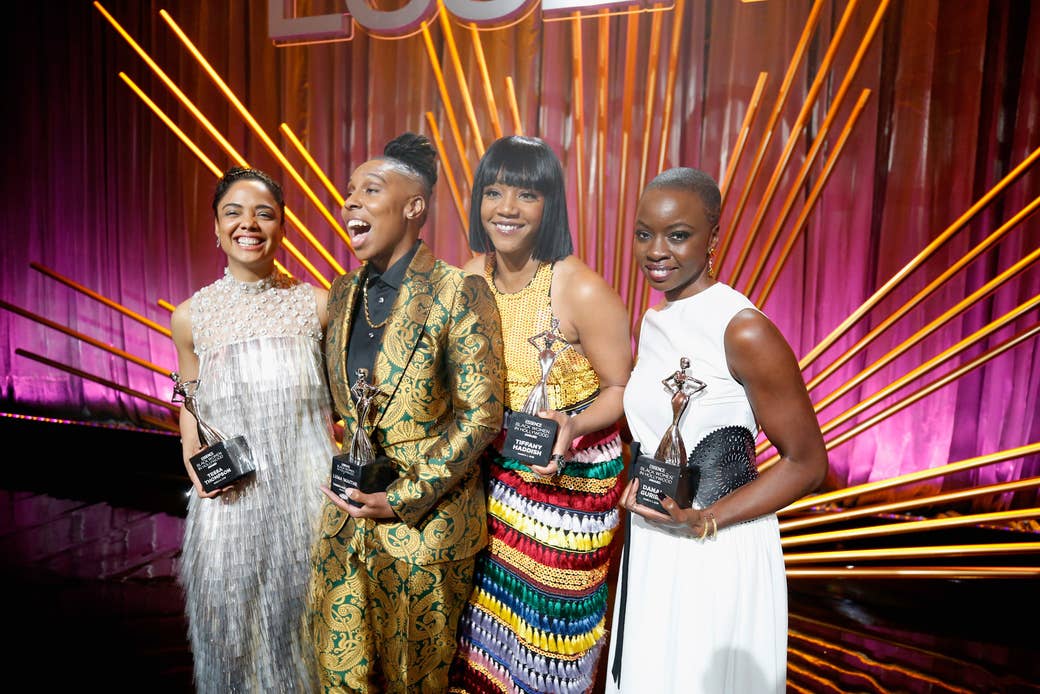 If you, like Issa Rae, were rooting for everyone black this awards season, you only got to celebrate a few moments. At Sunday's 90th Academy Awards, there was Jordan Peele's Best Original Screenplay win for Get Out and Kobe Bryant's Best Short Film (Animated) win for Dear Basketball. (And even that win for Bryant had a problematic shadow cast over it due to the former NBA player's past.) Earlier this year at the Golden Globes, Sterling K. Brown won for Best Performance by an Actor in a Television Series. And at the Globes and Screen Actors Guild Awards, Oprah Winfrey and Morgan Freeman were given honorary awards respectively. But that's about it.
At the Oscars, some of the nominees included Denzel Washington and Daniel Kaluuya for Best Actor, and Octavia Spencer and Mary J. Blige, both for Best Actress in a Supporting Role. Granted, this was an especially unpredictable year but none of the aforementioned actors prevailed with a golden statue. While Peele made history for winning Best Original Screenplay, he did not win in the coveted Best Director category in which only four black men have been nominated in 90 years — none of whom have won. Mudbound director Dee Rees joined the list of black female directors who didn't even get nominated in the category despite having her film recognized for Best Adapted Screenplay, Best Cinematography, and Best Supporting Actress (Blige). Tiffany Haddish was overlooked altogether for her hilarious comedic performance in Girls Trip, unlike Melissa McCarthy for her role in Bridesmaids, widely categorized as Girls Trip's white-counterpart film. And finally, one of 2017's most successful films, Get Out, failed to win for Best Picture — and this time the envelope was read correctly.
But #OscarsSoWhite isn't anything new, and Black Hollywood no longer waits for their recognition at mainstream award shows. In fact, almost everyone who deserved to be honored for their work this year was celebrated in the week leading up to the Oscars — it just didn't happen at ceremonies that air live on network television. Instead, it happened in "rooms of requirement" created for us, by us: At annual pre-Oscar awards ceremonies like the American Black Film Festival Honors (ABFF) and Essence's Black Women in Hollywood Luncheon; intimate dinners like Common's Toast to the Arts and Alfre Woodard's Sistahs Soiree; and black excellence parties like the one Jay-Z and Beyoncé threw this year that shook up the post-Oscar party scene that used to have a clear hierarchy. Each of these events look like a powerful sea of melanin, and leave a current so strong every glimpse can't help but go viral.
"Necessity is the mother of invention," Tessa Thompson told BuzzFeed News at Essence's Black Women in Hollywood Luncheon. "We invent these days because we need it, because we aren't being seen, we aren't being acknowledged. So we take the power back and we acknowledge ourselves and each other. And that's valuable, and we need to continue to do that. I'm so grateful to women like Alfre Woodard, who throws a soiree every year to honor women who, in a perfect world, would be honored by the academy."
Thompson was honored at the magazine's 11th annual luncheon, created to honor black women both in front of and behind the camera in Hollywood. The ceremony, which airs on Oprah Winfrey's OWN network (notice a trend?), also honored Black Panther's Danai Gurira, Girls Trip's Haddish, and Master of None star and creator of The Chi, Lena Waithe, this year. Held at the Beverly Wilshire hotel in Los Angeles, the event can best be described as a huge black girl magic brunch where all of your Black Hollywood faves (and I do mean all) come together to uplift, celebrate, and fellowship with one another. Many of the women in attendance that day echoed Thompson's feelings and noted that the luncheon is their favorite awards season event, even more than the Academy Awards itself.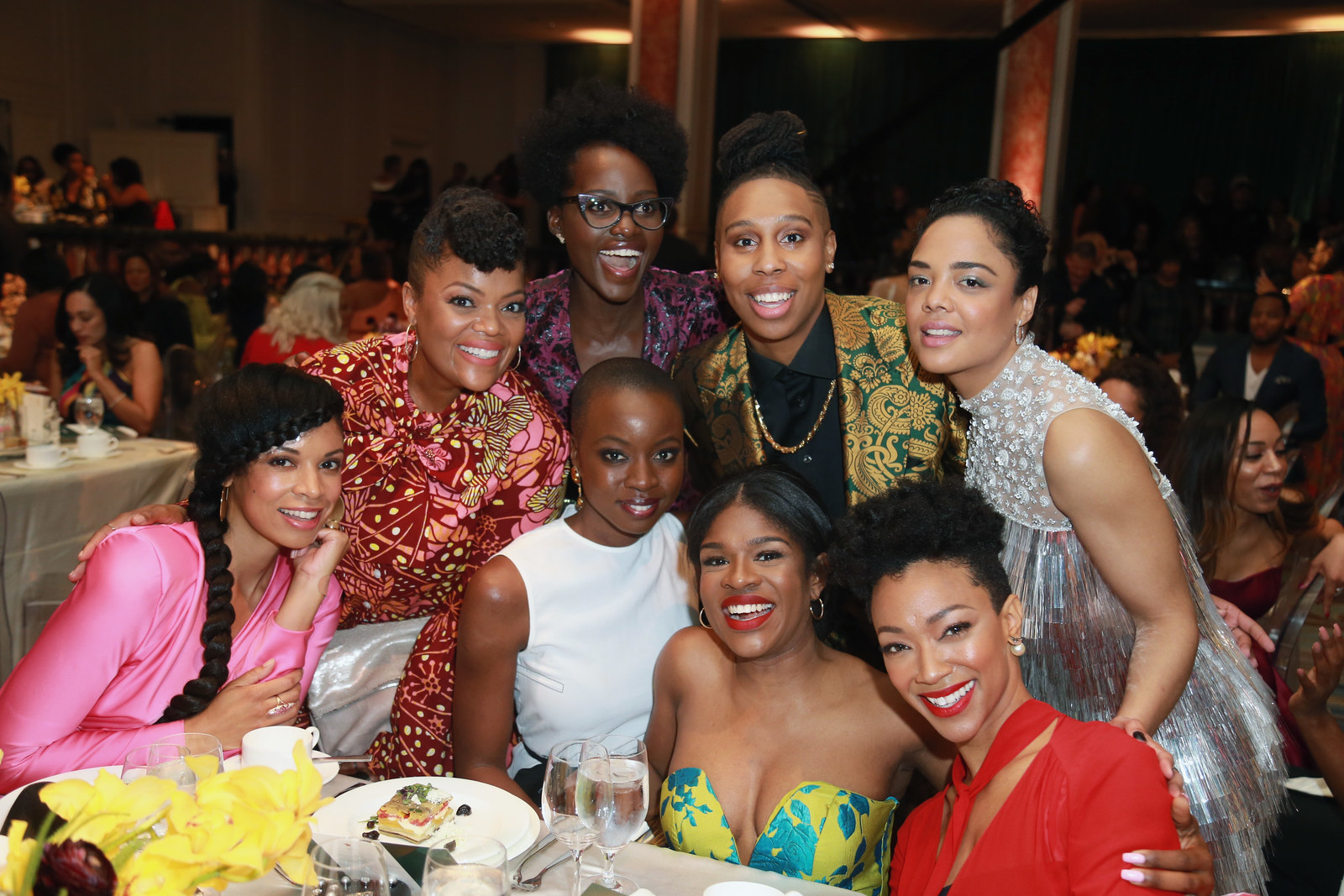 "This is my favorite event of the week," Waithe told BuzzFeed News. "We have to come together to hold each other up, celebrate each other, to tell each other how proud we are of each other. I think that's extremely important, and Essence is the perfect like, magazine, organization to bring us all together under the same roof and have a fellowship. It's like motherfucking church. They're all my family. It's amazing."
Last year, Waithe became the first black woman to win an Emmy for Outstanding Writing for a Comedy Series and during her speech she quoted Maxine Waters, saying she was going to reclaim her time. During her speech at the Essence event, however, she said, "I feel like I don't have to reclaim my time here … y'all are gonna just give me my time."
That subtle change in how Waithe framed her speech demonstrates the difference between these events and the traditional awards season ceremonies. There's a level of comfort present in the former, a common bond formed through the struggle of being black in Hollywood, and in the case of Essence's luncheon specifically, a sisterhood that's formed when a win for one is a win for all.
"It's important for us to remember who we are, and when we look into the eyes of those like us, we remember who we are, we get renewed, we get inspired, we get rejuvenated, we get revived," Gurira told BuzzFeed News. The Black Panther star went on to explain how many of the women in attendance have broken down barriers and opened doors for future generations of black women in Hollywood to move through. Gurira herself was in the room five years ago watching Oprah Winfrey, Alfre Woodard, Gabrielle Union, Mara Brock-Akil, Naomie Harris, and Quvenzhané Wallis be honored. Since then her star has risen with a hit show (The Walking Dead), No. 1 movie (Black Panther), and a play under her belt (Eclipse). So as she stood onstage accepting her award, presented by another former honoree, Lupita Nyong'o, the newer actors in the room saw that upward mobility in Hollywood is possible for black actors, and that they are not alone in the obstacles they face while trying to achieve it.
It's the type of safe space that allows Gurira to say things on stage like, "We lack nothing. Our success is greater than our failures. We are here and we are ready to determine our own destinies. We must reap the seeds that were planted by our foremothers," before transforming the room into Wakanda with this final charge, "The youth need to see their greatness reflected in our rise. Go forth. Let them know we're real. Invest in them with time and resources. And as Okoye commanded her army of women as they stepped into battle to preserve the sovereignty of their people to do, so I mandate all of us to do today. Forward!"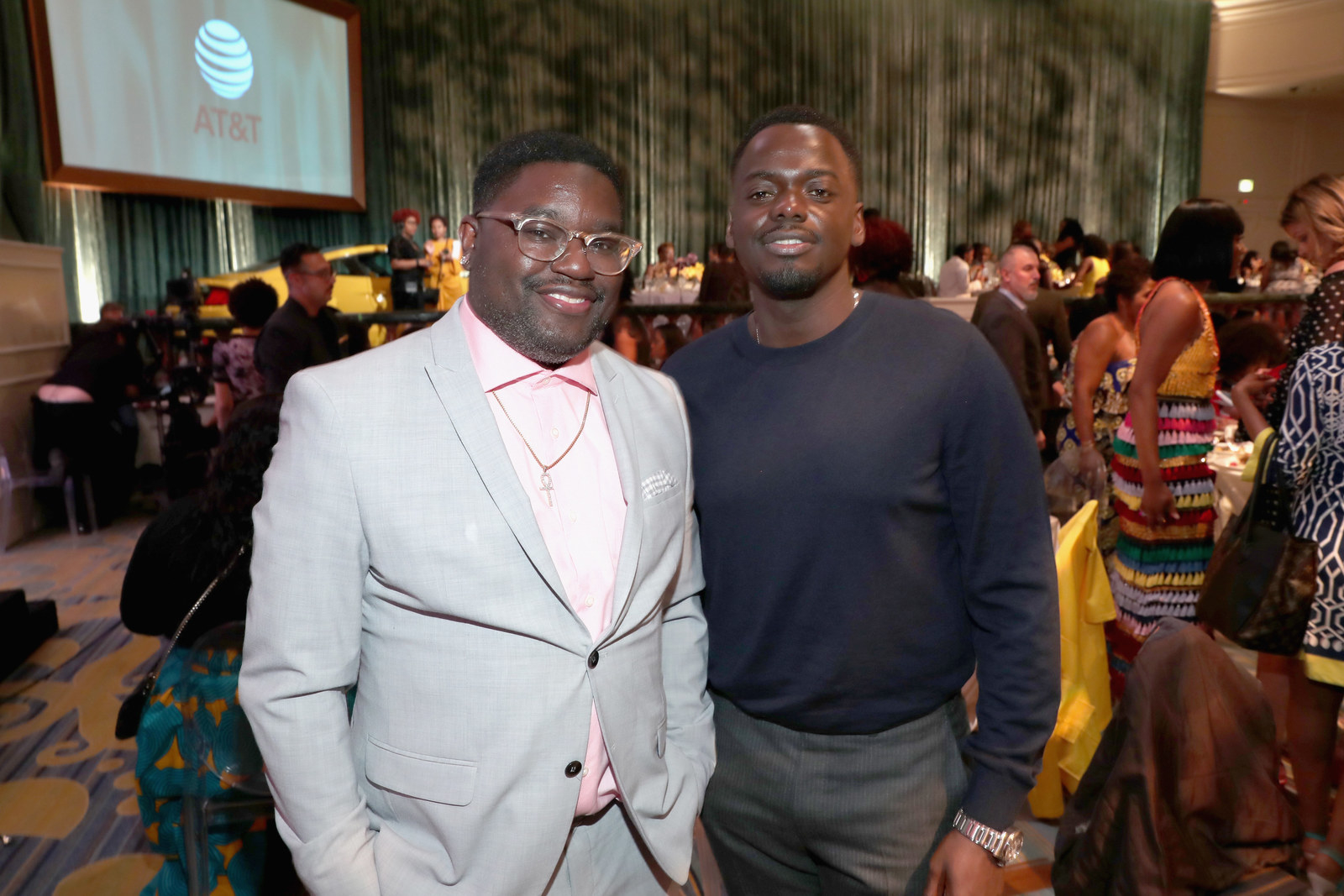 And it's not just black women reclaiming awards season — there are some good men involved as well. Kaluuya and Lil Rel Howery were both at the luncheon to support their costars Gurira and Haddish. "I think it's important for us to celebrate each other more than anything, and don't search for approval from everybody else," Howery told BuzzFeed News. "That's why I've enjoyed this awards season. The ABFF Honors was amazing. That's probably been my favorite out of everything because it was just fun, the energy was good, everybody was excited to see each other."
The ABFF Honors were held exactly one week before the Oscars, honoring Ava DuVernay, Omari Hardwick, Tiffany Haddish, Billy Dee Williams, and the cast of Martin while also awarding Black-ish, Insecure, Get Out, and Queen Sugar in various traditional categories. It was the only event during awards season where you could see Martin Lawrence and Tisha Campbell-Martin mend their rift onstage, or Issa Rae joke about being too drunk to give a proper acceptance speech, or hear about how Omari Hardwick paid for the craft services while they filmed Middle of Nowhere together because DuVernay couldn't afford it.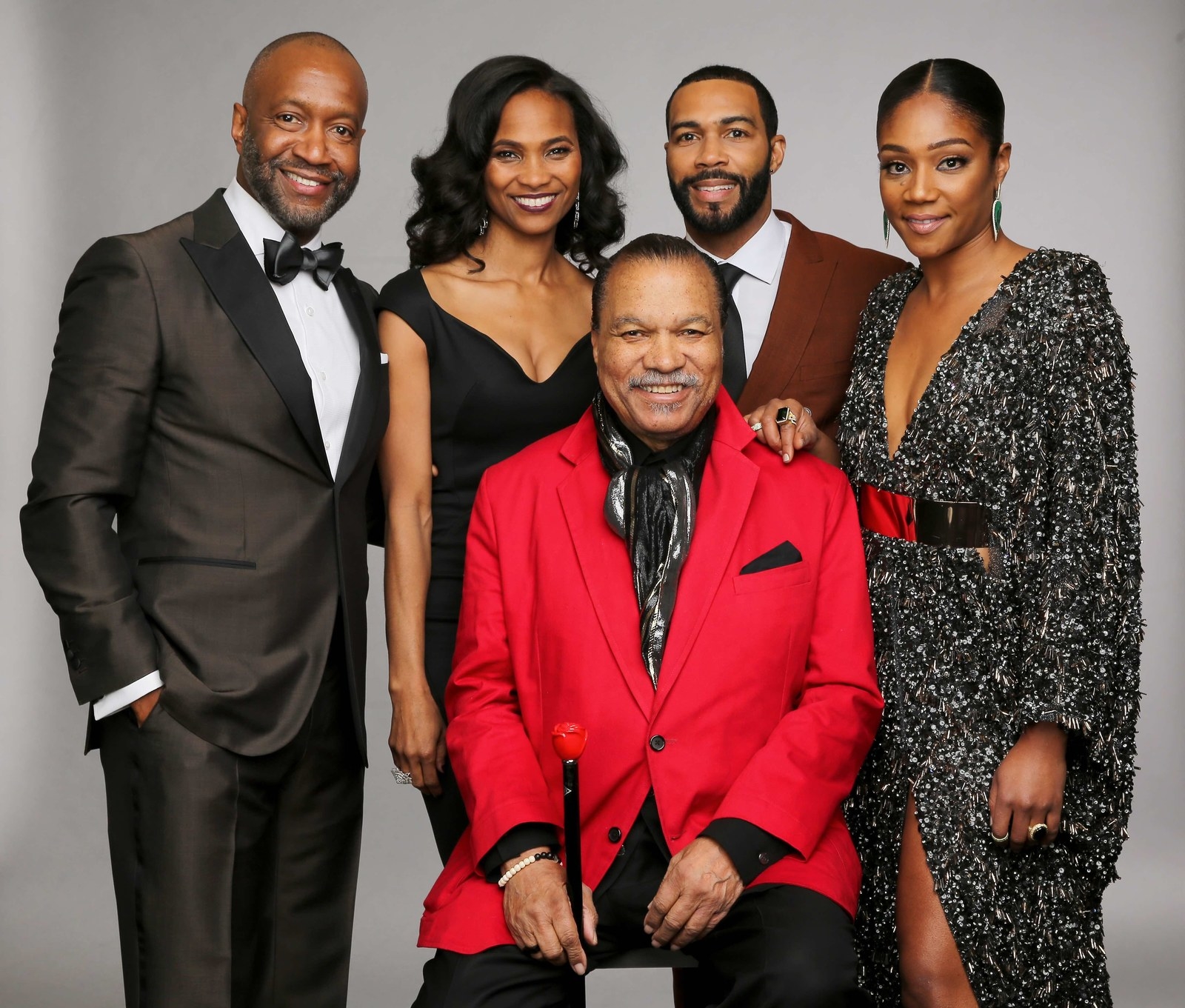 Dear White People creator Justin Simien told BuzzFeed News, "Events like this are so important because black folks, and especially black women, have been kept out of so many cultural spaces for so long. They have not been celebrated. They have been denigrated, in ways subtle and direct. And the fact that we can get together as a community to hold ourselves up and remind our little girls that they're special and they're gonna do amazing things in the world? It's beautiful. We need that. We've needed it for a while."
Common took his support a step further by creating his own platform to do so, through his Toast to the Arts dinner held in West Hollywood the Friday before the Oscars. There, he honored Rees, Blige, and Charles D. King for Mudbound and filmmaker Charles Burnett.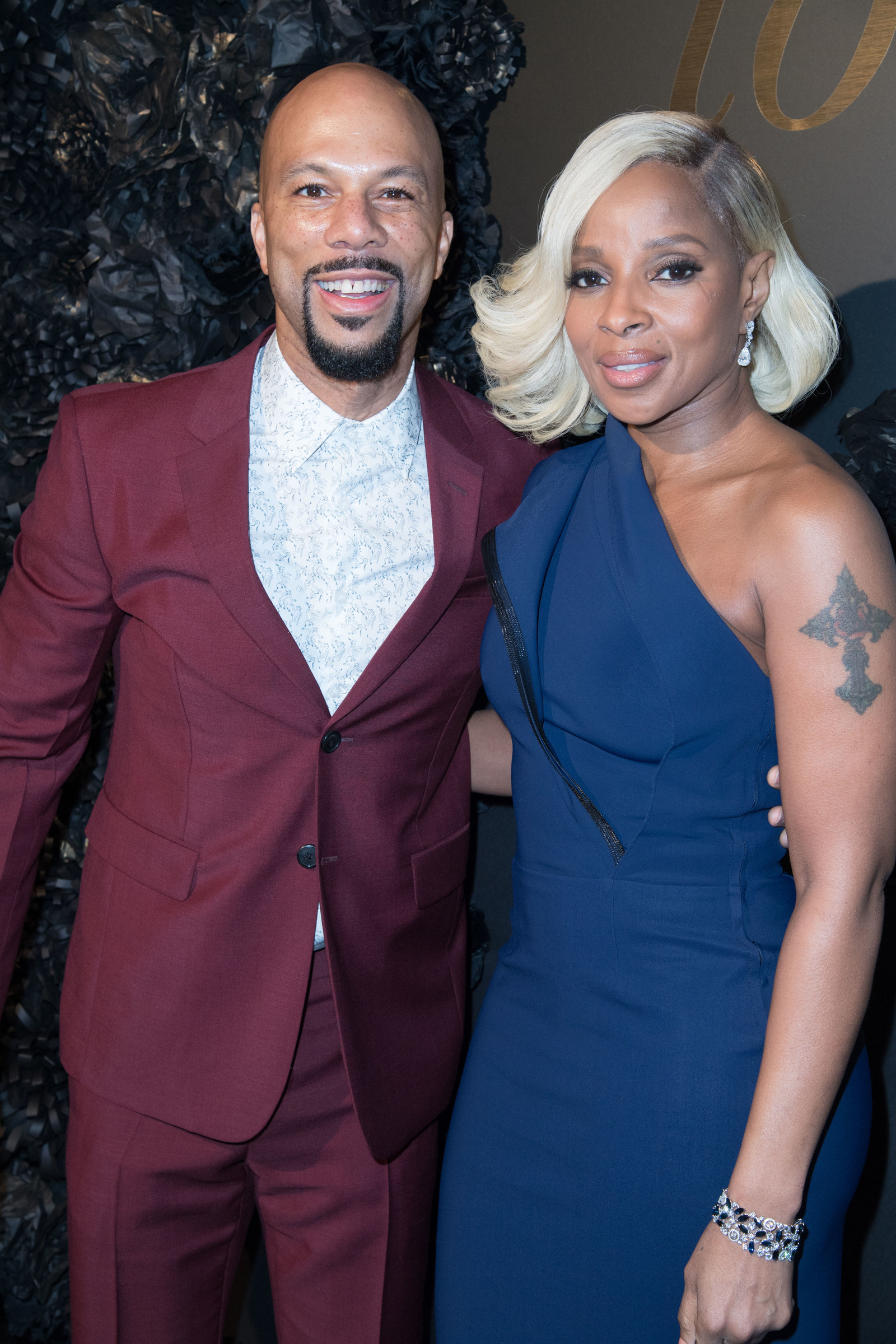 While toasting Rees in particular, Common, who was also nominated for an Oscar for Best Song, noted the intimacy the director is able to create through her films like Mudbound and Pariah while weaving in themes that are universal. "I think that's such a powerful thing — the vision that you have as a visionary and a rebel."
Blige, who was nominated at the Golden Globes, SAG, and Oscars this year but ultimately didn't win any statues, was seated at the same table as Rees. When the time came to toast his longtime friend, Common noted how Blige has proven herself as a double threat after her performance in Mudbound. "In so many ways as a musician, you let us into your soul. For you to open up your soul to us as an actress is phenomenal because what you did with Florence was just unprecedented. It was a beautiful opening into your heart and soul."

Although they weren't formally listed as honorees for the evening, Kaluuya and his Get Out costar Howery were also in attendance sitting at a table that included Kaluuya's mother, #MeToo founder Tarana Burke, and Andre Harrell. Common congratulated them as well before wrapping up his speech, noting how even though he isn't a fan of scary movies, he loved Get Out because it was like nothing he'd ever seen before. "It is rebellion at its core. It told stories like about our bodies and who we are as people and how sometimes we deal with the fear of people trying to steal our culture and our bodies in a way they dehumanize us. It told that story but we were able to embrace it, laugh at it, but at the same token, recognize the consciousness in it. The Oscars nominated this because they had to because this movie is incredible like that. It breaks ground."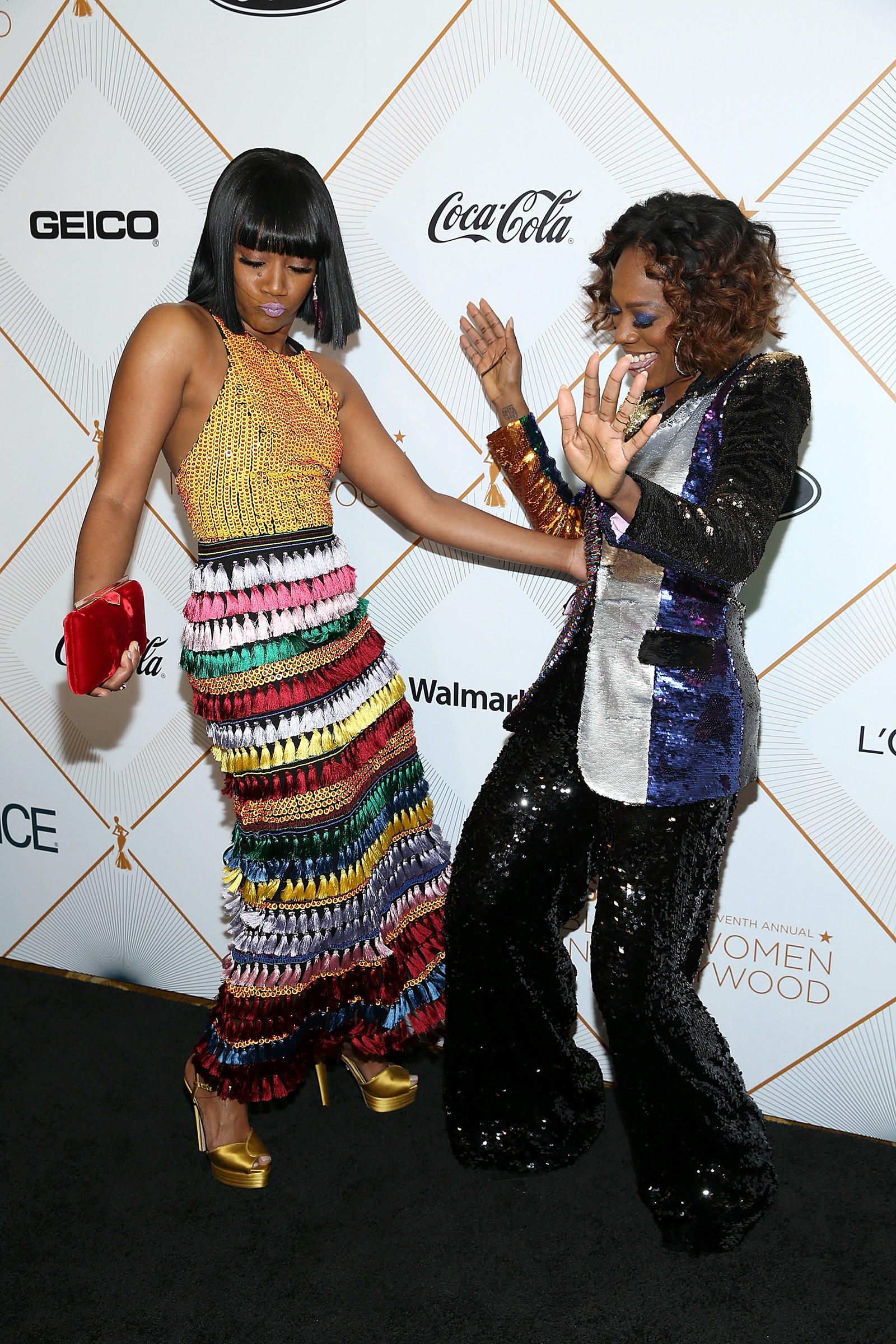 At one point or another, these FUBU awards ceremonies rooted for everyone black: They recognized the impact black actors, directors, and producers have had in the industry and honored them accordingly; not just with nominations but with actual awards that allowed them a platform to give inspiring speeches and a trophy to take home (or more likely, give to their mama). And they give black actors a place to convene and be in the room since many are often not even invited to awards season's darling ceremonies, as Gabrielle Union pointed out at the Golden Globes in January when she revealed that was the first time she received an invitation to attend. And when you're constantly snubbed a seat at the table, it's only a matter of time before you create your own damn table. That's what these events are: a space for black artists to be fed both literally and figuratively before they've even stepped foot on red carpets; to know that their work mattered whether or not it was recognized by the Academy, the Hollywood Foreign Press, or the rest of the Screen Actors Guild.

While smaller than their mainstream counterparts, these rooms also create the momentum that produces films like Black Panther, Get Out, Girls Trip, Mudbound, and A Wrinkle in Time. They allow Black Hollywood's power players to pour into one another, meet future muses, make the proper connections so they can go forth and create more art. Most important, these rooms — as Thompson said in her Black Women in Hollywood speech — tell the truth, that the handful of black actors we see celebrated during awards season are not the exception to the rule, but that they are one of many exceptional black people in the industry who unfortunately often go unacknowledged. Which is why the end of Thompson's speech served as a charge to the industry: "I love, love, love, love, love seeing all of you in this room. It's my favorite event of the year, but I hope that we can gather outside of this room more often. I think we really need to."