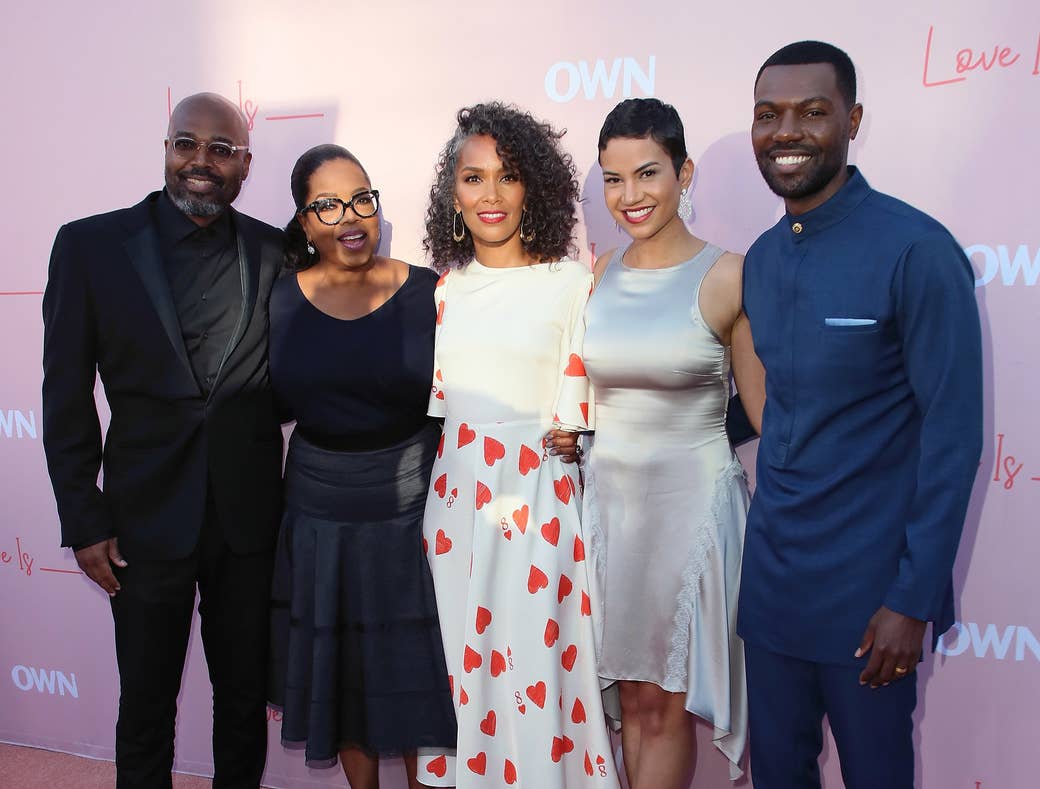 Love is real. At least that's how you'll want to fill in the blank that hangs at the end of the title of Mara Brock Akil and Salim Akil's new series Love Is ___ after watching its first episode. The show, which premieres on OWN Tuesday, is inspired by the Akils' love story and is so unlike anything on television right now that Mara decided to forgo the traditional "comedy" or "drama" genre designations and call it a romance. True love is the star of this show, and the rest of life is secondary. It's a concept that seems simple enough but one that the creators feel hasn't been done for a long time on TV.

"Back in the '80s, maybe even early '90s, when we talked about love, it was very pure, perfect, and idealistic," Mara explained to BuzzFeed News. "It was still Cinderella in a lot ways. We had to sort of swing it so we can be more honest about what relationships are, and I think it got to a place where we got stuck in how bad it is, the dystopian side of love. I participated in this as well."
Mara isn't wrong. While all of her previous shows included love/relationships as a major theme, none were breathtakingly romantic from premiere to finale. Her most classic sitcom, Girlfriends, is often described as the black Sex in the City because it focused more on Joan, Toni, Maya, and Lynn's friendship as the lasting love that gets them through all the misadventures of dating. Both married couples on the show (Maya and Darnell, and later Toni and Todd) got divorced at least once. And many fans still feel a way that we never got to watch Joan get the kind of marriage she'd dreamed of the entire series. Similar things can be said about another one of Mara's series, The Game, and her last big offering, Being Mary Jane, which may have broken a record in the number of relationship fails one black woman can experience with different men.
This theme goes way beyond Mara's shows. If you think about the love stories featuring black women that we've seen on TV in recent years, most were riddled with disaster: Olivia Pope was Fitz's mistress; Annalise's husband was killed due to his involvement in the murder of a student he was sleeping with; Issa cheated on Lawrence and ended their relationship in the very first season of Insecure; Rainbow and Dre argued so much this season of Black-ish they separated and almost got divorced; Marlon is literally about a divorced couple trying to coparent — the list could go on.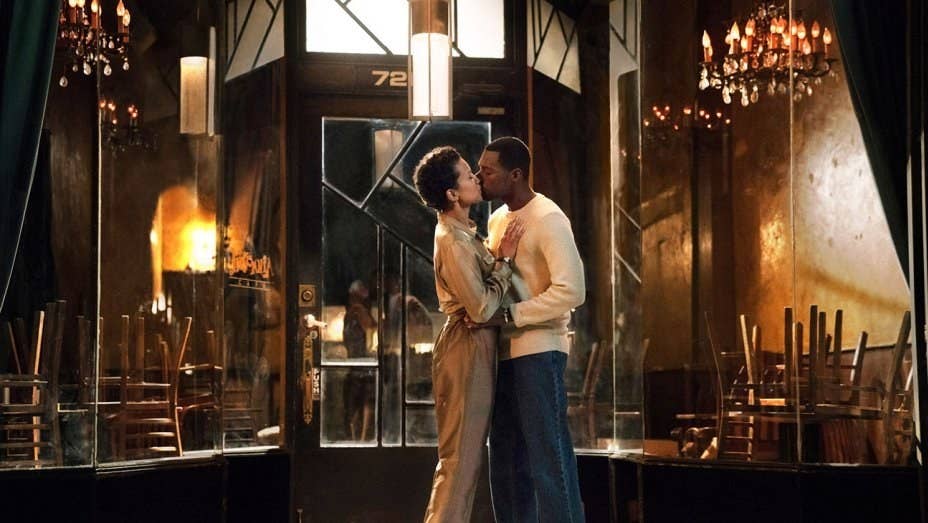 But in Love Is ___ you get an up-close-and-very-personal look at the beginning of a relationship — between main characters Nuri (Michele Weaver) and Yasir (Will Catlett) — that stands the test of time. We know this from the beginning — not just because it's inspired by a couple that is still married, but because the show starts with the couple in the future (played by Wendy Davis and Clarke Peters), retelling their love story for a documentary that they agreed to be part of in honor of their anniversary. This narrative tool allows for the series to be as informative about love as it is entertaining.
"The older, wiser characters allow for us to see what was inside the younger versions of themselves, heart and head, so that even when we may be seeing them act opposite of that, or we're not sure what they're feeling, the older characters help allow us to go on that journey," said Mara. Mara later added that insecurity and fear usually keep couples from opening up to each other the way they need to, and that the same has been true for them, especially during the early courting days.
So now, instead of complaining on Twitter weekly about how we're all trash at communicating with one another about matters of the heart, we can learn by journeying with this couple as they look back on what worked for them. It's almost like if Randall and Beth from This Is Us — the only black TV couple that rivals the level of love you'll see on this show — were to take us through their beginning. "We felt like it was something that was missing about storytelling in general but particularly for African Americans," Salim told BuzzFeed News. "It's not necessarily a show about struggle, because there's no question about whether they're in love. It's a show about how they made it and the joy that the journey brought to their lives. And we thought that was interesting."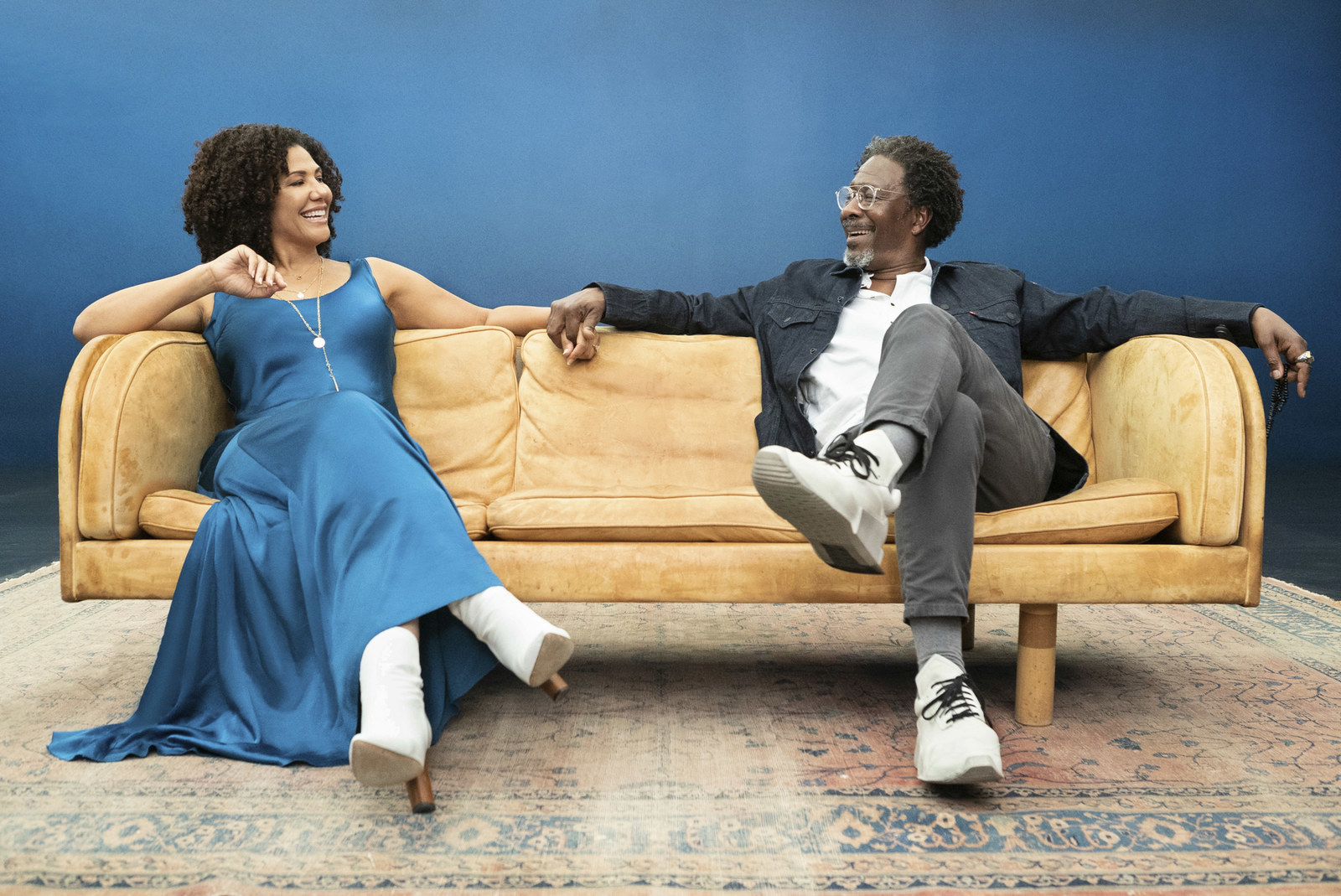 This is partly why Mara, who is the series' showrunner, decided to use their 19-year marriage as the inspiration: People kept asking her for advice on finding love and staying in love, and on managing a marriage and a growing empire all while raising kids. According to the showrunner, people were literally asking her to write a book. But unlike a lot of other celebrities, she decided not to try to be something she was not (an author) but instead stay true to her craft and do a sort of TV memoir. "I wanted to have some creative license to tell the story but inspired by our lives," she said. "I'm very comfortable with hiding pieces of my life in other characters, and you can see that throughout the other shows we created, but this is an honest answer to an honest and sincere question."
When asked if he had anything to add to their decision to tell their love story, Salim simply said, "No, [Mara] did a fantastic job."
"Aw, see — that right there is how we've made it," Mara quickly responded. "It's at least a third of it. Tell everybody that. I'm ready to tell everybody that."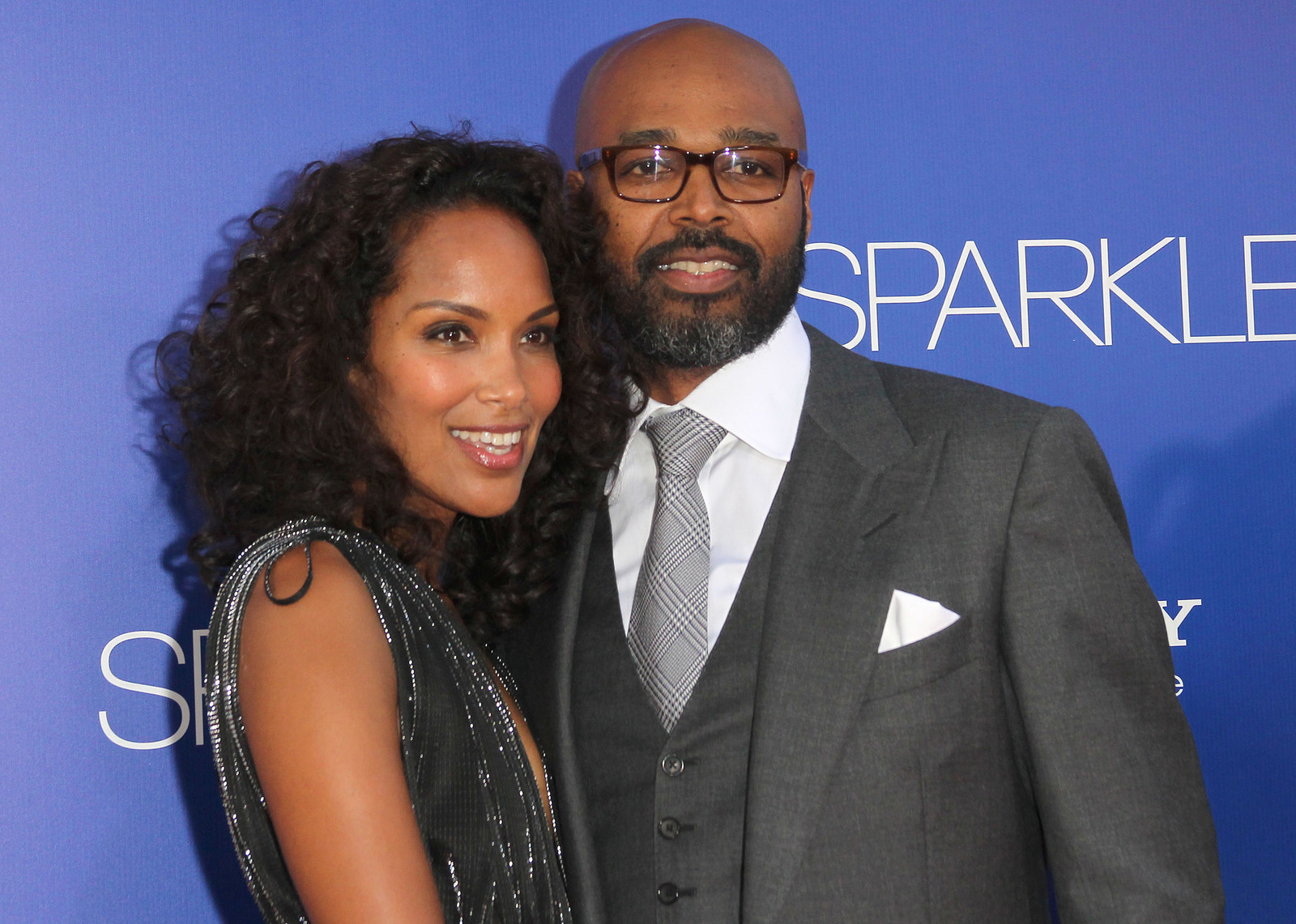 Those little moments happened more than a few times during the interview, especially since Mara did most of the talking with Salim expertly jumping in only when his wife needed assistance. Their personalities are very similar to those of Nuri and Yasir. "Mara is upbeat like a Disney World greeter," Salim explained. "But on the other side of that is, you know, a personality that is very observant and caring and supportive and compassionate." As for Yasir, he, like Salim in real life, is more soulful and subdued. But when he does say something, it's worth your time.
While the Akils are ready to share their love story, which is kind of like a mix between Love Jones and Brown Sugar, Salim makes a point to emphasize that this isn't a tell-all. "This is not, you know, every detail; this is not completely our life, although it's certainly inspired by life," he said, "we did this in part with our children and people we love in mind."
It's why, for example, the couple you see in the flash-forward "couch" scenes recalling their love story are not the Akils themselves. If it were, it would be harder for everyone to separate fact from fiction. Not to mention the Akils are not actors.
The distinction that this show is "inspired by" and not "based on" their love story is also a way to make sure the audience doesn't think all the messy details that help make good TV are true.
In the case of Nuri and Yasir, that messy detail would be Ruby (Yootha Wong-Loi-Sing), the woman Yasir is living with when he falls in love with Nuri. It's clear from their very first scene together that we're catching Ruby and Yasir at the end of their relationship, but it's still messy.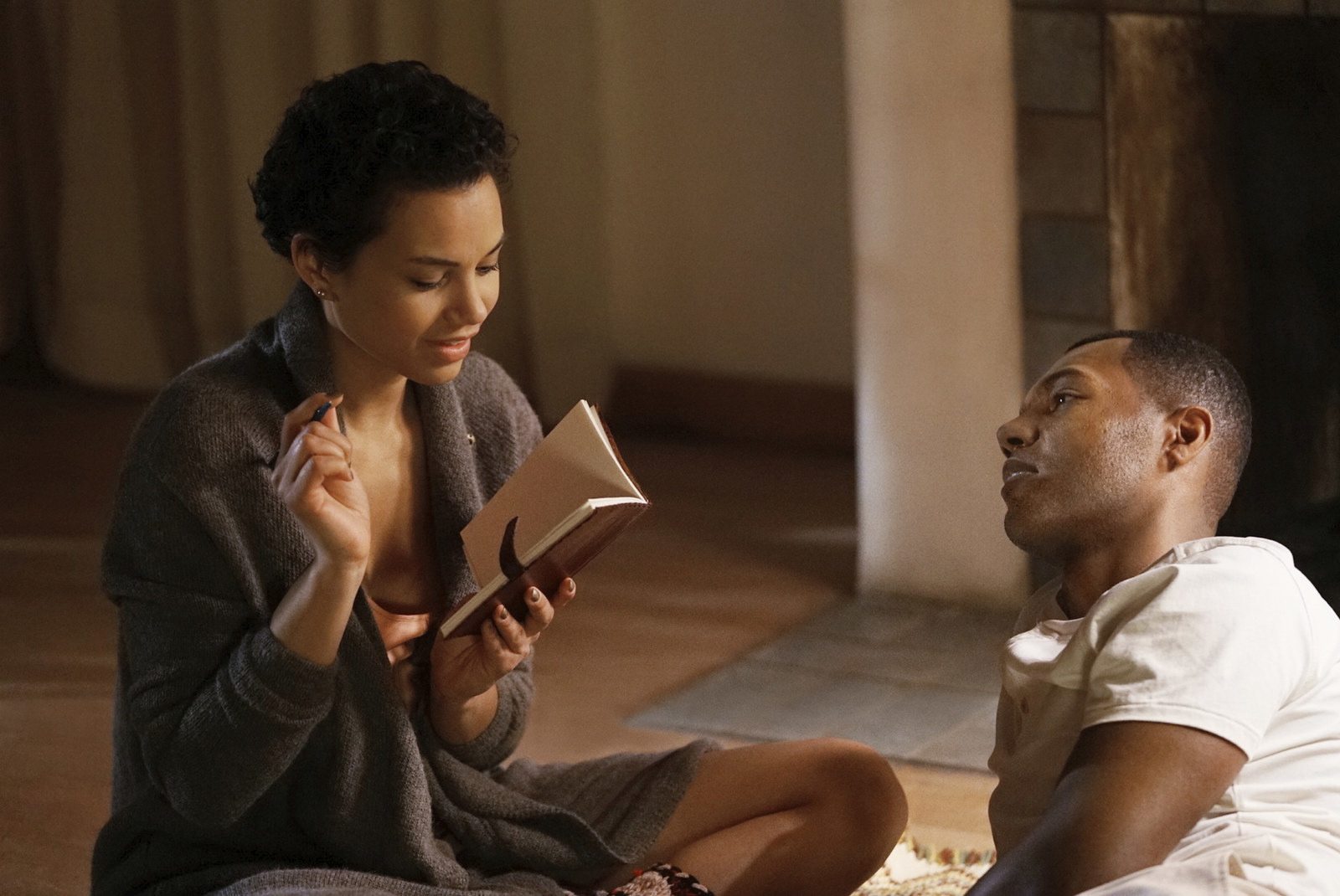 What's special about Love Is ___ is how it walks the line between being honest about the obstacles that come with falling in love while still making it feel like magic — something they execute by lingering on delicious moments like that first good conversation that lasts for hours, where you find yourself sharing secrets you haven't told people you've known for years. Or the wonder and giddiness you feel after the kind of first kiss that feels so right you realize it may be your last first kiss. Sure, those moments are followed by uncertainty when you can't get in touch or when work (or other people) get in the way, but the show doesn't let those anxieties mean more to Nuri and Yasir than the fact that they've found something rare with each other. "What was inspired by our own story, and is true for Nuri and Yasir, is that they keep having these magic moments to keep them together. And they won't walk away from their heart when their mind wants to run," said Mara.

The show's time-jumping does a lot for understanding the couple's feelings, but perhaps the most fun aspect about it is that it how it allows the writers to play around with '90s, aka the golden era of black television culture. Most of the show's flashbacks take place in 1997, when Nuri has just gotten her first big industry job as a writer for a fictional sitcom called Marvin (a play on Martin). Her boss Norman is played by Kadeem Hardison, who starred as Dwayne Wayne on A Different World, further tapping into our love for that era. Also, watching the group of creatives (Nuri, Yasir, and their friends) try to make it at a time where black creatives were finally breaking into Hollywood to tell our stories opens the door for dynamic conversations about diversity in storytelling.
You also can't do a show based in 1997 without giving a nod to the amazing soundtrack of the time. Love Is ___ feels like an R&B love song, the kind that makes you say, "They don't make them like this anymore." So it's only right the soundtrack is reminiscent of something Babyface would give us, like the Waiting to Exhale or Soul Food soundtracks of that era. One minute "Hello It's Me" by the Isley Brothers is playing, the next it's "No Diggity" by Blackstreet. TLC's "Diggin' on You" and Bootsy Collins' "I'd Rather Be With You" are also in the first episode.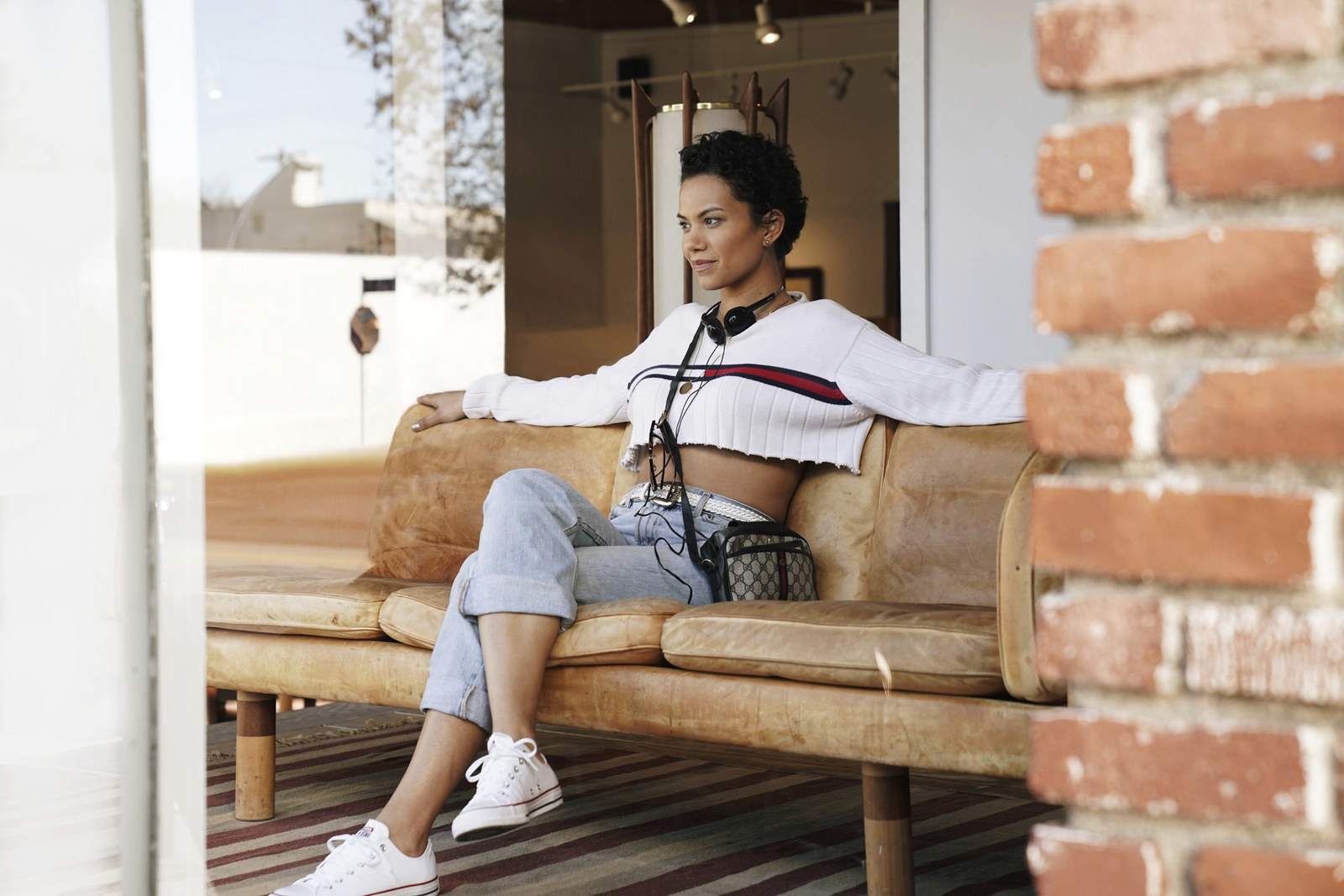 "One of the things Salim and I loved to do, especially in the beginning, was just sort of play music and introduce music to each other," said Mara. "He was more classics and jazz. I was more a fan of the Billboard female vocalists of the time, and you'll see that mix in the music on the show."
"Girl, you loved Kenny G," contended Salim.
"No, I didn't! That is not true! That was my sister's CD," Mara insisted.
"Blame it on your sister, huh. 'Oh, my sister just happened to leave eight Kenny G CDs over [at] my place,'" Salim shot back.
"Anyway," Mara continued, both amused and fed up at her husband's antics, "It was a great time and you know it's fun to build that world; we really took our time with the details."
Witnessing the Akils' playful dynamic is a lot like watching the actors who play Nuri and Yasir, both in the past and in the future. They fit perfectly into the middle of those two time periods, further demonstrating the essence of their relationship has been ingrained in the show's script.
One of the things the time jumps make unclear, however, is how far we'll see the '90s version of Nuri and Yasir's relationship go. We know they eventually get married, but the first four episodes of the season move slowly — they all take place in the same week — as we watch the two try to figure out how to handle falling in love with each other when they're essentially strangers. When asked about this, Mara explained that the entire first season will be dedicated to their beginning.
"This storyline will meet up to the present day [eventually] and the first season is about courtship," she said, teasing that we probably won't see an engagement until next season. "The focus is on the uniqueness in the arc of our particular courtship that takes place over the first 10 episodes, and each episode is designed to give off a one-hour independent romance, independent film kind of vibe."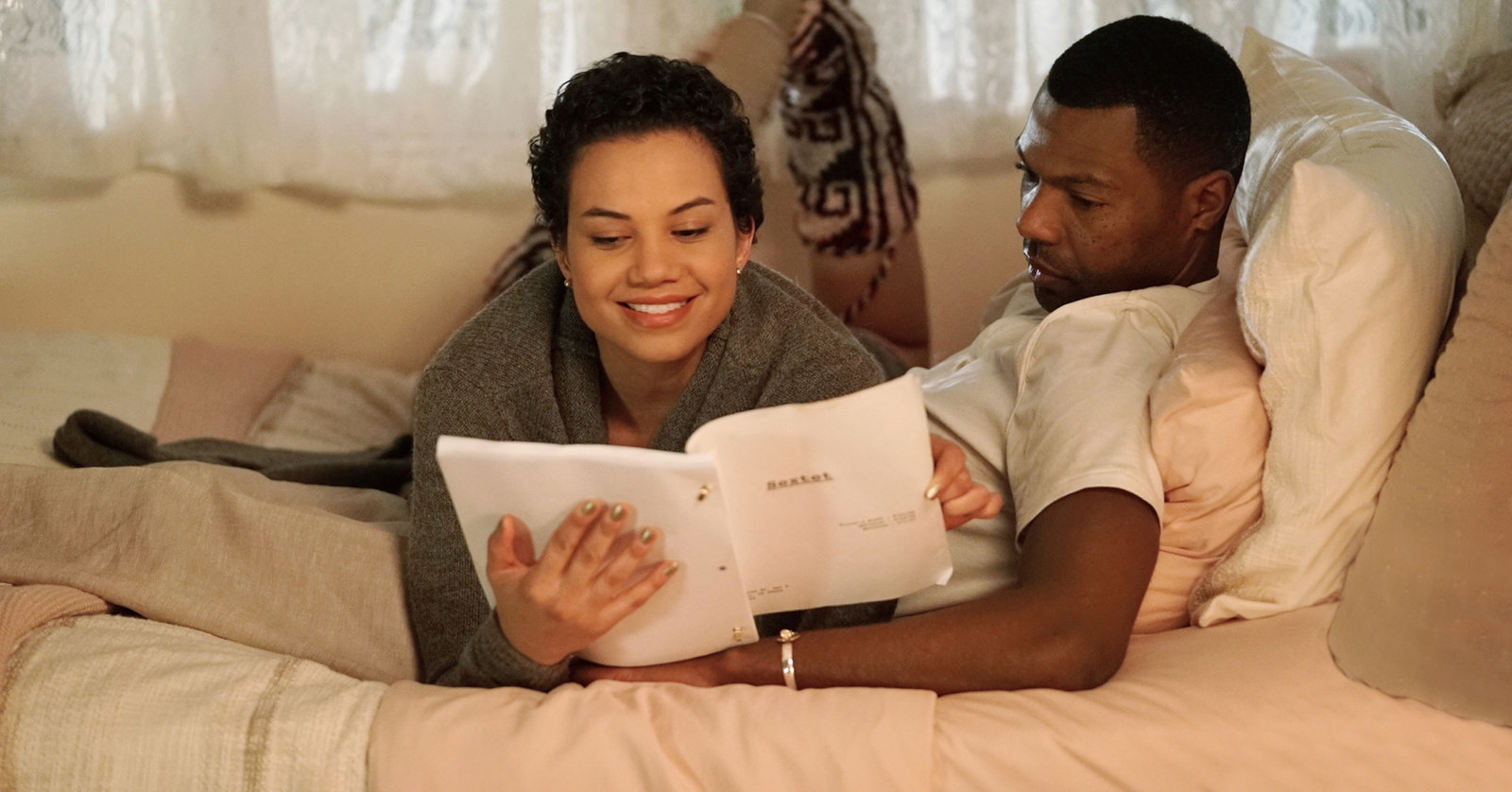 When I asked the couple what their favorite part of courtship was, the response again revealed their playfulness.
"The first time you see that ass come out of them jeans," quipped Salim, followed closely by a scream-laugh from Mara.
"I put my favorite part in the show, Episode 3," said Mara. "There's that cocoon phase where you're just staying in the house alone together, kissing all over, trying not to go to home plate but just staying around first and second base for a long time, getting to know each other, talking and kissing all night."
Romance is all in the details, and Love Is ___ isn't afraid to take its time reminding us of how fun and beautiful those details can really be.