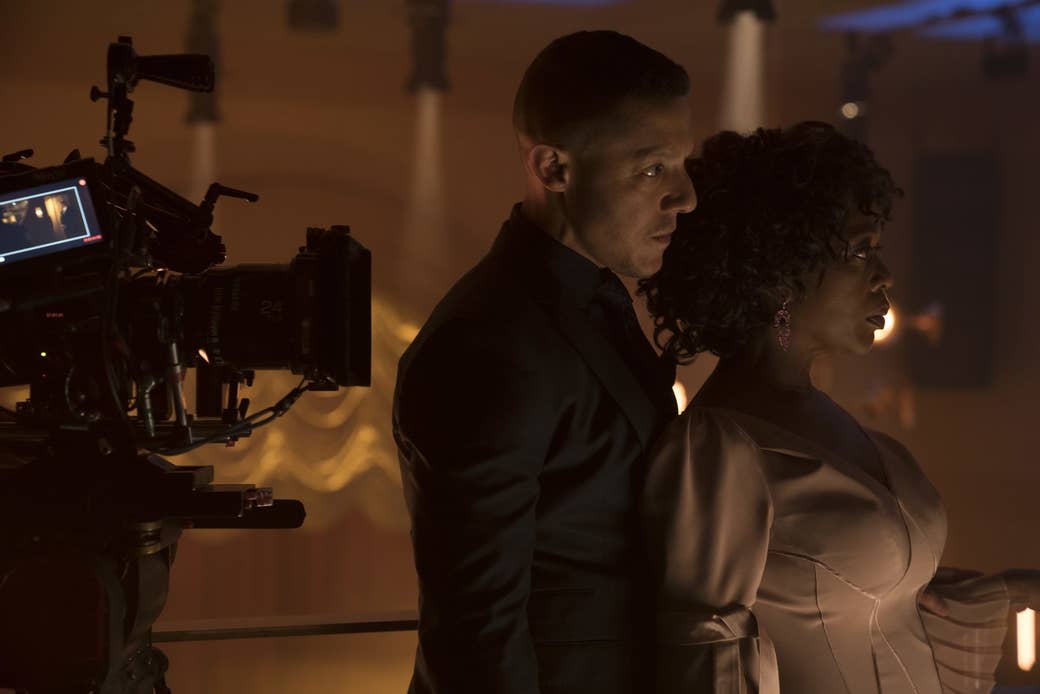 Alfre Woodard's first scene as Mariah Dillard on Season 2 of Luke Cage is kinky.
In Season 2, Episode 1, when we first see the Marvel villain — or Harlem Queen, depending on who and when you ask — she's at dinner with her stockbroker and partner in business and pleasure, Shades (Theo Rossi). In real life, Woodard is more than 20 years Rossi's senior, and the same assumption can be made for their characters. This, in part, is why when the waiter at the restaurant comes to the table in the scene, he mistakes Shades for Mariah's nephew. Instead of getting angry, Mariah responds by picking up Shades' hand and seductively putting his thumb in her mouth, then sucking it gently, making it clear to the waiter, the people around them, and the people at home watching, that there's nothing platonic or maternal about their relationship. The best part about it? None of that was in the script.
"In the script she kisses Shades on the neck and then looks at the waiter," Woodard explained to BuzzFeed News. "But before we shot the scene, I told Theo to go wash his hands with soap and water and not to touch anything on his way back. [When I did it], I could feel Theo wanted to laugh, and as soon as they yelled 'cut!' everyone on set screamed," she said with a chuckle.
Woodard went off-script to make the audience believe Mariah and Shades were a couple, and to emphasize the latter's choice to be with this particular older woman. "The truth is, whatever a woman at 20, 30, or 40 knows [about sex], if you're 45 and up you've been doing it longer than they have, you know stuff that they don't know, and it's never portrayed that way," she said.
To Woodard's point, TV shows rarely represent women over a certain age as sexual creatures, and less so when women of color over 40 are concerned. Moreover, there are so few roles for that demographic, it's difficult to examine the phenomenon adequately. The '80s and '90s were family sitcom–heavy, with roles such as Mama Winslow on Family Matters or the mother to adult children, like Diahann Carroll and Patti LaBelle on A Different World. This group only focused on sex insofar as wanting grandchildren. Today, some have moved the barometer forward, like Ruby Johnson (Jenifer Lewis) on Black-ish, who is a grandmother but gets to make her sexual appetite known from time to time (mostly through flirting with men), but the sitcom model doesn't really leave much room for X-rated innuendos. Aunt Violet on Ava DuVernay's drama Queen Sugar is probably Mariah's closest rival; like Mariah, Aunt Vi even has a younger boyfriend, and we've got to see them have more than a few bedroom scenes. Unfortunately, this season of Queen Sugar seems like it will focus on her recent lupus diagnosis — taking away a lot of the vitality we've learned to love her for.
"We don't like to think of our mothers as like having been sensual," said Woodard, who noted that she doesn't have any actual sex scenes on the show. "They never asked me if I wanted to show my body. My body is 65, but shit, 65-year-old women can look good, I think Sophia Loren's body is still slamming. Also, when somebody is sexy to you and you want to have sex, it doesn't matter what the body looks like."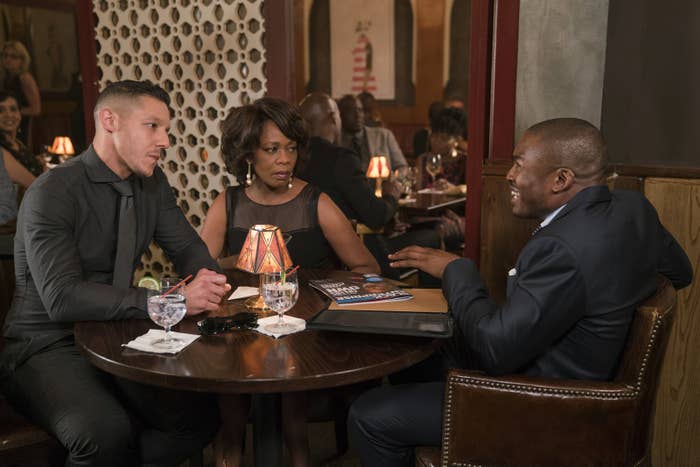 Luke Cage has no shortage of sex scenes from its other main characters. Luke (Mike Colter), Misty (Simone Missick), and Claire (Rosario Dawson) have all had what Woodard calls "bionic" sex scenes — "They can climb the walls and make things look possible that you cannot really do in real life having sex," she said with a laugh. Meanwhile, Mariah, who is arguably the freakiest character on the show, only gets to display that side of herself outside the bedroom. As such, Woodard takes full advantage of the moments the script that allow her to lean into Mariah's sensuality. An example of this in Season 2 is her straddling Shades' lap while discussing business instead of always doing so from behind her desk; there's also an unforgettable moment where, after a disagreement with Shades, she puts her own finger in his mouth and then quickly licks it for the flavor, as if she had touched a savory piece of food. But the show doesn't limit her sexual prowess to her relationship with Shades. Early on in the season, Mariah lets Luke know "we could tussle a little bit, no doubt," after he notes that he should have her arrested but she'd probably like being put in handcuffs by him. It's amusing to watch how the characters respond to Mariah's kinkiness, which is out in the open, neither hidden nor handled with shame. Woodard's hope is that her character will "bring grown women front and center: who they actually are and how they operate in the world."
The rest of the Luke Cage cast also loves it when Mariah gets to have these moments. Woodard recalled that they broke out into cheers and applause at the table read when it was revealed that Mariah and Shades would share their first kiss back in Season 1. "Then when we got the next draft of it, and the kiss is gone and everybody, all of the actors were like, 'no bullshit, we want a kiss, we want a kiss!'"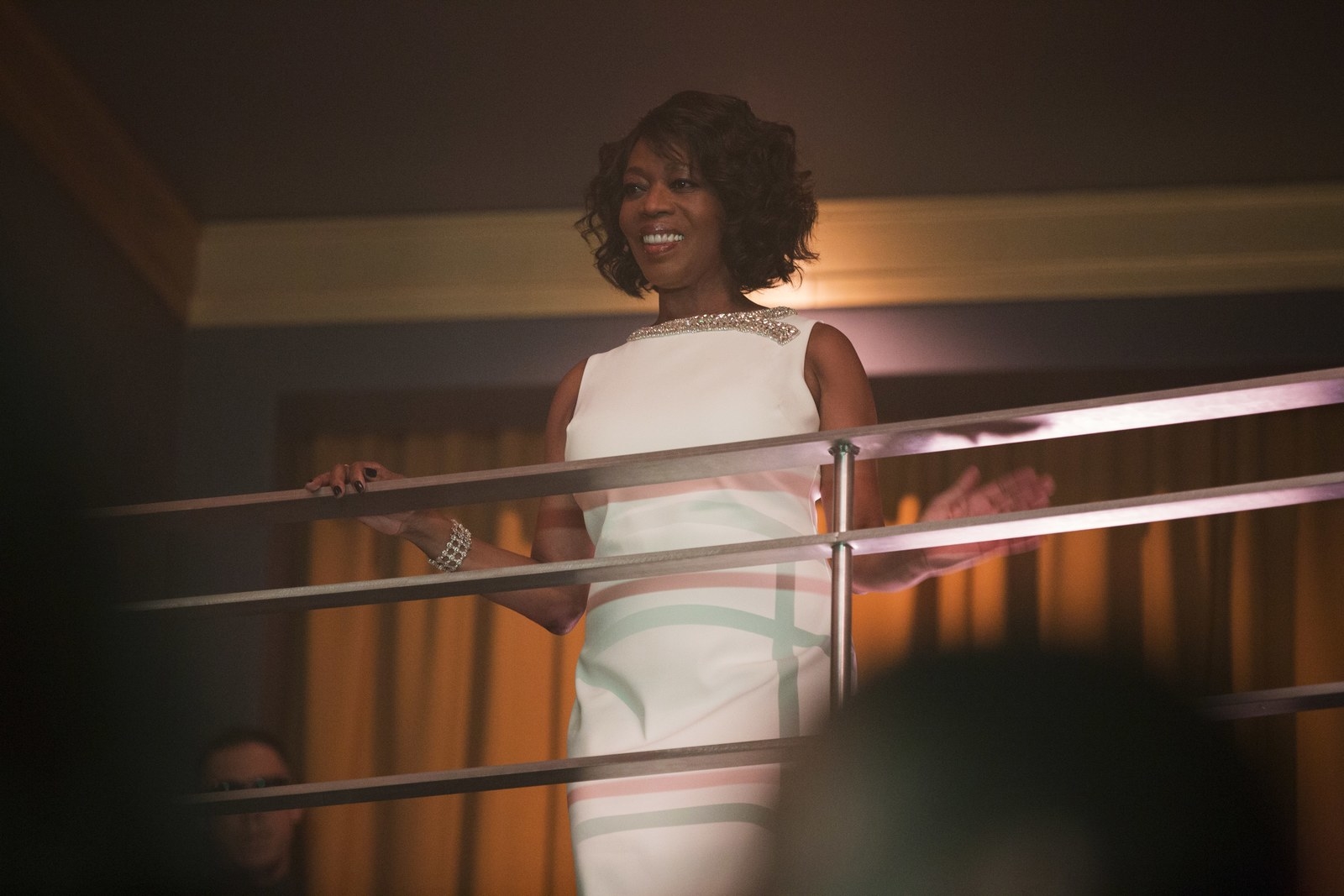 The series showrunner, Cheo Hodari Coker, ultimately decided to keep the kiss and have the characters share one toward the end of last season. It also became the first time Woodard decided to go off-script and lean into Mariah's sensuality with Shades. "The script said to kiss him briefly while I walked out the door," Woodard said. "I bit him on the lip instead and patted his butt on the way out the door."
Woodard did this in part because her character had just risen to power and she wanted to convey her dominance in the relationship — that this wasn't about to be a generic love affair. There's nothing average about Mariah, so why would her sex(uality) be average?
"None of our fingerprints are the same, it's what makes that person sexy, it's what makes that person appealing," said Woodard. "It's never about whether they can do calisthenics in bed, you just go to fitness club to do that."
According to Woodard, Coker loves that she shows that black women above a certain age can be sexy and keep a young gangster like Shades "pussy-whipped," as it's often referred to on the show. Their narrative is definitely one of, if not the most, compelling narratives of Season 2 because we don't often get to see a woman act out, sexually or otherwise, the way Mariah does. "I think we're drawn to her behavior because it's rare to see a woman that's unapologetic and moving through the world like a free white male," said Woodard. "We like seeing a man be told when to get off sometimes; we like seeing a woman not be nice, because that's how society usually forces us to be." With Woodard's portrayal of Mariah's sexuality in Season 2, she's breaking out of that social role, and it fits, almost as well as she does on Shades' lap.