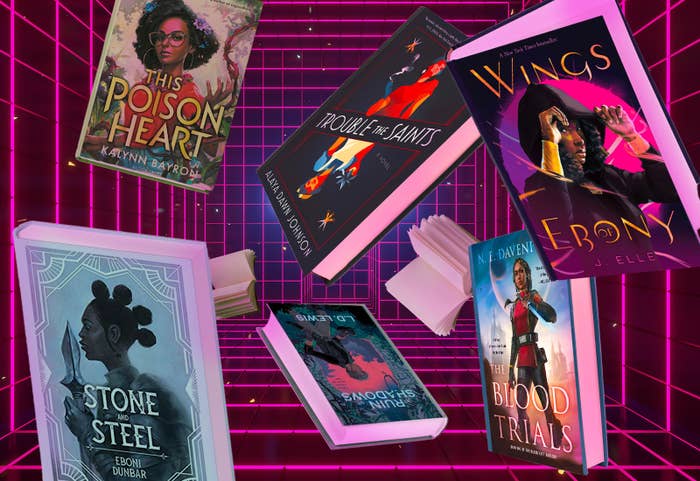 Phyllis LeBlanc is a white-passing Black assassin who's been blessed (or cursed, depending on who you talk to) with the hands, a juju phenomenon that grants specific proficiency in a range of skills or senses, in 1940s New York City. With her hands, she has deadly accuracy with her weapons, and her mobster boss Victor has been using her talents to mete out justice to criminals who've crossed him for years. But after realizing that she's been lied to, Phyllis wants out, and her long-lost love, Dev Patil, who also has the hands, is committed to helping her despite a recent dream that suggests her dark past is finally catching up to her. With efficient, sometimes clinical prose, Johnson paints a picture of American racial trauma that is often poignant, detailing the risks and challenges that come along with trying to navigate a world that was always set up to demean, exploit, and exclude you. The ending is bittersweet, showing both the limitations and possibilities of love in a white supremacist world, and the subtle magical system validates the long-held traditions of Black American hoodoo practitioners while connecting it to the indigenous spiritualities of people of color all over the world. It's an often-understated novel that nevertheless suggests that the karmic scales of justice are always in play.
Ikenna Amari is a half-Khanian military prodigy living in the country of Mareena, where Khanians and their dark skin are the targets of constant racial animosity and exclusion. Three months after her war hero grandfather, who raised her from birth, dies suddenly from a heart attack, Ikenna learns that he was likely executed by elites wanting to return to the whiter status quo. What they didn't count on was Ikenna — who her commander grandfather trained from childhood and who has been blessed with magical abilities by a long-dead god that she has been hiding from the world for her entire life. After graduating from the most elite military academy in the country, Ikenna pledges to join its most prestigious group of soldiers, the Praetorians, to get closer to the men she suspects murdered her grandfather. In the meantime, she has to make sure no one gets close enough to discover her gift. This is a fast-paced novel featuring significant political intrigue in a highly advanced sci-fi setting slightly reminiscent of The Hunger Games and Divergent, and I found myself desperate to know the conclusion of Ikenna's story. The sequel in the duology, The Blood Gift, releases in April of this year.
This snappy little novella follows Daynja Édo, who has spent decades honing herself into an incomparable assassin and general in the Boorhian Empire, and the seven young assassins in her Shadow Army whom she's trained since they were children. General Édo possesses a magical mask that creates head-to-toe impenetrable armor when worn, and it has helped her amass a fearsome reputation that her emperor and his advisers envy and fear. When Édo balks at orders for the first time, now weary from a life of violence, she's forced to confront her own soldiers being used against her. A Ruin of Shadows is a short, fast-paced read that is enriched by countless small details — the Portuguese influence of the Boorhian Empire, the deft blending of magic and science fiction, the dialogue — that make its world really come alive. I have no doubt that Lewis could create a whole series of novels based on this one short story, and it would be epic.
Order on Amazon or Barnes & Noble.
Featuring gorgeous, sumptuous prose and a richly described fantasy world, Stone and Steel is Eboni Dunbar's debut novella. General Aaliyah has just returned to the capital city of Titus after two years of fighting a war, and she's desperate to get back to her bed and her lover, the queen Odessa. But amid the fanfare awaiting her army's arrival, Aaliyah comes to the startling realization that Odessa has renounced her obligation to the people of Titus. After killing the previous king so that Odessa could rule, Aaliyah considers it her duty to make things right. This is another novella that features a Black woman general, with the much-appreciated addition of sapphic representation. I also loved the use of magic, which expands on the standard formula of air, water, fire, and earth elements by adding stone, bone, and iron.
After her mother is killed outside their home in Houston, teenaged Rue finds herself whisked away by the father who'd abandoned her to a magical island called Ghizon, where powerful gods protect themselves at the cost of humans. What's more, she finds out she's half-god herself. Although she's been forbidden to leave, Rue sneaks back to Houston on the anniversary of her mother's death and discovers that Black children are being forced to commit crimes and endure violence. The evidence suggests the dark underbellies of Ghizon and Houston are connected, and so it's Rue's responsibility to use her mixed heritage to get to the bottom of the mystery and save the home she loves. Wings of Ebony is difficult at times because of its frank portrayal of racialized violence, but that also makes it so essential. The sequel, Ashes of Gold, was released in January 2022.
Although she has been gifted with the power to grow any plant she chooses, Briseis Greene isn't in control: Every time she's near a plant, it grows unnaturally long roots or reaches a massive size. As a result, she and her family have had to transfer her to new schools more times than they can count, so when her aunt dies and leaves an estate in rural New York to her family, they decide a change of pace for the summer might be just what they all need. But as luck would have it, the estate isn't so much a blessing as a curse, with a garden full of deadly plants and an apothecary that are somehow tied to Briseis's family heritage. When random people begin traveling to the estate asking for botanical cures for what ails them, the teenage girl must uncover the secrets dogging her family to protect them all. Briseis is a charismatic and smart protagonist whose journey is modeled after Greek mythology, helping to expose a new generation to the chaos of classic literature in an accessible and engaging way. The sequel, This Wicked Fate, was released in June 2022.