Two women flying from Moscow to St. Petersburg over the weekend realized they were seated near Vitaly Milonov, one of Russia's most prominent anti-LGBT politicians.
The St. Petersburg city councilman has called reports of violence against LGBT people "fake," led attacks against the LGBT community and engineered the local ban on "gay propaganda" that served as a model for Russia's federal law.
So they decided it was the perfect opportunity to snap a selfie.
User Kseniya Infinity uploaded more photos and an account of the incident on her VKontake page.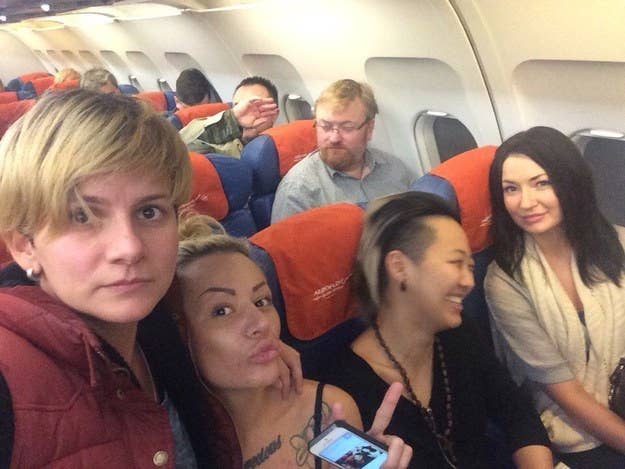 The picture quickly went viral on the Russian-language internet. "Hahaha. On the plane Milonov met some fans of his legislative initiatives"
"Milonov took part in a lesbian photo session"
"Milonov, lesbians kissing and a Sieg Heil. All of Russia in one photograph."
"Vitaly Milonov took part in an LGBT photo session, turned down the honorarium to support the Donetsk People's Republic and Lugansk People's Republic."
"Milonov, light of my life, fire of my loins. My sin, my soul."
"It's some comfort that at least Milonov doesn't fly business class"
Milonov confirmed the incident and threatened violent punishment by Cossacks, an ultra-Orthodox group sometimes deployed in security and law enforcement. "This animal offended all the passengers on the plane with its extravagant, terrible, inhuman antics," he said in comments carried by Zaks.ru. "I can call the Cossacks ... they're already on their way, with whips and torches. We will expel all the perverts from St. Petersburg."