This disturbing video showing a forced "bride kidnapping" posted on Facebook Wednesday by a Kazakh journalist has gone viral, with over 2,200 shares.
It's not clear where or when the video was shot, but it shows a group of people forcing a young woman to wear a headscarf as she struggles against them and screams in Kazakh.
Wearing the scarf signals a woman's consent to marry her kidnapper, according to Texas A&M anthropology professor Cynthia Werner, who has studied the practice of bride abduction in Kazakhstan, a former Soviet republic in Central Asia.
"I won't put it on!" the woman yells, according to a translation of the video by the Kazakhstani website Informburo.kz.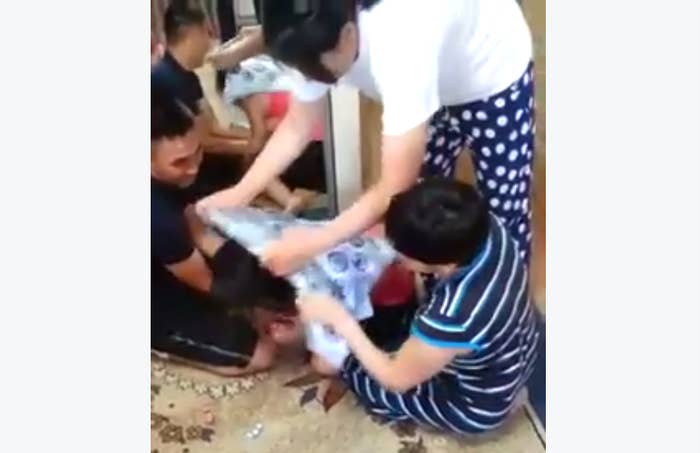 "It's not just you who's stolen like this, everyone gets stolen! There's nothing to be afraid of, you'll be our daughter," says an older woman who appears to be a relative of the kidnapper.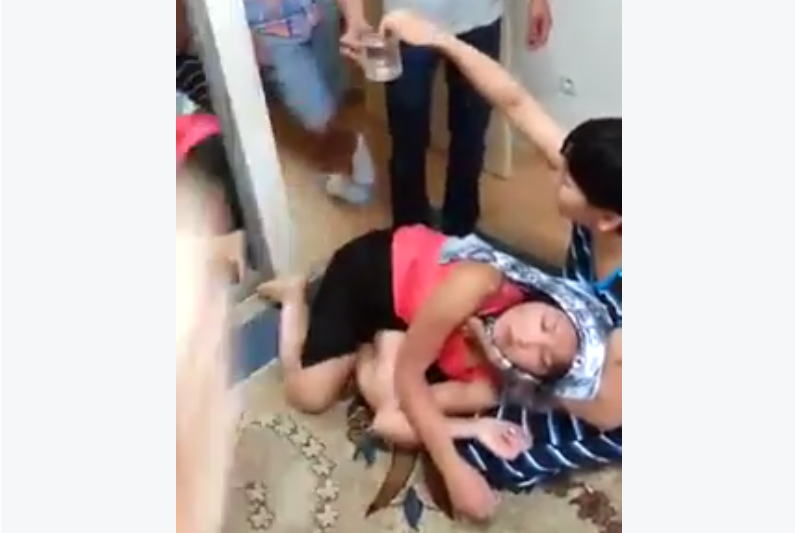 Commenters expressed outrage at the video: "In the 21st century in Kazakhstan, a girl is being forced to marriage. WTF."
"If you are a true man, you should win a woman's heart, not steal her against her will."
"Why does our country need such 'traditions'?"
Bride abduction has a long history in Kazakhstan and other former Soviet republics in Central Asia.
Kidnappings were rare in Kazakhstan before the Soviet era, according to Werner, the Texas A&M anthropologist, occurring typically when the woman's father demanded a high bridewealth, the payment made to the bride's family, or rejected the would-be groom's proposal.
The practice increased under Soviet rule despite being banned by authorities, mostly as a way for young couples to elope against their parents' wishes under the pretense of "kidnapping."
Today bride kidnapping takes place in Kazakhstan with varying levels of consent. Often a woman agrees in advance to be "kidnapped" by her boyfriend as a way for the couple to avoid an expensive wedding. In other instances, men forcibly kidnap women who have not agreed in advance to marriage and may have already rejected an earlier proposal.
Most Kazakhs denounce forced bride abduction, but with the resurgence of Kazakh nationalism, non-consensual kidnappings are on the rise in the south of the country, Werner writes.
"This is a great example of the 'invention of traditions' that are seen as being accepted, though it came about quite recently," journalist Olzhas Kozhakhmet told TV Rain. "The kidnappers themselves and the armchair traditionalists love to refer to age-old customs, but it's clearly distortion or ignorance."
Many photos posted online with the Kazakh tag for "bride kidnapping" appear to show happy moments or portray the practice in a humorous light.
A limousine company uses the tag to advertise its services for wedding parties.
"My best friend is getting married.... I wish you happiness, love and many children! :) :) :)
These ladies turned tradition on its head.
In this video, the woman appears to be screaming not because she's being kidnapped against her will, but because her kidnappers trip and fall during the operation.
But this video, hashtagged "terrible," appears to show a forced abduction.
Baurzhan Orda, the journalist who uploaded the viral kidnapping video, posted a second clip on his Facebook page Wednesday that appears to show the continuation of this scene from Instagram.
While kidnapping is against the law in Kazakhstan, victims of non-consensual bride abduction rarely go to the authorities for help.
Women taken against their will face great social pressure to marry their kidnappers, often from their own families as well as the man's relatives. Some lawmakers have proposed tougher penalties for the crime. In 2013 neighboring Kyrgyzstan, where the practice is believed to be more widespread, upped the sentence for bride kidnapping to 5-10 years in prison, though few women there press charges.
Bridewealth is the term for a payment made by the groom or his family to the bride's family. An earlier version of this post referred incorrectly to this as dowry.