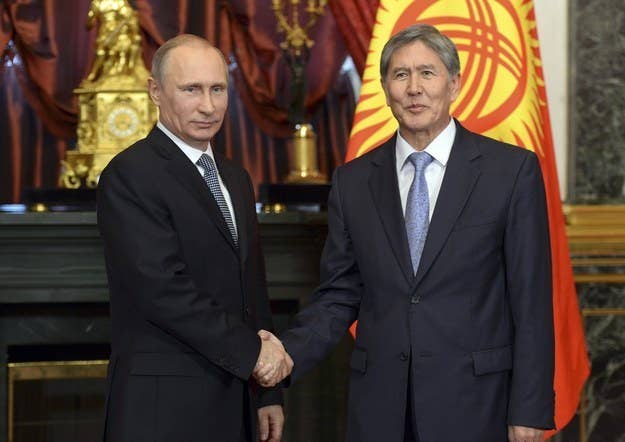 The Kyrgyz parliament's human rights committee approved a bill this week that would make it a crime to disseminate information "aimed at forming positive attitudes toward non-traditional sexual relations." The decision moves the bill, which closely resembles the "gay propaganda" law adopted by Russia last year, one step closer to a vote in the former Soviet republic.
The Kyrgyz bill proposes punishments of up to a year in prison or fines of about $115 — more than half the average monthly salary inside Kyrgyzstan — for promoting so-called "gay propaganda" among minors.
Since gaining independence after the breakup of the Soviet Union, Kyrgyzstan has remained a poor country mired in political turmoil. The Kyrgyz government has accepted both U.S. and Russian aid, sometimes playing the two countries against one another. However, with plans to join a Russian-led Customs Union, Kyrgyzstan appears to be moving firmly into the Kremlin's camp.
Some see enacting Russian-style restrictions on "gay propaganda" as an additional way for Kyrgyzstan's government to solidify the relationship.
"These bills — they are a tool for mobilizing public support for the government, for the Russian government as well," said Anna Kirey, an LGBT rights researcher at Human Rights Watch.
As in other countries in the post-Soviet space, LGBT rights opponents in Muslim-majority Kyrgyzstan have seized the idea of homosexuality as a Western aberration.
"We shouldn't wait until we become like Europe or Georgia and there will be gay parades in Kyrgyzstan," said Mayrambek Rasulov, a member of the parliament's human rights committee.
Activists fear the introduction of "gay propaganda" bans will increase violence against LGBT people in Kyrgyzstan. Daniyar Orsekov, who heads the LGBT organization Kyrgyz Indigo, said three of his employees were attacked a few weeks ago outside a gay club.
"They were beaten up by several young guys," he said. "They were really well-organized and they were waiting and trying to block all entrances."
Last month, members of Kyrgyzstan's LGBT community wrote letters urging lawmakers to oppose the bill, though activists believe it is likely to pass if put to a vote.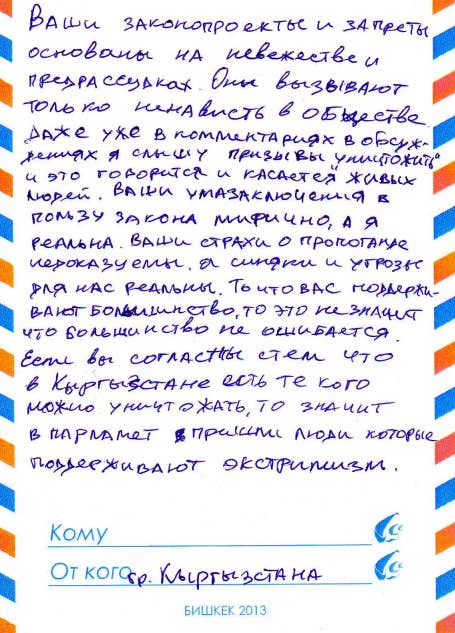 "Your bills and bans are based on ignorance and prejudice. They arouse only hatred in society. Even now in the comments and discussions [around this bill] I hear calls to 'destroy,' and this is speaking about real people," one LGBT person wrote.

"Your conclusions about the benefits of this bill are mythical, but I am real. Your fears about propaganda can't be proven. But the threats to us are real. The fact that the majority of people support you doesn't mean that the majority is right. If you agree that in Kyrgyzstan there are groups of people who can be destroyed, then it means there are people in parliament who support extremism."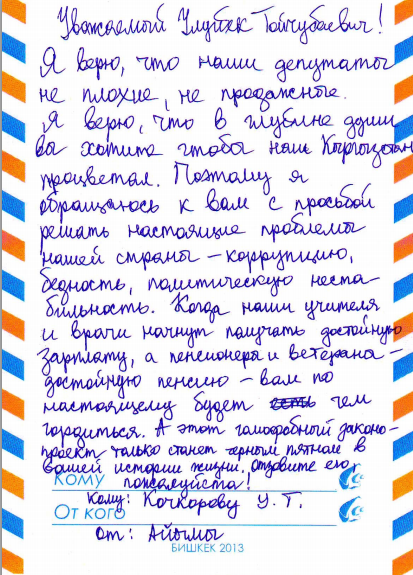 "I believe that our members of parliament are not bad and cannot be bought. I believe that in the deepest part of your soul you want Kyrgyzstan to prosper. For this reason I call on you to solve the real problems of our country — corruption, poverty, political instability," another LGBT activist wrote to MP Ulukbek Kochkorov, who sponsored a second "gay propaganda" bill introduced in June.

"When our teachers and our doctors start earning decent salaries, and our elderly and our veterans receive decent pensions, you will actually have something to be proud of. But this homophobic bill will only become a black spot in the history of your life. Withdraw it please!"