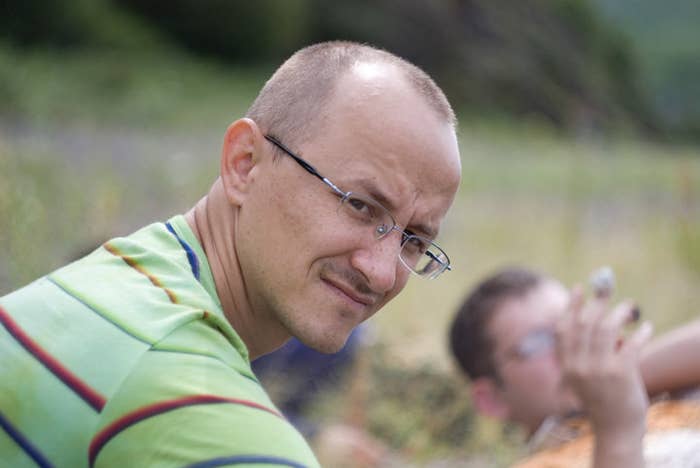 Russian LGBT rights activist Alexander Ermoshkin has left the country after a nationally televised story on the state-owned Russia-1 channel accused him of collaborating with U.S. intelligence services. He confirmed in a Facebook post Sunday evening that he had arrived in New York and was staying with friends.
In an interview with BuzzFeed News, Ermoshkin refuted the allegations, saying the show's producers had set him up. "Without the help, so to speak, of the authorities, it would have been impossible to do this," he said.
"The Rossiya 1 footage cynically distorts the normal diplomatic activities of our Embassy," a U.S. Embassy official told BuzzFeed News. "Moreover, it includes fake events such as the obviously staged scene in Moscow of supposed recruitment which involved video of people who were clearly not associated with the U.S. Embassy, but were presented as such."
The "Special Correspondent: Poisonous Export" program, which aired July 1, purported to show American intelligence agents recruiting Ermoshkin, a 40-year-old LGBT activist from Khabarovsk in the Russian Far East, to organize LGBT demonstrations in Russia.
The TV report shows scenes of Ermoshkin and other LGBT activists releasing rainbow-colored balloons in a public park and refers to him as an "open homosexual" and "well-known provocateur." Footage that appears to have been filmed with a hidden camera shows him at a "secret meeting" at a Moscow cafe with two unnamed people the program claims are American intelligence agents. The program's narrator notes Ermoshkin already had plans to travel to the U.S. July 12. In the clip, he tells a man and woman, who both speak off-camera, that he will "cooperate."
"Alexander, again, for the last time, have we agreed on everything, that we'll cooperate completely?" "Yes..."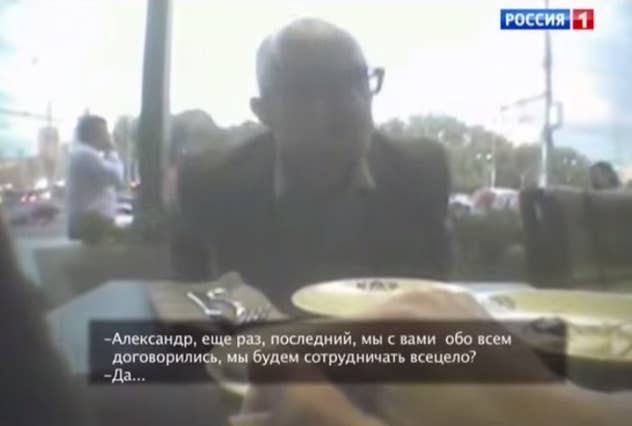 Ermoshkin told BuzzFeed News that he agreed to come to Moscow after receiving a call from a woman he didn't know. She mentioned the names of employees of the U.S. Consulate in Vladivostok, with whom he had previously met. The caller warned he was in danger and that it was in his interest to leave Khabarovsk as soon as possible. Though Ermoshkin already had plans to fly to Moscow on July 3, he said the caller convinced him to come a few days earlier and arranged payment for his ticket.
Ermoshkin thought the meeting would be similar to the one he said he had had with U.S. diplomats last year. But he said that when he met the people he is shown speaking with on camera, he realized he had been set up.
"They made it clear that they knew many, many, many things about me," he told BuzzFeed News. "It was very scary."
Ermoshkin said he made the recorded statements out of concern for his safety and that the conversation was much longer than the clips shown in the broadcast.
After his second and final meeting with the pair, Ermoshkin turned his cell phone off, stayed off social media, and laid low before his departure to the U.S. He heard of his appearance on "Poisonous Export" the day after the program aired.
The broadcast comes as U.S.-Russia relations are at their lowest point since the Cold War, with diplomacy strained by Russia's annexation of Crimea and backing of separatists in eastern Ukraine, Western sanctions against Russia and Russian crackdowns on NGOs and independent media.
Ermoshkin is not the first person accused by Russian media of working with American spies: Kendrick White, an American professor who has lived in Russia for more than two decades, was fired from his post at a Russian university earlier this month after being accused of spying in a state television documentary.
Ermoshkin told Human Rights Watch he was forced to resign from his job as a school geography teacher in 2013, shortly after Russia enacted a law banning "propaganda of non-traditional sexual relations" to minors. He suffered a head injury after he was assaulted at an LGBT rights demonstration this past May.