Russian Activist Beaten En Route To LGBT Rights Protest
Alexander Ermoshkin was attacked in the city of Khabarovsk on his way to release balloons to mark the International Day Against Homophobia, Transphobia and Biphobia.
Alexander Ermoshkin was on his way to release rainbow-colored balloons symbolizing support for LGBT rights Sunday when he was attacked in the center of Khabarovsk, a city in the Russian Far East.
Ermoshkin has organized "rainbow flash mobs" since 2008, according to a profile by photographer Misha Friedman.
Video shared by activists online shows a man chasing Ermoshkin as he walks away from the car he arrived in.
Ermoshkin was beaten and knocked to the ground.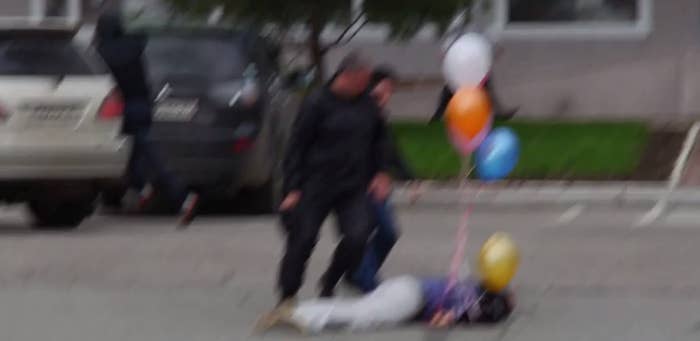 In an interview with TV Rain, he said he thought one person attacked him, though footage appears to show two people running from the scene.
Ermoshkin said his assailant sprayed another activist in the face with gas and that the attack was done "professionally and quickly."
Local media outlet Amurpress.ru reported that a group of men wearing athletic clothing and camouflage stood near the scene of the attack.
When asked if he witnessed the incident, one of the men said that "a person was walking, stumbled, and fell."
Ermoshkin suffered a head injury and lost consciousness. "Friends, it's hard to answer everyone right now, it's getting worse, I will probably turn off the computer and go to sleep," he wrote on Facebook hours after the attack.
Speaking to TV Rain, he said the attack was motivated by animosity towards the entire LGBT community.
Ermoshkin also said that it took a long time for police to arrive on the scene.
At International Day Against Homophobia, Transphobia and Biphobia actions in St. Petersburg, activists carried photos of Ermoshkin with the words "Khabarovsk, we're with you! Sasha, hang in there!"