Russia Is Totally Covered In WWII Symbols For Tomorrow's 70th Anniversary Celebrations
It's a great time to buy a World War II-themed couch.
Tomorrow Russia celebrates Victory Day, the 70th anniversary of the Allied defeat of Nazi Germany.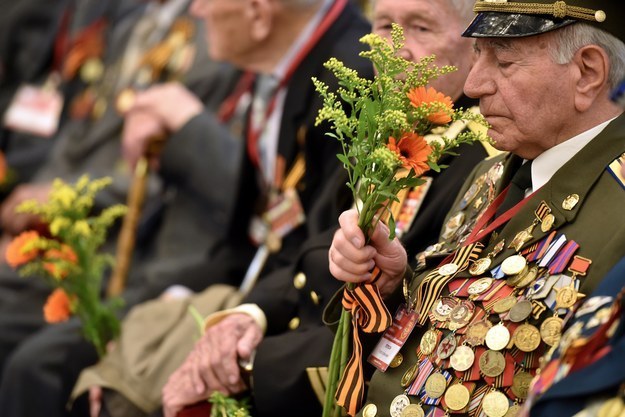 More than 25 million Soviet citizens died in World War II, and the narrative of the victory over fascism was a major part of Soviet identity.
The Russian Victory Day on May 9 has taken on increasing significance as a vehicle to channel national pride and demonstrate military prowess under Russian President Vladimir Putin, especially since Russia's annexation of Ukraine's Crimean peninsula last year.
As people gear up for the big day, symbols of the war are EVERYWHERE.
Especially these orange and black ribbons, which were historically part of Russian and Soviet military decorations.
More recently they've been adopted by Russian-backed separatists in Ukraine and have come to symbolize Russian national pride and support for the Kremlin.
Volunteers are handing them out in cities all over Russia.
But some people, not content to pin on a puny little ribbon, are taking their Victory Day game to the next level.
There are high fashion interpretations.
And interior design options.
And cognac: "To the victory, in one gulp!"
And in the Kremlin, you can sit on one.
If orange isn't your color, there are World War II-themed photo shoots.
And Victory Day parties that promise "nights here are loud."
Meanwhile, Russian authorities have gone on the hunt for Nazi symbols ahead of the May 9 holiday. Even this Pulitzer Prize-winning anti-Nazi graphic novel was removed from bookstores because it depicts swastikas.
In Ukraine, the orange and black ribbon has fallen out of favor due to its association with the separatists. The country now marks the anniversary with a red poppy and this year began celebrating on May 8 along with Western Europe for the first time.
Critics argue that Russia's celebrations are perverting the actual meaning of the holiday and the intention to honor veterans.
"The price of victory — 63 rubles and 82 kopecks," Russian blogger Rustem Adagamov tweeted.
More than 25 million Soviet citizens died in World War II. An earlier version of this post said it was more than a quarter million.