Prosecutors are investigating a Russian nightclub linked to the women whose in-flight kissing selfie went viral earlier this month on charges of violating the country's ban on "gay propaganda," local media reported Thursday.
"We're flying to our favorite club, Infinity," Instagram user InfinityKseniya wrote when uploading the photo to her account. Russian media identified her as one of the nightclub's owners.
Vitaly Cherkasov, a lawyer with the human rights group Agora, told TV Rain the local prosecutor's office had called members of the lesbian club's management in for questioning.
Cherkasov said the prosecutor's office is looking into the club's presence on the Russian social network VKontakte on the suspicion that some members of its closed group are under 18.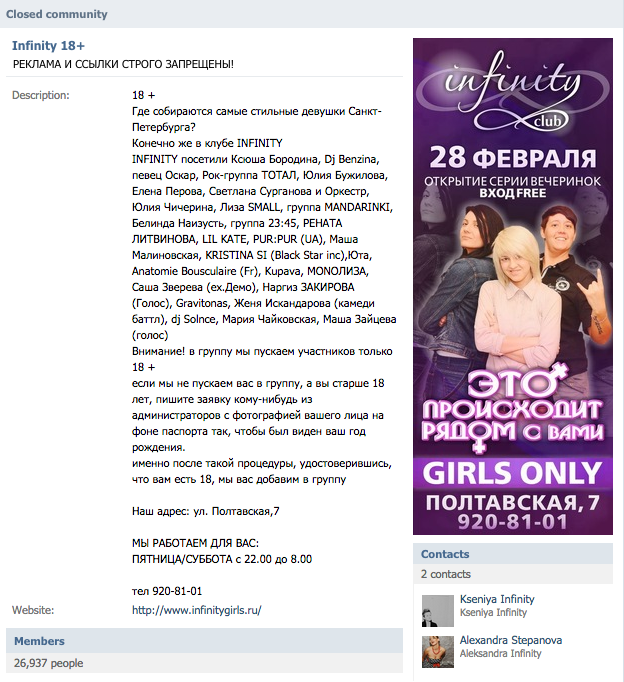 Cherkasov said it was possible some teens had joined the online community by lying to the administrators about their age and that Infinity was open to improving its controls on access to the group.
A group on VKontake called "Moscow is not Sodom! St. Petersburg is not Gomorrah!" appears to be responsible for a campaign sending in complaints to the prosecutor's office that sparked the investigation.
"Let's take a few minutes to write complaints to the prosecutor's office about the lesbo club where sodomites corrupt underage girls. By the way, it's employees of that particular club who staged a provocation a few days ago: in front of the passengers of Moscow-St. Petersburg flight, they demonstrated their perverse inclinations that caused a scandal on the internet," a message posted to the group reads, according to a screenshot published by TV Rain.
The post includes a link to the St. Petersburg prosecutor's office website and instructions on how to file a complaint.
"Some anonymous people who've probably never been to our club before simply tossed unnecessary work onto the prosecutors, distracting them from really important matters," Alexandra Stepanova, one of the club's directors, told the Russian news site Fontanka. "During the checks, they did not identify any violations. [Russian government communications watchdog] Roskomnadzor is currently checking our group on Vkontakte for the presence of violations."
Vitaly Milonov, the lawmaker in the background of the kissing photo, previously threatened to "expel all the perverts from St. Petersburg" with help from whip-wielding Cossacks and shut down the city's LGBT clubs.