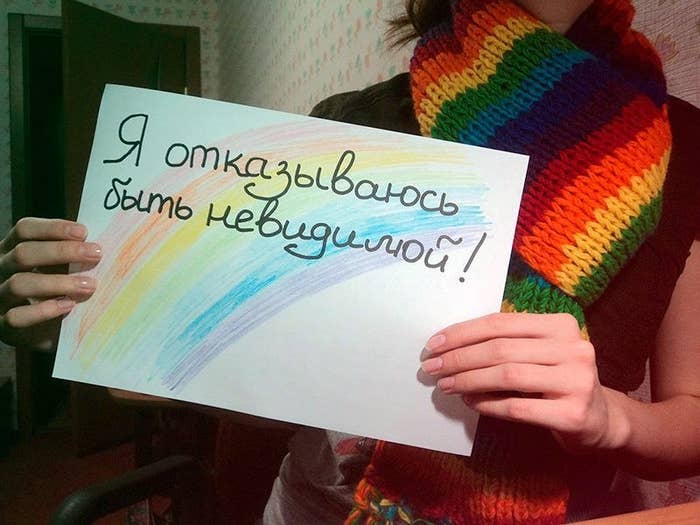 A Russian court found the leader of an online support network for LGBT teens guilty today under the country's law against "propaganda of nontraditional sexual relations."
Elena Klimova, who founded the Children-404 group on the Russian social network VKontakte, has been fined 50,000 rubles, or approximately $775.
Russia's federal communications agency brought the case, saying it had received more than 150 complaints about the site from the public. The agency also called Klimova's approach "amateurish" and said she lacked the expertise necessary to manage a support group for vulnerable teens.
Klimova, a journalist from Ekaterinburg region, created the online support network in the spring of 2013, a few months before Russia passed the so-called "gay propaganda" ban. The group's name references the 404 "page not found" online error, hinting at the isolation experienced by LGBT teens amid rising anti-LGBT sentiment in Russia. Children-404 publishes letters and photos from young people across Russia. Many of the pictures obscure the senders' faces and a common phrase permeates the posts: "We exist."
LGBT activists said that Klimova's lawyer could not attend today's hearing for medical reasons and she was left without counsel when the judge declined to postpone the proceedings.
"Today the court has violated the article 48 of the Russian Constitution, according to which everyone shall be guaranteed the right to qualified legal assistance," Maria Kozlovskaya, a lawyer with the Russian LGBT Network, said in a statement. "We are going to challenge this decision at all levels including the European Court on Human Rights."
The court's decision comes after Klimova was found not guilty of spreading "gay propaganda" in a separate case last year.