IKEA Is Shutting Down Its Magazine In Russia To Avoid Violating The "Gay Propaganda" Ban
The company was criticized for excluding a feature on a same-sex couple and their son from its Russian edition in 2013.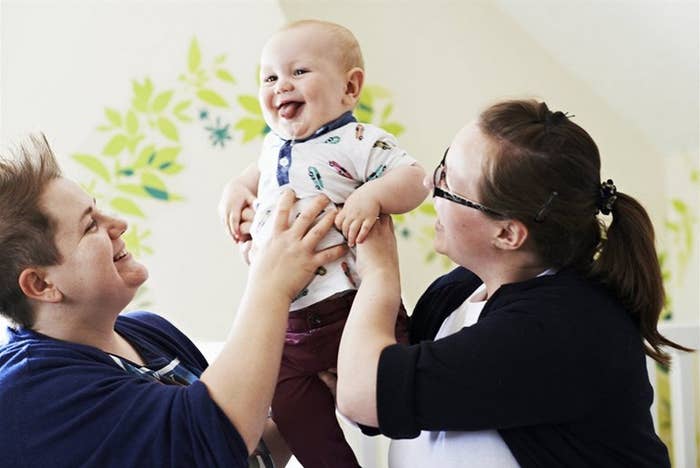 IKEA will shutter the website for its magazine, IKEA Family Live, in Russia to avoid running afoul of the country's ban on "propaganda of non-traditional sexual relations" among minors, the company announced Friday.
"When we do business, we observe the legislation of the countries where we work, therefore to avoid violations, we have taken the decision to stop publishing the magazine in Russia," IKEA said in a statement carried by AFP.
The Swedish furniture chain has featured same-sex couples and their families in the magazine, which is published in 25 countries. It came under fire internationally in 2013 for excluding a story on Clara and Kirsty, a British lesbian couple, from its Russian edition after the propaganda ban was passed. Activists held a kiss-in at the Brooklyn, New York, IKEA store to protest the move.
IKEA told BuzzFeed News at the time that the decision was based on advice from Russian legal experts. The vaguely written ban on so-called "gay propaganda" effectively outlaws any information that presents a positive image of LGBT people. "It is a law that has been widely criticized but one that we have to comply with," an IKEA spokesman told BuzzFeed News.
IKEA's press service told AFP it had not received any official warnings from the Russian government around its content. If the company was found to have violated the law, it could face a fine or the order to cease operations for 90 days, the French news service reported.
IKEA FAMILY Live is a regular online publication for members of the IKEA FAMILY club that presents a variety of ideas for home improvement. The magazine's content is identical in the 25 countries in which it is published. IKEA FAMILY Live demonstrates different aspects of people's lives at home, regardless of their age, sex, sexual orientation, nationality or religion. The magazine reflects IKEA's values, including equal rights and opportunities for all. We strive to talk about people with different lifestyles, different values, traditions, habits and interests. The magazine is intended for a family audience and in our opinion, it should not have an age limit. We also believe that our readers have the right to determine for themselves what publications may be interesting or worthwhile for them.Nevertheless, we understand that a number of the articles in our magazine might be regarded as propaganda in accordance with article 6.21 "On Propaganda of Non-Traditional Sexual Relations Among Minors." As a business, we observe the laws of the countries in which we operate, so to avoid violations we have decided to stop publishing the magazine in Russia.