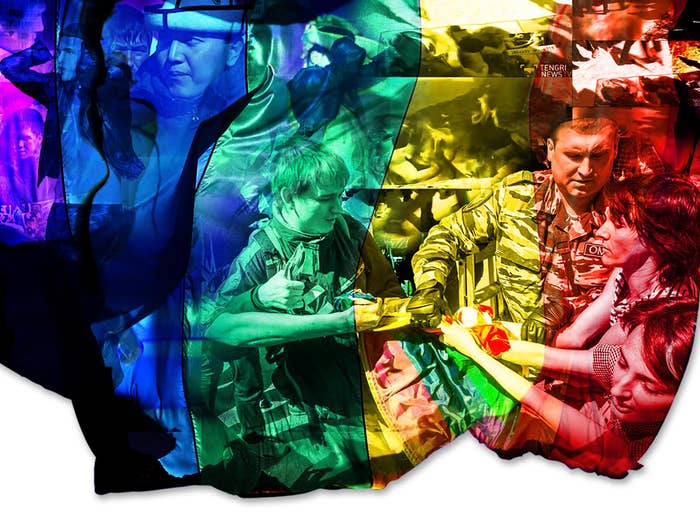 Tilek describes his home country of Kyrgyzstan, a former Soviet republic in Central Asia, as "a big village."
So when he moved nearly 2,000 miles away to Moscow, a city with a population more than double that of Kyrgyzstan's, he felt more freedom as a gay man than he ever had before. It was 2010 and Tilek — the pseudonym he gave BuzzFeed News to protect his privacy and the safety of his family in Kyrgyzstan — was 26.
Gone was the pressure to maintain the double life he'd carefully kept up at home, batting away questions from relatives who demanded to know why he was nearing his thirties and still unmarried. In Russia, he made gay friends, went to gay bars, and used hookup apps to meet men.
Today, Russia is known for rising anti-LGBT discrimination. But for years it was a place where people from socially conservative former Soviet countries could go to escape prying eyes and stifling traditions. After Russia decriminalized homosexuality in 1993, Moscow developed a thriving underground gay scene. At the same time, as the most prestigious place to study and work, it drew young strivers from across the post-Soviet region. Like Tilek, many grew up speaking Russian at home or at school and could travel to Russia without a visa.
What Russia once represented to many LGBT Central Asians — a broader, more "Western" worldview and a more permissive approach to sexuality — has since been turned on its head. Anti-LGBT attacks have spiked since Russian President Vladimir Putin signed a ban on "propaganda of non-traditional sexual relations" in 2013. Xenophobic violence and anti-immigrant rhetoric are also on the rise.
It's not just life in Moscow that has become more difficult and dangerous. Tilek has watched as the situation for LGBT people turns from bad to worse in his home country, as Russia exports its brand of homophobia around the region as a means of bolstering Moscow's influence there.
Kyrgyzstan is poised to pass a law banning so-called "gay propaganda" similar to Russia's, with parliament giving the bill preliminary approval in October. Much of it is a word-for-word copy of the text of the Russian bill, but it includes even harsher provisions. The Russian law allows for fines; the Kyrgyz version calls for criminal charges, including up to a year in prison or fines of about $115 — more than half the average monthly salary inside Kyrgyzstan. Some lawmakers want to lengthen the proposed sentence and introduce a separate measure banning the adoption of Kyrgyz children by same-sex couples abroad. Russia enacted a similar adoption rule earlier this year.
Some say the proposed propaganda law has already led to an increase in anti-LGBT discrimination and violence in Kyrgyzstan. "Some people think that the bill became a law and that the government supports hatred against LGBT people and they will not be punished," trans-rights activist Akram Kubanychbekov told BuzzFeed News via email. Daniyar Orsekov, who heads the LGBT organization Kyrgyz Indigo, said three of his employees were attacked outside a gay club earlier this year.
Like Putin, who framed his country's propaganda ban as a measure "to defend our children and our future demographic growth," Kyrgyz lawmakers say their bill won't affect consenting adults because homosexuality is still legal.
"We are not infringing on anyone's rights," MP Kurmanbek Dyikanbaev, a sponsor of the Kyrgyz propaganda ban, told Radio Svoboda. "All human beings are created by God. These are our citizens, members of our society. Let them do whatever they want in their apartment, we have no right to violate their freedom."
Two days after the ban got initial approval, a Ukrainian boy band called Kazaky, whose members sing, dance, and display their chiseled abs while clad in skintight black leather pants and five-inch stiletto heels, came to the capital, Bishkek. Local media reported that a crowd of more than 100 protesters, mostly young Kyrgyz men in tracksuits and baseball caps, surrounded the entrance of the Guns'n'Roses nightclub and refused to let them in. They denounced the Ukrainians' dance act as "gay propaganda." When the police wouldn't intervene, the concert organizers took Kazaky back to their hotel and paid them $20,000 for the canceled gig.
"Allah will be pleased with these patriotic youth!" MP Tursunbay Bakir Uulu, another lawmaker sponsoring the propaganda ban, tweeted with a link to a video of the protest. "I am proud to have such fighters from the younger generation with us in the battle against alien values."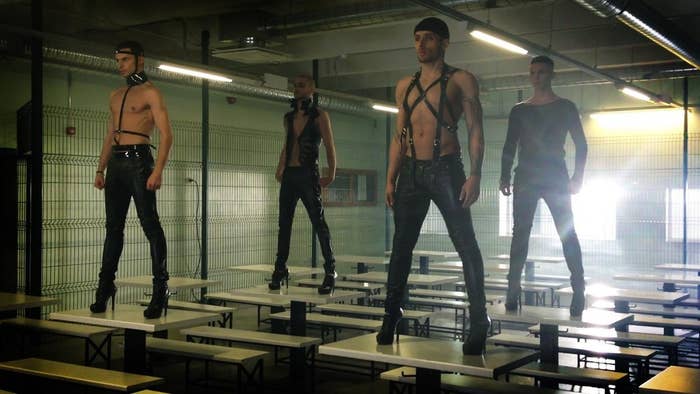 Western analysts have dubbed Kyrgyzstan an "island of democracy in Central Asia," with a more vibrant civil society and NGO sector than its autocratic neighbors. In a region where a handful of strongmen have ruled since the collapse of the USSR, Kyrgyzstan overthrew its government twice after independence, in 2005 and 2010. Until earlier this year, it was the only country in the world with both U.S. and Russian military bases, a distinction its leaders used to shrewdly lobby both sides for aid.
But recently Kyrgyzstan has cooled to the West and strengthened its relationship with Russia. In 2011, Kyrgyz lawmakers named a peak in the Tian Shan mountain range after Vladimir Putin. This summer, they finally allowed the American lease on Manas Transit Center, a crucial base for NATO forces in Afghanistan, to expire. President Almazbek Atambayev has pledged to join the Putin-led Customs Union this year, with $500 million in Russian funds to smooth the transition.
Atambayev has said entering the Customs Union is a strategic economic choice for Kyrgyzstan. But beyond economics, Putin envisions it as a geopolitical balance to the EU and a zone of shared values that unite Russian speakers beyond Russia's borders, in stark contrast to the West. He has made clear that there is no place in the "Russian-speaking world" for LGBT people.
Kyrgyz nationalists and politicians have similarly argued that the expansion of LGBT rights is a foreign assault on Kyrgyz values. But rather than simply parroting Russia, some analysts say, they are rooting anti-LGBT, anti-Western rhetoric in a specifically Kyrgyz context.
"Even if Russia has provided the initial spark, local socio-political dynamics are providing much of the oxygen needed to fuel the fire," Cai Wilkinson, a researcher on LGBT issues in Central Asia, wrote in a recent Eurasianet column.
As Wilkinson noted, anti-Western sentiment has grown in Kyrgyzstan amid questions about national identity and the unhealed wounds of 2010's ethnic violence, which many there feel international human rights groups unfairly blamed on ethnic Kyrgyz. By uniting their citizens against an "other" — the West, LGBT people — politicians can score points at home and with Putin. Lawmakers have also introduced a Russian-style bill that would require Kyrgyz NGOs receiving international funding to register as "foreign agents," a loaded term that connotes espionage.
"Look what's happening in the West," Zhenish Moldokmatov, the leader of Kalys, a Kyrgyz nationalist youth group, told reporters at a demonstration outside the U.S. Embassy in Bishkek last February. "Traditional families are becoming the minority."
A video of the protest showed Moldokmatov wearing a traditional Kyrgyz felt hat and decrying Western-funded NGOs. Kalys members placed posters of gay porn, with black circles covering up the actors' genitals, on the snow, doused them with lighter fluid and set them on fire. They also burned a photo of Ilya Lukash, a Kyrgyz human rights activist and "defender of homosexuals" who had expressed support for the Ukrainian Maidan protesters.
"If you are gay, go home and be gay there," Moldokmatov said. "We ordinary citizens get beat up too, but we don't go around shouting about it."
Tilek, now 31, says he was born in the wrong place. It was a village outside Bishkek, the sleepy capital, in the last decade of Soviet rule, where even as a boy he felt distant from the conservative mind-set and most of the people around him. As he entered his teens, Tilek realized he was attracted to men. Around the same time, in 1998, Kyrgyzstan decriminalized homosexuality.
Tilek bristled when other boys talked about their sexual exploits. They envied his close friendships with the girls in their class, which made him a target. He skipped his own high school graduation party to avoid fights.
Tilek moved to the city for college, eventually transferring to a university where many of his classmates were ethnic Russians or Ukrainians. He said he felt freer there than he had around his Kyrgyz peers. Once a few of the girls even invited him out to a nightclub that he learned years later is known to be LGBT-friendly. When friends tried to get him to date, he told them he was focusing on his studies.
Everything changed when he discovered gay social networks online when he was 24. "I had known I was gay," he told BuzzFeed News over coffee in New York. "I just hadn't known there were others like me." He started dating a man who helped him accept his sexuality and took him to a bar in Bishkek frequented by gay men. Tilek decided then that he would never marry a woman, no matter how much pressure he faced from his family. But his boyfriend also told him: "You have to hide … because nobody knows how people will react."
Tilek was careful to conceal his relationships with men, but when in 2008 he heard that a gay man had been murdered in Bishkek, he feared that being discreet wasn't enough to keep him safe. Police abuse and extortion of gay men in Kyrgyzstan is common. Tilek wasn't acquainted with the victim, but says he heard the police went through the victim's cell phone and called the people in his contact list. Two men told Human Rights Watch they were questioned in connection with the murder. One reported paying a $1,000 bribe after the officers threatened to disclose that he was gay. The other said he was asked to help identify wealthy gay men. (Kyrgyzstan's police denied the allegations in the Human Rights Watch report.)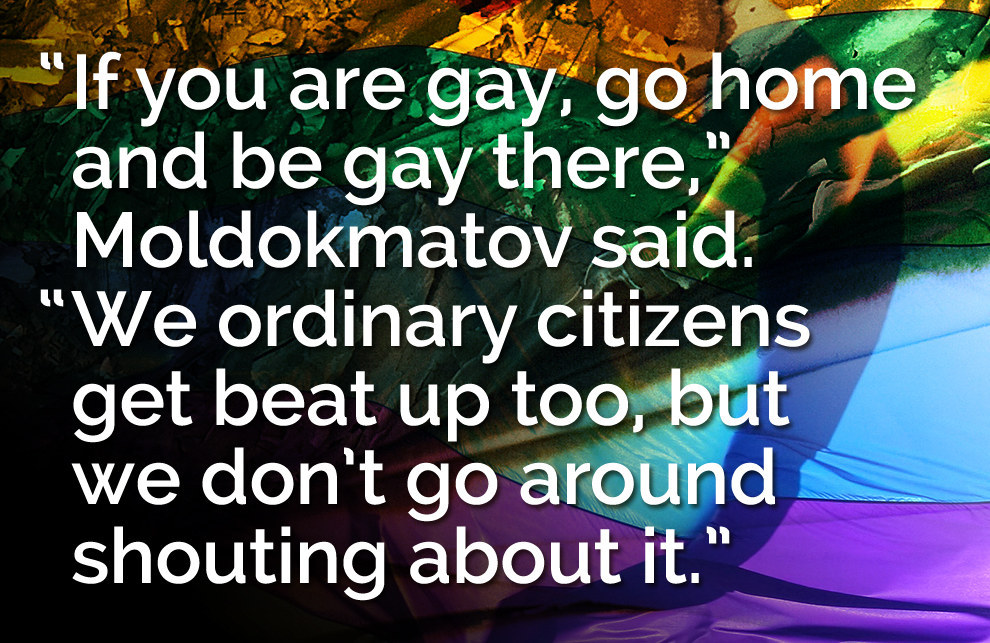 In late 2009, Tilek's then-boyfriend cut off contact with him. When Tilek pressed him for an explanation, the boyfriend said his brother had found out about their relationship and promised to make things difficult for Tilek if they didn't break up. The boyfriend came from a well-connected family of government officials with considerable power to make good on the threat. A friend had invited Tilek to Moscow and in January 2010, he decided it was time to go.
No one knows how many LGBT people from Central Asia come to Russia with the hope of living more freely. But it's common, particularly in villages like the one Tilek came from, for a young man to go abroad to build a better life for himself and his family. Thousands of migrant laborers from impoverished Central Asian countries have come to Russia in search of jobs. According to the World Bank, nearly one-fifth of Kyrgyzstan's labor force is working abroad, mostly in Russia or Kazakhstan.
Tilek had always felt like a minority at home, but he hadn't looked like one. In Moscow, his Asian features, darker skin, and black hair set him apart from ethnic Russians. Some Muscovites were keen to remind him he was a foreigner, but he accepted the trade-off: In Russia he would face racism, but could express his sexuality.
"Being gay in Kyrgyzstan or Kazakhstan or anywhere in Central Asia was much harder than being Asian in Moscow, because in Moscow there were many other Asians besides me," he told BuzzFeed News. "And at that time I thought the government can take some measures to prevent inter-ethnic violence and protect people."
Tilek's euphoria at being away from home helped him deal with culture shock in the big city. He learned to navigate Moscow's sprawling metro system. He worked to polish his Russian and tried to fit in. He started the process of applying for permanent residency and later received a Russian passport. Tilek's parents, aunts, uncles, and cousins now had a good story to tell about their conspicuously single relative: They could say he was living in Moscow and dating women there.
He returned to Kyrgyzstan for a few months to finish his coursework and moved back to the Russian capital in December 2010. Race riots broke out that month after a Russian football fan was killed in a fight with men from the Caucasus, a Muslim-majority region of Russia. People massed on the streets chanting "Moscow for Muscovites! Russia for Russians!" A Kyrgyz man was stabbed to death. Tilek's Russian friends called and warned him not to leave his apartment, "because they are killing everyone." He didn't go out for three days, even to buy groceries. Fearing for his life, he then laid low, staying with a relative outside the city, and left Russia after the New Year. He remained in Central Asia until he felt it was safe to return to Moscow in April 2013.
In Soviet times, Russians dominated the official power structure, but ethnic clashes were rare. Authorities preached "friendship between peoples" and citizens of all the republics held Soviet passports. In recent years, Russian society has grown more nationalist and anti-immigrant. According to Russia's independent Sova Center, which tracks hate crimes, street violence against ethnic minorities is on the rise. The group documented 136 victims of ethnically-motivated attacks in 2013, up from 115 the year before, and says many more incidents go unreported. The government has toed the line, keeping far-right forces at arm's length and trying to channel nationalist sentiment to its advantage without letting it explode out of control.
But it wasn't just the threat of more race riots that drove Tilek away. Not long after he returned to Moscow, he got the following message on Hornet, one of Russia's most popular hookup apps: "You're Asian and you're gay? If we catch you, things won't be good for you. You ought to be shot and killed."
He was rattled, but he also thought it was a joke. When the threats continued, Russian friends urged him to take them seriously. He saw a warning on Facebook telling gay men it was dangerous to use social media or apps to meet people. Anti-LGBT vigilantes claiming to target pedophiles were posing as gay men online, the post said, and police weren't likely to do anything about the vicious abuse they inflicted on their victims. In one case Radio Free Europe/Radio Liberty reported, a group of Russians allegedly tricked an Uzbek man and then turned him over to be humiliated, beaten, and sexually assaulted by members of his own ethnic group.
Sean Howell, Hornet's CEO, told BuzzFeed News the company has not received any reports of user harassment in Russia.
Tilek eventually saw the threatening messages as a sign that it was time to leave Russia and came home to Kyrgyzstan. He had told his mother two years earlier that he was gay, and while she was supportive, she urged him to emigrate, fearing their extended family "would not let him live." They tried to keep the news that he was in town quiet until he made his way to New York in August 2013. He has applied for asylum to stay in the U.S. He doesn't know when he will see his elderly parents again.
Tilek's sister and a niece also know that he is gay and accept him. He worries about what might happen if his other relatives find out, but he agreed to share his story in the hope it could help LGBT people who are still in Central Asia. He knows most don't have the opportunity to leave.
"Whenever I have dreams that I'm still in Kyrgyzstan I fall into a terrible panic," he said. "When I wake up I think, Thank god that I'm here."