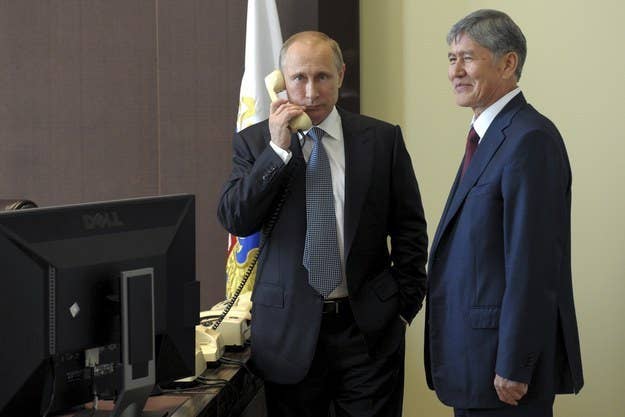 Kyrgyzstan's parliament approved a Russian-style "gay propaganda" ban in a 79-7 vote this week, bringing the bill one step closer to law in the Central Asian former Soviet republic.
The ban proposes up to a year in prison for individuals, including journalists, found guilty of spreading "propaganda of non-traditional sexual relations," RFE/RL reported. The bill would also effectively ban LGBT advocacy organizations.
Nika Yuryeva, an activist with the Kyrgyz LGBT organization Labrys, said in a statement that rather than protecting children, the bill would contribute to "growth of suicide rates among homosexual teenagers, who will be left without any access to information and right to support."
Russian President Vladimir Putin has used his country's approach to LGBT rights to drum up support in other former Soviet countries, speaking of shared values throughout the Russian-speaking world. Russian is widely spoken in Kyrgyzstan, a Muslim-majority country.
"We must defend the institution of the traditional family," the Kyrgyz bill's sponsor, MP Kurmanbek Dykanbaev, told RFE/RL's Russian service. "Now, under the West's influence, the norm of same-sex families is being imposed upon us."
Kyrgyz LGBT activist Akram Kubanychbekov, a member of the group Trans* Coalition on Post-Soviet Space, told BuzzFeed News that violence against LGBT people has risen since the draft legislation was first introduced. "Some people think that the bill became a law ... and they will not be punished by the government," he wrote in an e-mail.
If the ban comes into force, Kubanychbekov believes doing LGBT advocacy work in Kyrgyzstan will become "almost impossible."
This week's vote passed the bill in its first reading under Kyrgyzstan's parliamentary procedure. The ban must be approved by MPs in another two readings and signed by the President to become law.
This story has been corrected and updated to clarify the bill's progress in Kyrgyzstan's legislature. An earlier version of this post said an initial vote took place Oct. 9. Lawmakers discussed but did not vote on the bill that day.