This Shadowy Group Is Targeting Russian Teachers Who Support LGBT Rights
The group says it will continue to "raid" schools "where the rights of children and families may be violated."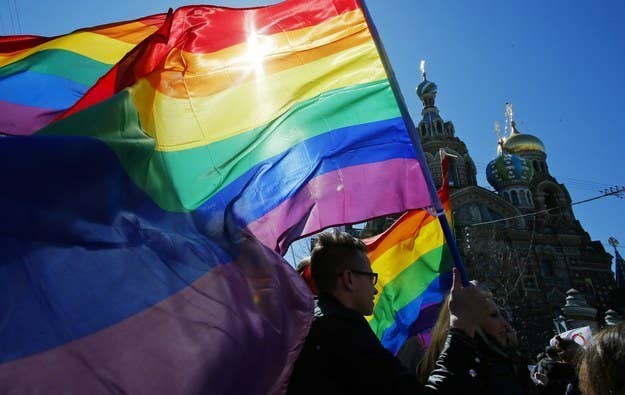 A shadowy group identifying itself as the "public ombudsman for children's rights" turned up at a school in St. Petersburg last week in what it called a "raid" to demand the dismissal of a teacher supportive of LGBT rights, local media outlets reported.
The group said it showed the school director photos from Maksim Ivantsov's wall on the Russian social network VKontakte as proof of the teacher's "propaganda" of "LGBT values."
Ivantsov has spoken out publicly against anti-LGBT discrimination. In December he became a target of Timur Isaev, an anti-LGBT campaigner who claimed to have gotten dozens of LGBT teachers fired before his arrest late last year on unrelated charges.
Ivantsov suggested the group behind the raid are supporters of Isaev. "I don't know who they are, I'll figure it out," he told the Metro news site. "At work now everything is calm. To incoming requests the school leadership answers that they have no complaints about me, everything is in order and I will continue to work."
The office of the actual children's rights ombudsman of St. Petersburg, Svetlana Agapitova, denied any connection to the group and said the school had "every right to call the police if this unknown organization is conducting illegal acts."
"In the subway station you can buy a certificate that says you're a tsar and call yourself whatever you like," a spokesman for Agapitova said. "The question is what confirms your authority."
On January 15, the week before Agapitova was re-elected, a gathering of "parents' and patriotic organizations" led by the Russian Orthodox group People's Cathedral denounced her candidacy and proposed creating the new position of "public ombudsman for children's rights," to be filled by their preferred candidate, Marina Zhuravlyova. A report that aired on the pro-Kremlin NTV television channel shows several representatives of the "public ombudsman," including the leader of People's Cathedral, looking at a potential office space.
The self-declared "public ombudsman" group said that Agapitova "does not deal with the protection of morals, as well as the protection of the traditional family," according to Metro. It vowed to conduct "regular" raids on locations where "the rights of children and families may be violated" and said it would open a website where parents could leave tips on teachers to investigate.
A recent Human Rights Watch report documented seven cases of Russian educators whose jobs were threatened due to their support for LGBT rights.