On an evening in May, inside the superhero-studded museum on the Warner Bros. movie lot in Burbank, California, fans glowed with excitement over the film they had just seen. Patty Jenkins had done it: She had given the world the long-awaited Wonder Woman movie and effectively put to rest rumors that it was a "mess." One by one, dozens of people approached the filmmaker, waiting patiently for their turn to congratulate her.

"I'm going to cry," the director said, clutching her face as she thanked the crowd of mostly women that had formed around her. Standing at the feet of a triumphant Wonder Woman statue, Jenkins attended to admirers, listening carefully to what each had to say — that they'd brought their grandmother to the screening; that they were overjoyed her film passed the Bechdel test in the very first scene; and mainly that it meant a great deal to them to see the ass-kicking warrior on the big screen.
Up until that point, Wonder Woman had been viewed by only a select few, so the rapturous reception seemed to provide relief to Jenkins, who is not only the first woman to helm a big-budget superhero picture, but also the first to be put in charge of a Warner Bros. tentpole. For years, a handful of screenwriters — including Joss Whedon — tried crafting a story centered on the 76-year-old superhero, but to no avail.

It's undoubtedly a big moment for the 45-year-old director, who established a name for herself in 2003 with Monster, an indie based on the life of serial killer Aileen Wuornos (Charlize Theron). Though the film earned critical acclaim and Theron won an Academy Award for her portrayal of the sex worker turned convict, it would be over a decade before Jenkins made another feature film.
"For a long period since Monster, the bottom fell out of the indie market, and it was only big tentpoles being made — and that made everything very difficult. Definitely many films I was wanting and trying to make became nearly impossible to make," Jenkins told BuzzFeed News late last month.
After the success of Monster, Jenkins was attached to direct a movie about legendary test pilot Chuck Yeager, but that fell through after she decided to develop it independently rather than signing a deal with a studio. There was I Am Superman, a drama set in the prison industry, but she had to put that project on hold after she got pregnant (which causes a pause for many women in the industry). After becoming a mother, Jenkins directed a string of television shows, earning an Emmy nomination for the pilot of The Killing. And in October 2011, she signed on to helm Marvel's Thor: The Dark World; however, she departed the project just two months later.
Jenkins didn't say exactly why she parted ways with Marvel; however, she previously told The Hollywood Reporter that, throughout her career, she has encountered a fair share of "troubled projects." "I thought, 'If I take this, it'll be a big disservice to women … If they do it with a man, it will just be yet another mistake that the studio made. But with me, it's going to look like I dropped the ball, and it's going to send a very bad message.' So I've been very careful about what I take for that reason."
It's a smart move considering the indifference female directors face in Hollywood, a business in which there's been nearly no improvement in hiring year after year, though Jenkins believes there's a new market for independent films emerging — and "hopefully more diversity. … So much of the entertainment industry is moving to online and digital streaming that it's now shrinking up the studio system, but it's still not been easy," she said.
The enormous stakes riding on Wonder Woman are not lost on Jenkins. She said she feels "tremendous pressure" for her movie to succeed, not only for the sake of her reputation and career, but for that of all women directors. "If the movie is financially very successful, it will make a huge impact. Hollywood is really driven by money, but they're slow to believe … even despite the success of The Hunger Games, despite the success of many female audience–driven movies."
The pressure is why Jenkins made the conscious decision to shoot Wonder Woman in a "vacuum": She didn't view the project as solely female-centric nor did she make any attempt to appeal to male audiences who otherwise might feel alienated. "I feel like I am drawn to and attracted to very empowered women just by nature, because I grew up around a lot of them and it comes easily and naturally to me … If I just can demonstrate onscreen what I believe in and see all the time — and if it works for other people — then that is doing the right thing. That is what is going to be the most educational, having them see it from my point of view."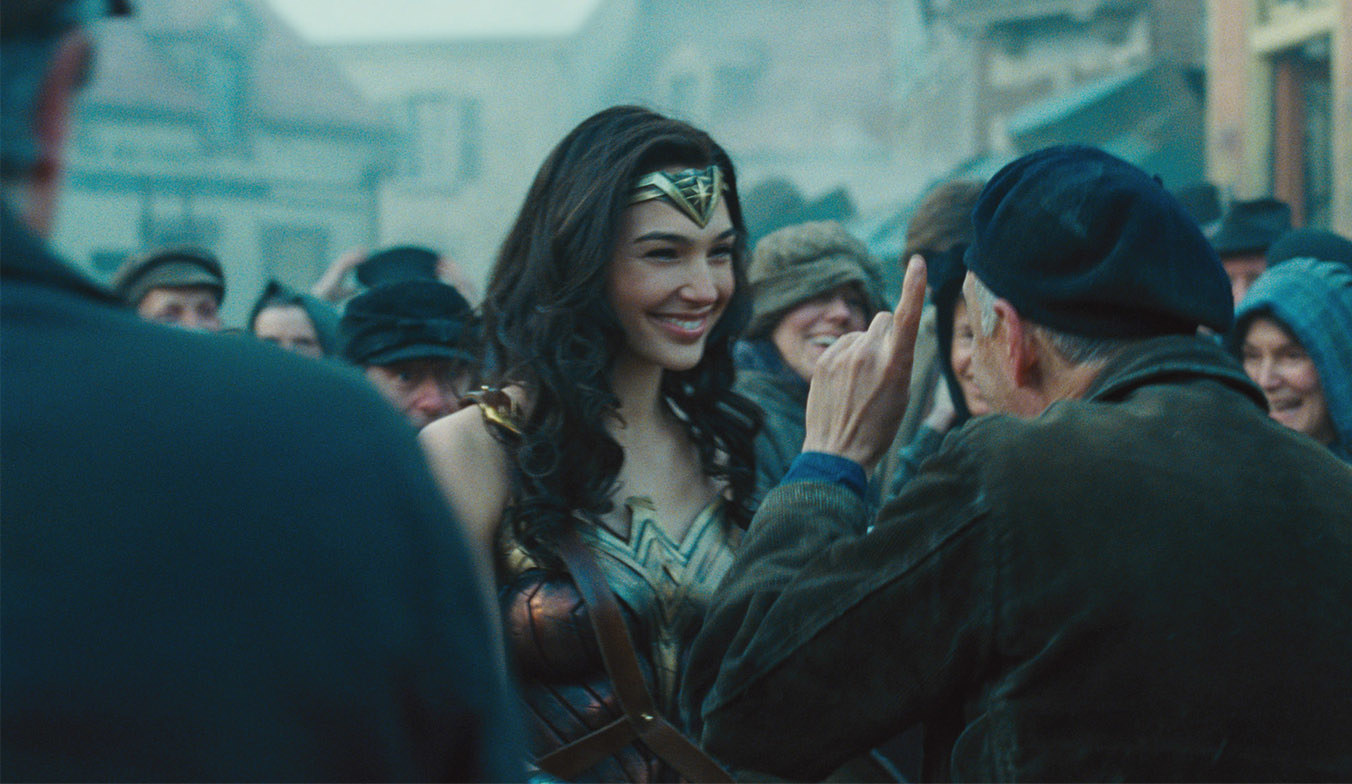 When it came to constructing her lead character onscreen (played by the ever-charming Gal Gadot), Jenkins was inspired not just by Wonder Woman creator William Moulton Marston's vision, but also by how the superhero is perceived and celebrated by her large fan base. You know — the classic embodiment of the feminist icon, "the Wonder Woman that I see women dress up every year at Halloween as. ... The reason I love Wonder Woman is how positive and wish-fulfillment-esque she is," Jenkins explained. "She stands for positive things and love, yet she's cool and sexy." And her Wonder Woman, who in the film goes by Diana Prince, is precisely all that, evident in the final moments of the hero's climactic battle against Ares, the god of war. (Warning: the following contains major spoilers for Wonder Woman.)
After witnessing the explosion that kills her comrade and love interest Steve Trevor (Chris Pine), Diana turns her rage on Doctor Maru (Elena Anaya), the evil chemist who sets the events that lead to his death in motion. For a moment, it seems as though our hero might exact revenge on the frightened woman, but upon seeing her enemy's terrified expression, Diana realizes further violence is not the answer; love is.
It's a powerful message that seemed to be missing from the recent DC Extended Universe movies about the brooding caped crusaders who preceded her. Jenkins recalled that some viewers at studio and test screenings felt that the scene in which Diana preaches the strength of love to her antagonist comes across as "cheesy," but she paid such concerns no heed. "I was like, I'm not hiding from the idea of it because [it might] be cheesy. That's what she stands for, and that's what she believes, and that's what we want to say." As for other fans, they loved it.
"It inspires me that the audience can handle all of the sincerity that we meant, that the world isn't afraid to be sincere. I'm so touched that people are responding to the sincerity here the most." Many viewers have lauded the film as "a truly heroic light" that the "DCEU desperately needs" — one, perhaps, that the world needs right now.
"The biggest dramatic things that have happened with women — [like] with Hillary Clinton running for president — all those things happened [when] the ship had already sailed on our movie," she said. "We were already done shooting, so there wasn't that much comment that we could make to that ship. I went into making this movie in a time of more hope that things were changing."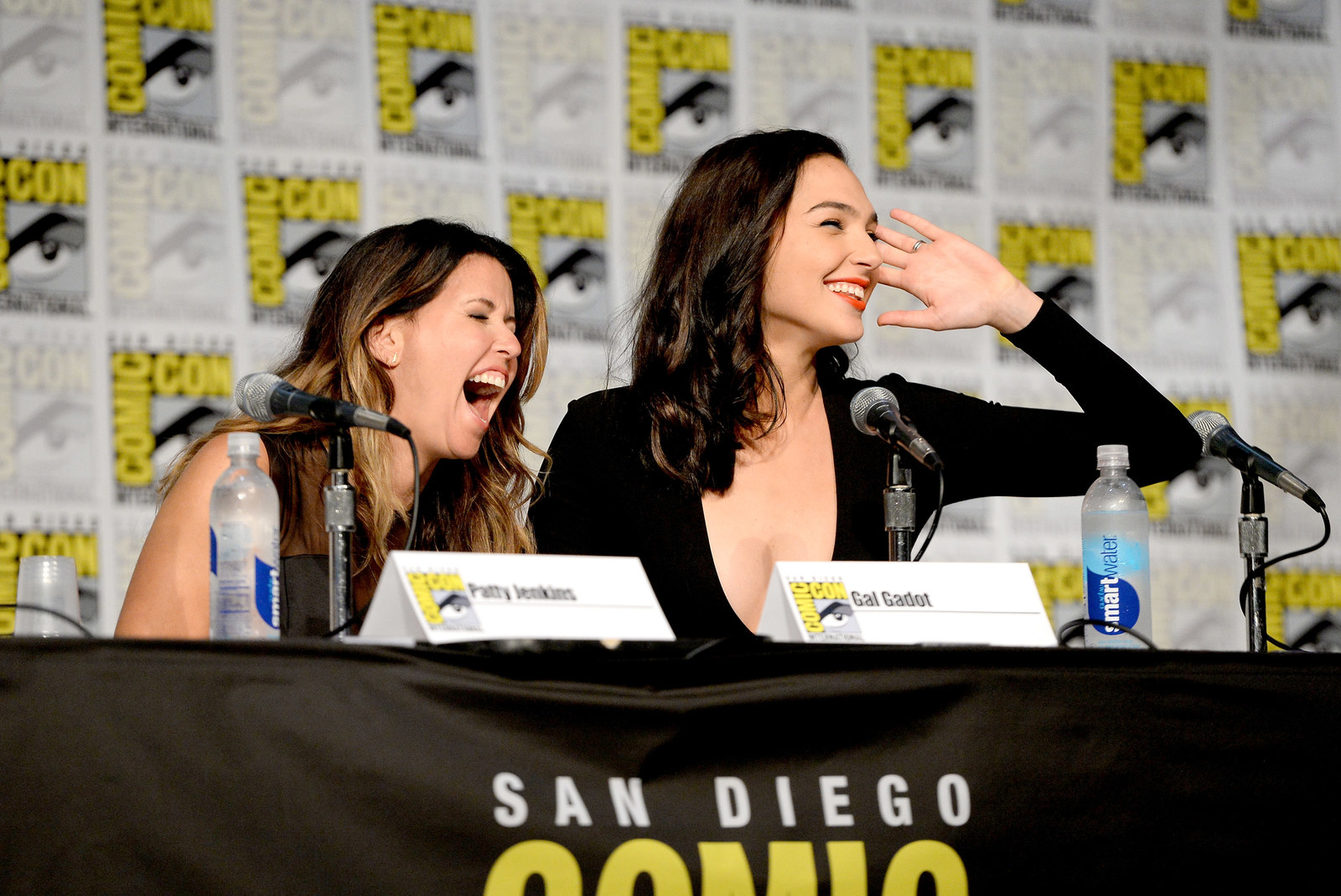 As for women behind the camera, little change is happening. Over the course of filming Wonder Woman, "worse and worse data" about women working in Hollywood and how they are not afforded the same opportunities as their male peers was reported, Jenkins recalled. "I hope to be part of the pushing the tide of that back the other direction."
With Wonder Woman under her belt, Jenkins plans to shoot a limited series in the fall, and she still wants to pursue I Am Superman. "As far as big movies are concerned, definitely my main interest remains here with Wonder Woman." In fact, both Jenkins and Gadot are contractually bound to a sequel, "but we'll see where the world goes."