Following a wave of sexual misconduct allegations against high-profile men, powerful women in Hollywood have launched Time's Up, an initiative designed to combat sexual harassment in workplaces across the nation.
More than 300 Hollywood executives, directors, writers, producers, actors, and publicists — including Shonda Rhimes, Reese Witherspoon, and America Ferrera, who was instrumental in writing Time's Up's open letter — pledged to fight sexual harassment and raised over $15 million in legal defense funds for victims.

Time's Up's supporters include talent agencies like Creative Artists Agency, ICM Partners, United Talent Agency, and William Morris Endeavor Entertainment. Each agency donated $1 million or more to the Time's Up Legal Defense Fund, and individual agents from both CAA and UTA signed the open letter. ICM Partners has pledged to ensure that, in two years, women will make up half the agency's partnership, half its department heads, and half its board of directors — a commitment to Time's Up's "50/50 By 2020" working group. CAA, where the first meeting that led to Time's Up took place, has similarly vowed to attain gender parity in the agency's management committee and board of directors.
But their efforts haven't been without criticism. That's because a growing list of actors have spoken out against talent agencies, alleging that agents either sexually harassed or assaulted them or were complicit in their abuse.
Brooklyn Nine-Nine star Terry Crews filed suit against WME and agent Adam Venit after he accused Venit of groping his genitals. CAA reportedly fired agent Cameron Mitchell after actor Demi Mann accused him of sexual harassment in a lawsuit, though Mitchell denies the allegations. And the Agency for the Performing Arts fired agent Tyler Grasham after multiple men came forward with allegations of assault against him.
Others, like actor Mia Kirshner, said their agents sent them on meetings with Harvey Weinstein and then failed to take action when the producer harassed them. "I was told to forget about it; it was pointless to do anything about this," Kirshner told the New York Times. In October, actor and activist Rose McGowan tweeted that agents who arranged for meetings between women and Weinstein "are guilty of human trafficking."
In December, CAA issued a statement apologizing to "any person the agency let down," noting that even one client being sexually harassed is too many.

Working with Time's Up could be a step forward for agencies trying to rebuild trust. But some former clients say the effort is too little, too late.
Tamara Holder — a former Fox News contributor who reported being sexually assaulted by a network executive — said Hollywood agencies are donating to the Time's Up legal fund "in an attempt to mislead and rewrite history."

A day after Time's Up was announced, Holder took to Twitter to criticize ICM Partners. "What a joke! ICM is a contributor to the #TIMESUP movement. It was their agents who told me to shut up about my sexual abuse," she wrote.
In 2016, Holder told three agents at ICM Partners that the executive tried to force her to perform oral sex. According to Holder, the agents discouraged her from reporting it to the network and later ignored requests from her lawyers to corroborate her claim, as was first reported by HuffPost.
To Holder, it remains unclear what Hollywood agencies are doing to dismantle the industry's culture of harassment and to regain the confidence of those they may have wronged.
"There's change that's obviously coming for the next generation, but what about us?" Holder told BuzzFeed News. "Are we just thrown away, and now we're supposed to work on this movement of the future?"

"I don't think that all of ICM is bad, but ... why aren't people holding them accountable for the pain that they've already caused other people?" Holder said.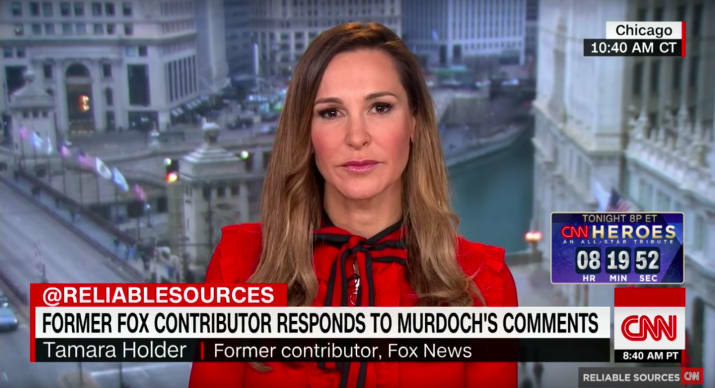 In a statement to BuzzFeed News, an ICM Partners spokesperson said, "When we learned of her complaint about the matter, we took it seriously, and retained the law firm of Latham & Watkins to do a prompt and thorough independent investigation into the matter. The results of that investigation showed no wrongdoing on our part."

"Our clients, partners and agents are deeply involved with Time's Up and we all collectively believe this is the time for change, and we intend it to be lasting change," the statement continued.
Sean Rose, an actor who said he was sexually harassed by CAA agent Cade Hudson, also raised questions about the agency's work with Time's Up.
"While it's great the fund is being started, the people who are these monsters, who are still employed, need to be removed."
"I think it's great that CAA has made a contribution to help with this endeavor to end sexual harassment. However, I don't think writing checks is enough on their end," Rose told BuzzFeed News.

He said that in 2013 — when Hudson was working as a publicist, about a year before he was hired by CAA — Hudson offered him sex in exchange for access to filmmakers and actor Amanda Seyfried, a claim backed up by text messages.
In a statement to the LA Times, CAA said this was the first time the agency had heard the accusations but "we take allegations of misconduct seriously, and investigate them as appropriate." The agency declined to provide further details to BuzzFeed News. Hudson denied any wrongdoing through his attorney, who called the situation "an alleged private interaction between two individuals having nothing to do with workplace sexual harassment." Hudson remains employed at the agency.
Rose said that Hudson's continued employment proves that CAA hasn't gone far enough. "While it's great the fund is being started, the people who are these monsters, who are still employed, need to be removed."

Rose — who spoke up about his experience because he "wanted to protect other people" — said that despite his misgivings about CAA's involvement in Time's Up, he is optimistic about the initiative's overall goals.
"I completely support what the endeavor is about, and I applaud the women who have come forward to support it as well," said Rose.
But it may be too soon to tell whether Time's Up will create lasting changes in the industry for all entertainers. "For it to continue, they need to not let up," Rose said. "They need to have a zero-tolerance policy."
And though Holder said she feels "hurt" by ICM Partners, she believes there's at least one way that agencies can repair relationships with victims: Help them get work.
"If women are going to sign on to these letters, great," she said. "But wouldn't it be nice for a female agent to read about a woman and say, 'I'm going to represent you. Fuck these guys. I'm going to get you a job.'"