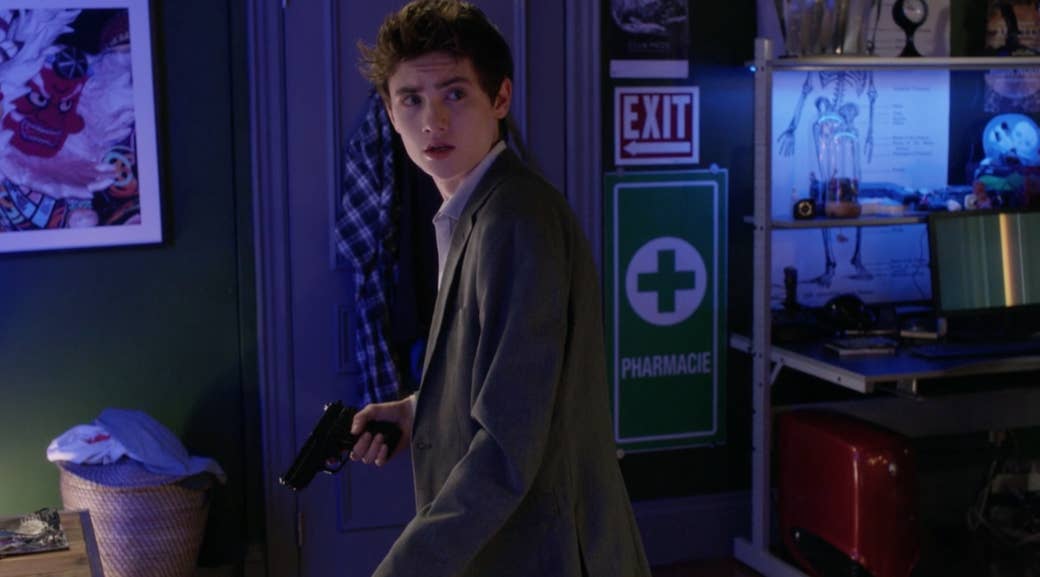 Buffy the Vampire Slayer creator Joss Whedon remembers the day executives at the WB informed him that the third season finale of his wildly popular show, about a vampire hunter and her supernatural friends, would be delayed. It had been four weeks since the 1999 Columbine High School massacre — an attempted bombing and mass shooting that killed 15 — sparked a nationwide debate over gun control and the effects of violent entertainment. The episode's plot included a school explosion and a scene in which armed students attack the mayor, so out of sympathy for victims and fear of copycat killings, the network broadcast a rerun instead. Another Buffy episode from that season, called "Earshot," featured a suspected school shooter, and its airdate was also rescheduled.
Whedon understood the decision. "I was like, We shouldn't say boo about it because of course they should [postpone]," Whedon told BuzzFeed News in a recent interview, recalling the "horror" and "sense of hopelessness" he felt in the aftermath of Columbine.
It wasn't the last time an episode of a teen series would face controversy following a school shooting. Four months after a gunman opened fire at Sandy Hook Elementary School in 2012, Glee aired an episode in which students go on lockdown after hearing gunshots. While co-creator Ryan Murphy praised it as "the most powerful, emotional Glee ever," some Sandy Hook parents criticized the episode for coming "too soon" after the tragedy. (In the wake of the 2017 Las Vegas massacre, Murphy found himself in a similar situation, deciding to tone down the graphic visuals from an episode of his show American Horror Story: Cult that featured a mass shooting scene.)
After last month's school shooting in Parkland, Florida, the Paramount Network delayed the premiere of Heathers, a television series remake of the 1988 cult film about a pair of teenagers who murder their classmates. "Out of respect for the victims, their families and loved ones, we feel the right thing to do is delay the premiere until later this year," the cable network said in a statement.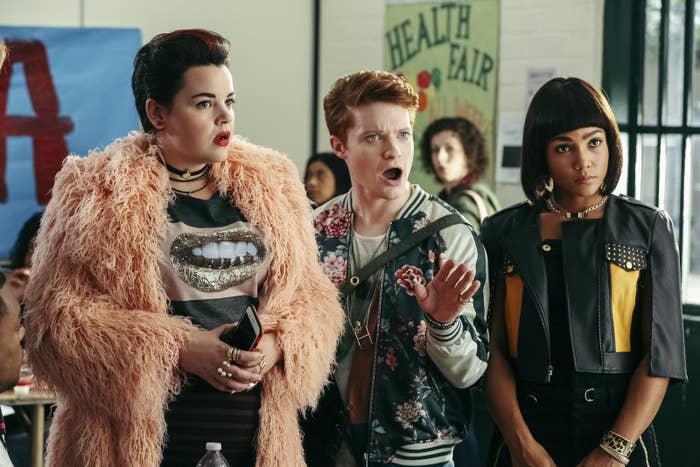 School shootings aren't going away, and the conversation over how they're portrayed on television isn't either. While politicians and cultural critics, including President Trump, have criticized Hollywood for "glorifying violence," showrunners and directors told BuzzFeed News they think carefully about how they're depicting shootings.
Whedon, a vocal NRA opponent who says he'll attend this weekend's March for Our Lives in Washington, DC, said "actual deadly accessible guns are the issue," not the entertainment industry. Still, he decided not to prominently feature the use of firearms on Buffy the Vampire Slayer, unless they were in the hands of villains. "When we were making Buffy, we actually had a chance to say, 'Oh, we can actually take a very hard stance here,'" Whedon said. "It's not a cop show. We're not wed to the idea of the shootout in the alley." Throughout the show, Buffy refuses multiple times to use a gun against her enemies. ("These things? Never helpful!" she says about firearms in a Season 6 episode.)
In the aftermath of Columbine, Whedon didn't think his show would provoke copycat killings, because the weapons were portrayed in a negative light. In the episode "Earshot," Buffy finds a classmate assembling a rifle in the school's clock tower. She believes he is going to kill their fellow students, but it turns out "the school shooter angle in the episode was a red herring," Whedon explained. The boy actually intends to kill himself, but Buffy talks him out of it and immediately dismantles his weapon.
But Whedon acknowledged that viewer reaction is hard to predict. In the 2002 episode "Seeing Red," Buffy is shot and beloved character Tara Maclay is killed by Warren Mears, a misogynist outcast. At the time, Whedon assumed that a bad guy using a gun couldn't lead to copycat behavior. "He represented the worst in everything, so I didn't think people were going to be like, Hey, let's jump on that bandwagon!" Whedon said. But that was in 2002. Now, given the frequency of mass shootings across the country, he isn't so sure: "But god knows what I've learned lately is that bad examples don't seem to throw people off."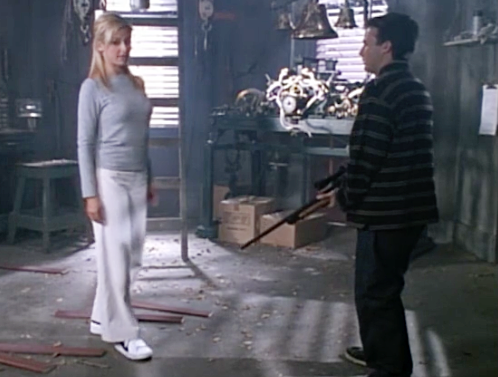 Asked what advice he'd give to someone writing a school shooting storyline today, Whedon stressed respect for the characters and for the gravity of the situation: "If you're in the head of a person who's trapped in a classroom, if you don't let genre tropes outweigh the physical and mental experience of the people you're filming, then you have a shot at saying something useful."
For Whedon, the Parkland students turned activists call to mind some of the messages he was trying to convey in his work: "I spent most of my career writing about teenagers who would lay down their lives for each other and would stand up to all injustice, and I thought I was writing fantasy."
Similarly, Linda Schuyler and Stephen Stohn — two of the Canadian showrunners behind Netflix's Degrassi: Next Class — said they find the Parkland survivors "deeply moving" and plan to incorporate elements of their activism into the forthcoming season of the high school series. The two said it's "highly likely" they will explore a school shooting, too.
"It's something that's happening with greater frequency, and it's happening to teenagers … and our attitude on the show has always been, whatever is out there affecting our young people, we should be talking about it on Degrassi," said Schuyler.
The pair previously tackled school shootings in the first season of Degrassi: Next Class and in an episode of Degrassi: The Next Generation. "Time Stands Still," perhaps the best known episode of the show, saw Jimmy Brooks (played by now-rapper Aubrey "Drake" Graham) shot by a troubled classmate. When crafting the story around that episode, Sohn said they were "very concerned" about the possibility of inciting a "copycat situation," but pursued the storyline to portray how access to guns, coupled with an environment of bullying, "can be a pressure cooker for some of these kids to explode."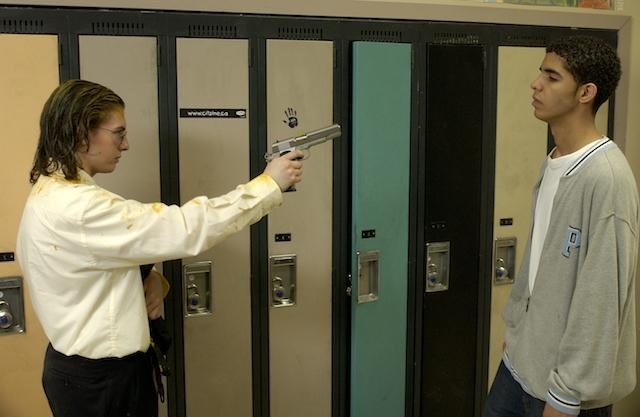 "We do not want to glorify things, and we don't want to sensationalize them," Schuyler said. When writing the aforementioned school shooting episodes, the showrunners consulted with Barbara Coloroso, an expert on bullying and an author who published a book on the issue soon after the Columbine massacre. They also spoke directly to teenagers with the goal to write material that would resonate with and accurately reflect their young viewers. "Hopefully as storytellers, we are being respectful enough to all sides of the story," Schuyler added.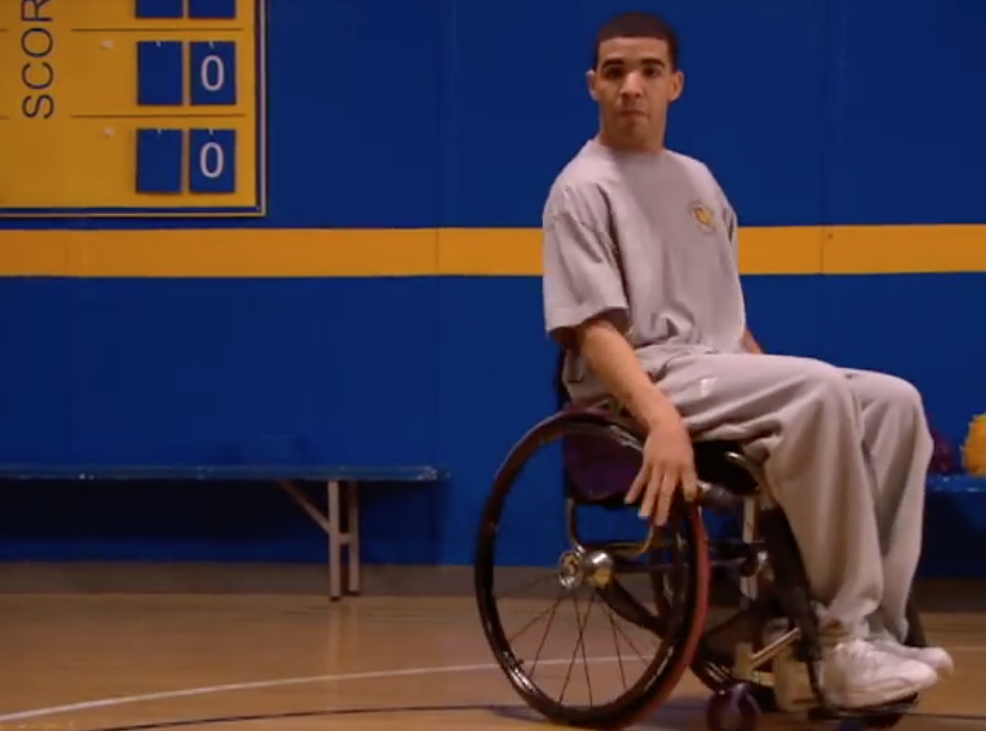 Although Schuyler and Sohn feel it's their duty to tackle issues that teenagers go through, they have no plans to portray anything "overtly political."
"The mandate of our show is to sort of take what's happening in the environment politically and make the political personal," said Schuyler. "We wouldn't address gun control per se, but we will look from a particular character's point of view at how damaging the misuse of guns can be and how damaging it can be when bullying isn't dealt with at an early stage."
Some showrunners and producers looking to portray gun violence and mass shootings have turned to the Brady Campaign to Prevent Gun Violence, a nonprofit organization that advocates for gun control and often works with television producers and writers to create storylines for shows like ABC's Grey's Anatomy and The Good Wife.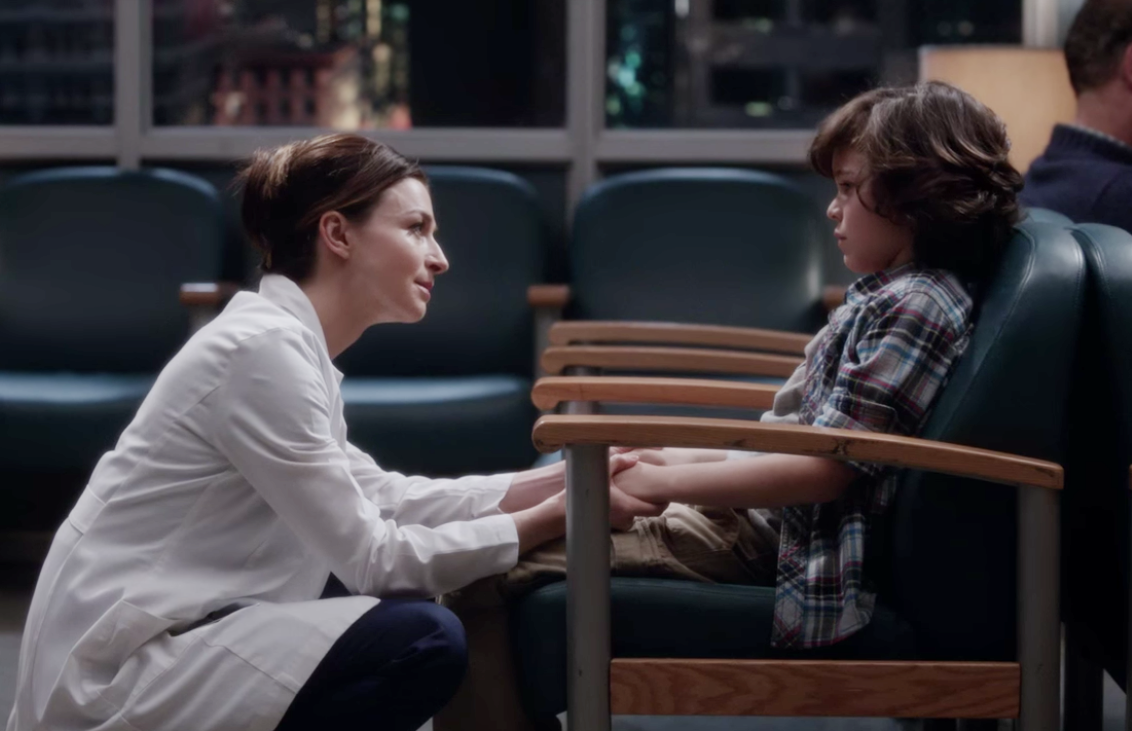 For Avery Gardiner, copresident of the Brady Campaign, it's just as important to depict the everyday shootings that occur across the United States — and not just high-profile mass shootings.
While ABC's Grey's Anatomy featured a storyline about a mass shooter who murders two of Dr. Meredith Grey's colleagues, a 2016 episode centers on a young boy who accidentally shoots his playmate after finding the weapon in his mother's drawer. It was a plotline the Brady Campaign consulted on. And immediately following the episode, actor Ellen Pompeo urged the importance of keeping guns unloaded and properly stored, away from children, in a PSA. The collaboration wasn't without criticism. The NRA's Institute for Legislative Action condemned the Grey's episode and the anti-gun messages "permeating television programming and film," writing: "Thankfully, the episode was immediately followed by a Brady Center ad, alerting viewers to the fact that the preceding program was intended as propaganda."
Gardiner also stressed the need for shows that depict the reality of how shootings affect the families of victims. Shows like The Chi, a Showtime drama created by Lena Waithe about life in Chicago's South Side, for example, portrays the factors that might lead one to turn to guns — and how deaths resulting from gun violence affect victims' loved ones.
"The realities of that violence and how it tears communities apart is something that Hollywood should be showing on TV," Gardiner continued. "It's an American problem that we need to be solving."