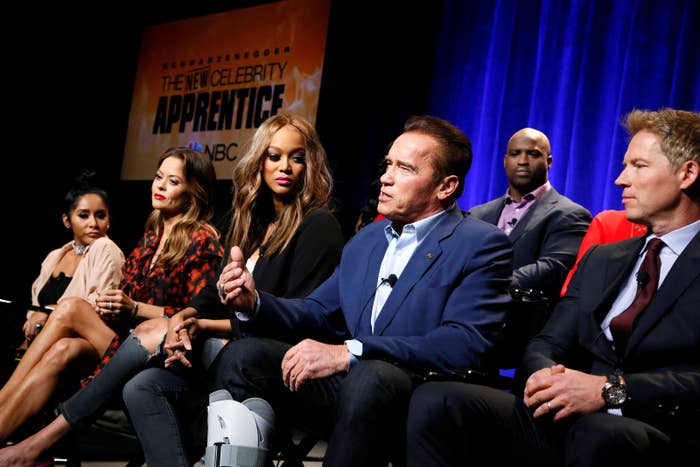 UNIVERSAL CITY, California — "Honestly, I don't really care about Donald Trump," Nicole "Snooki" Polizzi told BuzzFeed News during a red carpet event for NBC's The New Celebrity Apprentice on Friday.
Polizzi — the former Jersey Shore star and a contestant on the upcoming season of the NBC reality competition show — said she didn't understand the press uproar over Trump's continued role as an executive producer on the program. "I don't know why people are making such a big deal about it. It's what he did previous to running [for president]. It's just something from his past and his past endeavors, so I don't think it's weird," she said.
Her comments echoed those made earlier in the day by Arnold Schwarzenegger, the host of The New Celebrity Apprentice, during a press Q&A for the forthcoming show. Schwarzenegger defended Trump's involvement with the reality show, saying he knew Trump would retain a credit as an executive producer "from the beginning."
"I watched 60 percent of all the shows before I took on this challenge, so his credit was on there. So it's no different than when I was running for governor and I became governor. My credit starring in The Terminator still said 'Schwarzenegger,' and everything stayed the same."

Trump had hosted The Celebrity Apprentice for seven seasons until, in June 2015, NBC cut ties with him after he made racist comments toward Mexicans.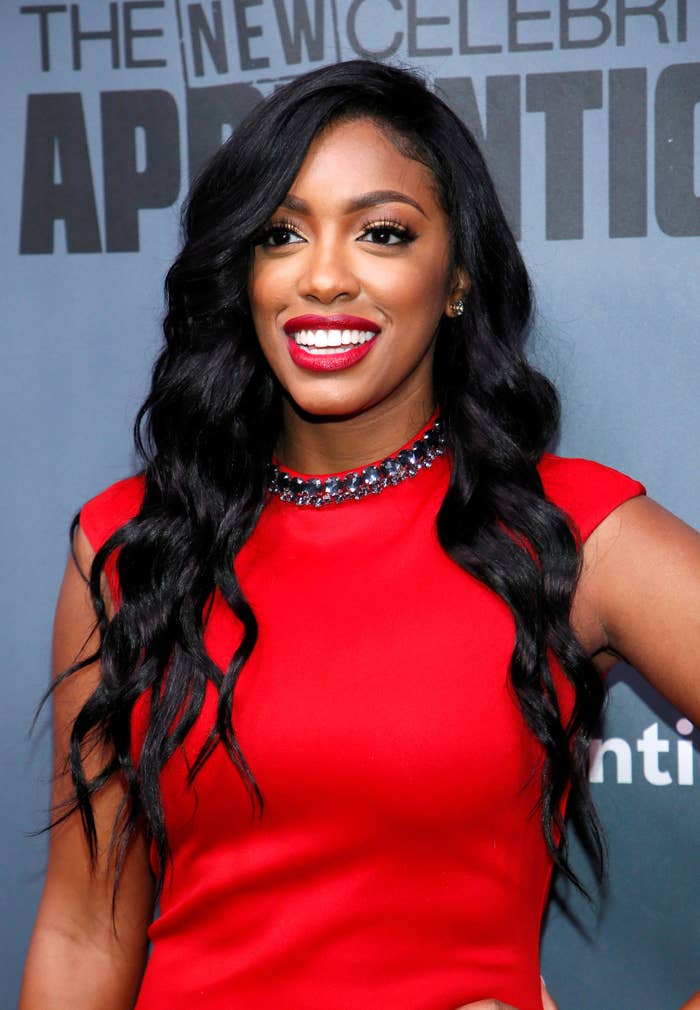 Schwarzenegger, who served two terms as the Governor of California, did not address queries concerning the president-elect's role on The New Celebrity Apprentice as a potential major conflict of interest.

When asked if he is obligated to take any notes from Trump, Schwarzenegger evaded the question. "I don't give in to hypotheticals. What if Trump calls? Or what if he says this? Or if NBC says that? What if this and that happens? I don't occupy my thoughts with those kind of things."
Following the Q&A, the other New Celebrity Apprentice contestants either deferred to or reiterated Schwarzenegger's comments.
"For me, I'm focused on the show," Porsha Williams told BuzzFeed News when asked about her personal opinion about Trump's attachment to the production. "You're in a bubble. You're in a business bubble ... You're not really thinking about anything else," she said describing her experience. "I trust whatever Governor Schwarzenegger feels."
Patrick M. Knapp Schwarzenegger — the host's nephew and an advisor on the upcoming season — stressed to BuzzFeed News that The New Celebrity Apprentice "is not a political show." He said, "As far as Donald's involvement with the show, I think Arnold really said it all. It's more of a question for MGM and Mark Burnett."
The New Celebrity Apprentice is produced by Mark Burnett, the president of MGM Television. As an executive producer, Trump will be on MGM and Burnett's payroll, not NBC's.
Hours prior to The New Celebrity Apprentice event, contestant Carrie Keagan slammed Trump's continued role on the program in a statement emailed to BuzzFeed News. In it, she wrote that Trump is "no longer some arrogant real estate mogul/daddy's boy with some dangerously out of touch notions about how to treat people. Now, he's about to become the most powerful person in the world with a brand that represents bigotry, misogyny, racism, classism and hate on a level that we, as a country, regardless of party affiliation, should not tolerate."
As she hit the red carpet, Keagan stood by her opinion. She called her statement "honest, and now I'm getting yelled at," she told BuzzFeed News. "They're not happy, but I don't care, 'cause it's true.
"I was a big Hillary [Clinton] proponent," she continued. "That was our opportunity to have a really strong female in power … and now that that did not work out for us, I have a very different opinion about how things are going to be running now."
The New Celebrity Apprentice premieres Jan. 2.