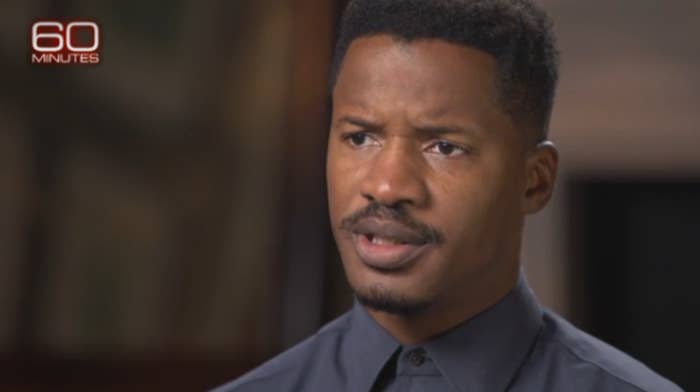 Nate Parker — the director, co-writer, and star of The Birth of a Nation — has been embroiled in controversy since August when a 1999 rape case against him and the movie's co-writer Jean Celestin resurfaced. Parker discussed the allegations in an interview with Deadline, and since then, the filmmaker has addressed the controversy and maintained his innocence, but he has not apologized to the victim's family.

On Sunday, Parker will make his first televised appearance since the allegations reemerged on 60 Minutes, and it doesn't seem he will be issuing an apology then either. CBS News released a preview of his interview with Anderson Cooper from the Oct. 2 episode, less than a week before The Birth of a Nation will be released in theaters on Oct. 7.
"Do you feel guilty about anything that happened that night?" Cooper asks in the clip.
"I don't feel guilty," Parker responds.
When The Birth of a Nation — about the slave rebellion Nat Turner led in 1831 — screened at the Toronto International Film Festival in September, Parker was asked at a press conference, "Why haven't you [apologized], and would you now?"
At the time, he said it was not the appropriate "forum" for discussing the allegations and his personal history. "I've addressed it a few times, I'm sure I'll address it in different forums," Parker explained. "This is a forum for the film, this is a forum for the other people who are sitting on this stage. It's not mine, I don't own it, it does not belong to me. I definitely don't want to hijack this with my personal life."
But when Cooper asks Parker in the 60 Minutes interview if he had anything to apologize for, a CBS News press release explains that he gets emotional and says, "I was falsely accused… I went to court… I was vindicated. I feel terrible that this woman isn't here… her family had to deal with that, but as I sit here, an apology is – no."
A representative for CBS told BuzzFeed News the interview was filmed "a couple weeks ago."
Parker was acquitted of the charges against him in 2001. Celestin was convicted and sentenced to six months in prison for sexual assault, but his conviction was later overturned.

"Do you feel you did something morally wrong?" Cooper goes on to ask Parker in the 60 Minutes preview.
"As a Christian man? Just being in that situation, yeah, sure," he responds. "I'm 36 years old right now, and my faith is very important to me. So looking back through that lens, I definitely feel like it's not the lens that I had when I was 19 years old."
In a new guest column for Variety, the victim's sister Sharon Loeffler says The Birth of a Nation — which features two implied rape scenes — "exploits [the victim] all over again."
"I can only imagine the pain she would be experiencing now to see Nate Parker promoting his new movie," Loeffler writes of her sister.
She also says that Parker and Celestin "invented a rape scene" for the movie. "The rape of Turner's wife is used as a reason to justify Turner's rebellion. This is fiction. I find it creepy and perverse that Parker and Celestin would put a fictional rape at the center of their film," Loeffler writes. "I think it's important for people to know Nat Turner's story. But people should know that Turner did not need rape to justify what he did. Parker and Celestin did not need to add that to Turner's story to make him more sympathetic."