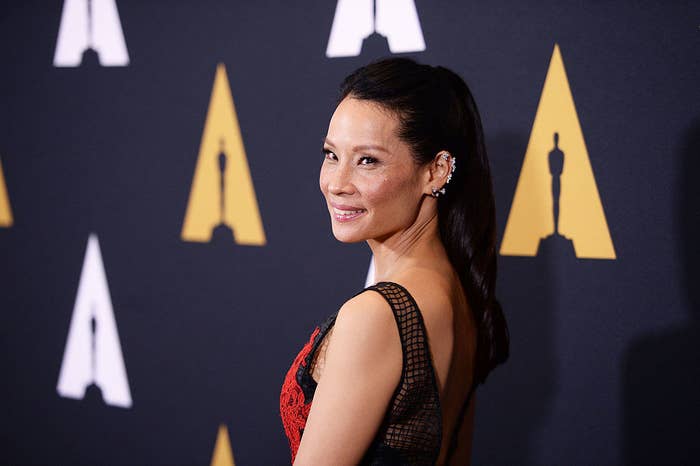 BuzzFeed News can exclusively reveal that Lucy Liu is directing the Season 2 premiere of Marvel's Luke Cage, which is set to be released on Netflix in 2018.
"What a thrill to collaborate with Marvel and Netflix, two industry titans, who paint our world with inspiring stories and beguiling characters," Liu said in a statement. "It is such an honor to work with such a passionate and fearless team."
Luke Cage showrunner Cheo Hodari Coker became acquainted with Liu after she joined the cast of TNT's Southland, on which he served as a writer and producer. "Lucy and I have been tight since our Southland days and she's a welcome addition to our Luke Cage family. She brings the same buoyant intensity, deft humor, and singular focus to her directing that she has always brought to her acting...not to mention the fact that the former 'O'Ren Ishii' certainly knows her way around an action sequence," said Coker. "Her enthusiasm is infectious."
Jeph Loeb, who executive produces the series, praised Liu's vision for the first episode. "When you're dealing with a bulletproof man, it helps if you have a bulletproof director," he said in a statement. "Lucy brings a keen eye, a superb sense of story, and an obvious love of actors. She is rocking Luke Cage 2."
In June, Liu was spotted on the Luke Cage set in Harlem, which caused many fans to speculate that the Elementary actor would be guest-starring on the series.
Liu has previously directed episodes of Elementary, the CBS procedural on which she stars as Dr. Joan Watson. She's also helmed episodes of USA Network's canceled series Graceland. Liu made her directorial debut with Meena, a 2011 short film about sex trafficking in India.
Last year, she addressed the challenges women face when trying to land opportunities to direct. "It's harder for women in general. You have to ask and ask and ask," she told the Associated Press. "You have to break the door down ... and come in with a real belief in what you're doing."