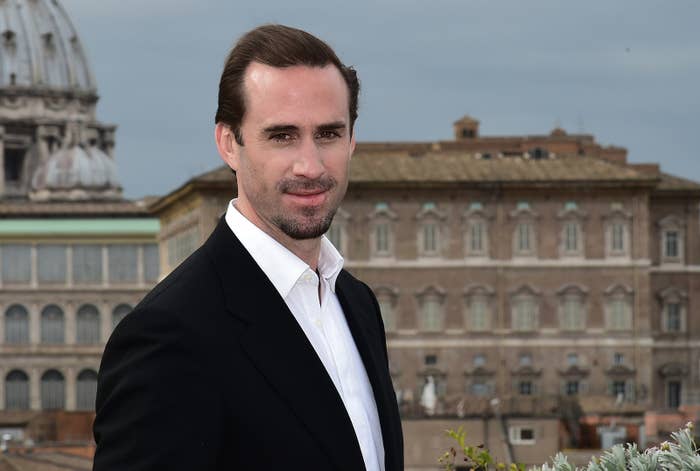 In January, The Guardian announced that Joseph Fiennes would star as Michael Jackson in an upcoming comedy special, a casting decision that many slammed on Twitter. In the wake of the backlash, Fiennes responded to critics, telling Entertainment Tonight that Jackson "was probably closer to my color than his original color."

Fiennes recently sat down for an in-depth interview with The Hollywood Reporter to promote his upcoming film Risen, and he also commented on his role in the upcoming comedy Elizabeth, Michael & Marlon. It's based on a story originally reported in Vanity Fair about Michael Jackson, Elizabeth Taylor, and Marlon Brando driving from New York to Ohio in an attempt to get home after 9/11. "It's not a biopic, and it's not Michael in his younger days. It's Michael in his last days when, I have to say, he did look quite frankly rather differently than when we grew up with him in the '80s or earlier," Fiennes told THR. "So it's as Michael as we last remembered him and how he looks."
The actor also noted that he was hesitant to sign on for Elizabeth, Michael & Marlon. "The decision with the casting and the producers — I wrangled with it, I was confused and shocked at what might come my way, and I knew the sensitivity, especially to Michael's fans and to Michael's family," Fiennes said. "It doesn't negate who he was."
He did not mention Jackson's battle with vitiligo.

Fiennes did say that people are right to be upset that he, as a white man, is playing a black icon. "The thing is, the playing field is not fair right now, and that's absolutely evident," he said. "This is quite right, why people are up in arms. I'm a full believer in making the playing field fair. When it is fair, we can have a conversation about this project and it wouldn't cause outrage."
Read the full interview with Fiennes at The Hollywood Reporter.