One of your all-time favorite sci-fi series may have just become a problematic fave. Earlier this week, a report from TV Line revealed that the writers of the next season of The X-Files will be all men.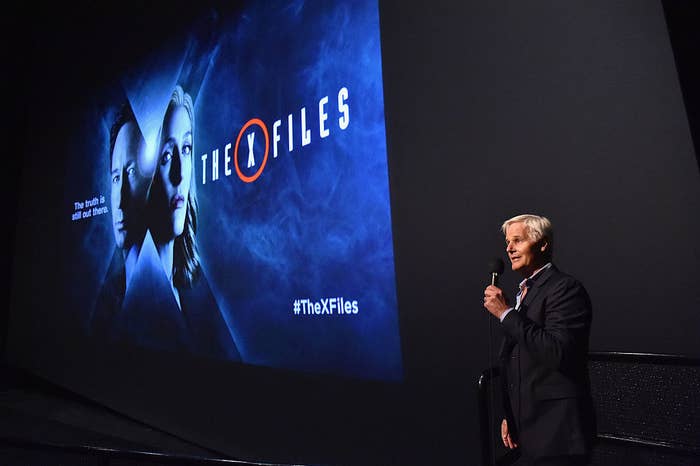 And no, this isn't a new problem: Though there have been 208 episodes of The X-Files to date, only nine women have written for the show.
Kim Newton, Sara B. Cooper, Marilyn Osborn, Valerie Mayhew, Vivian Mayhew, Jessica Scott, Margaret Fearon, Anne Simon, and Gillian Anderson (the actor behind co-lead Dr. Dana Scully) are the women who earned writing credits for their work on The X-Files.
Then this morning, Anderson took to Twitter to call attention to The X-Files's lack of women directors.
That's right. Only two women, Anderson and Michelle MacLaren, have earned credits for directing The X-Files.
This isn't the first time Anderson has called out those behind The X-Files either. Last year, she told The Hollywood Reporter she was initially offered a salary that was half of lead David Duchovny's pay when negotiating her income for the series' revival.
"It was shocking to me, given all the work that I had done in the past to get us to be paid fairly. I worked really hard toward that and finally got somewhere with it," she later told The Daily Beast.
Many fans were quick to support Anderson (and drag show creator Chris Carter) on social media.
Carter, Anderson, Duchovny, MacLaren, and Fox did not immediately respond to BuzzFeed News' request for comment.
UPDATE
The X-Files creator Chris Carter has hired three women writers and two women directors to work on Season 11 of the show, Dana Walden, Fox Television Group chairman and CEO, told reporters at the Television Critics Association summer press tour on Aug. 8.
"Two of the 10 episodes will be written by women," Walden said. Karen Nielson will write one episode and Kristen Cloke and Shannon Hamblin will write the other, based on a story by X-Files alum, and Cloke's husband, Glen Morgan. "And we do have two female directors ... so I think Chris is making moves in the right direction," said Walden. She also offered an explanation as to why Carter had hired a writing team of all men earlier this year.
"I don't want to make excuses for anyone. I want to just explain that after 200 plus episodes of a show that has a very deep and specific mythology — where the fanbase has a very high expectation that the episodes are going to deliver on those easter eggs and be consistent with those original episodes — the tendency is to want to rely on the people [who] helped you on the original, when you're just doing 10 episodes," she said. "And the crew that was with Chris for a very long time happened to be a group of male writers."
Walden said Carter's decision to hire the female writers was not done in reaction to the backlash against his originally all-male writers room: "We had hired the writers before news broke of this particular situation. No one was replaced. So I'm not 100% sure of the chronology of the situation. No one was replaced, and the two had already been assigned, as far as I remember."