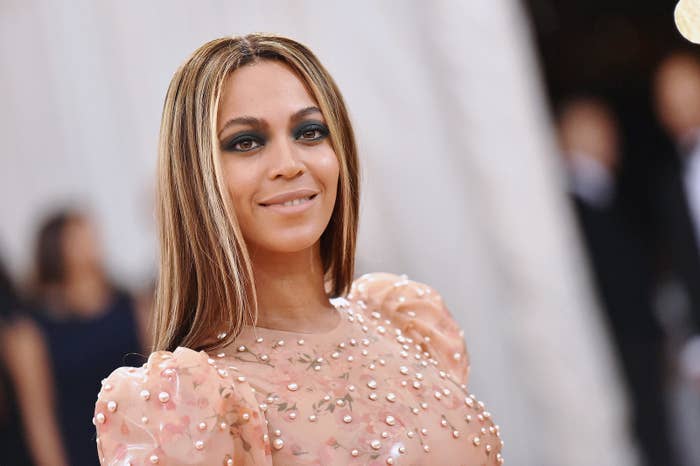 Beyoncé is moving in on that EGOT, with her Emmy nomination today for Outstanding Directing for a Variety Special. She, in conjunction with Los Angeles director Kahlil Joseph, earned the honor for her work on the critically acclaimed Lemonade, a one-hour special that first aired on HBO featuring music from her sixth album of the same name. When the "visual album" debuted, it was instantly lauded as a masterpiece, praised for its celebration of black womanhood, with videos as striking as the music.
Although Beyoncé has been nominated for an Emmy in the past — first in 2013 for her Super Bowl halftime show, and then in 2015 for her performance in HBO's On the Run Tour special — this marks the first time she has received a directing nod.
Lemonade is also up for Outstanding Variety Special; Outstanding Production Design for a Variety Special, Nonfiction, Event or Award Special; and Outstanding Picture Editing for a Variety Special.
She is the sole woman of color to receive a nomination for directing this year. The seven other female directors to have earned nominations this year are Lesli Linka Glatter, Jill Soloway, Susanne Bier, Beth McCarthy-Miller, Laura Ricciardi, Moira Demos, and Liz Garbus.
Lemonade has also been a source of controversy since it dropped on April 23. In early June, North Carolina filmmaker Matthew Fulks filed a lawsuit against Beyoncé, alleging that the singer stole from his short film Palinoia to create the Lemonade trailer. So far, Beyoncé, who has been performing on her Formation Tour, has not addressed Fulks's allegations.
Beyoncé has the "G" in EGOT (Emmy, Grammy, Oscar, Tony) down pat: The international superstar has won 20 Grammys for a slew of songs, albums, and performances in years past. Some critics predict it may only be a matter of time before she wins an Oscar and Tony award.
Beyoncé is eyeing the prize.