"I smell a funk," says Awkwafina, sniffing the air like a wine connoisseur, her brows furrowed. There's a slight odor drifting about the banquet room of the cozy Taiwanese restaurant in Queens that the rapper turned actor has frequented since she was 13.
"You don't smell that?"
On that brisk Saturday morning, the now-29-year-old Awkwafina, born Nora Lum, had looked right at home, plopped behind a table surrounded by customers dining and gabbing in Mandarin. But the manager, a family friend who only learned that she was one of Ocean's 8 when she showed up at the restaurant with a studio publicist, then moved the actor to the lower level of the restaurant, away from all the other patrons. The culprit of the musty stench: a stack of bus tubs behind us.
As steaming plates of pork over rice, oyster omelette, stinky tofu, sautéed spinach, and three-cup chicken appear at the table, she updates me on her life. It'd been nearly a week since the Oscars, which Awkwafina forgot to watch on television because she'd thought the awards show wasn't for another week. Instead, she'd spent the evening playing Guitar Hero and watching Girls Incarcerated, a Netflix docuseries about teen inmates at a juvenile detention center. It was only after she'd gone on Twitter that it dawned on her: "FUCK! I missed them," she recalled, stretching her face into a grimace. "I missed the Oscars!"
"People have been saying, 'Omigod, how has your life changed?' since 'My Vag' got a thousand views."
Each time I met with her — the first two times in Los Angeles and once in New York — she'd insisted that there was nothing glamorous about her life, even after shooting two of this summer's most anticipated movies: June's Ocean's 8 and August's Crazy Rich Asians.
"People have been saying, 'Omigod, how has your life changed?' since 'My Vag' got a thousand views, y'know?" she told me last winter, referring to the raunchy song and music video that launched her into fame across Asian America and YouTube in 2012.
While it's true that she can still appear in public without getting approached and that everyday people still treat her "like shit," one thing has changed for the former struggling musician: She no longer has to worry about making ends meet. According to her Hollywood peers, the world will be seeing a lot more Awkwafina after her next two films drop.
"The star-making next level of her journey is just beginning and she hasn't even realized it," Crazy Rich Asians director Jon M. Chu told BuzzFeed News. "She doesn't even realize the power that she has yet."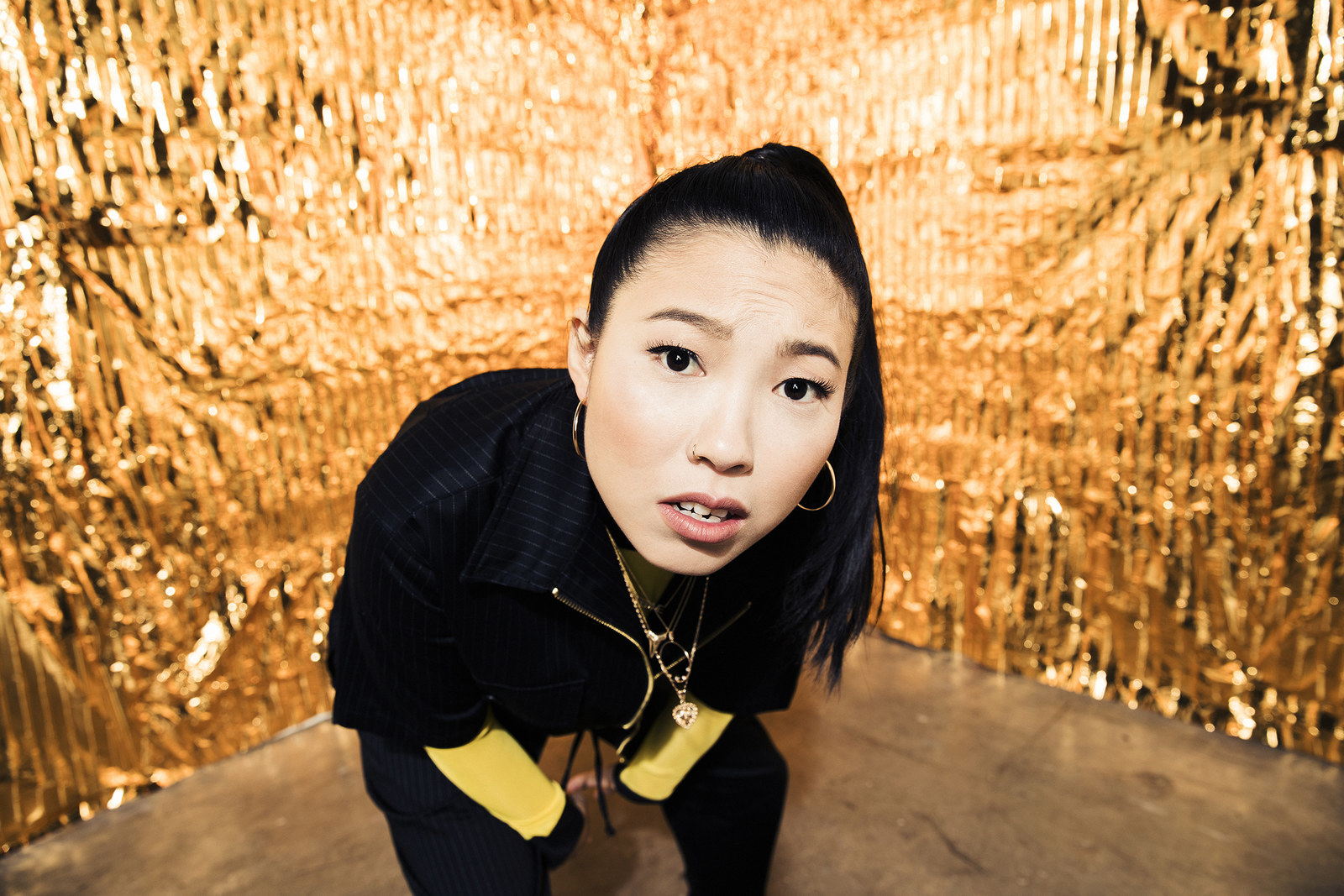 Awkwafina was born in Queens to a first-generation Chinese father and a Korean immigrant mother, who died when she was 4 years old. "For a little while, I think my life was a little bit turned upside down," she says. "I didn't like to talk about it with a lot of people because it would just provoke adults to cry, and I was very uncomfortable with that." After her mother's death, Awkwafina moved in with her paternal grandmother, the family matriarch who looked after Awkwafina and her cousins while also running a Chinese restaurant on Long Island. "She stunted all her children by not allowing them to do any basic things for themselves," Awkwafina recalled. "When you're raised by a grandma, it's like being raised by a drug dealer, like a very giving drug dealer. … They'll push on food to you. They raise these insufferable lumps of people that just consume food, kind of like Jabba the Hutt humans," she jokes. To this day, she doesn't bother trying to cook anything but frozen Totino's.

An only child, Awkwafina kept herself entertained with music. A self-taught trumpet player, she went on to study at Fiorello H. LaGuardia High School, the performing arts school that counts Nicki Minaj, Azealia Banks, Kelis, Ansel Elgort, and Timothée Chalamet among its alumni. (When asked if she personally knew Chalamet, Awkwafina instantly deadpans: "Nooooo, I'm way younger than him.") From there, she started messing around on programs like GarageBand and Ableton, writing her own lyrics and rapping on her own beats.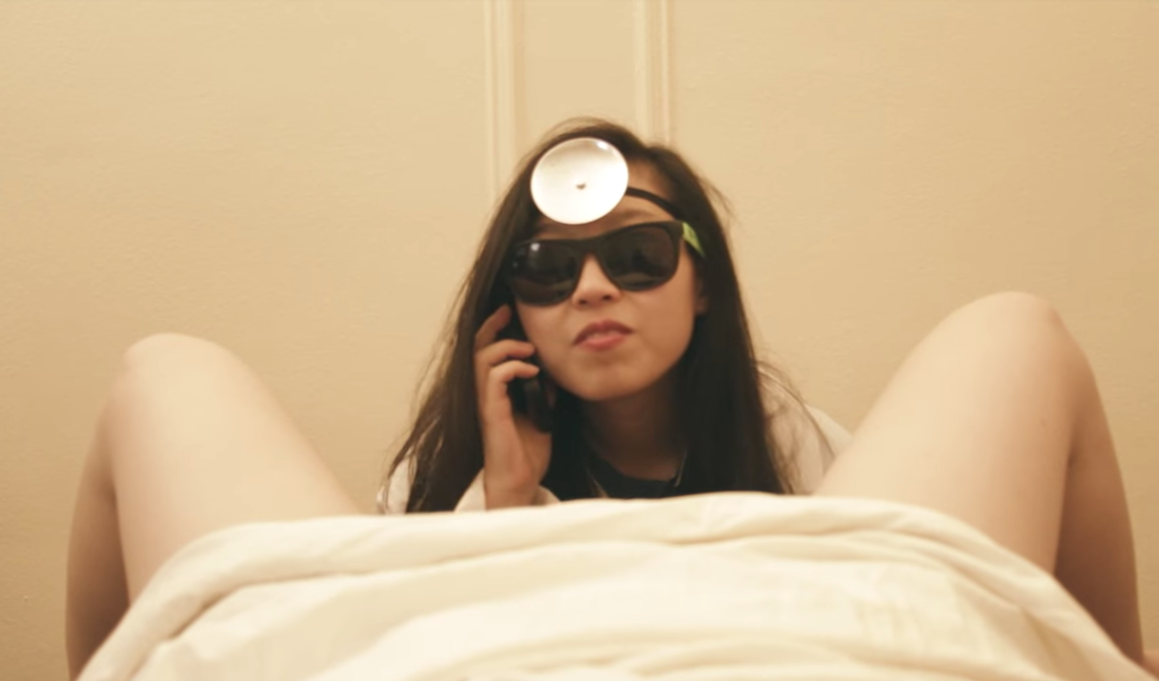 "I started the trumpet rigorously, and I produced beats with the same fervor. Like, I'm a beast when it comes to producing beats — and not even that they're good — but I have insane work ethic when it comes to that." She chose the name Awkwafina at 15 ("I always thought it was funny when brands try to feminize themselves. You know? Like Neutrogena," she's said. "And also I'm really awkward so … I'm like 'awkwardly fine.'")
She made "My Vag" never thinking it would become a viral hit, let alone one that would get her in front of Hollywood directors or lead to a collaboration with one of her childhood heroes, Margaret Cho.
"I felt like in a lot of ways, people thought that I was a parody rapper and just some idiot Iggy Azalea type."
Cho still remembers the first time she heard "My Vag." Immediately afterward, she told herself, "I have to work with this woman. I have to do something with her. I have to meet her, at least hang out." Years prior to Awkwafina's release, Cho had released "My Puss," her own vag-centric track. "I took it to a certain level," Cho told BuzzFeed News. But Awkwafina? "She took it beyond."
Despite Awkwafina's obvious enthusiasm for music, not everyone has been a fan. On multiple occasions, she says, concert headliners refused to let her open for them. "I felt like in a lot of ways, people thought that I was a parody rapper and just some idiot Iggy Azalea type," she says, referring to the white rapper who's been called out for cultural appropriation, the frustration in her voice discernible. "I felt like, 'No one thinks Awkwafina's a musician. They think that she's a joke, she's just a comedian.'"
On June 1, she will drop a five-song EP, In Fina We Trust — her first release since 2014. After a four-year hiatus from rapping, Awkwafina has come to terms with the fact that her music may not be for everyone.
"I know that I'll never break a certain ceiling, and it's not because I suck, and it's not because I'm Asian or a woman," she says. "It's me. It's my mind. It's the content. Whoever loves my music will love my music. And whoever hates it will never get it."

But the pushback is in part why she began pursuing opportunities in Hollywood. "With movies and TV shows, I was able to be a comedian, and be myself, and have personality, but also not feel like I was a minstrel, you know what I mean?" Her online persona and internet fame helped her make the leap.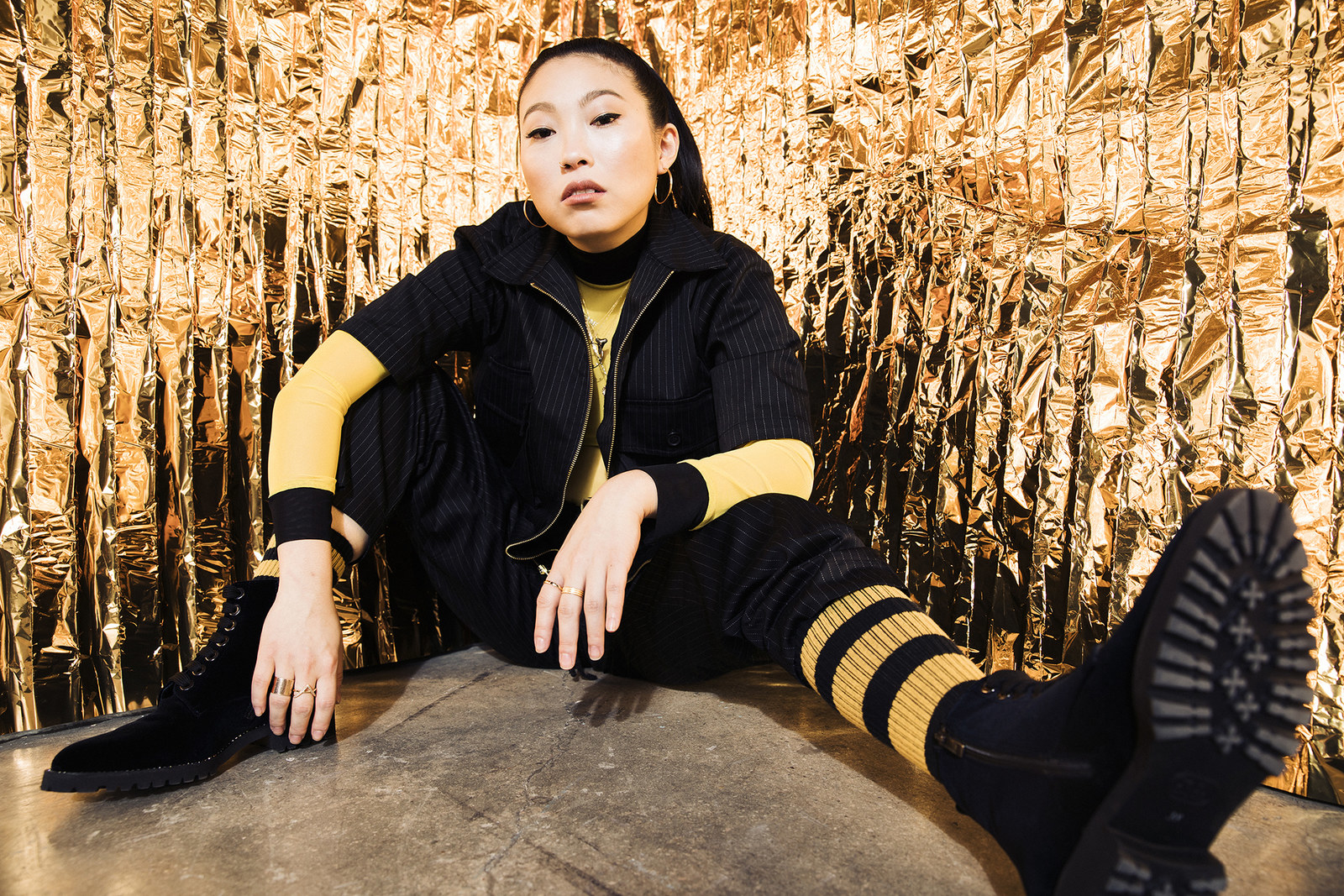 "I would never have been able to act without Awkwafina, without my music videos because that's how I got my first movie," she said. One of her first substantial roles on a feature film was a part in Olivia Milch's directorial debut, Dude, which hit Netflix last month. Milch, who first heard "My Vag" as a college student, cast Awkwafina in the coming-of-age dramedy about four weed-loving best friends, alongside Pretty Little Liar star Lucy Hale, Skins actor Kathryn Prescott, and X-Men actor Alexandra Shipp.
When Milch and Awkwafina met for the first time, Milch felt an instant connection to the fledgling actor's "kinetic energy" and recognized in her "a deep understanding of tragedy." "She lost her mother at a very young age and was raised by her grandmother, and her insight into what that experience does to a person and the shield that somebody carries is profound," Milch told BuzzFeed News. "I think Nora is so funny and has an acute sense of social commentary and the zeitgeist, and it's part of what you see in her comedic performances … but beneath that is a real understanding of how people work."
It was through her performance on Dude that Awkwafina was able to get her part in Ocean's 8. The project was cowritten by Milch and The Hunger Games director Gary Ross, who cast Awkwafina after watching her in Dude, no audition necessary.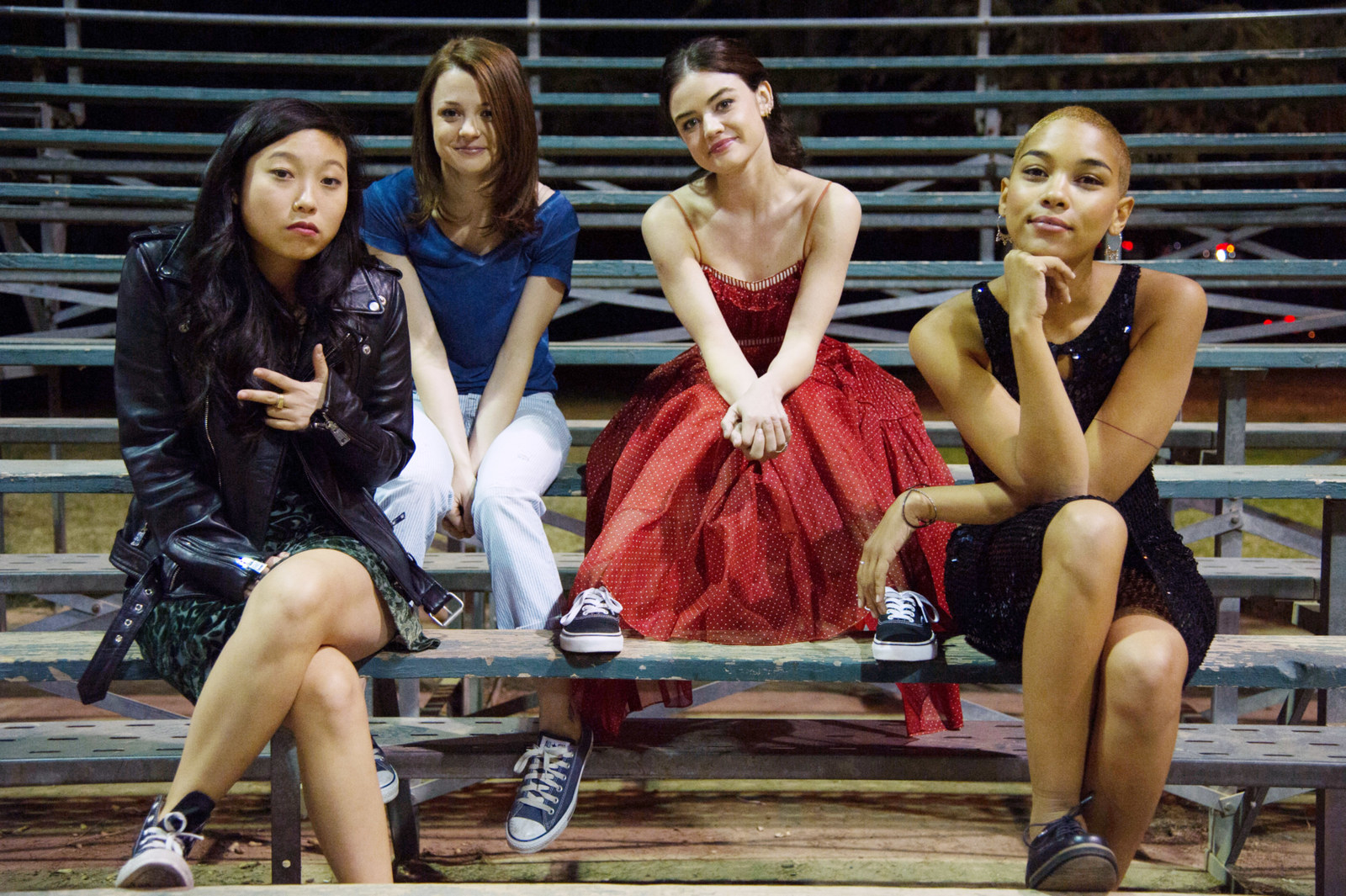 When I ask her about the day she closed the deal for the role, Awkwafina becomes quiet, as if still in disbelief. "I remember when the call came in, when the offer was made … that was one of the happiest days of my whole life." She'd known for a while that she was in consideration for a part in the film but kept it a secret. "Because you don't have the movie until you close your deal, like, anything could happen, so there was like a lot of time between that. Because if someone tells you news like that, it's like, do you believe them? Do you put all your eggs into that basket?" She'd celebrated the occasion over a drink later that night. It's a joy similar to the one she felt when watching the Ocean's 8 trailer for the first time.
"It was a euphoria that I couldn't understand. I was completely alone. I was in the Beverly Hilton getting ready to win an award at the Kore Asian Media gala. And my mind was blown, dude. I don't know how to even describe it. A joy that's overwhelming," she continues in a small voice. "I don't understand how my life came to be. I look at myself a couple years ago, and I see the preview, and I'm there with my idols since I was 6 years old." Her seven costars in the caper: Sandra Bullock, Cate Blanchett, Anne Hathaway, Sarah Paulson, Mindy Kaling, Helena Bonham Carter, and Rihanna.
"Their humility and just general warmth was very overwhelming. It was like, 'Wow, this is awesome that you guys are so cool and down-to-earth and treat me like your equal, to the point where I almost believe that I'm your equal," Awkwafina says. "It was really nice. … We laughed like a bunch of high teenagers, you know? Like dying, laughing from jokes, from when people would mess up or do something hilarious."
"We need women like her not only in Hollywood but in society — women who are unafraid to be who they are in both the film industry as well as on the streets of life."
She in turn made an impression on some of her high-profile costars too.
"What I was struck by when I met her was how relaxed she was even among some seriously heavy hitters and how she seemed both at home on the set and wanting to soak up every minute of the experience," Anne Hathaway told BuzzFeed News. "She felt like my little sister right away, teasing me about 'that ratchet movie Havoc,'" the 2005 teen crime flop which starred Hathaway. "I just liked her and felt really protective of her."

Sandra Bullock — or "Sandy B," as Awkwafina fondly calls her — noted the young actor's willingness to speak her truth. "Just being around her for the short three and a half months we were together, I saw exactly why there will be absolutely nothing that can stop her," she said. "We need women like her not only in Hollywood but in society — women who are unafraid to be who they are in both the film industry as well as on the streets of life."
In the film, out June 8, Awkwafina plays Constance, a pickpocket from Queens. Little is known about her or any of the other characters, except that they want to steal a $150 million necklace from the Met Gala. To get in the mind of her character, Awkwafina trained with Susan Batson, the esteemed acting coach who has worked with the likes of Nicole Kidman and Juliette Binoche. During those sessions, Awkwafina found herself channeling Constance's "hustle mentality" and questions she's asked herself, like "What would you do to get out of Queens? What would you do to have a better life?"
To paint a better picture of her life before she found opportunities in Hollywood, Awkwafina tells me about the day she was fired from a job in corporate publicity after her manager caught wind of "My Vag": "I was just like, 'Fuck it, I'm treating myself to a cab home 'cause I won't ever be able to afford a cab ever again.'" The firing sent her into a panic, applying for various jobs across the city.
"I had to go everywhere. I went to all the Rite Aids in Greenpoint. Duane Reades. I went everywhere," Awkwafina tells me, her voice rising. "Because if I couldn't find a job, guess what? I'd have to go back home." Unlike some of her peers, Awkwafina couldn't rely on family for rent money. "I know people who, if they lost their job, it just takes one phone call. They'd call someone. Their parents. Whoever. That was something I just never understood."
It wasn't until one night in 2016, after she had wrapped a day of shooting Ocean's 8 in Manhattan — in a location not far from her old office — that she finally got the closure she'd sought for years.
"It was this beautiful, clear Manhattan night, and I'm wrapping up, going to my trailer. And I see the building that I remember so clearly walking out of, feeling disgraced," she recounts. "But that night I was like, 'Fuck y'all! I'm here, bitches. Whatchu gon' do?'" she tells me, chucking up a middle finger.
Now, instead of crappy bosses, she's fighting internet trolls. In 2016, a day after Donald Trump won the election, a shocked and angry Awkwafina opened up Snapchat and ranted to her followers about the election results. It was a provocative "doomsday" tirade criticizing those who had voted for Trump: "Like, 'how could you be so stupid to do this?'"
Little did she know, a viewer would watch her Snapchat story, download it, and upload it onto YouTube under the title "Dumb chink gook bitch rants about Donald Trump, is an idiot," as Awkwafina recalls. The video eventually made its way onto a popular neo-Nazi Facebook page that has since been taken down. Pretty soon, irate commenters began posting Awkwafina's private information — her name and address — along with threatening messages.
Facebook did little to help her, she says. In an announcement posted to her personal page, Awkwafina had praised the social network for "seeking out those accounts and suspending THE SHIT out of them." But that was a lie; she'd written that post in order to discourage residual trolls from targeting her and to "double foolproof my account." (Facebook did not respond to BuzzFeed News' request for comment.)
"It was exactly what every Democrat envisioned would be the worst part of Trump's presidency: being silenced and not sharing your own opinion on any level."
Following the advice of her attorney — who helped her get the video scrubbed off the internet — Awkwafina had no choice but to avoid the site for a few months. "My lawyer was like, 'They have your address. Get off Facebook.'" Eventually, Facebook did crack down on the page, along with others that encouraged hateful behavior, but, she explains, "I don't think it was because of me. They shut them down because it was a general hate website."
"It was exactly what every Democrat envisioned would be the worst part of Trump's presidency: being silenced and not sharing your own opinion on any level," Awkwafina continues. "I felt scared, and it literally resulted in me being silenced."
Now, more than a year after the incident, Awkwafina is feeling bolder. "If they want to come at me … Come at me, neo-Nazis. What are you going to do? I mean, don't come kill me. You come kill me, then that'll be a story," she says, a small grin appearing on her face. She knows that trolls come with the territory. "If you're going to be a public figure, if you know that you're going to be acting in movies, you have to expect a lunatic to come to your house. I mean, that's just what's gonna happen."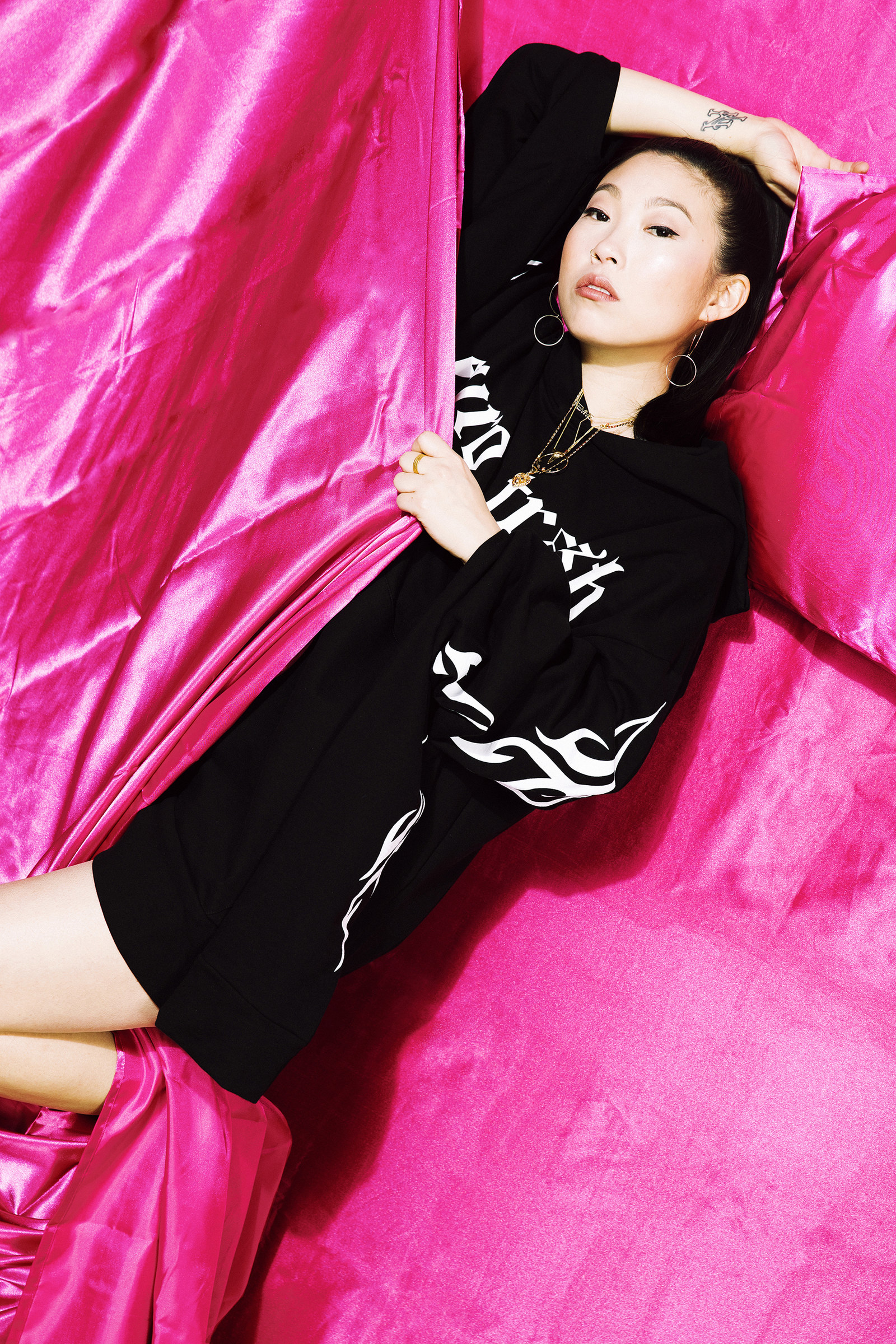 "I'll tell you what fucks me up as Nora," she tells me, her eyes twinkling and spinach dangling from her chopsticks. "Taking a week off without having to worry about rent. It's a level of comfort I'm not used to because of that hustle mentality," she says. "There's a part of me that's like, 'What the fuck am I doing? Like, why aren't you out there making money, like, what's wrong with you?'"

Now that she has expendable income, she doesn't know how to pass the time on the days she isn't filming. "My day to day sucks, dude" is her refrain.
"I'm sure you have a matriarch somewhere in your family that is now in retirement and doesn't know how to fill her days because she's so used to getting up and doing something. Like, my grandma is kind of in that right now, and we're very similar. Sometimes we'll FaceTime at, like, noon on a Thursday, and we'll both be sitting on a couch, both just looking each other."
"I'll have a successful day if I go and mail a letter. Like, that is success. … I'll mail my landlord a check for my rent, and that requires me to put on clothes, walk to the mailbox. Sometimes I'll grab a cup of coffee." But that's the extent of her self-care regimen. "I can't shut my mind off. … Like, I went and got a mani-pedi. I walked out after the pedi because I was like, 'This is taking too long. I can't do it.'"
It's a part of her personality that Cho understands and recognizes in herself. "I don't know if it's an Asian American [thing], that kind of attachment to work," the stand-up comedian told BuzzFeed News. "That's the thing about Asian American artists; we're polymaths. We can do everything because we have to do everything in order to even create a space in this entertainment world that's pretty much only black and white, you know?"
Growing up, Awkwafina says she could count the number of Asian American women in Hollywood on one hand. Cho, who was the star of All-American Girl, one of the few sitcoms about an Asian American family, is one of them. "Margaret Cho saved me in many ways. She was the one that showed me it's OK. I remember whenever I did anything weird, or I tried to be funny, I'd think about Margaret Cho. She made it seem possible." More than two decades after Cho appeared onscreen, Hollywood's track record of Asian American representation has not improved much.
The numbers remain dismal: The University of Southern California's Annenberg Inclusion Initiative found that in the top-grossing 100 films from 2016, only 5.7% of speaking roles went to Asian actors. In the Academy Awards' 90-year history, only three actors of Asian descent have won Oscars. Only two actors of Asian descent have ever won Emmys. And while there has been a small uptick in Asian-led television shows, a study conducted by researchers from multiple California universities found that more than 60% of shows do not feature an Asian American or Pacific Islander actor as a series regular.
None of this is lost on Awkwafina, who went from shooting an all-women remake of Ocean's 8 to Crazy Rich Asians, the first studio film to feature an all-Asian cast since 1993's The Joy Luck Club. "When you do a movie with that — that's the kind of undertone — it makes you feel like you're doing something a lot bigger than you, which is this feeling that I felt on both movies."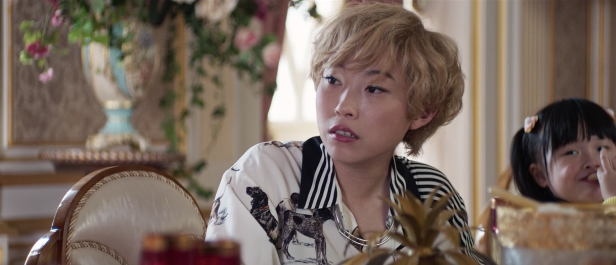 In Crazy Rich Asians, based on Kevin Kwan's best-selling novel of the same name, Awkwafina plays the scene-stealing Goh Peik Lin, best friend to Constance Wu's Rachel Chu, the unsuspecting Chinese American who travels to Singapore to meet her boyfriend's incredibly wealthy family. Peik Lin, whose dad made millions off real estate, helps prep and dress Rachel for the occasion. It's one role in a large ensemble of Asian actors that Awkwafina never imagined she'd get the chance to be part of.
"It's a very talented group of individuals that bring a completely individual take to their character, which is something that tends to be overlooked when you think about casting minorities," says Awkwafina. "They generally just bring [the notion that] 'they're a minority' to the role. Whereas this...it gives so much dimension to one-dimensional characters."
"You're not letting her act. You're literally just putting her in the corner of the frames when you take a picture, so when it goes on EW, you'll see an Asian person."
Director Chu recalled one evening when the cast members were hanging out at their hotel after a day of shooting: "I was like, 'Hey, Nora, I wanna show you a scene that you're in.'" So he played a clip for her, expecting that she'd watch it and simply laugh. But by the end of the snippet, Awkwafina was in tears. "She was like, 'Jon, it's so weird to see myself in a movie. I haven't really seen myself play a character that's a big part of a movie on a big screen in this kind of way.' She just said, 'I'm just so grateful that we're all here together.' It really took me by surprise. Literally, she was in tears. It got everybody else in tears."
After that experience, she refuses to settle for token roles that give a film "the illusion of diversity."
"If I'm an Asian, and I'm being put into a movie, and I have a lot of lines, then she is an important character. … You're actually giving an actress the opportunity to have scenes, to be higher up on the call sheet," says Awkwafina. "But I don't like it when it's like, 'Oh, Asian,' and you do a search for the character's name, and she appears three times, and she's basically a glorified background extra. That is creating the illusion, 'cause you're not letting her be funny. You're not letting her act. You're literally just putting her in the corner of the frames when you take a picture, so when it goes on EW, you'll see an Asian person. It's like, I don't like that shit."
That's why whenever Awkwafina reads a script, she does a search for how many times her part appears. If it's fewer than 15, she doesn't take the role. "Because it's like, why would I do that? To be a glorified extra? I want to speak if I'm going to act."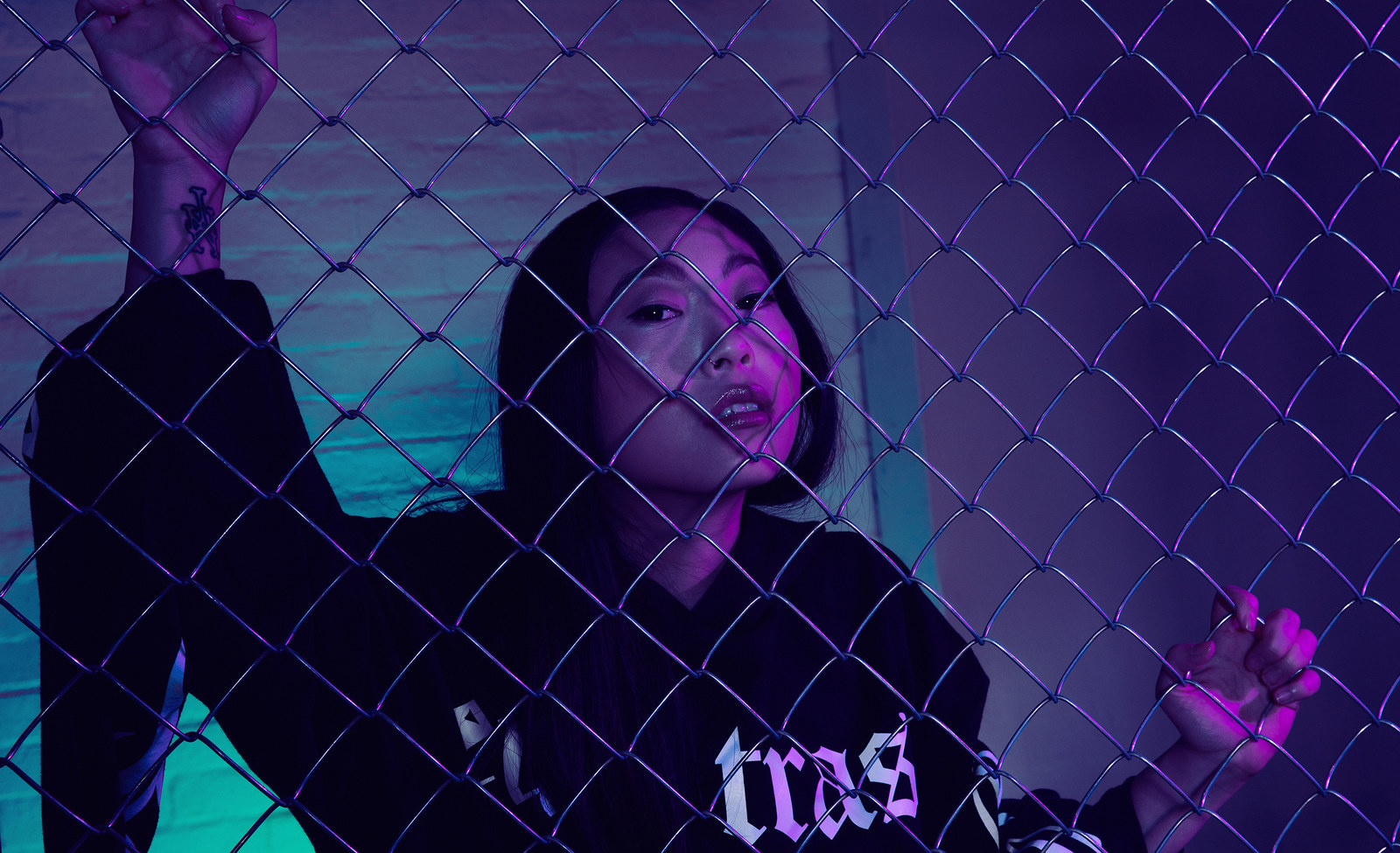 In 2017, the world learned that an actor's career can be snuffed out by abusive men in power. When asked about the downfall of Harvey Weinstein and multiple public figures who have been accused of sexual abuse, Awkwafina becomes giddy.

Leaning back in her chair, she conjured up a familiar vision. "You know that image of that dude just sitting back in an armchair lighting a cigar and watching the world burn? That is me, dude," she gushes on. "I love it. I love the smell of it. I love the smell of a man's downfall. I love the smell of a man's legacy meaning nothing. MEANING NOTHING!"
"I love the smell of a man's downfall. I love the smell of a man's legacy meaning nothing. MEANING NOTHING!"
A month after the formation of Time's Up, a coalition led by women in Hollywood to combat sexual harassment and abuse in the workplace, Awkwafina tells me she has at times felt "a heartbreaking sense of hopelessness," even as a member of the organization. "We want change, and we're having some of the most famous people in the world at the forefront of that, and it's not enough," she says. "It's enough to raise awareness and to help people that are in need, but that kind of change occurs over years. It occurs over decades."
Things are changing for the better, though. At least, Awkwafina hopes so. "Is there a generation of men that are just going to die off because they're just dicks? Like, I hope so. Why should we watch and support movies made by people like that?" she continues. "I feel like there is this elitist boys club of Hollywood that now is becoming really uncool … Now it's like, you may lose your job if you discriminate against women, a minority."
In addition to providing financial and legal support to those who may have been harassed or abused at work, Time's Up also aims to end and create awareness around pay disparity. Awkwafina, too, feels strongly that closing the wage gap can help fight sexual harassment, though she hesitates to get too personal.
"I think pay inequity does also bleed into the institution of abuse and objectification. It's all coming out of the same shit-blower. It's just one shit-blower, and it's blowing out all this shit; you're getting all this shit stuck onto your eyes," she says, gesturing wildly. "One of them is pay inequity; one of them is abuse. If you take care of one, chances are, it will snuff out some others. If you have an equal amount of men and women on set, it will quell the culture of violence."
"One of them is pay inequity; one of them is abuse. If you take care of one, chances are, it will snuff out some others."
Since she has just stepped foot into the industry, Awkwafina said she can't start demanding higher salaries just yet. "If my movies do well, and I can prove that I was a valuable asset to those movies, I would have no problem being like, 'No, fuck you, pay me more,'" she says.
Whether Awkwafina realizes it or not, she's already accomplished what she hardly thought possible as a kid. And those across the industry have taken notice of the newcomer, which Chu attributes to her candor and sense of self.
"I think it's the no-fear, the lack of self-consciousness. … It's so contagious and keeps your eyes on her. She does not apologize for who she is. She doesn't try to explain away who she is. She doesn't hide who she is," Chu said. "She speaks the truth. She is who she is. And I think that it's really appealing and really likable. There's not many people in the business or in the world that has that ability."
But of course, Awkwafina refuses to let herself be satisfied with any of her accomplishments — an instinct born out of fear.
"I feel like the moment I become satisfied is the moment that it all goes away," she says. "Like, you want to feel like whatever you do, you've earned it." But it's hard for her to feel like she has earned her success, because, as she explains it, in entertainment, "everything you do is so subjective. And success itself is so subjective."
When I tell her that she is making history with both Ocean's 8 and Crazy Rich Asians, Awkwafina seems genuinely abashed. "Am I?" Her eyes widen. "That's cool. I'm down." ●