For years, racist trolls on social media would tell Far East Movement to "go back to Asia" — even though everyone in the group was born and raised in Los Angeles.

The quartet-now-trio came to fame with their 2010 dance track "Like a G6," becoming the first Asian-American group to hit No. 1 on the Hot 100. However, they struggled to produce another certified hit for years after. Fed up with the US music industry and executives who told them they were too difficult to market, Far East Movement considered quitting their career as artists.
But then, ironically — and like many other Asian-American artists making pop music today — they went to Asia, and it changed their outlook on the music business forever.
Far East Movement didn't know all that much about the pop music scene abroad prior to 2012, when they decided to put making music on pause to travel and do some soul searching. "You couldn't ask us to pick out one song or one artist [from Asia]," FM's Kevin "Kev Nish" Nishimura said, sitting alongside his bandmates James "Prohgress" Roh and Virman "DJ Virman" Coquia in their office in West LA. Yet as they were introduced to acts from Korea, China, and Japan, they began to recognize the potential and star power of the talent being developed in Asia.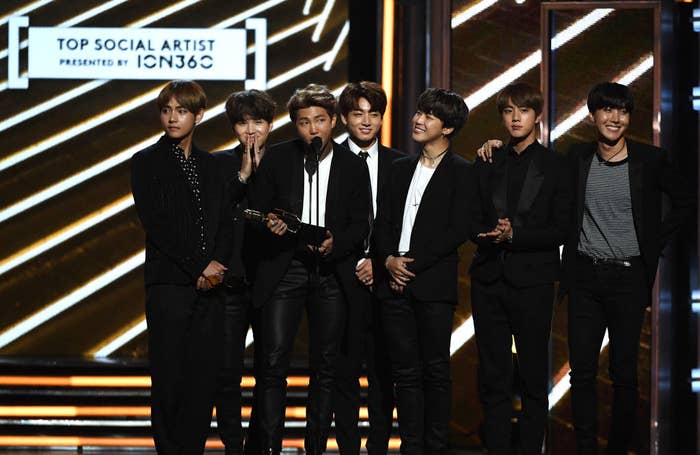 Turns out, pop artists in Asia are as influential as major artists in the US, even if they're unknown to the American mainstream, as Nishimura put it. Consider a group like BTS, for example: The seven-member band made history in September as the first K-pop artist to debut on the Billboard 200 album chart in the top 10 with Love Yourself: Her. On the day of its release, the album also peaked at the No. 1 spot on the iTunes Album Charts in a record-breaking 73 countries.
That's why Asian-American pop acts — who have traditionally been shut out of the music industry stateside — have shifted their focus to reaching listeners abroad, especially those in Asia who are hungry for new music. Not only is there more opportunity for work and exposure in places like Shanghai and Seoul, but the financial returns are higher as well.
And recently, many American artists — Asian and not — have tried tapping into the multibillion-dollar pop music market in Asia. Diplo and Skrillex, for example, each stand to benefit from having teamed up on songs with singer CL of the now disbanded Korean girl group 2NE1, and vice versa; Timbaland and Chinese pop singer Jane Zhang, whose upcoming English album he is producing, now each have exposure on opposite sides of the ocean.
"It's a different world now," Nishimura said — one that requires "localized marketing plans for each region," which Far East Movement has implemented when managing their Asian-American-centric label Transparent Agency. When they released their latest album, Identity, they "struck individual, localized deals" with South America, China, Korea, Japan, and the US, instead of courting US label deals only. The album ultimately peaked at the No. 1 spot on the iTunes dance chart and launched the group onto Top 40 radio again.
K-pop entertainment companies like S.M. Entertainment have embraced that type of strategy for years, with their most famous artist, Exo — arguably the most popular K-pop group today — as evidence. Though typically perceived to be a Korean band, Exo actually started off as two subgroups: Exo-K ("K" being short for Korean), whose members are ethnically Korean; and Exo-M ("M" for Mandarin), which was split between two Korean and four Chinese members, including ex-member Kris Wu, who is now a superstar in China. Each would record and promote songs in both Korean and Mandarin to cater to and capitalize on the two major markets. (They've since united as one massive group.) Additionally, K-pop labels also prioritize making music that caters to fans in Japan, currently the world's second-largest music market: Not long after a K-pop group's debut, they also begin learning Japanese and preparing to break out there.

That approach is very different from a typical US deal, like the one Far East Movement had when they were previously signed to Interscope Records. "One thing that we've learned is the disjointedness of the big corporations," said Nishimura, saying that US labels have yet to prioritize adapting music to specific markets across the world. For the most part, music gets "worked in the United States, and if it doesn't pop, it dies right here. It doesn't get a chance to live."
"Go out in Asia. You are welcomed there. Get that following, and bring those global numbers back here."
That's why Far East Movement now encourages their artists to go overseas. "Go out in Asia. You are welcomed there. Get that following, and bring those global numbers back here," Nishimura said.

It's sound advice, considering the potential in China's music market alone. Home to 20% of the world's population, China boasts a massive consumer market, with a lot of cash to spend on music. 58% of China's wealthiest citizens pay to see live events every year, compared to 51% of all Americans, according to a recent Nielsen study. The country's sheer spending power is encouragement for more and more American and European artists — from massive pop acts like Taylor Swift and Usher to EDM artists like Tiësto and Steve Aoki — to tour in China, among other Asian countries.
Furthermore, outdoor music festivals like Ultra and Storm have also risen in popularity among Chinese citizens, due to the growing interest in EDM across Asia. The EDM industry in the Asia-Pacific region is currently estimated to be worth about $950 million, according to a 2014 report compiled by researchers for the International Music Summit: For context, that's 15% of the genre's global worth.
Yultron, a Chinese-American artist signed to Transparent Agency, performed this past August at the Chengdu leg of Storm Electronic Music Festival, a Chinese-founded EDM festival established in 2013. He believes there's a hunger for the new infusion of dance music because Asian music tends to be very "formulated." "Everything that's popular is fed to them. Boy bands. K-pop stars — even [those] in China," the producer told BuzzFeed News. "Then when we [Americans] go over there, people are like, Whoa, what is this? This is awesome. For them, it's just so exciting and fresh and new."
Rap has begun to pick up steam in China as well, with the rise of artists like China-native Higher Brothers and reality series like The Rap of China, the country's first-ever hip-hop competition show, which premiered this past summer on the online video platform iQiyi. Although the show has garnered mixed reception, it drew millions of viewers (one episode even drew in a billion views). On it, veteran rapper MC Jin — who was the first Asian-American rapper to be signed to a major label, DMX's Ruff Ryders Entertainment, in 2004 — had his rebirth as "Hip-Hop Man," his alias for the competition.
According to Yultron, the speed at which Chinese listeners are consuming music far exceeds the pace of music output in the US. "People think that China is still really behind, musically, but they're actually not … I remember maybe three years ago, everyone was into big room house music. Now bass music is starting to blow up quick."
"People think that China is still really behind, musically, but they're actually not."
Nishimura said he observed something similar in K-pop: "There aren't these long-term songs like there is here [in the US]." As an example, a song like Bruno Mars' "24K Magic," released in October of last year, still gets radio play in the US now almost a year later; that kind of longevity isn't the norm in the world of K-pop, with the cycle of Korean music lasting about a month. "The K-pop artist needs to put out another song three months later, or else they're forgotten about," Nishimura said. Hot tracks can be quickly replaced by any one of the young aspiring singers who are recruited, put through intensive label-run training programs, and primed on how to become "idols."
Kevin Woo is one such artist who became a star through the idol trainee system, but what sets the 25-year-old apart from his peers is that he is American. Born and raised in Northern California, he became enchanted with K-pop at a young age and moved to Korea when he was 16, where he amassed a large following during his time in the four-member band Xing and, later, a six-piece act by the name of U-KISS.
Although Woo is a US citizen, he says Korean fans "still accept me as a Korean," but they also love that "[we] say stuff that normal Koreans don't" during interviews and interactions with fans. "So I think that's why we receive a lot of love from the Asian market," he said. It helps that he's an English-speaker too, as "they look up to people who speak English" — which may be why Korean labels have recruited a number of Asian-Americans over the years.

K-pop stars are also brought up in a system designed to help them succeed, whereas Asian-Americans have historically been excluded from the American music industry. Matthew Kim, better known as BM or Big Matthew, is a member of DSP Media's Kard, one of Korea's few co-ed groups. He told BuzzFeed News that it's unlikely he would have had a career in music had he not been recruited by the Korean entertainment company. "They supply all of the training we get. In my case, they provided a room, where I could live in in Korea, dance instructors, vocal instructors, language teachers for various languages … they provide a lot," Kim said.
"Going abroad...that for me was just that the opportunity came first. There is a demand for people like me."
For LA-born Amber Liu — a rapper who records her own music and performs in the girl group F(x) — Korea provided her with a golden ticket seldom afforded to Asians in the United States. "Going abroad...that for me was just that the opportunity came first. There is a demand for people like me," she told BuzzFeed News. F(x)'s skyrocketing fame and K-pop's increasing international popularity ("there are concerts every month now") have opened the door to other opportunities in the US, like her recent collaboration with Superfruit (of Pentatonix fame). Although Liu named Linkin Park's Joe Hahn and Mike Shinoda and Hoobastank's Doug Robb as role models who gave her confidence that Asian-American musicians could find success in the US, she acknowledged that there "still could be more" Asian faces.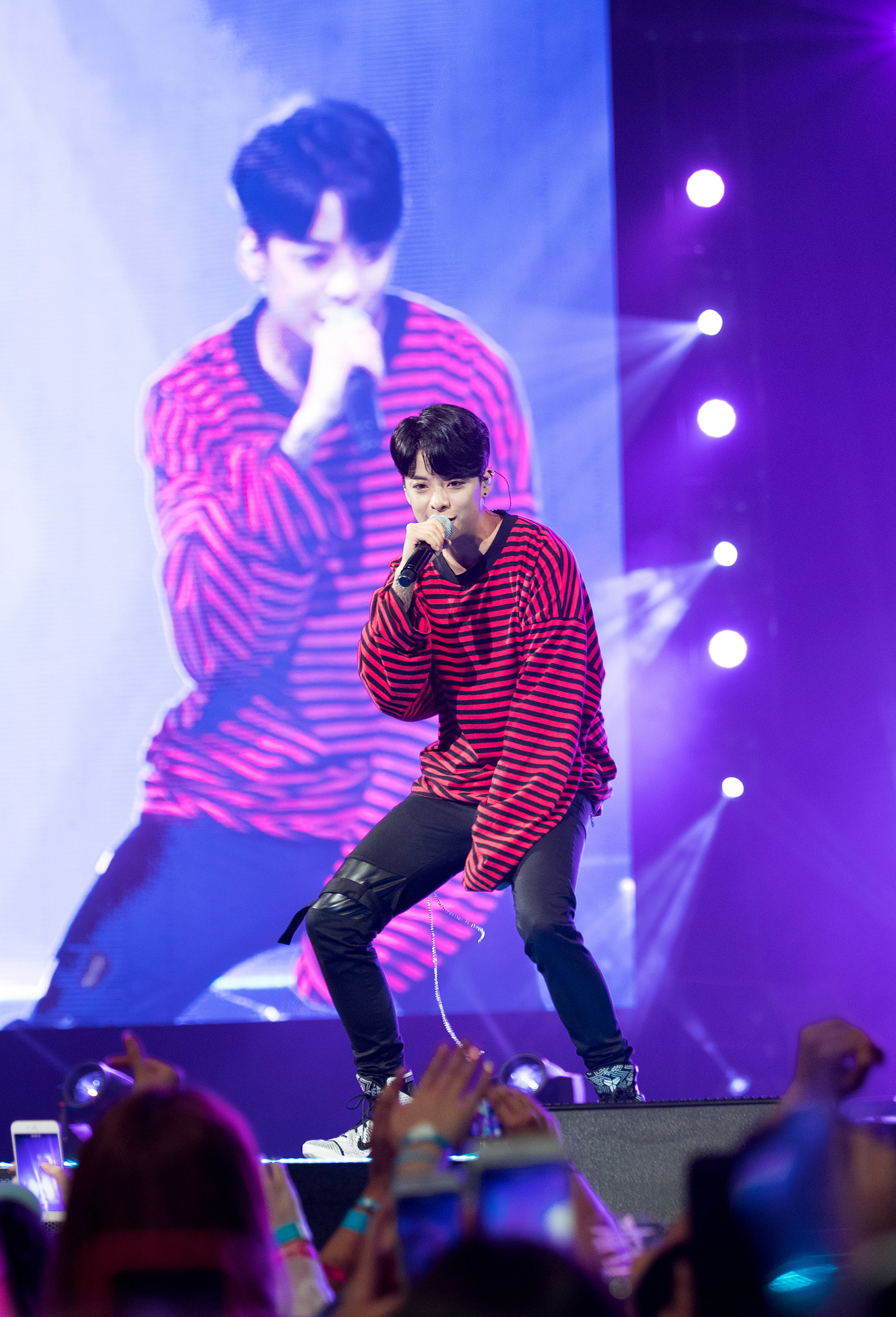 Liu, Yultron, and Far East Movement each pointed to the dearth of Asian representation in the larger American media landscape as one reason the music industry has been slow to embrace artists like them.
"A lot of people in Middle America, they don't see a lot of Asian people," said FM's Roh. "When they can go and watch Kanye, are they going to go watch [Korean rapper] Keith Ape?"
But Yultron' who recently signed to H1GH3R Music — a global hip-hop label created by Korean-American rapper Jay Park — said he has observed a change in the music industry's traditionally old, white gatekeepers. Park, the newest addition to Jay-Z's Roc Nation label, is evidence of that.
"They don't get it, and they never let the Asian guys go through it ... But I think we're at a point where it's transitioning over. It's our generation now," said Yultron. "I think we're at the tail end of that. It's already started, the new wave."